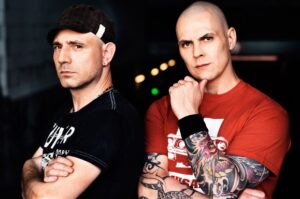 Thomas Adam and Steffen Keth have been making music under the DE/VISION umbrella since 1988.
Numerous albums later, they are still very successful in many countries, including their native Germany but also throughout Europe, the US and South America.
In Deutschland, they have achieved superstar status, but remain friendly, approachable and fun to be around.
Having fought DEPECHE MODE comparisons throughout their career, they found a unique sound which prevails across their albums from 'World Without End', through 'Fairyland', the superb 'Devolution', 'Noob' and the critically acclaimed 'Popgefahr'. Writing albums in between the extensive touring diary including their recent US gigs, looking after their own record label and having families on top of it all, keeps the duo grounded and humble. With the DE/VISION sound, there's always "time to be alive, to be alive", as they're forever "the flavour of the week"…
Having been an enthusiast of their music for years, Monika Izabela Goss had the pleasure to first meeting the band backstage at their Berlin gig in 2010 and on numerous occasions since. Following ELECTRICITYCLUB.CO.UK's Lost Albums feature on '6 Feet Underground', it is a great pleasure for her to be able to speak to Thomas Adam of DE/VISION…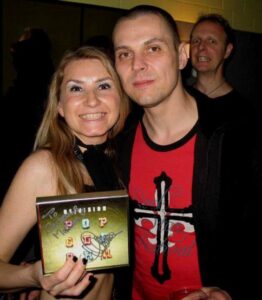 You formed in 1988, much has changed in the music industry since then?
Yes, indeed, much has changed… and undoubtedly the internet had the most significant impact on the music industry. It had both positive and negative effects… illegal downloads, for example, plunged the industry into a grave crisis…
I know that many people out there still buy CDs, I'm one of them. But CD sales will be going down sooner or later, CDs will become more and more insignificant, most of the kids don't buy CDs anymore, they're downloading music…
Back in the old days, you had to have a record label if you wanted your music to be heard. Nowadays, you can become a star on the internet and you don't need a label or a lot of money to achieve that. Yes, times have changed…
Do you mind being described as a synthpop band, or would you rather be labelled differently?
No, we don't mind at all… whatever you prefer… although I think synthpop describes perfectly what we do: we make pop music that is based on synthesizers. But there are many labels for this kind of music. It also depends on where you are, people label us differently in different parts of the world. When we came to the USA for the very first time in 2008, I was rather surprised when people called us a Goth / Industrial band…
Around 'Void' (2000) and 'Two' (2001), your sound changed incorporating more rocky sounds. It certainly caters for more discerning tastes. Why did you take that direction around those two albums?
Why not? We're not the kind of guys who want to do the same thing over and over again. In my humble opinion, most of our album releases vary significantly, but especially around 'Void' we wanted to do something we had never done before… we wanted to present DE/VISION in a new and different light by broadening the band's musical horizon… there are enough bands out there who keep repeating themselves. For us, it is important to reinvent ourselves every once in a while…
'6 Feet Underground' is my personal favourite of yours. Any thoughts on how the album was conceived?
I don't remember what the idea behind '6 Feet Underground' was, or if we ever had a concept for it. But usually we don't have a plan when we start working on a new album. We might have a rough idea of where we want to go, but it's not that we develop a strict concept which is then translated into music. It rather works the other way round. We start writing songs and after a while we take a look at what we have, then we think about what we can do with it.
I think most of our albums are quite homogeneous, 'Fairyland' on the other hand is rather eclectic… it offers a variety of different electronic music styles… 'Unputdownable' for example is a mainstream pop song, but songs like 'Beside You' and 'Take Me To Heaven' are the exact opposite. But like I said before, I don't remember if there was a concept behind that album or if we simply picked the songs we liked most.
Between 'Noob' (2007) and 'Popgefahr' (2010), you had a three year break, so far longest between albums. What was the reason for this?
Until 2007 we released a new album every 18 months. The fans were glad about that constant output, but for us it's been quite exhausting. Once we had finished one album, we started working on the next. It was time to break this routine… we needed a break… time to collect new ideas. I'm not saying that we tried to avoid music. We played a lot of shows in those three years. In 2008 for example, we toured North and South America for the very first time. Then we started our own label Popgefahr Records in 2009, I think… we were quite busy during this break.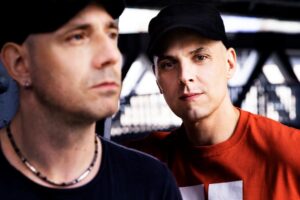 Germany is packed with interesting and innovative synth acts, who do you rate the most?
Thomas: My all-time favourite electronic band is KRAFTWERK. The older I get, the more I'm impressed by their timeless and visionary art. CAMOUFLAGE is also a band I always adored. Another German band I warmly recommend is called MODERAT. I love their analogue sound… they're quite famous in the club scene… check out 'A New Error' from their first album… this is probably the best piece of electronic music I have heard in years.
How is Popgefahr Records working for you?
There's no need to complain… after all, it was a very wise decision to start our own label. Until recently, we released exclusively our own music on Popgefahr Records but the label was never meant for DE/VISION only. In January, Popgefahr Records released the single 'Save Me' by the American singer/songwriter GARRETT MILES, a beautiful and very melodic synth pop song. And a few weeks ago we released the new album 'Pieces Of Machinery' of the German synthpop band BEYOND OBSESSION. Fortunately the label is busy…
Any news on a follow up to 'Rockets And Swords' (2012)?
We are already working on a new album which will be released in 2016, but this project is still at an early stage of development, that's why I can't really give you any further information. We don't know yet where our journey will take us this time…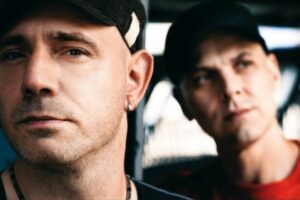 On your latest Soundcloud release, your sound goes back to your beginnings. Is that what we are to expect from the new album?
I guess you're talking about our latest single release 'Brothers In Arms' and the B-sides… these songs were written about two years ago and have nothing to do with the new album… the new album is something else entirely… although I don't know what it will be like, you shouldn't conclude the sound of our new album from a couple of songs we released more than a year ago.
Finally, your relationship with the UK. We don't see enough of DE/VISION here. Why is that? Certainly the fan base is plentiful…
We have some very devoted fans in the UK, there's no doubt about that… however, the UK has never been our strongest market… I don't know what the problem is, but we never really managed to become established in the UK…
Your last London gig was with MESH in 2013. Can we expect more presence in the UK with the new album release?
We will play a show in Basildon at a festival called 'More Than A Party' on the 27th of June… that's all I can say at the moment…
---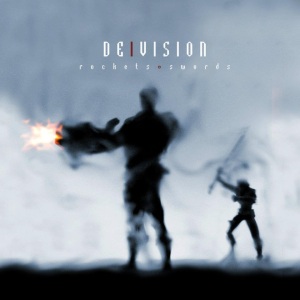 ELECTRICITYCLUB.CO.UK gives its warmest thanks to DE/VISION
A selection of DE/VISION's back catalogue is available on CD and download from Amazon
http://www.devision.de/english/
https://twitter.com/DEVISIONMUSIC
https://soundcloud.com/de-vision-official
https://www.facebook.com/pages/DEVISION/24741337633
---
Text and Interview by Monika Izabela Goss
28th May 2015