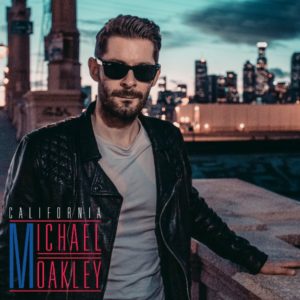 Michael Oakley is a talented Glaswegian who describes his music as "Melancholic postcards from my heart wrapped up in synthesizers and drum machines".
His debut EP 'California'
rides on the current craze for Synthwave, which emerged following the cult acclaim for the neon-noir thriller 'Drive' in 2011 and its soundtrack featuring CHROMATICS, ELECTRIC YOUTH and KAVINSKY. Since then, TV series like 'Stranger Things' and their stark backdrop of vintage electronics have maintained the synthwave propagation.
Now virtually every new electronic pop act using widescreen synths from SOL FLARE and NINA to KNIGHT$ and PERTURBATOR is being labelled Synthwave. But what is Synthwave? To ELECTRICITYCLUB.CO.UK, it appears to be synthpop but dressed with sunglasses or Italo disco with neon signs and American accents.
But didn't Giorgio Moroder do all this in 1980 on the soundtrack to 'American Gigolo'? And it could be argued that John Hughes' adoption of British new wave acts like SIMPLE MINDS, THE PSYCHEDLIC FURS, NEW ORDER and OMD for his soundtracks is another stray gene in synthwave? Indeed, the excellent 'Without You' by ELECTRIC YOUTH wouldn't have sounded out of place on 'The Breakfast Club' soundtrack?
Speaking of which, Oakley says of his debut EP: "Imagine for a second this is 1985, you've just came out of the cinema from watching 'The Breakfast Club' and you're driving home in your DeLorean and flicking through the radio stations looking for some more John Hughes movie soundtrack music…. Well here it is."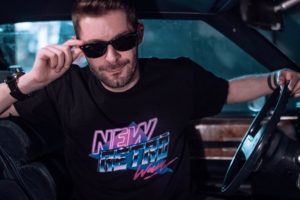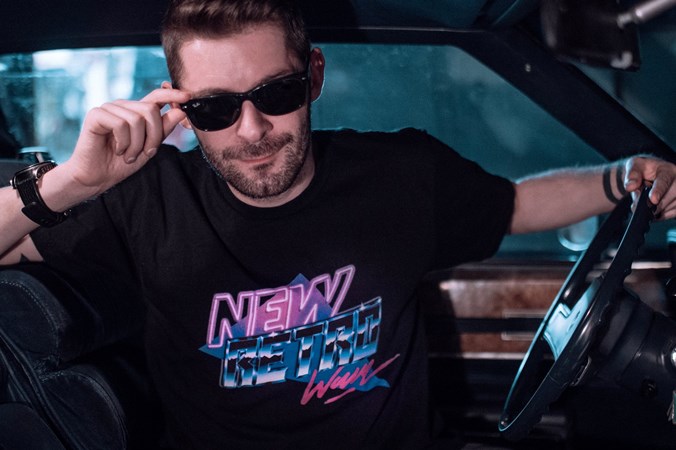 Much in the same way his fellow Scots like WET WET WET, HIPSWAY, LOVE & MONEY, DEACON BLUE, TEXAS and GUN looked Stateside to realise their aspirations, Oakley is doing something similar in the 21st Century.
But that's not to detract from the fact that 'California', where some of the recording also took place, features some very good songs.
'Rabbit In The Headlights' begins with the nostalgic sound of a cassette going into the in-car player while the straightforward rhythmic pulse leads into a glorious tune recalling 'Get Closer' by Valerie Dore, complete with Italo "woah-oh" chants. Arranged more conventionally, one could imagine this being sung by Taylor Swift.
Meanwhile, 'Turn Back Time' is catchy rock elettronico,  bursting with hooks and melodies while complimented by a classic synthetic percussion framework and a guitar solo. Call it Synthwave, synthpop, electropop, Italo or whatever, this first pair of songs on 'California' reveals Oakley's songwriting chops, regardless of genre.
The title track is more of a rock ballad, but continuing at this more moderate pace, 'Devotion' is reminiscent of CHVRCHES on their most recent album 'Every Open Eye' and pleasingly, Oakley has a far superior singing voice to Martin Doherty.
'Here Comes The Night' doesn't quite hit the heights of 'Rabbit In The Headlights' or 'Turn Back Time', but 'End Of Summer' is musically what a collaboration between TANGERINE DREAM and NEW ORDER might have sounded like.
This is an impressive first salvo from Oakley which shows great promise and potential. His love of 'Miami Vice', 'Blade Runner', 'Back To The Future' and 'Drive' quite obviously glows from his work.
But what he needs to do now is stand up from his influences and perhaps be cautious of throwing in too much towards the current fashion for Synthwave… after all, we know what happened with Romo, Synthcore and Electroclash.
---
'California'
is available as a download EP from https://michaeloakleysynthwave.bandcamp.com
A limited edition purple vinyl and cassette edition is released by Timeslave Recordings, available at https://timeslaves.bandcamp.com/album/california
https://www.michael-oakley.com/
https://www.facebook.com/MichaelOakleyOfficial
https://www.instagram.com/michaeloakleyofficial/
https://twitter.com/MichaelOakleySW
---
Text by Chi Ming Lai
13th November 2017, 20th January 2018