ONE DOVE were a moody Glaswegian trio comprised of Ian Carmichael, Jim McKinven and Dot Allison. Their only album 'Morning Dove White' took its title from the Native American name of Elvis Presley's grandmother.
McKinven was best known for his stint in ALTERED IMAGES during their 'Happy Birthday' and 'Pinky Blue' period. This project couldn't have been more different, especially when compared with his former band mate Johnny McElhone who formed TEXAS with Sharleen Spiteri.
Producer Andrew Weatherall signed them to his Junior Boys Own label after hearing their independently released single 'Fallen' and became involved in the recording process, along with Gary Burns and Jagz Kooner from SABRES OF PARADISE who both later went on to form THE ALOOF.
Seasoned by the icy but angelic voice of Dot Allison, 'Morning Dove White' was something truly unique in the sphere of post-Acid House electronic dance music. Dot Allison's resigned opening line on 'Fallen' of  "I don't know why I'm telling you any of this…" is simply seductive. The accompanying groovy rhythm section on a slight off-beat makes it the most club flavoured track on here with the reggae-inflections of LEFTFIELD's 'Release The Pressure' as its backdrop.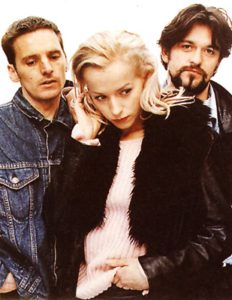 Although often referred to as a dance act, ONE DOVE's sound was actually characterised by primarily electronic textures with heavy processing influenced by laid back Jamaican dub and Eno-esque ambience.
This recalled the work of former PUBLIC IMAGE LIMITED bassist Jah Wobble who incidentally guested on 'Morning Dove White'
and later recorded an album with Brian Eno called 'Spinner'.
The single versions of 'Breakdown' and 'White Love' reworked by Stephen Hague are actually quite brilliant, accessible and are far less intimidating than the full-on dub attack of the lengthy album cuts. But even as radio mixes, they are hardly the glossy pop of SAINT ETIENNE.
London Records had taken over the Junior Boys Own label and wanted to make ONE DOVE's music more radio friendly. The band may have been unhappy about the commercialisation of their sound and there is something to be said about fighting for your art, but what is the point if people can't access your work through conventional media and grow into it, especially if it is relatively radical? In hindsight, London Records were being well intentioned, but this led to a dispute which delayed the release 'Morning Dove White' for a full year until 1993.
A compromise was reached with ONE DOVE working with Stephen Hague in the studio during the remix sessions. 'White Love' is wonderfully dreamy with its subtle piano and gospel salvo predating MOBY's 'Play' by several years. Their biggest hit 'Breakdown' has a surprising VAN MORRISON influence, taking its chorus from THEM's 'Here Comes The Night'. In both, Dot Allison's sexily whispering vocals are the distinctive key.
But the album's crowning glory is the Phil Spector in the 23rd Century mystique of the stupendous 'Why Don't You Take Me?' featuring Wall Of Sound effects galore and reverbed steel drum samples, it is almost funereal but actually possesses an uplifting quality. Although there was a Stephen Hague assisted mix sans steel drums available on the single release, in this case it was Andrew Weatherall's original vision that is won the day.
Of the supporting features on 'Morning Dove White', 'There Goes The Cure' is very 'Twin Peaks' in atmosphere, punctuated by Dot Allison's chants of "he's gone". Constructed around some tinkling piano and deep ambient drones, its heart is suddenly invaded by Jah Wobble's distinctive bass run before returning full circle with the aid of a dramatic percussive climax.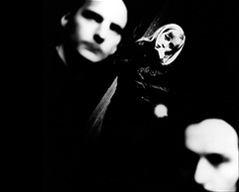 Both 'Sirens' and 'My Friend' recall Weatherall's work on PRIMAL SCREAM's 'Screamadelica' while 'Transient Truth' is a superb instrumental with an 'Ipcress File' meets KING TUBBY twist. The echoey drum machine and the various incessantly repeated spy film riffs provide a suitably hypnotic soundtrack.
With a promising debut album greeted by enormous praise and critical approval, a follow-up was eagerly anticipated.
A reworking of DOLLY PARTON's 'Jolene' and the song 'Skanga' which were included as B-sides to' Why Don't You Take Me?' gave an indication of the heavier dub reggae sound that was being pursued. There was even rumours of a cover version of SIMON DUPREE & THE BIG SOUND's 'Kites', the concept of which had the potential to be amazing.
But there was no second album. It was recorded but never released. Frustrated and drained by business politics, ONE DOVE disbanded in 1996. Dot Allison went on to release a series of acclaimed solo albums including 'Afterglow' and 'We Are Science' as well as working with DEATH IN VEGAS and MASSIVE ATTACK.
'Morning Dove White', like THE ALOOF's 'Sinking', is infinitely superior to the over rated trip-hop albums such as PORTISHEAD's 'Dummy' or TRICKY's 'Maxinquaye' which dominated the mellow coffee-table dance niche of the time. Some of the full on dub excursions have degrees of over-indulgence and may not be to everyone's taste, but one of the beauties of modern digital formats is the ability to compile a version of the album to suit the mood.
It may not have been the journey that the band intended but this collection is a challenging and rewarding listen that deserves reappraisal.
---
'Morning Dove White'
is still available on CD via London Records
---
Text by Chi Ming Lai
23rd June 2012