THE OPIATES are former ELECTRIBE 101 chanteuse Billie Ray Martin and musician Robert Solheim.
They have been dubbed as The Carpenters of Electro. Despite great tracks such as 'Talking with Myself', 'Tell Me When The Fever Ended' and 'You're Walking', ELECTRIBE 101 disbanded after their only album 'Electribal Memories'. Billie Ray Martin went solo and had a worldwide hit 'Your Loving Arms' in 1994 produced by THE GRID, the dance duo featuring Dave Ball of SOFT CELL. An album 'Deadline for My Memories' followed and featured the excellent technopop of 'Running Around Town', although a few countrified excursions confused some fans.
Fast forward nearly 17 years and she has continued to release a variety of transient electronic fusions both in her own name and in collaboration with DJ HELL and SLAM with a forthcoming one due with MOTOR. Robert Solheim meanwhile has worked under the moniker of CURRENT on a variety of ambient and sound based projects.
Taking in the influences of Chicago house, Detroit techno and Kling Klang, THE OPIATES debut long player'Hollywood Under the Knife' uses that melting pot to present a series of stark Weimar numbers with beats and bleeps to match.
One of the album's standouts is 'Anatomy Of A Plastic Girl', first issued on an EP back in 2008 along with three other tracks from this album. This wonderfully fine, avant pop structure came with Billie Ray Martin's distinct soulful edge. It tells the tale of a young wannabe actress in Los Angeles who reflects on the facial surgery that has left her scarred and punctured with holes inside and out.
It is these types of stories that so suit Billie Ray Martin's torch diva demeanour. 'I'm Not Simone Choule' uses Roman Polanski's film 'The Tenant'as its sinister template, a suitable arthouse setting that is still wholly accessible as a song. And with 'Rainy Days and Saturdays' about Warhol Superstar transvestite Candy Darling, this really is electro CARPENTERS with the clue being in the title. Time has not diminished Billie Ray Martin's abilities; her voice is as captivating as ever, Dietrich-like in its resonance with the added menace of GRACE JONES.
The rest of 'Hollywood Under The Knife' is impressive, and comes together like a commentary on social exclusion and emotional breakdown. Titles such as 'Oprah's Book of the Month Club (Part Two)' and 'Reality TV' reflect on the vacuous pressures of the modern celebrity obsessed society, cutting synths soundtracking the discomfort, alienation and sadness.
Meanwhile 'Candy Coated Crime' is superbly squelchy and looks at a woman's strange sexual fantasies through watching CSI to keep the boredom of her life at bay. 'Silent Comes the Nighttime (Again)' captures the mood of insomnia.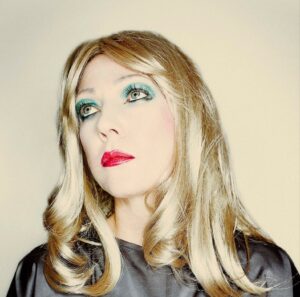 Closing track 'Dinah and the Beautiful Blue' is a fittingly sedate number with a fake ending while preceding it, 'Jalousies and Jealousies' percolates with pulses and manipulated voice samples to compliment Billie Ray Martin's fraught story telling. In all, despite the long gestation period, 'Hollywood Under The Knife' has been worth the wait.
As a musical narrative with artistic and emotional integrity, THE OPIATES' collaborative chemistry is a success and will be enjoyed by those who prefer Billie Ray Martin as a pure electronic diva.
---
'Hollywood Under The Knife'
is released by Disco Activisto Records and is available now as a CD, vinyl LP and download.
https://www.billieraymartin.com/
http://www.facebook.com/theopiates
---
Text by Chi Ming Lai
7th November 2011