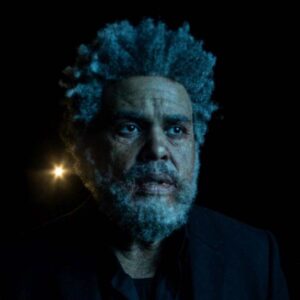 After 'Blinding Lights' and 'Save Your Tears', THE WEEKND have done it again and reminded the mainstream of the emotive beauty that can come from classic synthpop with 'Less Than Zero'.
'Less Than Zero' has been co-produced and co-written by Swedes Max Martin and Oscar Holter; the ubiquitous Martin is the man behind hits by Taylor Swift, Katy Perry and Britney Spears but Holter was formally a member of industrial act NECRO FACILITY. Studio hands from a darker electronic background getting involved in pop is not unusual with Dave "Rave" Olgilvie from SKINNY PUPPY having helmed the final mixes of Carly Rae Jepsen.
Taken off the new album 'Dawn FM', 'Less Than Zero' itself sounds not unlike Michael Jackson produced by Tony Mansfield. The cross of catchy hooks, glorious counter-melodies and acoustic strums are reminiscent of Mansfield's own combo NEW MUSIK who had UK hits with 'Living By Numbers', 'This World Of Water' and 'Sanctuary' in 1980; Tony Mansfield himself later went on to produce most of A-HA's debut album 'Hunting High & Low'.
The lush tones of 'Less Than Zero' even recall Cliff Richard's appealing Alan Tarney produced synth period and of course, Tarney also went on to work with A-HA on a number of their biggest hits including 'Take On Me', 'The Sun Always Shines On TV', 'Cry Wolf' and 'Stay On These Roads'.
Over pop history, mainstream acts going through a period of synthpop or at least doing a synth-driven song or two has been a rock 'n' roll rite of passage. While the likes of Cliff Richard, Robert Palmer, Paul McCartney, Rod Stewart, Leonard Cohen and even Neil Young have entered the mysterious world of electronics in the past, with the assistance of that renowned Nordic melancholy and folk tradition, Abel Tesfaye appears to be enjoying his synthpop adventures as THE WEEKND more than most.
In 'Less Than Zero', he has created more magnificent earworm magic that harks back to the tradition of A-HA and others who came before them. No kids, the synth was not invented by Ryan Gosling in 2011 for the film 'Drive' ?
---
'Less Than Zero' is from the album 'Dawn FM' released by XO / Republic Records
https://www.facebook.com/theweeknd
https://www.instagram.com/theweeknd
---
Text by Chi Ming Lai
15th January 2022