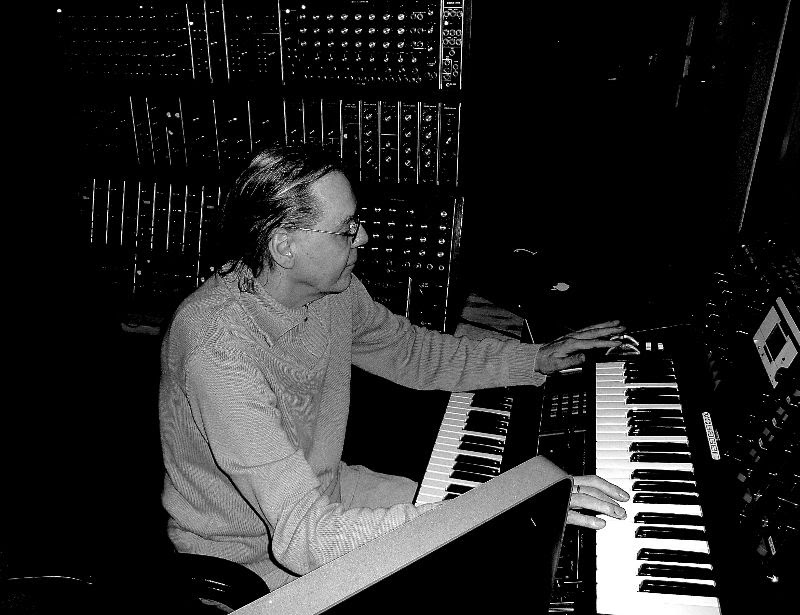 The late German electronic music legend Klaus Schulze sadly passed away on 26th April 2022 at the age of 74 after a long illness. 
Literally never one to sit still, he left behind a vast portfolio of work. Among his most lauded albums were 'Timewind', 'Moondawn', 'Mirage', 'X' and 'Dune'.  The Berlin School veteran was set to release his new album 'Deus Arrakis' in Summer 2022 with another musical salute to 'Dune' author Frank Herbert.
Featuring three tracks with a combined playing time of more than 77 minutes, 'Deus Arrakis' was inspired by his Hans Zimmer collaboration 'Grains of Sand' aka 'Herbert' for the end credits of the 2021 'Dune' film adaptation.
Poignantly, Klaus Schulze had said in an interview with Albrecht Plitz for the booklets of his 2004 back catalogue reissues when asked about retirement: "…not until they carry me out of this studio in a box!" – the closing piece on 'Deus Arrakis' is called 'Der Hauch des Lebens' or as translated into English, "The Breath of Life".
A one-time member of TANGERINE DEAM and ASH RA TEMPEL before embarking on a solo career in 1972, the advent of synthesizers and sequencers freed him from the constraints of a conventional band.
Taking him on a creative journey into the unknown, Schulze saw synthesizers as an opportunity to develop original tone colours with his improvised compositions often lasting for almost half an hour at a time and rarely less than a quarter.
Adopting a playful physical approach that encompassed a minimalist groove whether using analogue modulars, digital samplers or the latest computers, one of his favourite phrases was "It's not about me, it's about the music" and this was the case until the very end.
In one of his last ever interviews, ELECTRICITYCLUB.CO.UK was granted a rare audience with Klaus Schulze to talk about his career and the 'Deus Arrakis' album. The conversation transcript from 22nd April 2022 has been published in full with the blessing of his management and publicist as a tribute to the great man and his cosmic legacy.
How did 'Grains of Sand' with Hans Zimmer come about, was it like a rejuvenation for you?
Our mutual friend Lisa Gerrard brought Hans and me together – she was working with him at that time from which I had no idea. One day Hans called me and we talked a little bit about Frank Herbert's 'Dune' – we both are huge fans of the books – and the film remake by Denis Villeneuve. Hans was inspired by my music, he liked my albums 'Dune' and 'X', especially the track 'Frank Herbert'.
Based on that, he asked me for a co-operation and out came that new Hans Zimmer / Klaus Schulze track 'Grains Of Sand' – or 'Herbert' as it was titled earlier in the end credits of the film. It was a pleasure to work with Hans – he is not only a great artist and one of the best addresses for film music in the world but also just a very nice guy! And yes, the whole 'Dune' thing inspired me – once again 40 years after my first 'Dune' album – to plunge into Frank Herbert's universe and the beautiful pureness of Arrakis' deserts. I just started playing…
So what concepts did you have in your mind for 'Deus Arrakis' to inspire you in composition?
To be correct, when I started playing I did not think of anything to achieve or of a certain direction. I don't play concept albums – I am way too instinctive and improvising for that! The inspiration for 'Deus Arrakis' was a general one; it is always the same, when I start playing I got lost in the soundscapes and chords I love so much.
Before that there had been a longer phase where I was too sick and couldn't work for months. I certainly took my time with it and it was towards the end of the recording stages that I realized the results were pretty 'Dune'-ish. That was when I searched my archives and picked the recordings I had left of Wolfgang Tiepold's cello, which clearly was the perfect match. So even though Hans and Lisa and Denis (Villeneuve) may have kickstarted it, in the end it became clear this was in fact another tribute to Frank Herbert the brilliant creator of the 'Dune' universe…
'Osiris' from 'Deus Arrakis' has a beautiful minimal ambience that evokes the best of your past work, did you return to any of your old equipment for the album?
Oh, the old Moogs and ARPs, my Mellotron and even the Korg PS – they are all long gone. What I actually used from the old days was my trusty EMS Synth A – a great instrument to create pure electronic landscapes with. It does not play concrete notes as it does not even have a keyboard – it is not necessary. But everything else I used is the more modern instruments. And also a lot of my favourite virtual synths from the studio computer.
Would you say it is best to combine vintage analogue instrumentation with computer controllability to plant the seed of that sound without the practical challenges?
For me, absolutely yes! I have spent many years fighting the various technical aspects from so many different machines that I absolutely enjoy turning on everything – and Boom, it's all there. I certainly would not want to go back to having to tune everything… or patch my way through every single part of an analogue synth.
I can understand if you are a collector and love the old machines, that's great, but if I want to work, I want to work… and I am not very patient anymore regarding having to wait for a piece of equipment until it's ready to be played.
Your followers will be pleased that you are still producing half hour pieces of music, was there any temptation to edit more drastically? Or does "movement, depth and randomness" still apply?
The tracks flow as they flow. Just as it should be… that hasn't changed. Don't be fooled by the new "single" as the record company calls it. That is not a single. I never do singles… by the time a single is over I haven't even gone half way through my first intro phase alone… it is just the beginning of a much longer track. Oh yes, there were quite a few discussions with my record company as they wanted a single to promote the album. The shortest track I did still is about 20 minutes or so. So no single.
It is clear that longer tracks have to be cut anyway in order to fit on one vinyl record side – and that already hurts every time. I do not like that at all, that really is why I still love my CDs. The editing down into split parts is up to my engineer… I couldn't do that. With today's streaming requirements they have gone to even splitting up all the tracks for streaming because a lot of money is lost if they don't do that. That is so very annoying… and clearly it does not serve the music at all… which it should in the first place.
What is your current equipment set-up?
Hardware: Mini and Memorymoogs, 3 x SE 1, EMS Synthi A, PPG Wave. EMU samplers (for all the older libraries), Roland keyboards and expanders (almost all ages), Alesis analogue synths, Access synths, Quasimidi synths. Kawai and Korg expanders. One or two of the more recent synths to try out.
The software synth collection centres around Arturia, Spectrasonics, Steinberg, U-HE and also a lot of smaller and more obscure synth models. All of that goes into my half digital, half analogue Tascam console which uses RME AD/DA hardware to connect to my Mac. Logic Pro still is my favourite DAW – I have lots of MIDI to administer!
Which would you say are your most favourite synthesizers of all time?
Oh… not as easy as it may sound… I guess the good old modular Moog is one of them, as well as the Mini. And the CS80! I still love my EMS Synth and ah, the original Mellotron… well was that a synthesizer after all? Roland's JD 800 also still is a favourite.
How did you get on with using the first digital era of equipment like the Crumar GDS, PPG Wave 2.2 and Fairlight computer instruments or the Yamaha DX7?
That DX7… never was for me… but the beginning of the digital synth age was very exciting. I remember dragging the GDS and Wave with us on tour was a bit nasty, but I wanted them on stage back then. Always a pleasure when you could load your favourite programmed sound again safely from a floppy disk… and those synths finally never went out of tune again when they got warm! That was a very welcome first!
Fairlight and Wave were first tested in the studio and we got along very well. There were quite a few hiccups in the beginning, especially with the Wave which had its platines upright on end, so we had to take them out and refit them after every transport… but the digital revolution was the start of a new era soundwise and I was keen to try the latest new instruments and the sounds they could create. It sounded totally fresh and new.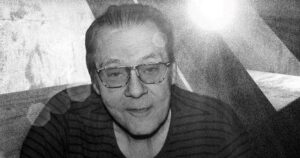 Harald Grosskopf has said working with you on 'Moondawn' was the highlight of his career, how do you look back on that album?
It was one of those 'one-night-wonders' and we really had a good flow together and of course a lot of fun with the Big Moog!
What would be your favourite works from your career and why?
Every album I do is my best – everyone has its time and its own history and circumstances, though there are some albums that are more in my mind than others are! Really, when you work on something it is the latest and best you've ever done and so it always is my favourite record. It's as simple as that. However once a record is finally completed and I hold a CD or vinyl copy in my hands it looks great … but my interest vanishes pretty quickly. It's always been like that.
---
In memory of KLAUS SCHULZE 1947 –  2022
With thanks to Matt Benton at Hold Tight and Klaus D Mueller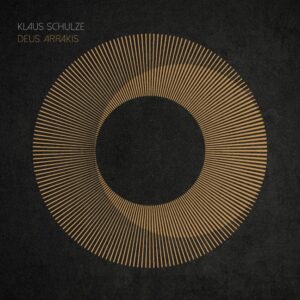 'Deus Arrakis' is released by SPV on 1st July 2022 as a deluxe box set, triple vinyl LP and CD, pre-order from https://klausschulze.lnk.to/deusarrakis
The 450 page hardback book 'Violins Don't Grow On Trees – The Life & Work of Klaus Schulze' by Olaf Lux is available in English and German language editions from https://olaflux.bandcamp.com/
https://www.facebook.com/OfficialKlausSchulze/
https://twitter.com/klausschulze
https://www.instagram.com/officialklausschulze/
https://open.spotify.com/artist/3U2U4TR03ZuStsizrv0EJB
---
Text and Interview by Chi Ming Lai
30th June 2022