Martyn Ware is best known as a member of HEAVEN 17 and a co-founder of THE HUMAN LEAGUE but he also found success as a producer, helming hit singles for Tina Turner and Terence Trent Darby as well as SCRITTI POLITTI and ERASURE.
'Electronically Yours Vol1' is the autobiography of Martyn Ware that covers up to the end of 1992. Following his formative years pioneering the cause of the synthesizer in pop music, he was experiencing leaner times.
But thanks to a BROTHERS IN RHYTHM remix of 'Temptation' that was gaining traction in clubland, interest in HEAVEN 17 was re-energised and plans for what became the 1996 comeback album 'Bigger Than America' and their first UK tour fell into place… but that is another story intended for 'Electronically Yours Vol2'.
Born in 1956, Martyn Ware grew up in a council house in the Socialist Republic Of South Yorkshire. His father was a devout trade unionist, so the availability of libraries, education for all, affordable accommodation, free healthcare via the NHS, loyalty to community and the security of mutual care are values that Ware stands for in the possibilities of making the world a better place for all.
Ware has often been accused of being a "champagne socialist" but why shouldn't everyone be able to make a good life for themselves and taste the finer things, why should it only be the preserve of the greedy in their robbing pursuit of cash as part of their "divide and rule" power trip? Fair taxes provide opportunity for all, but sadly as Ware states, the "I'm all right Jack" and "Pulling the ladder up" mentality has become the dominant attitude as betrayal in the pursuit of social mobility takes hold.
This treacherous attitude is particularly prevalent in the children of Commonwealth immigrants; members of that second generation such as Priti Patel, Rishi Sunak, Kemi Badenoch, Suella Braverman, Kwasi Kwarteng, Bim Afolami and James Cleverly ignorantly forget to look in the mirror as they push forward the heinous racist policies of the current Conservative government without a hint of irony! As the song says, 'We Don't Need This Fascist Groove Thang'!
Those who proclaim that music and politics should not mix forget that music IS politics; synthpop pickers may be shocked to learn that songs like 'Enola Gay', 'I Travel', 'African & White', 'Everything Counts', 'Blue Emotion', 'White China', 'Two Tribes', 'Equality', 'State Of The Nation', 'Suburbia' and 'The Circus' all had political sentiments. Ware despairs at how HEAVEN 17 were seen as heroes of the vile yuppie culture that emerged as the government of Margaret Thatcher were flogging off the family silver.
The suited ponytail image was a send-up while the titles of the first two HEAVEN 17 albums 'Penthouse & Pavement' and 'The Luxury Gap' were direct statements on the emerging class divide. Meanwhile, the nuclear paranoia of The Cold War and the Wild West mentality of the US president Ronald Reagan who wasted millions on the 'Star Wars' project fuelled creativity no end with the stark warnings of 'Let's All Make A Bomb' and 'Five Minutes To Midnight' among the resulting masterpieces.
To give context to the period, even BUCKS FIZZ's seemingly innocent 1982 nursery rhyme No1 'The Land Of Make Believe' was as co-writer Pete Sinfield put it "a virulent anti-Thatcher song" while 'Mistletoe & Wine' began life as an ironic socialist protest song from the musical 'Scraps' about "the unfeeling middle classes" before being tweed up by Cliff Richard for Christmas 1988. Even THE HUMAN LEAGUE were not free of political sentiment as 'Dreams Of Leaving' from 1980's 'Travelogue' discussed the plight of refugees escaping a genocidal regime, a point sadly still in the news 42 years on and illustrated in HEAVEN 17's live presentation of the song in 2021.
While politics looms within 'Electronically Yours Vol1', inspired by Peter Hook's NEW ORDER memoir 'Substance', a quarter of the book is brilliantly devoted to a track-by-track analysis of every released recording that Martyn Ware was involved in by THE HUMAN LEAGUE, HEAVEN 17 and BEF, the production umbrella of Ware's that helped relaunch the career of Tina Turner. When Ware left THE HUMAN LEAGUE to sign as BEF with Virgin Records, the option was for six albums per year and it seems almost unbelievable now that between Spring 1981 to Spring 1982, Ware together with fellow League refugee Ian Craig Marsh delivered four! In these notes, Ware is enjoyably matter of fact, celebrating his artistry when appropriate but also critical when required, especially about the 'Pleasure One' and 'Teddy Bear, Duke & Psycho' period between 1986 to 1988 where he took his eye off the ball with regards HEAVEN 17.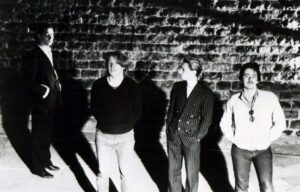 "We are THE HUMAN LEAGUE, there are no guitars or drums played on this record!"; with this manifesto, Ware, Marsh and striking front man Philip Oakey set out to conquer the world with their "synthesizers and vocals" ethos. But the route to success was not smooth and partly self-inflicted.
Ware is very candid about Ver League's bloody mindedness for their art which makes for entertaining reading. So you get acclaim for your independently released debut single 'Being Boiled', played on Radio1 by John Peel and signed by Virgin Records, what do you do next? Issue 'The Dignity Of Labour', a conceptual electro-industrial instrumental EP inspired by Yuri Gagarin!?! Then for your major label debut 45, you put out a disco number under a pseudonym! Then you get the opportunity to open for TALKING HEADS in support of your first album 'Reproduction' but decide to outconceptualise David Byrne & Co by presenting a taped show accompanied by slides while the band will not be on stage but mingling with the audience and signing autographs!?!
This was all too much for TALKING HEADS' management who threw THE HUMAN LEAGUE off the tour and the final two London dates featured OMD as the opening act! Later in May 1980, the two groups were to debut on the same edition of 'Top Of The Pops' and OMD were to steal a march with 'Messages' eventually reaching No13 while THE HUMAN LEAGUE's cover of 'Rock 'N' Roll' hit a high of No46!
Tensions were running high within THE HUMAN LEAGUE with pressure from Virgin Records to get a hit, an ironic situation as OMD were signed to Dindisc, an independent boutique label that was funded by Virgin, and were to become the biggest sellers of 1980 within Richard Branson's music empire.
Something had to change and while Martyn Ware's split with Philip Oakey is now more than well documented, what 'Electronically Yours Vol1' reveals is Ware's conflicts with THE HUMAN LEAGUE's Visuals Co-ordinator Adrian Wright. Oakey had wanted Wright to become a full-time member and equal partner, something that Ware felt was illogical as Wright made no musical contribution and could perform his role offstage. So when Wright showcased his presentation before the planned 1981 European tour, Ware felt the images had no thematic connection with the music, leaving our hero to conclude Wright was "at least part full of Art Bullsh*t".
What happened next is pop history and while Ware and Oakey maintained a bitter rivalry that was to last several years, both Sheffield lads did good. Ultimately the gamechanger in his life as "it's never a bad thing to be a wingman to a better-looking friend", Ware praises Oakey's lyrical contribution and credits him as being a factor in pursuing a career in electronic music, thanks to his love of Wendy Carlos, Isao Tomita and Annette Peacock. Today of course, that best mate role is taken by HEAVEN 17 front man Glenn Gregory and that flag is still flying 41 years after 'Penthouse & Pavement'.
Meanwhile Ian Craig Marsh, often the forgotten man of the period is singled out by Ware as a key conceptualist, master of bespoke synthetic rhythms and creator of weird alien noises. Ware believes Marsh's disappearance from the public eye in 2006 had its roots in HEAVEN 17's eventual mainstream success and that he became more and more withdrawn due to depression, something that was not apparent or talked about back in those heady days… his presence is still much missed.
As far as musician autobiographies go, 'Electronically Yours Vol1' is a straightforward book to consume. Using intelligent but accessible language, Martyn Ware gives an enjoyable insight onto the creative process without being too technical. Passionate and honest, if you want to gain an insight into the background of some of the greatest works from that innovative 'Synth Britannia' era, then look no further…
---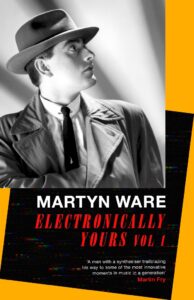 'Electronically Yours Vol 1' by Martyn Ware is published by Little Brown as a hardback book, e-book and audio book, available from the usual bookshops and online retailers
https://martynwareofficial.co.uk
http://www.illustriouscompany.co.uk/
https://www.facebook.com/Electronically-Yours-with-Martyn-Ware-101964588519314
https://twitter.com/martynware
https://www.instagram.com/waremartyn/
---
Text by Chi Ming Lai
1st September 2022, updated 20th November 2022