A well-thought out, well-crafted album with plenty of adventure, space and mystery within its multi-genre cocoon, STOLEN's 'Fragment' appealed to electronic, techno, prog and alternative rock enthusiasts alike.
Comprising of five Chinese musicians and a French VJ, STOLEN were founded in 2009 when three of their number were studying at the Sichuan Conservatory of Music. Their second album but the first with the Berlin-based production partnership of Mark Reeder and Micha Adam, the acclaim for 'Fragment' led to STOLEN opening for NEW ORDER on a six date European tour in 2019.
Further 2020 dates in Japan with the Mancunians were arranged but then the worldwide pandemic hit. While STOLEN have recovered to maintain their position as one of the most popular alternative bands in China, international momentum has stalled somewhat but now they present their 'Eroded Creation'.
In circumstances that were very different to the making of 'Fragment', the versatile sextet of Liang-Yi (vocals + synths), Duan-Xuan (piano, keyboards, sequencers + guitar), Fangde: (guitars + synths), Wu Jun Yang (bass Guitars + iPhone), Yu Yuan Feng Xiao Yuan (drums + percussion) and Formol (visuals + atmospheres) recorded the tracks in Chengdu but they were produced and mixed by Reeder and Adam in Berlin.
Opening with a song released earlier in 2022 by Alanas Chosnau and Mark Reeder on their 'Life Everywhere' album, STOLEN get to offer their vision of 'The Void Empire' with a deeper interpretation echoing 'Ultra' era DEPECHE MODE in its percussive loops and denser austere.
But making a mighty 11 minute statement, the segue of 'Capture The Star' into 'Space Intruders' is sonically magnificent: every element has its place from drums to guitar solos in this progressive Sinographic adventure. More sedate and sung in Mandarin with bubbling arpeggiators, chilling strings and melodic guitar, 'Hibernation Pod' could be a Chinese MUSE, especially when Liang-Yi hits some quasi-operatic falsetto tones.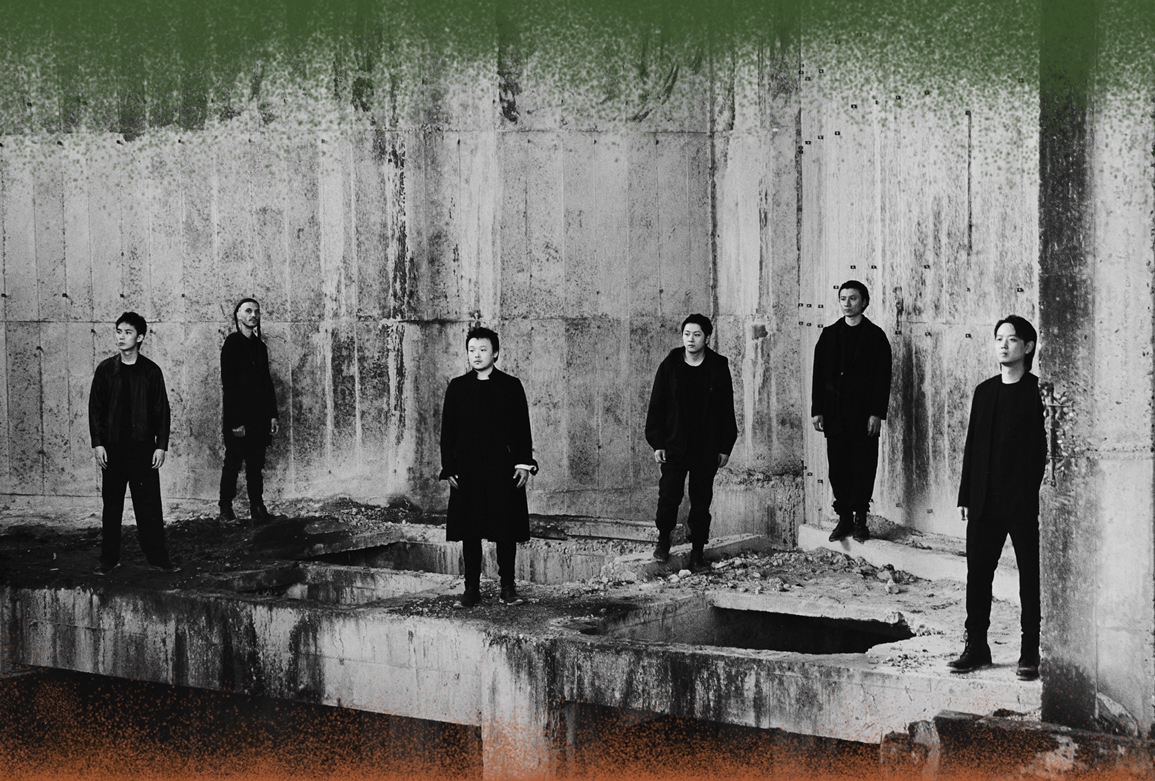 With ominous bass pulses and Middle Eastern overtones, 'Secret Agenda' offers something more gothic as virtual orchestrations enhance the drama while 'Shirt Of Darkness' offers absolution in its chilly disposition that grows with every listen.
Much rockier though is 'Never Believe' although Liang Yi is himself vocally restrained to provide an interesting contrast to the tension.
However, the growly frontman lets rip on the techno rock of 'Pay' where the backdrop unexpectedly twists and turns and thrusts with a pulsing synth middle section suddenly interrupted by a burst of jagged metal!
With a prominent mechanised stomp, 'Why We Follow' comes in Mark Reeder's Follow Me Remix and angrily makes its point, augmented by a blasting guest rap from PSY.P who made his breakthrough a member of the Chinese hip-hop collective HIGHER BROTHERS.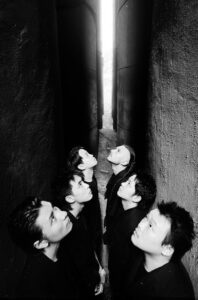 To a slight offbeat, 'Pressure' features some impeccable live elements in the drum breaks and enticing ivory runs reminiscent of David Bowie's 'I'm Deranged'. But as 'Eroded Creation' concludes, the sparse backdrop of 'Waiting' moves to the unexpected with a piano shaped ballad supported by understated embellishments from all of the band.
Developing on the propulsive grit and mystical cinematics of 'Fragment', STOLEN have made a fine and worthy follow-up in 'Eroded Creation'. They continue not to be tied down to any particular style, using an amalgam of influences to create a cerebral elation in its mix of psychedelic-tinged rock and electronics. 'Eroded Creation' puts STOLEN back on track and is a reminder as to why NEW ORDER were so supportive of their endeavours.
---
'Eroded Creation' is released in digital formats and available from https://stolenstolen.bandcamp.com/album/eroded-creation
https://www.facebook.com/STOLENfromChina
https://www.instagram.com/stolen_official/
https://open.spotify.com/album/30HYYg8IbkFLNcC43aU8wy
---
Text by Chi Ming Lai
19th December 2022