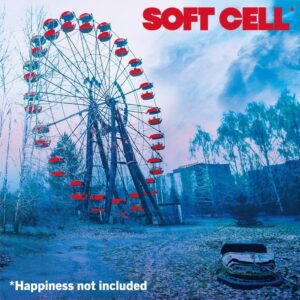 Coinciding with their live farewell at London's O2 Arena in 2018, SOFT CELL surprised their fans with two new songs 'Northern Lights' and 'Guilty (Cos I Say You Are)' on an updated compilation 'Keychains & Snowstorms – The Singles'.
What was planned to be the end became a brand new start as Marc Almond and Dave Ball embarked on a UK tour in 2021 to celebrate 40 years of their brilliant debut album 'Non Stop Erotic Cabaret'. The show also included a preview of material from a new album for 2022 entitled '*Happiness Not Included', their first since the 2002 reunion long player 'Cruelty Without Beauty'.
Co-produced by Phillip Larsen whose credits include Andy Bell, Moby, Mylène Farmer, Claudia Brücken, Katy Perry, Lady Gaga, Britney Spears and Kylie Minogue, '*Happiness Not Included' is an introspective collection of 12 new songs that mourn the passage of time, missed opportunities and life not going as planned.
Recorded remotely under the spectre of the global pandemic, '*Happiness Not Included' features "Science fiction stories for the 21st century" according to Dave Ball. The cinematic drama of the not-so 'Happy Happy Happy' opens and sees Almond as the humble narrator expressing his strained frustrations about "state assisted dying" while Ball realises his John Barry ambitions with a series of synth string sweeps in a stylistic ident that recurs throughout this album.
"Lost in the junkie jungle", the machine disco of 'Polaroid' recounts SOFT CELL's love of The Factory pop art scene and a bittersweet meeting with Andy Warhol in 1982. Featuring speech samples from the man himself and his enclave, it is also a metaphor for life that accepts that once the end comes, one of few things that remain are photographs.
A relative of 'Guilty (Cos I Say You Are)', 'Bruises On My Illusions' covers the familiar SOFT CELL topics of pain, self-loathing and misanthropy with a sharp energy complemented by Almond's vocal theatrics that are more convincing than on 'Heart Like Chernobyl', although that song's stark Cold War lyrical analogies on the morally toxic world of today have added poignancy given recent world events. Not included on the album, the excellent B-side 'Vapourise' with its references to "a nuclear explosion" and "a full-on attack" proves to be even more chilling…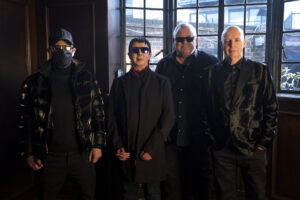 The catchy 'Purple Zone' is a slice of soaring melancholic Europop with immediate reminiscences of PET SHOP BOYS in particular.
So it is not entirely surprising that Neil Tennant and Chris Lowe make a guest appearance and plant their aesthetic, although it must be pointed out that this is a SOFT CELL composition, characterised by Almond's darkly doomed expressionism about midlife.
A union of The Blackpool Electro Mafia as well as featuring the voices of both Almond and Tennant, 'Purple Zone' goes full circle as after SOFT CELL first imploded in 1984, it was PET SHOP BOYS who ran with their baton after smoothing off some of the rough edges.
Taking proceedings down a notch, the wonderful 'Light Sleepers' presents a glorious orchestrated ballad arranged by Ball with soprano sax from Gary Barnacle that provides a backdrop for Almond's nocturnal demeanour that acts as sedative relief. With a sense of foreboding on the album's title song because "the future is in a lunatic's hands", Dave Ball plays on more of his John Barry spy drama fantasies with virtual harpsicord over a metronomic drum machine, aided by soulful male voices and flourishes of flute.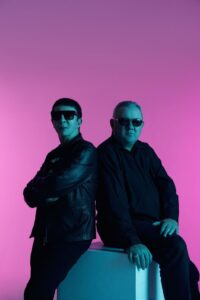 Meanwhile, the tense Italo Noir of the ironically titled 'Nostalgia Machine' gets some choppy rhythm guitar and pentatonic phrasing thrown in for an album highlight that revs up proceedings with a touch of exuberant swagger.
Originally a Dave Ball instrumental issued as part of a single and CD that came with the boxed set of his autobiography 'Electronic Boy' and now featuring a deranged expletive laden rap from American drag performance artist Christeene, the tense industrialised pulse of 'Nighthawks' recalls the sweaty alternative club overtures of one-time Some Bizzare stable mates CABARET VOLTAIRE. Cellmates are even treated to the deep growly voice of Mr Ball himself repeating the title and 'Staying Alive' refrains from backing vocalists Bryan Chambers, Louise Marshall and Simon King.
The eerie vibraphone-laden swing of 'I'm Not A Friend Of God' is a 21st Century 'Blasphemous Rumours'; in the face of a future with a scary face, Almond decides that "the young can deal with it instead". Reflecting Almond's past solo work, 'Tranquiliser' could be Gene Pitney with a widescreen orchestral palette counterpointed by a solemn narrative on dependency.
Ending with the grand six minute plus ballad 'New Eden' where "being young is not an option", Ball's gentle piano structure echoes Eno and his 'On Some Faraway Beach', before building towards its close with subtle electronics, complimentary strings and a choir. "All those plans we made in the '60s seem naïve now we've grown older" laments an impassioned Almond; now closer to the end than the beginning, this is a declaration of hope, that things can still be fine.
"In this album I wanted to look at us as a society: a place where we have chosen to put profits before people, money before morality and decency, food before the rights of animals, fanaticism before fairness and our own trivial comforts before the unspeakable agonies of others" said Almond of '*Happiness Not Included', "But in the album there is also a belief that there is a utopia if we can peel back the layers and understand what really matters".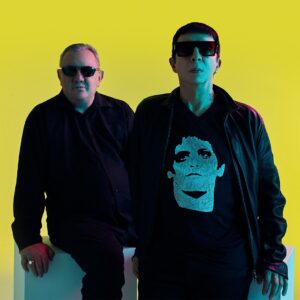 While the album has flaws with a few of the tracks sounding underdeveloped, there are a significant number of cracking songs that make this second reunion of SOFT CELL worthwhile.
You've been to the shows, got the T-shirt, bought the books and heard the singles but now it is time to listen to the album; in this modern compilation era of playlists, ELECTRICITYCLUB.CO.UK has compiled its own highly enjoyable classic 10 track version of '*Happiness Not Included' from the 13 songs in the pool, you might consider doing the same.
---
'*Happiness Not Included' is released on 6th May 2022 via BMG in various formats including yellow coloured vinyl LP, picture disc LP, CD, cassette and download, pre-order now avaiable from https://softcell.tmstor.es/
https://www.facebook.com/softcellband/
https://twitter.com/softcellhq
https://www.instagram.com/softcellhq/
---
Text by Chi Ming Lai
4th May 2022