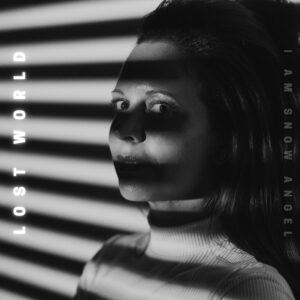 Singer, producer and sound designer Julie Kathryn reflects on a new life in a 'Lost World' for her latest body of work as I AM SNOW ANGEL.
Having relocated to the Hudson Valley with her infant son, her mind wandered as she dealt with the world's pandemic sorrow by immersing herself in creativity at night.
Collaborating remotely with studio veteran Charles Newman whose credits have included THE MAGNETIC FIELDS and musician / composer JJ Appleton, the end result is a collection of dreamy pop with a narrative of reflection in isolation.
Beginning with 'You've Been Telling Lies', it is the sort of song that I AM SNOW ANGEL does best, quietly subversive with strange swooping sounds and faint pitched up voice samples applied to traditional song elements for something unusual.
The uptempo 'Twisted Romance' combines synths and ringing six string which are immediately appealing while coming over like a feminine U2, the deeper percussive resonances of the 'Lost World' title concoct a mood as suggested by the title and this is taken further with the spacey dub-inflected remix by David Sisko which comes as a bonus.
In a song about her son written while in quarantine, the trip-hop influenced 'Sweet As You' uses a minimal distorted Telecaster line as the constant while a range of textures and atmospheres work around it in an optimistic glimmer, but at the opposite end of the spectrum, the breathy 'Tom' is a bittersweet lament reflecting on a former beau in an impressionistic manner like a hazy awakening from a dream-afflicted sleep.
The understated pulsations of 'Quiet & Bright' make it sound like Karen Carpenter piloting an interplanetary craft on a trip that is both soothing and assuring. Developing the template further, 'Bright Pink Skies' possesses a cerebral quality with gentle vocally derived pads circulating for a lush cinematic cacophony.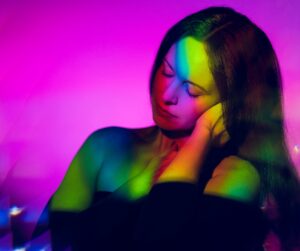 The album ends with 'Kaleidoscope' brings a helping of hope on an acoustic six string love ballad where "everything seems so easy with you".
Despite the melancholy and thoughts of hopelessness, 'Lost World' actually has gently sanguine quality about it.
Dreamy, comforting and exuding colour, this record demonstrates that in difficult times, inspiration and resourcefulness can triumph over pain and uncertainty.
---
'Lost World' is released on 6th May 2022, pre-save via https://onerpm.link/932079050122
https://www.facebook.com/iamsnowangel
https://twitter.com/I_Am_SnowAngel
https://www.instagram.com/i_am_snowangel/
https://iamsnowangel.bandcamp.com/
---
Text by Chi Ming Lai
Photo by Carl Timpone
3rd May 2022