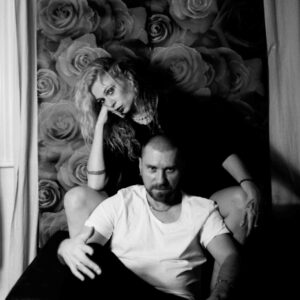 With their name standing for "non-human", Berlin-based duo NNHMN are possessed with a supernatural presence.
"Self-transforming creatures speaking in a colored language", Lee Margot and Michal Laudarg present their haunted but danceable electronic sound with a stark brutalism and enigmatic female vocals.
From their upcoming EP 'For The Comfort Of Your Exstazy', the body is strong on its lead track 'Omen' and its pulsing backbone recalls THE CHEMICAL BROTHERS 'Out of Control'.
In these unsettling times, 'Omen' captures the zeitgeist with a poignant anti-war message. NNHMN said "We can't stand neutrally when this senseless war is turning into pure hell. The artist can't stay neutral, the artist must use a weapon that is their strongest asset". Stating the true nature of evil, it declares "So they worshipped the dragon giving the power unto the beast so now who's able to make a war with him…"
The self-directed video exudes an underground voyeurism, described as "the world in which incarnations of ancient gods live. The modern urban techno panorama where sinister doom meets ethereal and untouchable higher self…"
Inspired by 'The Cremaster Cycle' films and 'The Neverending Story' with a touch of BDSM and bondage fashion, the video to 'Omen' is striking, seeing good triumphing over evil in a wish that many are feeling right now. So in "the rise of rebellion", "dash yourself against the wall" and "shake it up rave it all rave it all away".
NNHMN's debut album 'Church Of No Religion' was released in 2019, but the couple have since gone down the EP route in pursuit of their non-conformist creative freedom with the appropriately titled 'Your Body' being a particular highlight from their most recent release 'Tomorrow's Heroine'.
---
'Omen' is from 'For The Comfort Of Your Exstazy' released by Young and Cold Records on 25th May 2022 as a black or lemon green 12" vinyl EP and CD, pre-order from https://nnhmn.bandcamp.com/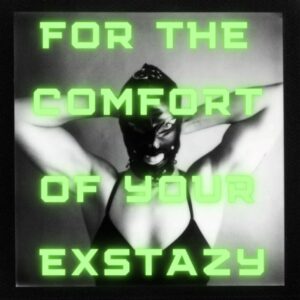 NNHMN 2022 live shows include:
Düsseldorf Kulturbanausen Im Ratinger Hof (16th April), Munich Katzenclub (17th April), Bologna Tank Serbatoio Culturale (29th April), Ilmenau Baracke 5 (7th May), Leipzig Festival (3rd June), Messina, Retronoveau (11th June), Paris, L'International (14th June), Lille Gare Saint Sauveur (16th June), Lyon Sonic (17th June), The Hague Paard (17th June)
https://www.facebook.com/nonhuman.duo
https://www.instagram.com/nnhmn_
---
Text by Chi Ming Lai
Photos by Caroline Bonarde
10th April 2022