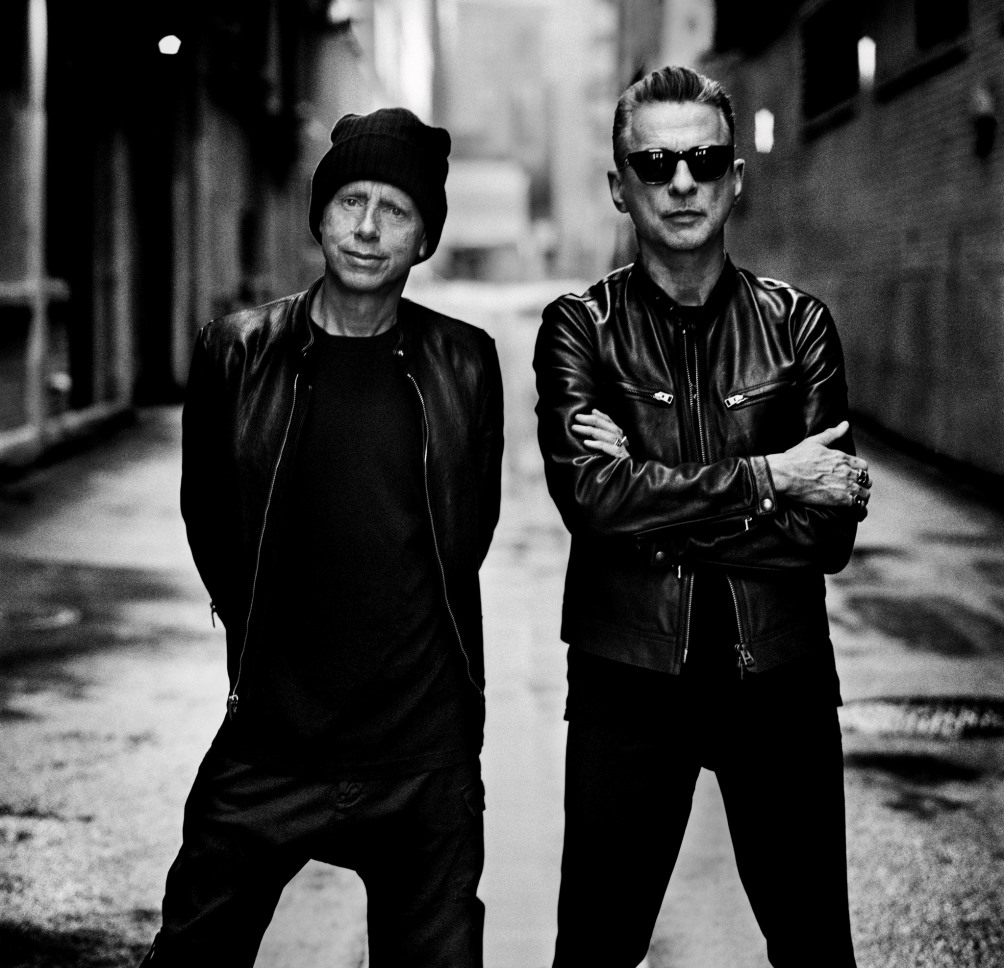 Unlike the 2013 Paris press event when the band didn't even know the name of their new album, DEPECHE MODE's recent news conference at Berliner Ensemble at least revealed that the as-yet-unfinished long player due out in Spring 2023 is to be called 'Memento Mori', a Latin phrase meaning "Remember That You Must Die!"
As with the lamentable 'Spirit' from 2017, it has been produced by James Ford, best known for his work with poshboy folkies and Dave Gahan's favourite band MUMFORD & SONS.
In front of an invited audience, Martin Gore and Dave Gahan spoke to their UK publicist Barbara Charone about "boring boring" Arsenal and possibly paying tribute to their late departed bandmate Andy Fletcher by playing an old song that he liked on the upcoming concert tour; how The Drumhead Christian Eigner and The Noodler Peter Gordeno will ruin it has yet to be confirmed.
There then came a few inaudible questions from those present and replying to that almost insanely predictable question about performing "unplugged", even the now-ungratefully synthpop-phobic Dave Gahan responded to confirm that DEPECHE MODE are "an electronic band"!
The news of fresh DEPECHE MODE activity with new sketched on a fag packet artwork by Anton Corbijn has polarised the electronic music community again; while some have been getting rather over-excited, others have taken to Photoshop to portray Gahan and Gore as successors to Laurel & Hardy.
Using a key bunker scene from the acclaimed film 'Downfall', Chris Mines has assembled this highly amusing and entertaining send-up of ELECTRICITYCLUB.CO.UK – best known as the synthpop satirist SUDDEN CREATION who has never met Vince Clarke, his video focusses on numerous well-documented rants about DEPECHE MODE and Devotees over the years as a kind of greatest hits… please note, this video will probably be meaningless if your first language is German unless you turn the sound down!
The phrase "underwhelming arena show plonked into a stadium" of course makes an appearance and while ELECTRICITYCLUB.CO.UK frequently likes to highlight Dave Gahan's criminal past, it was during DEPECHE MODE's acceptance speech into that dinosaur institution The Rock & Roll Hall Of Fame in 2020 when Dave Gahan remarked to his bandmates that "I dunno what the hell I would have been doing if I didn't find music to be quite honest…", that Fletch retorted "YOU'D HAVE BEEN STILL STEALING CARS DAVE!"
The 'Memento Mori' world tour comes to London Twickenham Stadium on Saturday 17th June 2023 and among the many ticket options are a Gold Circle Early Entry Package at £275. While this has been the only UK date confirmed so far, many observers predict that further dates where DEPECHE MODE will be able to downscale and plonk an underwhelming theatre show into several arenas will be announced; although many Devotees pride themselves in following a band can play in stadiums and in the rain, it is so much better indoors…
Many London-based electronic music fans will be relieved that they will have already purchased tickets on that date for PET SHOP BOYS at Wembley Arena where Messrs Tennant and Lowe will perform the songs that made them famous and that their audience actually want to hear.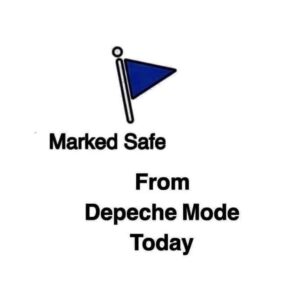 However, ELECTRICITYCLUB.CO.UK predicts utter travel chaos in the capital as next door in Wembley Stadium, as occasional synthpop exponent Harry Styles will be presenting the fourth night of his 'Love On Tour' residency at the iconic Middlesex complex.
Unlike their beloved Arsenal, DEPECHE MODE have actually yet to play at Wembley Stadium…
---
ELECTRICITYCLUB.CO.UK gives its warmest thanks to Chris Mines aka SUDDEN CREATION
Cold War Night Life's more comprehensive review of Dave & Martin's Laugh-In at Berliner Ensemble can be read at https://www.coldwarnightlife.com/2022/10/04/depeche-mode-announce-tour-album/
Official news and updates on the new DEPECHE MODE album 'Memento Mori' and the 2023 tour of underwhelming arena shows plonked into stadiums can be found at http://www.depechemode.com
The SUDDEN CREATION albums 'One Man Party' + 'Synth Boys Don't Smile' are available as CDs or downloads from https://suddencreation1.bandcamp.com/
---
Text by Chi Ming Lai
Photo by Anton Corbijn
8th October 2022