The Milan-based Roman producer EUGENE first came to wider attention in the UK with his single 'Radiowave' released by Wall Of Sound in 2019.
An ambassador for the electronic instruments distributor Midiware, he has also been a singing actor for the Italian versions of animated series and movies such as 'Lego Batman', 'Peter Rabbit', 'Happy Feet', 'Ask The StoryBots 2', 'Fireman Sam' and 'Thomas & Friends'.
His soundtrack for the surreal short film 'Lavender Braid' by American director Magdalena Hill combined synthesizers and voice with prepared piano, violins and the hurdy gurdy, an ancient hand-cranked drone string instrument.
Over the past few years, EUGENE has been keeping himself busy with remixes, live work (pandemic allowing) and releasing a series of singles in the build-up to his debut album 'Seven Years In Space'. Asking "Can an object float in space for seven years?" in an oblique reference to recent times, the record is a one-way ride through 1890 and 2084.
While there is the throbbing electronic pop of 'Of Signals & Voices' and the punchy energy of 'Gone', the debut long player sees the Italian musician exploring and expressing from the galactic rock of 'Dive' and the arty Italo of 'Crash' to the ELO-esque 'How Would You Define It' and the electro-funk workout 'Diagram'.
But there are more cerebral moments too; 'Undisclos*d' distorts piano over a slow dark waltz while mixing in Texas Instruments and the vocoder tinged ambience of 'Ionosphere'. And while David Bowie said we had only 'Five Years' and THE CURE felt there were 'One Hundred Years', EUGENE synths up 'A Forest' by the latter to confirm there are actually only seven!
'Seven Years In Space' maintains EUGENE's assertion that "Pop is not a crime". He kindly spoke to ELECTRICITYCLUB.CO.UK about his first length album and getting back on the live circuit.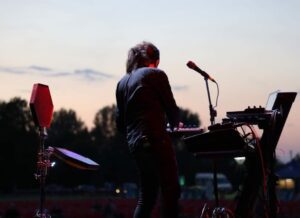 You have been releasing a series of singles to start 2022, is this all leading to a full-length EUGENE album?
Absolutely yes. You know I always preferred to release just single tracks or EPs rather than entire albums, but this time I felt like saying something more. It was basically a communication need. By the way, the album will be out on May 13 and it's titled 'Seven Years in Space'.
'Of Signals & Voices' has some familiar tones about it, what influenced its sound?
That song came up almost instantly, lyrics included: this is not the first time that it happens to me. Also arrangement was easily completed. It's all built around a sequenced bass line, with lots of real-time tweaks, but at the end of it I realized I was just simply writing a blues, a sort of 'Radiowave – part II', if you pay attention to the lyrics.
I also knew that there was something coming subconsciously from synth heroes Gary Numan, Howard Jones, Thomas Dolby – to mention a few some – and maybe STEELY DAN too, but I tried my best to filter their influence through my own sensitivity.
'Gone' evokes a more fully electronic DURAN DURAN?
I think 'Gone' is one of the most energetic and elegant tracks I've made so far, at least I tried. So many DURAN DURAN tunes got that combination at a very high level. I feel honoured by this comparison, I don't know if I am up to it, thank you!
What did you think of the most recent DURAN DURAN album 'Anniversary' with its two Giorgio Moroder produced songs?
I immediately asked myself: "why didn't they do this back in the early 80s?". They did a flawless job. On the other hand, I have to admit that it sounds very celebratory to me, but it's okay. I guess they're not here to prove anything else, they're just having a good time doing what they've always done.
There's some anger coming out on 'Crash'?
There is anger and a bit of cynicism too. It's about the end of a human relationship, compared to a furious chase ending in a so-called "perfect crash", where everything is saved or everything is destroyed: no other options at all! I love the Clint Eastwood voice sample you can hear after the first chorus: "Go ahead, make my day". I think it adds irony and drama at the same time, it contains the spirit of the whole song.
What is 'Dive' about?
It's about an aesthetic impulse, a relentless search for style that wins over time and fashion, while the world around seems doomed to fall into ruin. The narrator is a kind of futuristic Dorian Gray, crossing a stargate between 1890 and 2084.
Have you bought any new equipment recently that has changed your way of working?
I bought a new Moog synthesizer and a very cool reverb / modulation effect unit called Hypnosis, but actually my method just got even more pragmatic. I've discovered the effectiveness through the subtraction of the elements. I also love the unpredictable, I'm learning to exploit mistakes or unexpected situations during the recordings.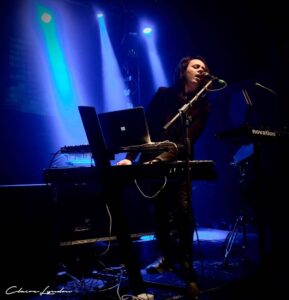 You have also been busy with remixes for other artists, like MILANO '84's 'Lola', what is your approach to this compared with when you produce your own music?
As for my own music I put no boundaries to creativity and I'm interested first and foremost in being sincere and expressive: remixes work like this too but I see them more connected to urgency, you know, it's a matter of instinct. That is why I always try to make construction sessions last no longer than a couple of days. I had already been guesting as lead vocalist on MILANO 84's version of 'Lola', originally written and released by Italian cult duo KRISMA in the late 70s.
I found this new version really fascinating, dark and experimental, a bit far away from the usual MILANO 84 new-Italo touch. So when time came to do my remix version, I decided without hesitation to put some Italo disco flavours into it and eventually bring 'Lola' back to MILANO 84's home: during these sessions I spent more time dancing than recording, believe me!
Your take on 'My Crying Bride' for KLONAVENUS with its dark and moody synthwave vibes was quite different from your usual sound and very different from the original?
In this case I went way more experimental, heavily pitching voices on downtempo beats and using a low-fi attitude in sound treatment – vaporwave fans might dig this one! The glacial mood of the original track is still there anyway, I just felt like adding some tension and disquiet. I had the idea while listening to the intense Valerie Hely's isolated vocal track.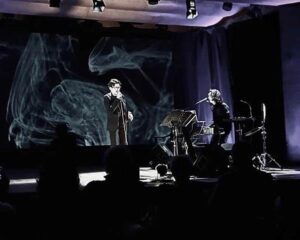 You have been backing veteran Italian new wave artist GARBO on his recent tour. For those in the UK who probably won't know who he is, what is his enduring appeal and what songs would you suggest people should checkout?
GARBO is the first artist in Italy to achieve mainstream success in the early 1980s with a clever combination of rock, pop and subtle electronic textures, which would later be referred to as the Italian New Wave.
As well as being appealing for his minimal and almost androgynous look, his songs seemed to give a voice to a troubled generation in the midst of an identity crisis: it's amazing how many of his lyrics are still tremendously relevant today.
To introduce you to GARBO's music I would suggest these four tracks: 'Vorrei Regnare', 'Generazione', 'Radioclima' and 'Up The Line'.
How was it for you to be out playing live again?
Oh, it was sort of that coming-back-to-life feeling. You know I'm not a bedroom musician, so performing live is the ideal completion of my studio production activity. I missed the excitement of those five minutes before taking the stage, the adrenaline, the exchange of energy with people.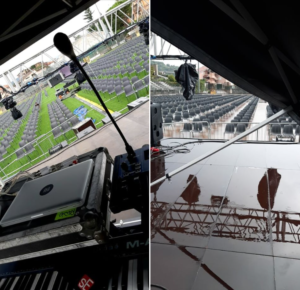 But one show was flooded out, what happened there?
This is an unbelievable story: last August I was in a small town near Rome for a stadium concert as a live session man with a very well-known Italian popstar. It was a splendid summer day… well, until 3 in the afternoon. We were taken by surprise by an extremely violent storm: within an hour and a half the stadium became a huge swimming pool. My bandmates and I took to the covered stage, which was the safest place available, waiting for that bad dream to end. Fortunately, the rescue vehicles managed to "empty" the stadium in a short time and the concert was re-scheduled for the next day.
At that point another problem came up: the bass player was not available for the re-scheduled gig, so the manager asked me if I could play the bass parts on the synthesizers in addition to my usual parts. I'll tell you, I had a hard time but in the end everything went pretty well.
The 'Italo Disco Legacy' documentary celebrated a frequently maligned sub-genre, what did you think of the film?
I enjoyed it a lot, it's a well-made documentary on this rather underestimated musical genre. It very much reflects the naivety of those times: I suppose there was a great desire to experiment while having fun, albeit with limited means in terms of technology.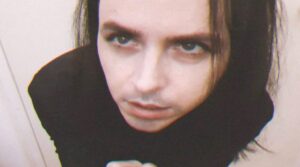 What is next for you?
Right these days I'm organizing the promotion calendar with the precious help of my partner-in-crime Claire (Stargazers Inc) – once the physical copies of the album are available, there will be showcases and club gigs, I hope to be back in UK too.
Meanwhile I continue my work as music producer and consultant for other artists, record labels and TV productions, but at the same time Claire and I are always looking for the next exhibition to visit or the next city to travel to.
Boredom doesn't live here.
---
ELECTRICITYCLUB.CO.UK gives its grateful thanks to EUGENE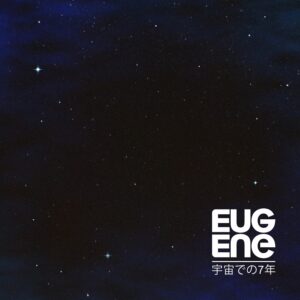 'Seven Years In Space' is released on 13th May 2022 in CD, cassette and digital formats, pre-order at https://eugeneofficial.bandcamp.com/ or pre-save at https://bfan.link/seven-years-in-space
http://www.eugeneofficial.com/
https://www.facebook.com/eugenemusic
https://twitter.com/eugene_music
https://www.instagram.com/eugenemusic.official/
---
Text and Interview by Chi Ming Lai
Photos by Claire Lyndon at Stargazers Inc
10th May 2022