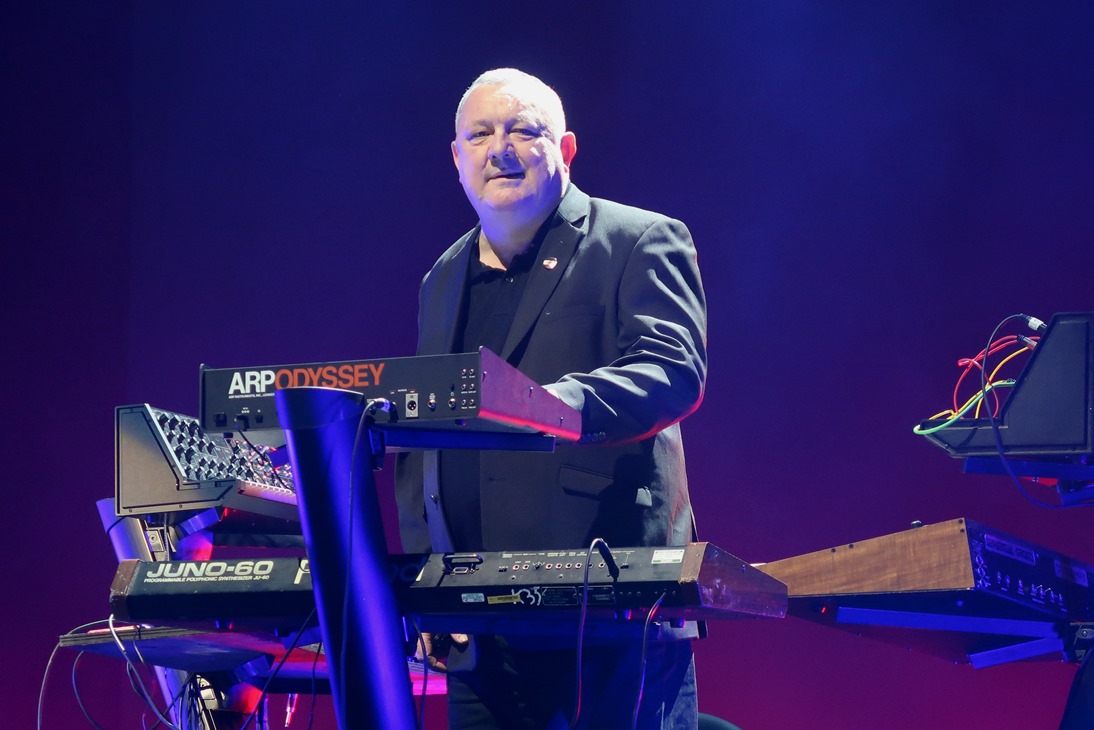 Although he began with a Fender Telecaster, twin stylus Stylophone and second hand Akai reel-to-reel tape recorder to compose primitive ambient experiments, when a young Dave Ball bought a MiniKorg 800DV duophonic synthesizer, he never looked back.
On his first day as a fresher on the Fine Art degree at Leeds Polytechnic, he asked for directions from a second year student wearing a leopard skin printed shirt and gold lame jeans; that student was Marc Almond and the pair were make history as SOFT CELL…
Over four decades on, SOFT CELL have proved to be one of the most influential electronic pop acts ever with BRONSKI BEAT, PET SHOP BOYS, FRANKIE GOES TO HOLLYWOOD, PSYCHE, NINE INCH NAILS and even DEPECHE MODE owing more than a debt of gratitude to Messrs Almond and Ball for the doors they opened. During their imperial Some Bizzare phase between 1981-1982, SOFT CELL scored no less than five Top4 UK hit singles with 'Tainted Love', 'Bedsitter', 'Say Hello Wave Goodbye', 'Torch' and 'What' in little more than 12 months.
After SOFT CELL first disbanded in 1984, Marc Almond would go onto long and varied solo career while Dave Ball found success as a member of the dance duo THE GRID with Richard Norris. Almond and Ball would reunite to co-write three songs for the former's 'Tenement Symphony' album, but a full SOFT CELL reunion would not take place until 2001. A comeback album 'Cruelty Without Beauty' was released in 2002 supported by extensive touring but behind the scenes, tensions were lingering. Following Marc Almond's near-fatal motorcycle accident in 2003, the pair did not speak for many years.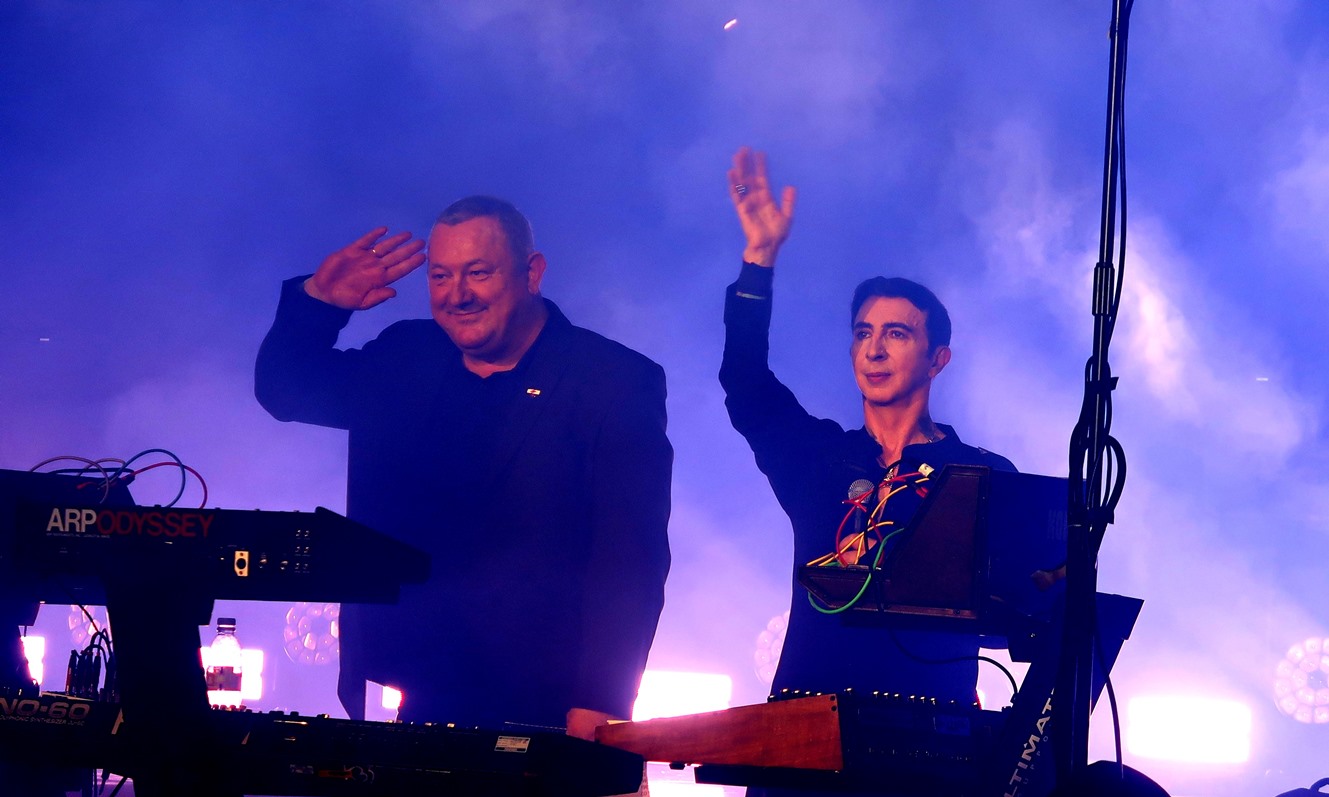 But in 2018, SOFT CELL surprised the world by announcing what was intended to be a final concert at London's O2 Arena. Having also recorded an excellent new single 'Northern Lights' b/w 'Guilty Cos I Say You Are', the special magic between Almond and Ball could not be denied. In 2022, their fifth SOFT CELL studio album '*Happiness not included' was released with a number of its songs having been previewed during the duo's 2021 live celebration of their debut album, now released as the concert film 'Non-Stop Erotic Cabaret… And Other Stories: Live'.
However, Dave Ball was to have his own brush with mortality, spending part of 2022 in intensive care in a London hospital after seriously damaging his lower vertebrae. Placed in an induced coma, he had to miss SOFT CELL's North American concert dates. Steadily regaining his health and fitness, Dave Ball is vowing to be on top form again for SOFT CELL's series of outdoor live shows in 2023.
And it was a chipper Dave Ball who accepted ELECTRICITYCLUB.CO.UK's invitation to chat over a round of Vintage Synth Trumps and talk about SOFT CELL's past, present and future…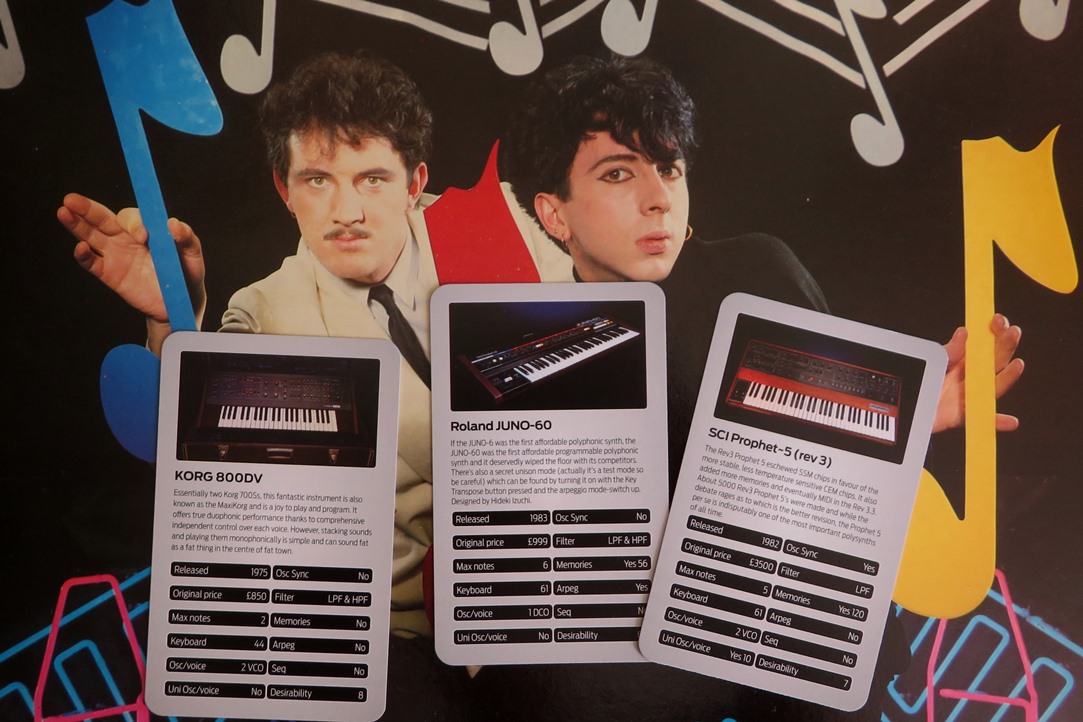 So the first Vintage Synth Trumps card is an EMS VCS3…
The first time I saw one of those was Brian Eno using one with ROXY MUSIC and Dave Brock from HAWKWIND had one as well. So there's a few legendary rock stars that have had them but I've never actually owned one. I had a quick play with one once at Guildford University, they have a big music college there so had a Moog System 55 and a VCS3. I was messing around with all the little pins and making weird echoey noises. I've always wanted to have one, they look like a lot of fun!
The next card by coincidence is the EMS Synthi AKS which is the compact suitcase version of the VCS3…
These EMS synths are the sort of synths I dream about, I've seen them but had no experience recording with them. I always get these two mixed up though, they were based in Putney weren't they? I think there's someone still making them but the originals cost a fortune and go for thousands now.
How do you feel about these remake synths, like the Korg ARP Odyssey which you have used live?
I think they're alright y'know, I've got a Behringer 2600, that sounds pretty good… the one that I'm interested in at the moment is a rack mounted Wasp remake which they've done. There's a connection to EMS isn't there?
Yeah, Chris Huggett who did the original EDP Wasp worked on the Akai S1000 alongside David Cockerell who was at EMS…
…so I've bought one, they look like a lot of fun and I really like the sound of them as well. It actually sounded like a wasp, really thin and nasty! *laughs*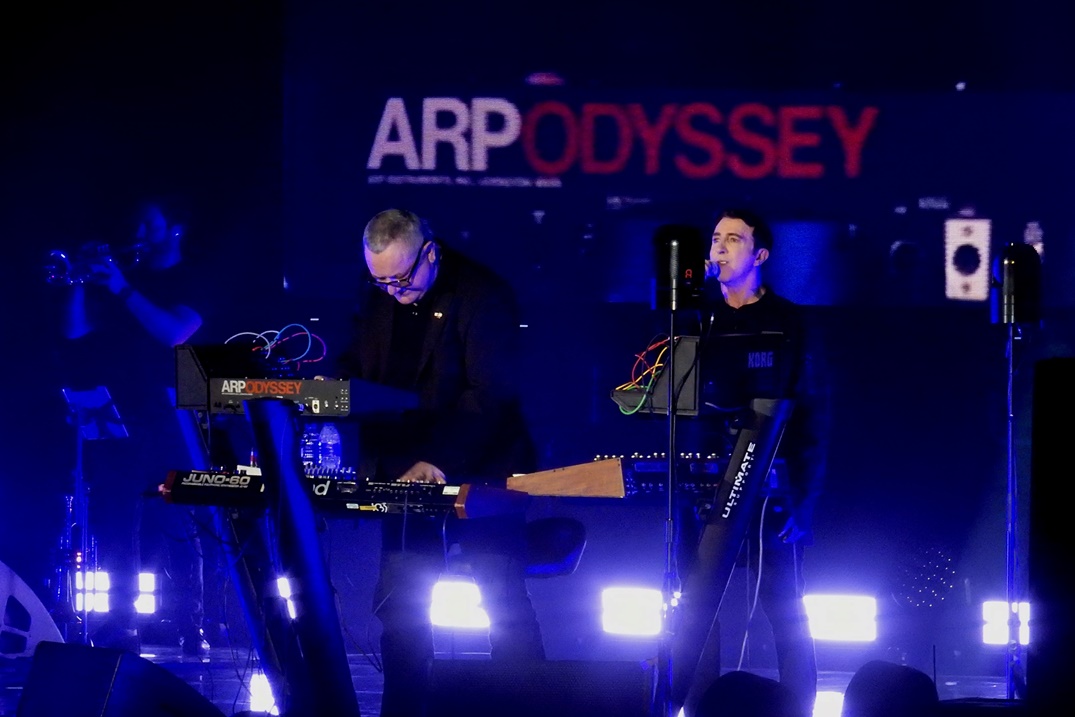 You were using the new Korg ARP Odyssey for basslines like on the live version of 'The Art Of Falling Apart' that is featured on the 'Non-Stop Erotic Cabaret…And Other Stories: Live' film, how you find it compared to the Korg Synthe-Bass SB100 or other synths like the Minimoog?
A lot of the stuff live is programmed to computer and I'm just beefing things up and adding to them. I do like the Korg ARP Odyssey, it's got a very distinct sound. When I hear one of those, I always think of Billy Currie, especially the early ULTRAVOX stuff, he got that machine sounding fantastic. Also, a lot of early KRAFTWERK videos, you see one as well. That famous 'Tomorrow's World' clip, they had a Minimoog and an Odyssey. I've never actually played an original authentic Odyssey so I wouldn't be able to compare although the keys are smaller… I just take it as what it is. It IS a Korg version.
How do you find those small keys cos you're a big fella? *laughs*
Yeah, I've got big fingers but I'm quite nifty with them. At home when I'm just messing about, I sometimes use one of those Akai MPK things and they have little keys on them. You get used to them and I'm quite nimble with my big fingers! *laughs*
So with the 'Non-Stop Erotic Cabaret…And Other Stories: Live' film, what are your memories of those shows and revisiting material like 'Entertain Me', 'Chips On My Shoulder', 'Seedy Films' and 'Secret Life' which hadn't been aired in concert since 1982?
It was great because I'm not in the habit of listening to my old material at all, but as I knew the shows were coming up, I had to check the first album again. It was really refreshing to hear it and listen to how much we've changed and stuff. But what was really good about doing the shows was for a lot of people who have great memories of that album, it was the first time they'd ever heard us live, so I think it was great for them to hear the whole album being done live. It was actually the first time we'd done it, we'd never performed the album in its entirety in sequence before.
When we first made it, we used some of the tracks off it but not all of them. It was good to hear it as a whole peace. We are thinking of maybe doing the same thing with 'The Art Of Falling Apart', cos that could be quite a good show because a lot of people really love that album as well…
I think that would be a brilliant idea Dave…
We've got quite a few possibilities and options after these upcoming outdoor shows and 'Let it Rock'… is it called 'Let It Rock'?
It's called 'Let's Rock' but I do think is the weirdest possible name for a heritage pop festival brand… *laughs*
'Let's Rock', its sounds it could be SHOWADDYWADDY on the bill! *laughs*
Yes! EXACTLY! That's my point! It's easy to understand the brand concepts of 'Rewind', 'Here & Now' and 'Forever Young', but 'Let's Rock' when there's no rock? It is head scratching but they are doing the business…
I'd never heard of them until we were approached… my only problem at the moment with playing gigs is my mobility; I'll probably have to use a wheelchair to get on stage! It doesn't really matter because I sit down when I play anyway. So getting on and off stage is my only primary concern at the moment, never mind the 10,000 people that are going to be watching us! Once I'm on stage and I'm locked in, so long as I don't start wheeling backwards, I'll be fine! *chuckles*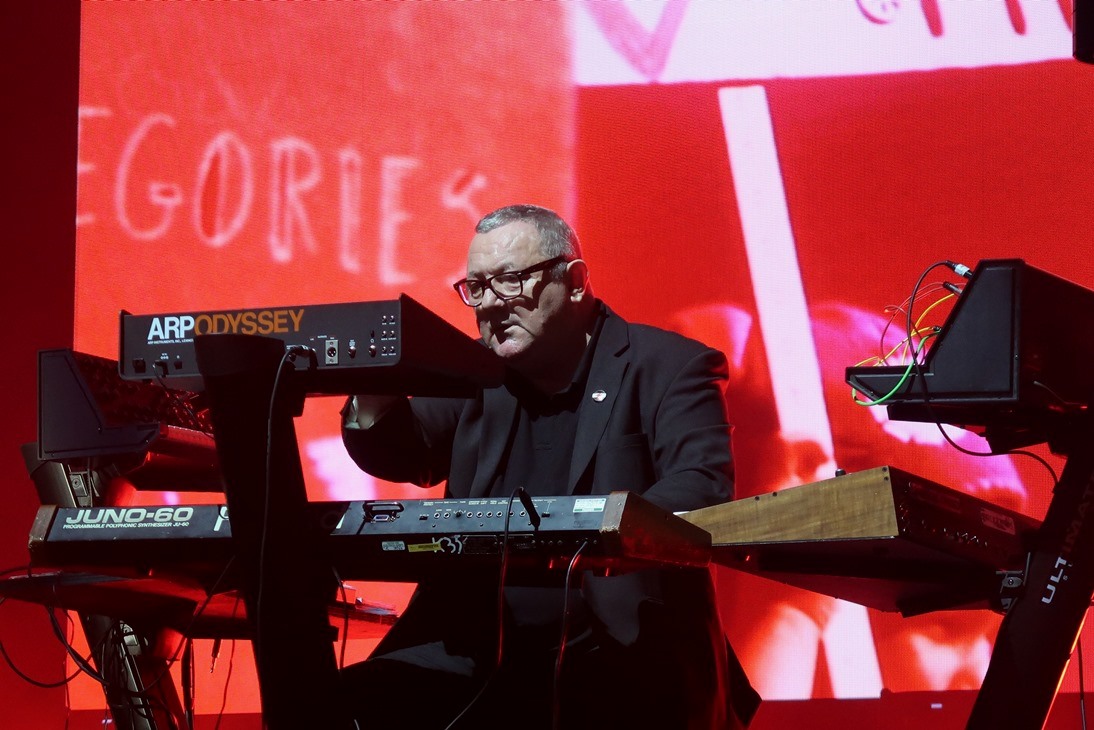 Here's another card, and it's an Oberheim OBXa…
There were two schools, those who went for the OBX and people like me who went for the Prophet 5, it was a very similar sort of synth in terms of the way it worked and the polyphony of it but I was always a Prophet 5 man. But I did buy an Oberheim DMX drum machine which was part of that kit series that included the DSX sequencer and OBX.
Was the DMX more cost effective than the LinnDrum?
When we recorded 'The Art Of Falling Apart', we used the Linn 1, the Linn 2 and the DMX so it wasn't to do with cost, it was just sonics. The Linn was a better machine in terms of it being easier to trigger with a click track, whereas the DMX wasn't quite as simple, but it was being used on a lot of early hip-hop and electro records so I liked the sound of it more, it was a bit more punchy I thought.
Here's something I've always wanted to ask you Dave, you used the Synclavier on the first two albums but bought a PPG Wave 2.2 for 'This Last Night In Sodom', so why did you pick that over the Synclavier or Fairlight?
This was to do with price! I never bought the sequencer for the PPG though because I always used to play everything by hand. I liked the sound of it, it was a big machine and I wanted something that sounded quite modern and metallic. The Fairlight and Synclavier had dated by then and everybody had used them on everything, so it was nice to break away from that really.
So no Fairlight, no Synclavier, that album was PPG and the DMX although my favourite drum machine would probably be the Roland TR808 out of all of them. That's the one we used on the first album, I think we got one of the first ones off the production line. Mike Thorne also had it when we got to New York, he had a Synclavier and TR808 set-up ready to go so that was great, so we didn't do it totally fresh *laughs*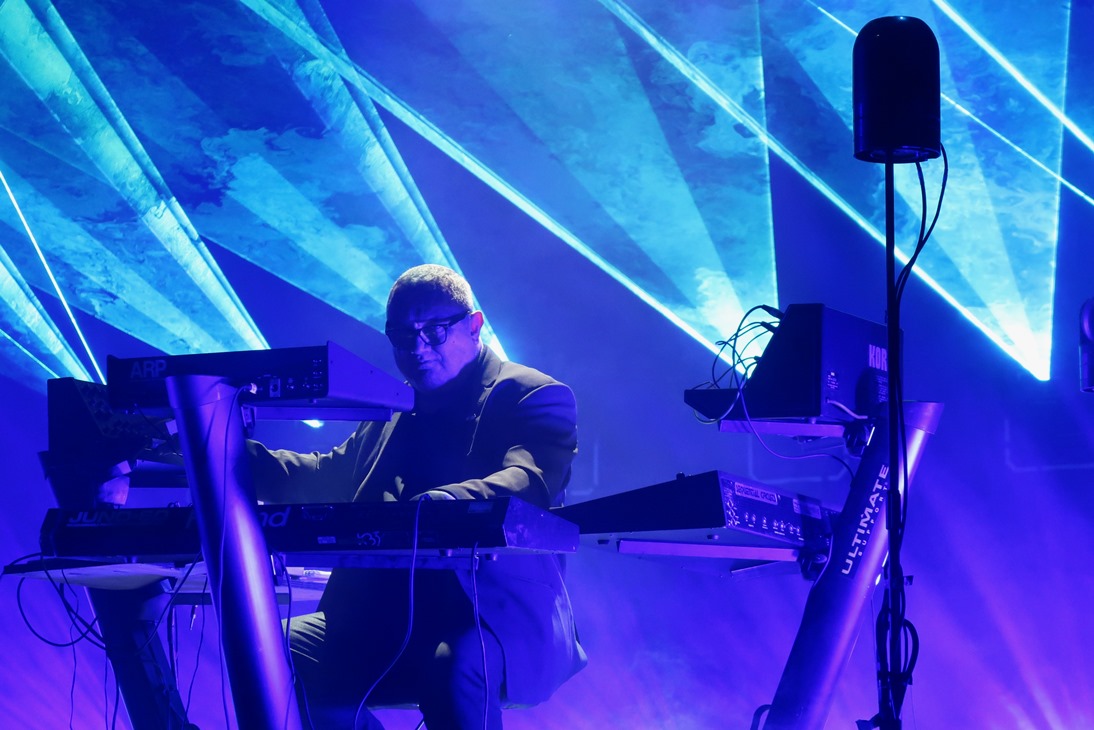 The next card I've pulled out is a Roland Juno 60 and I know you used this at the O2 show in 2018…
I had one for a short while, a friend had one second-hand so I got it off him. The thing about all Roland synths is they all have a fantastic sound, you can't really beat them. Gary Barnacle who plays sax for SOFT CELL, he has a Roland Jupiter 8 in mint condition and he said the asking price for them now is £30,000 which is crazy! I wouldn't pay that even though it's a wonderful synth, I might give you three and a half grand! *laughs*
How do you feel about the software emulations of these classic synths?
They're not bad, because it's electronic sound, it's easier to emulate that than it is a natural sound. The drum sounds, they've got nailed. The thing about the original synths is the oscillators, sometimes they drift a bit and you get that lovely fadey thing, but they've probably got that built into some of these reproduction VST plug-ins so that they drift in amongst themselves.
'Monoculture' was the launch single off the first comeback album 'Cruelty Without Beauty' in 2002, so had your approaches to making music for SOFT CELL changed by then?
'Monoculture' was sort of conceived for live and mixing purposes, I made it so that it was the same tempo as 'Memorabilia' and it's in the same key. So when we used to start the show with 'Memorabilia', it would segue straight into 'Monoculture', it was almost like a DJ mix to get everybody dancing with the same groove on a familiar and new track. It was a looking backwards and facing forwards kind of thing, looking back at what we'd done before and projecting what we were going to do next, recreating our own past in a way, future retro, whatever you want to call it *chuckles*
The show saw the premiere of songs from '*Happiness Not Included', one of them was 'Purple Zone' and at Hammersmith Apollo, PET SHOP BOYS were in attendance…
On the second night at Hammersmith, we knew that PET SHOP BOYS were on the guest list so I told Marc, he was like "oh great" and pretended to be nervous as they had front row seats. Funnily enough, they were sitting next to Richard Norris, my other half in THE GRID… he said they were taking loads of photographs which is quite flattering *laughs*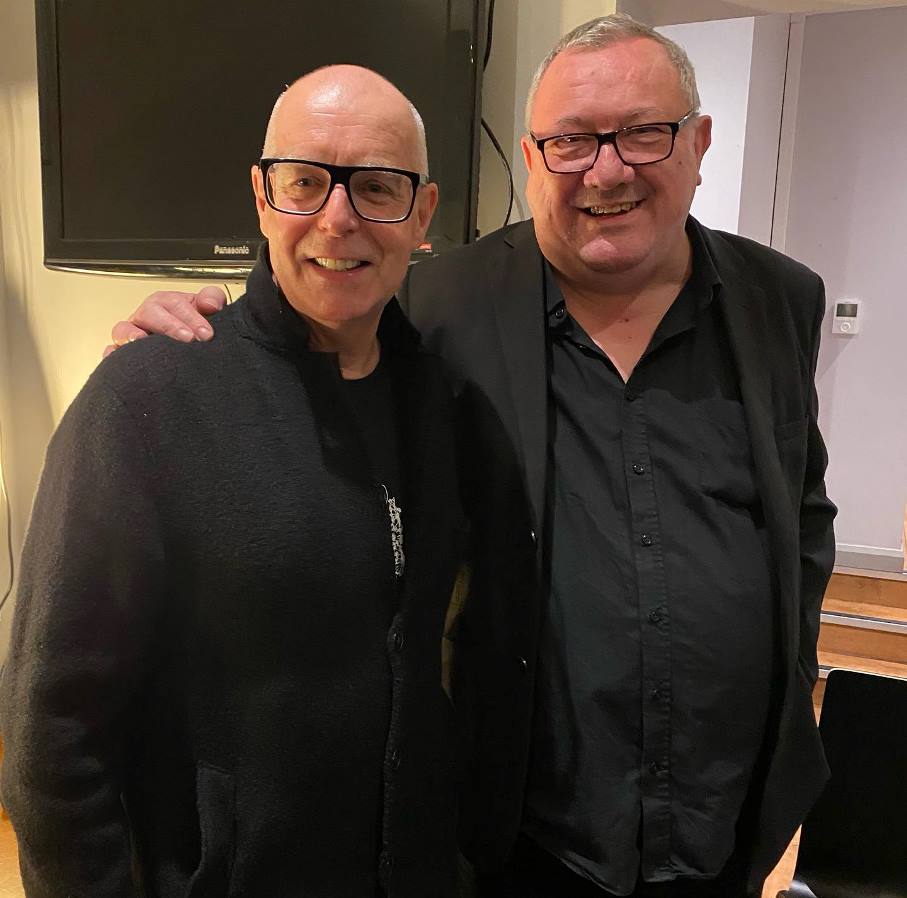 After the show, my manager Chris Smith came to say that Neil Tennant and Chris Lowe were backstage and did I want to say hello? I did of course, but Marc doesn't stay around at gigs and he'd already gone, so they came into my dressing room and we had a few beers. We chatted for about an hour and they asked about 'Purple Zone'; Chris Smith then enthusiastically suggested to them about doing a remix and they were like "Yeah! We'd love to do it".
Neil then asked if he could sing on it and I thought that would be fantastic so we let them do what they do best. They came back with the PET SHOP BOYS version of SOFT CELL. Neil and Marc's voices work so well together and it was a really good record for both PET SHOP BOYS and SOFT CELL, the profile we got, I think it was the most played record on radio at the time and it No1 in various dance charts and No7 in the Music Sales chart, whatever that means. It did us all a lot of favours and a lot of good.
But then…
The weird thing was that while that was all going on, I was in hospital. Normally if I got this kind of news, I'd be out with my mates celebrating with champagne… but not in hospital I'm afraid! Chris Lowe had been chatting to me after the gig about how it was going to be a weird year in pop in 2022! I thought "what does he mean?", but it turned out to be a weird year for me! So it was like having a third year of lockdown! But I'm out and on the loose again, not quite on the streets yet but I'm raring to go! I've not quite got my dancing shoes on yet! *laughs*
Another card and it's an OSCar, I don't know if you've ever used one?
No, a friend of mine had one of those, it had a great cutting sound but the designed was quite weird wasn't it, it looked like a bit of Lego! They're very sought after those, I don't know much about them, most of the synths you've picked out, I've never actually owned! That's quite remarkable really *laughs*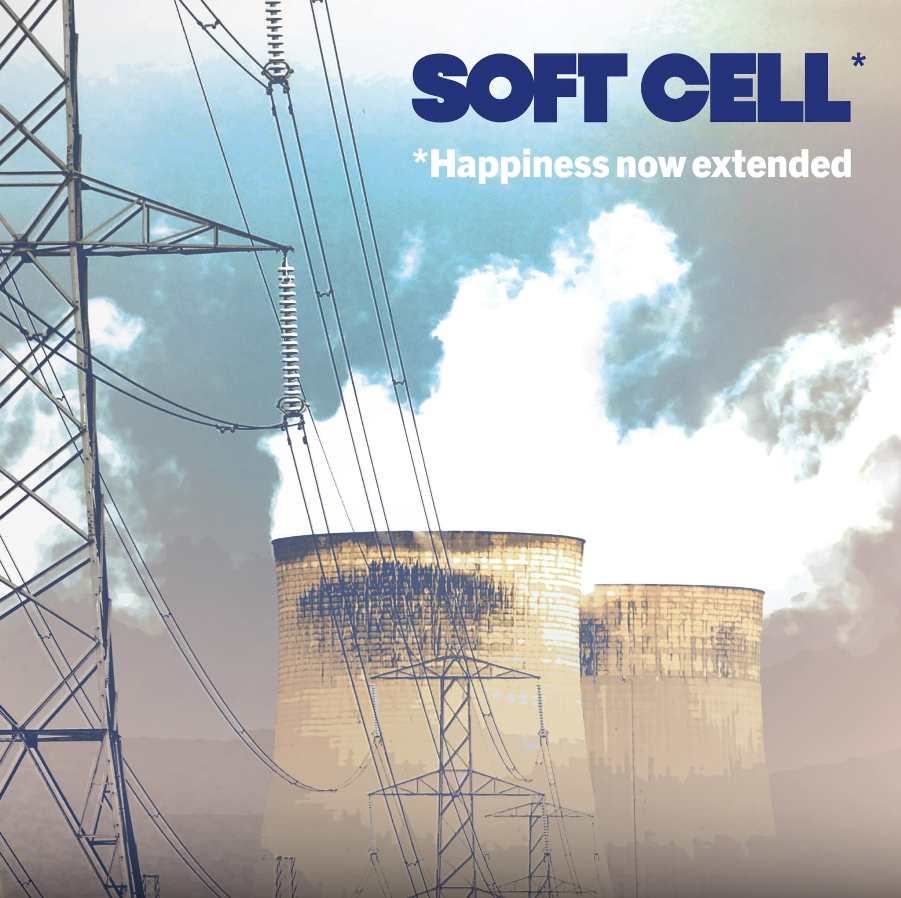 So there's an extended version of '*Happiness not included' coming out later this year entitled '*Happiness now extended'?
Yes, this was done in my absence, so I can't take any responsibility for the artistic input for it. In the past, we used to do the longer version first and then edit it down; so this is kind of the other way round. For the early SOFT CELL stuff, we'd put a longer arrangement down for a 12" version.
Marc would do the vocal and ad-lib sections and then we'd get it down until we got the single. That was when we had to use razor blades and tape, we didn't have digital editing which is so much easier. People who have grown up with digital and can just splice tracks together and move vocals around, they don't know they're born! *laughs*
I'm sounding like an old bloke cos I am, but it's so much easier to do stuff now with computers. Back in the olden days, you had to do it physically. You could sort of fly things in but it was a lot more tricky.
I'm looking forward to hearing the extended version of 'Nighthawks' which was a stand-out on '*Happiness not included'… but that started as a solo track?
I put that together in my kitchen initially, I used just one Roland synth and a couple of little Korg sequencers to have these two patterns going. I then went to Warner Brothers Studio, I just recorded the MIDI off the two sequencers and tidied it all up on the Mac and re-ran it to the Roland and did various overdubs of that with different filter settings and stuff, decays, delays and what have you. There a bit of real piano reversed and I did the original voice on it.
It was just a bonus instrumental on a CD compilation for the deluxe box of my book 'Electronic Boy' but then Marc heard it and loved it. It was quite different to everything else, it was very sequencey. He did a vocal and got this New York drag performance artist Christeene to do this weird mad voice on it that sounds fantastic, it was very scary sounding. We kept the music and the original title 'Nighthawks' after the famous Edward Hopper painting that reminds you of loneliness and isolation, it's what the original track was inspired by.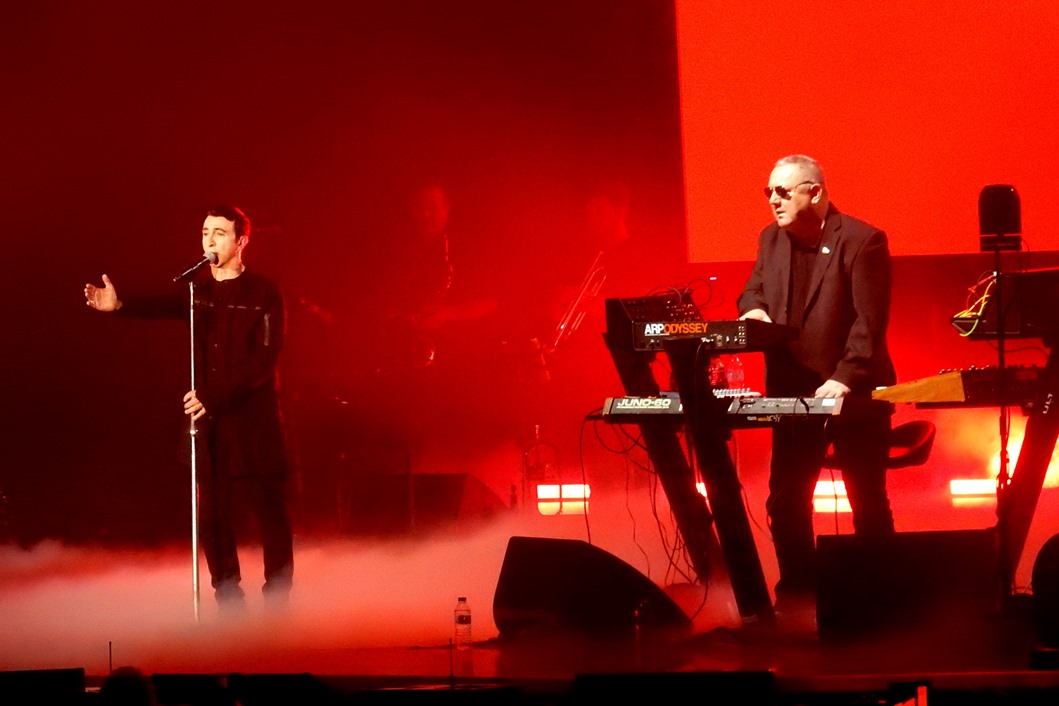 Was the stylisation of the sequencers on 'Nighthawks' influenced by any of your work with CABARET VOLTAIRE on 'The Crackdown' in 1983?
I never thought of that until you said it but I suppose it does have that CABARET VOLTAIRE static funky sequence about it, but you're right, it is!
I don't if you've heard it but there's a remix of 'Nighthawks' by Chris & Cosey, I love that. When they asked for the brief, I just said "dirty disco", I think it's one of my favourite SOFT CELL remixes of the last period of work we've done, it doesn't bear much resemblance to the original but it still sounds fantastic.
There is also going to be a '*Happiness now completed' companion album featuring unreleased mixes, remixes and B-sides as well as covers of Giorgio Moroder, X-Ray Spex and Fad Gadget?
'Back To Nature' by Fad Gadget we did a while ago but Marc's done a new vocal. X-Ray Spex 'The Day The World Turned Day Glo' was recorded with my friend Dave Chambers who has a Pro-Tools set-up at his home and we took the music over to Marc who did his vocals at Dean Street studios.
And the Giorgio Moroder thing 'First Hand Experience Of Second Hand Love' was recorded with Rick Mulhall, we sequenced that up at his place in Richmond; that's the track that Marc and I always wanted to do because we'd bought the album 'From Here To Eternity' when it came out in 1977. We both had vinyl copies of that, with Giorgio and his wonderful bristling moustache, the dark sunglasses and curly perm on the front cover, it was a classic look for a synth wizard at the time. We'd recorded it once before with Ingo Vauk but that recording got lost, it had disappeared into the electronic ether so to speak! It's probably on a hard drive in a skip! Who knows? *laughs*
Marc suggested we should do it again, it's such a great song and a perfect one for SOFT CELL. Marc did the lead vocals and Philip Larsen did the vocoder bit as I was not able to attend. I think it sounds great, my manager Chris Smith said they'd sent a copy to Giorgio Moroder's office in Los Angeles so we're just waiting to see if we get a thumbs up from Da Maestro. Hopefully, he'll be pleased that we've covered one of his songs.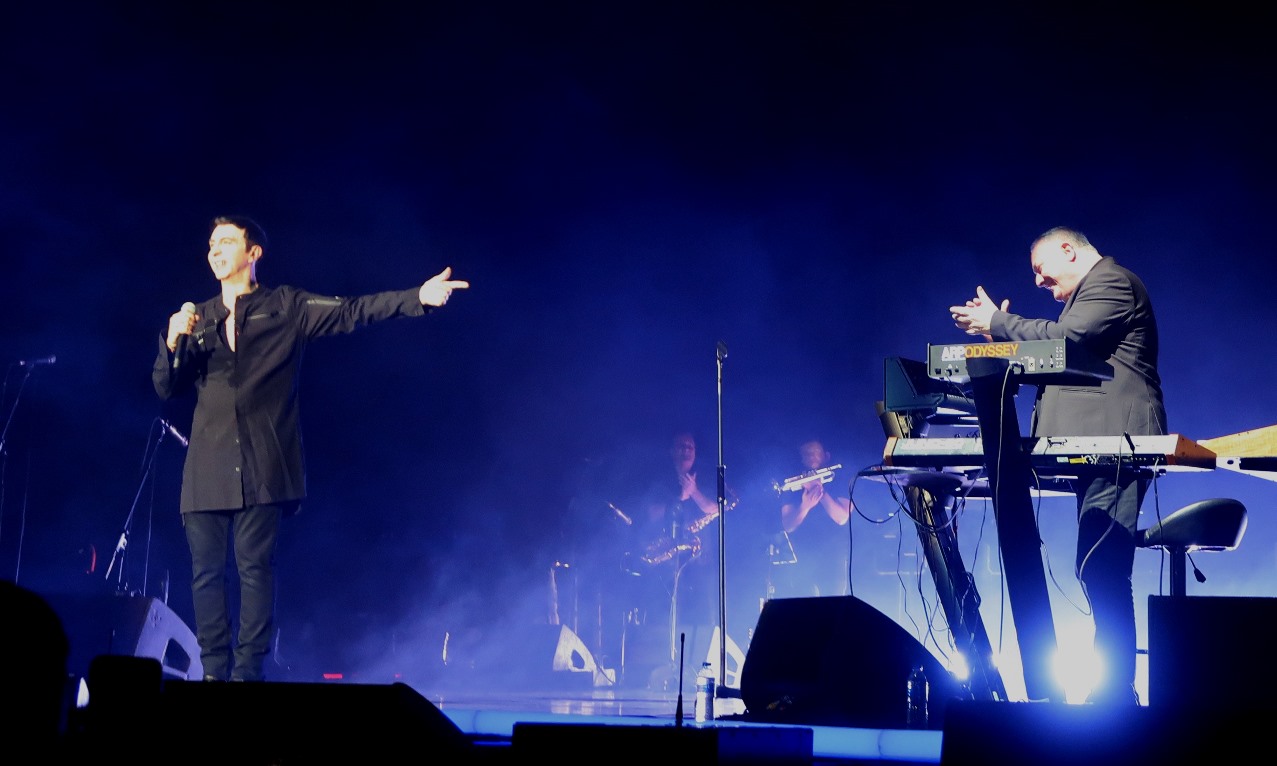 OK, we've got your final Vintage Synth Trumps card and it's a Powertran Transcendent 2000…
I know that JOY DIVISION had one which Bernard Sumner built from a kit, the synth sounds they had were fantastic, very haunting and I really liked that. My only experience of this was a guy at my art college bought one, but he made it into an art piece! He built it but had taken off the original control panel and drilled out a new one that was made of Perspex. He put all the knobs back on so there was no way you knew what any of them did! Then he had it wall-mounted with two speakers and set up a basic sinewave tone and it was up to the person looking at it to twiddle a knob and see what it did, it was like Dada synth and totally random, it was brilliant!
Was there ever a synth you bought that didn't meet expectations?
I bought a lot of synths in my time but all of them made at least one good sound. Even if I buy a synth and only use sound, it always pays for itself. Every synth I've ever bought has been used on a record. I don't think I've ever really wasted money on a synth. But there was this Akai sequencer which I could never get working properly. I've actually had trouble with Akai sequencers before to be honest. I used to love the Akai samplers, I still have an S1100 which was a great machine but I never got on with Akai sequencers, I've never really liked those MPC things… I can't get my head around the architecture, that's probably the only time I've spent money and regretted it. They're my only "bête noire" I suppose, Akai sequencers! *laughs*
What are your future plans?
I'm working with Richard Norris on new tracks for THE GRID, we've put a new spin on the way we're doing THE GRID which is sounding fantastic so very pleased about that. We've got no guaranteed release yet, but we're talking to a number of record companies and things are looking positive in all that respect. We're very excited.
In my home studio, I've been getting some new rough ideas for backing tracks for SOFT CELL, should there be another album. Marc seems to want to do another one and I do. I hope there may be another SOFT CELL album but you're going to have to wait a while, it probably won't surface until the back end of next year so it will be 2025 when it actually comes out… 2025, its sounds so futuristic that doesn't it? *laughs*
---
ELECTRICITYCLUB.CO.UK gives its warmest thanks to Dave Ball
Special thanks to Debbie Ball at Create Spark
'*Happiness now extended' is released on 28 July 2023 as a double vinyl LP, for tracklisting and pre-order, please visit https://www.softcell.co.uk/product/happiness-now-extended-double-black-vinyl
The companion CD edition '*Happiness now completed' is also out on the same day, for tracklisting and pre-order, please visit https://www.softcell.co.uk/product/happiness-now-completed-cd
The concert film 'Non-Stop Erotic Cabaret… And Other Stories: Live' is available now as a bluray or DVD with separate accompanying live soundtrack as 4LP + 2CD sets from LiveHereNow at https://liveherenow.co.uk/pages/soft-cell

SOFT CELL perform in the UK and Europe throughout Summer 2023, dates include:
Rochester Castle (7 July)**, Let's Rock Southampton (8 July), Let's Rock Shrewsbury (15 July), Barcelona Poble Espanyol (23 July), Saffron Walden Audley End (11 August )*, Steyning Wiston House (9 September)***
* with special guests OMD + HEAVEN 17
** with special guests PETER HOOK & THE LIGHT
*** with special guests HEAVEN 17 + ABC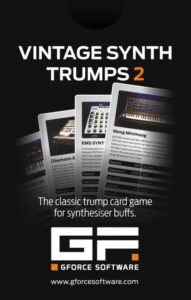 Vintage Synth Trumps is a card game by GForce that features 52 classic synthesizers, available direct from
https://www.juno.co.uk/products/gforce-software-vintage-synth-trumps-2-playing/637937-01/
https://www.facebook.com/softcellband/
https://twitter.com/softcellhq
https://www.instagram.com/softcellhq/
https://www.facebook.com/daveballofficial
https://twitter.com/daveballelectro
https://www.instagram.com/daveballelectro/
---
Text and Interview by Chi Ming Lai
Live Photos by Roger Kamp
20 May 2023, 6 July 2023