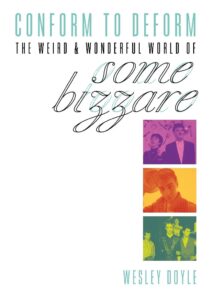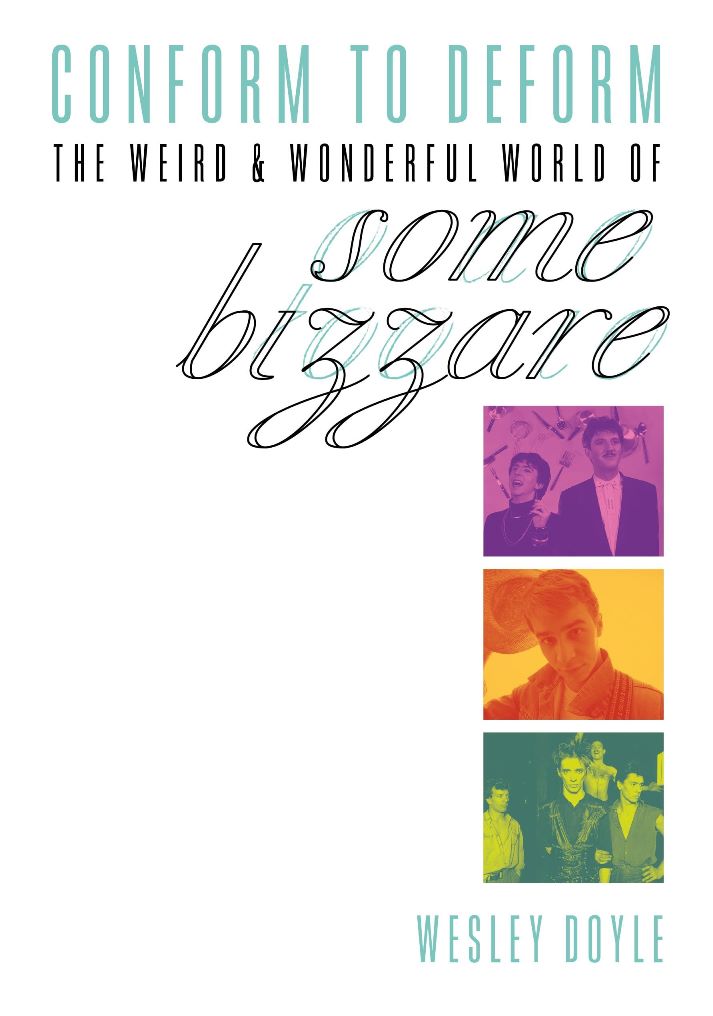 "There is no musical barrier of peoples acceptance, the only musical barrier is the media. (music press, radio & television.) Remember what people cannot see or hear, they cannot think about.": Some Bizzare '?'
Along with Factory and Mute, Some Bizzare was one of the focal points of independently minded music and culture. It can be credited with launching the careers of SOFT CELL and THE THE while DEPECHE MODE, BLANCMANGE, B-MOVIE, CABARET VOLTAIRE, EINSTURZENDE NEUBAUTEN, FOETUS and PSYCHIC TV have also been part of its story.
At the centre of it all was Stevo Pierce, a Dagenham lad who ran club nights playing electronic music and was bolshy enough to approach rock paper Sounds about publishing his Futurist chart.
Having helped get his charges SOFT CELL to No1 with 'Tainted Love' in the summer of 1981, Stevo caught an unsuspecting music industry on the hop. "I've got you by the boll*cks" he once declared and he could name his price as he shopped his roster to the major labels. His methods could be unconventional and there were legendary stories about teddy bears being sent to meetings with cassettes stating his demands including supplies of sweets for a year.
Stevo's ace was often to get the major labels to underwrite recordings while still keeping ownership of them himself. And the majors loved dealing with him… for a while at least. But next to the million-selling singles, there were raids by the Vice Squad, sex dwarves, death threats, ecstasy parties and meltdowns with one notable incident when Stevo and Marc Almond trashed the offices of Phonogram Records in Spring 1983.
Wesley Doyle traces the weird and wonderful world of Some Bizzare in his new book 'Conform To Deform'. It features new contributions from many of the major players in the story including Marc Almond, Dave Ball, Matt Johnson, Daniel Miller, Steve Hovington, Neil Arthur, JG Thirlwell aka Clint Ruin / Jim Foetus, Stephen Mallinder, Anni Hogan, Michael Gira and long suffering personal assistant Jane Rolink, as well as Stevo himself.
Documenting the rise and fall of Some Bizzare, Wesley Doyle chatted to ELECTRICITYCLUB.CO.UK about how his excellent book came together as well as answering some hypothetical questions of interest…
What inspired you to document the story of Some Bizzare?
I've been a fan of the label since my early teens, and it was a really important part of my growing up and development. I'd been waiting for years for somebody to write a book, because I wanted to see all those stories collected in one place, but it seemed no writer or publisher wanted to take it on. So I thought I'd do it myself. I wrote a feature for Record Collector, a kind of top 20 Some Bizzare releases, which in the back of my mind I thought I could use as part of a book pitch. Which I did, and Jawbone picked it up.
With 'Conform To Deform', you've opted for a chronological quotes narrative?
I like oral histories – everyone has their own truth, and I think juxtaposing people's recollections in their own words is a really interesting way of finding out what actually went on. But initially I started writing the book as a third person narrative, mainly because I didn't think some of the key players would be willing to talk. It soon became apparent most people were happy to share their recollections, so I shifted it to the oral history format.
I think it works well, and it captures the personality of the characters involved. Some of the characters were so larger-than-life and their voices so strong, and there was a lot of humour that may have been lost otherwise. Stevo's way of communication is famously unique, and people like Marc Almond, Dave Ball, Anni Hogan and Jane Rolink are all Northerners, so they have this innate sense of humour that wouldn't have come across if I'd had been pontificating in some kind of flowery prose. Matt Johnson as well is a very funny man, which might surprise some people.
Compared with Mute and Factory, Some Bizzare was more stable than label… see what I did there! *laughs*
That's good, I wish I'd thought of that!
I guess it's in the book's title, 'Conform To Deform'; Stevo wanted to get in bed with the major labels so that he had their clout. He worked closely with Daniel Miller at the beginning but Mute were a small operation and at the time Daniel wanted to keep it that way. Stevo always thought big – from the very beginning Some Bizzare wasn't aiming for a minority audience. There were no little independent releases, the first album came out on Phonogram, as did the first run of singles from SOFT CELL and B-MOVIE. Stevo really wanted to hit a big audience, although I don't think it did him any favours in the long run. As Daniel says in the book, knowing what Stevo's taste in music was, it was only going to end in tears.
But you can't deny the success of 'Tainted Love'. It's hard to make a comparison now, what with success being measured in billions of streams. In 1981 over a million people in the UK left their homes, walked into their local record shop and handed over money to own that song. And that gave Stevo carte blanche to go to the major labels with bands like THE THE, EINSTÜRZENDE NEUBAUTEN and PSYCHIC TV and they would take a punt on them.
I don't know if you remember a quote from Marc Almond and I think it was in NME; he said that an artist can only truly be subversive if they have access to the mainstream…
I think it's true – again, 'Conform to Deform'. I found out about FOETUS because Marc brought him on TV when SOFT CELL covered SUICIDE's 'Ghost Rider' on Channel 4's 'Switch' show – which was on a teatime on a Friday! I was speaking to Karl O'Connor aka Regis and we both had the same response to that appearance, it totally changed us. So in that respect, getting music like that on mainstream television was a truly subversive act. It was all well and good when CABARET VOLTAIRE were on Rough Trade or Crépuscule and their music reached a few thousand people in trench coats, but it's only when they were on Some Bizzare and had access to Virgin's money that people paid real attention. If you want reach people, you've got to go though the most popular channels, you're just in an echo chamber otherwise. Which is fine, but you'll never change anything.
It's amazing to think that a lot of the stuff that we were into around that time was being featured in a so-called teen pop magazine like Smash Hits. But talking about the serious music press, it's interesting that Sounds, at the time known for being more of a rock and heavy metal music paper, published Stevo's Futurist chart and employed Beverley Glick aka Betty Page to interview these new acts using synths, rather than say the NME?
I remember Sounds being the most open minded of the big four papers generally. They were always seen as the lesser of NME, Melody Maker and Record Mirror, so they really had to fight for their place at the table. Editor Alan Lewis wanted to reach as many people as possible, so you had Garry Bushell writing about the Oi! movement, Geoff Barton writing about heavy metal, Jon Savage writing about post-punk, and Beverley Glick writing about what became the New Romantics. In retrospect it was far more open minded than the other papers.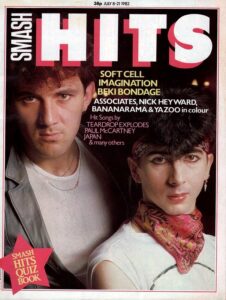 Your book discusses the Futurist / Blitz Kid divide when New Romantic was not actually a thing yet, which is something the media, fans and record labels have forgotten…
In 1981 I was 12 years old and buying Smash Hits, so New Romantics and Futurists were the same thing to me, I wasn't aware that there was a perceived difference. But Beverley and Stevo in particular were quite clear that New Romantics DID NOT exist in 1980, it was a retrospective thing.
Rusty Egan was on the Blitz Kid side and Stevo was on the Futurist side, and what surprised me was how visible both were when it came to the press. Stevo was so embedded in Sounds, he was a big character in that paper.
Having spoken to the people that were there, no-one said anything about New Romantics, it was Futurists and Blitz Kids. Blitz Kids were ULTRAVOX, SPANDAU BALLET, DURAN DURAN and VISAGE while Futurists were slightly edgier stuff like SOFT CELL, BLANCMANGE, FAD GADGET and CLOCK DVA. And never the twain would meet!
The whole thing got put on a pedestal when the 'Some Bizzare Album' came out in early 1981, it's now become iconic and prescient but how do you think it stands up today?
What I found interesting was that Stevo did ask lot of established bands to be on it, like CABARET VOLTAIRE, THROBBING GRISTLE and CLOCK DVA. He wanted it to reflect what he was playing out as a DJ rather than a showcase for new acts. But those bands didn't want to do it, so by default it became a compilation of new artists. It's a weird one, when you listen to the 'Some Bizzare Album' now, there's a lot of very strange stuff on there. You'd be hard pushed to listen to even the BLANCMANGE or THE THE tracks and think "Ooh, they're going places!" *laughs*
ILLUSTRATION's 'Tidal Flow' is one of the most commercial things on it but they didn't do anything else. B-MOVIE's 'Moles' is pretty strong, but even SOFT CELL's 'The Girl With The Patent Leather Face', although a highlight, you still wouldn't think, "This is a multi-million selling act we have here".
But the 'Some Bizzare Album' does have DEPECHE MODE on it, one of the biggest bands in the world and 'Photographic' is one of their best songs, and I think a lot of the album's reputation rests with that. So it's a real curio, if you listen to the other label compilations around the time like Virgin's 'Methods Of Dance' and stuff like that, they were probably a bigger indicator of what people were actually listening to.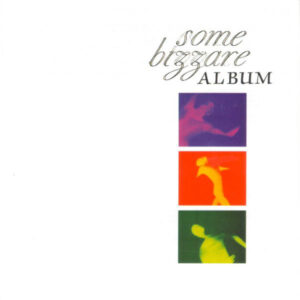 On the 'Some Bizzare Album', what do you think are the best tracks outside of the "BIG 5" of DEPECHE MODE, SOFT CELL, THE THE, BLANCMANGE and B-MOVIE, I nominate ILLUSTRATION and THE FAST SET?
The ILLUSTRATION one is good and THE FAST SET's cover of 'King Of The Rumbling Spires' is OK, but the single 'Junction 1' which they put out on Axis / 4AD is a better song I think. I really like the BLAH BLAH BLAH one, I'm a big fan of Tom Waits so when I think back to my own musical development, something like 'Central Park' would have teed me up for stuff like that.
A purely hypothetical question, what would have happened if DEPECHE MODE had been on Some Bizzare and SOFT CELL had been on Mute?
That's a great question. Well for a start I think Dave Gahan would have had to go into rehab sooner! *laughs*
Seriously though, I don't think either band would've been as successful, either creatively or commercially. You only have to listen to the demos SOFT CELL did with Daniel to hear that the regimented, sequenced production that worked so well for DEPECHE MODE didn't for them, the exception being 'Memorabilia' of course. Plus SOFT CELL wouldn't have gone to New York and had the experiences they did, which changed not only their creative direction but so many of their label mates too.
And with his more leftfield musical tastes, Stevo would've grown tired of Depeche's early poppier stuff pretty quickly. And I don't think he would've been emotionally mature enough to support them through Vince leaving and encouraging them to carry on. I think they would've have gone the way of B-MOVIE had they signed Some Bizzare.
Although Paul Statham from B-MOVIE could be considered Some Bizzare's silent success story with his later co-writes for Peter Murphy, Dido and Kylie, why do you think out of the "BIG 5" that the band did not break into the mainstream?
Like lot of people, the first time I heard B-MOVIE was on the Flexipop flexidisc when 'Remembrance Day' was paired with SOFT CELL 'Metro MRX'. If you follow the threads, then there were the singles 'Marilyn Dreams' and 'Nowhere Girl' plus there were two EPs before that, which positioned them as a perfect post-punk band. Personally, I always thought B-MOVIE had more in common with THE TEARDROP EXPLODES, THE SOUND and ECHO & THE BUNNYMEN. And Rick Holliday's keyboard playing was very accomplished, much more musical and didn't really fit in with that one-fingered synth thing. B-MOVIE's singer Steve Hovington speaks very openly in the book about how at the time B-MOVIE thought they were geniuses and felt they should have been given a lot more respect than they got. And people at Phonogram genuinely thought they had a rival to DURAN DURAN on their hands. But it soon became apparent they weren't that kind of band.
Rick Holliday was the last to join B-MOVIE and the first to leave when he went off with Cindy Ecstasy so I think the chemistry and group mentality of the band got really altered…
With most bands the chemistry is unique, and once you start to tamper with it, you lose something. As soon as Rick left, they changed the line-up and got session players in to re-record and re-re-record those early songs. By the time they finally released an album, they really weren't the same band and they'd kind of lost what made them great. They were signed to Sire by that point and maybe weren't really in control. Sometimes limitations are better and working within those parameters becomes part of the end result. Other times, you can give musicians access to big studios and big money, but they just lose what was good about them. I actually think B–MOVIE are a much better band now than they were during that mid-80s period.
Which version of THE THE 'Uncertain Smile' is your favourite, 'Cold Spell Ahead', the single version produced by Mike Thorne or the 'Soul Mining' one?
I'm going to be pedantic and say it's actually none of those, it's the 10 minute 12 inch version with the flute and sax produced by Mike Thorne. Outside of his work on 'Untitled', that was the first thing I heard by Matt Johnson. And taken with the two B-sides – 'Three Orange Kisses From Kazan' and 'Waitin' For The Upturn' – it's simply some of the best music ever recorded in my opinion.
I always thought it was a shame Matt Johnson didn't stay working with Mike Thorne…
Yeah, that was a Stevo thing…
Some Bizzare's union with CABARET VOLTAIRE's club-oriented era now seems obvious but at the time, it wasn't because they were known to be uncompromising and independent on their own?
I didn't really know anything about CABARET VOLTAIRE before their Some Bizzare period, 'Just Fascination' was the first thing I heard by them. As far as I was concerned, they were like a new band who had just signed to Some Bizzare. Mal (Stephen Mallinder) told me they felt they had gone as far as they could go with Rough Trade and wanted to move onto bigger budgets and bigger studios. I was astounded to find they had nothing prepared when they made 'The Crackdown', they went into Trident Studios for a week, having never worked with a producer before, and just made it from scratch. Flood was engineering, Dave Ball played some keyboards and Stevo shopped the end result to the major labels.
What do you think was the seed of it going wrong for Some Bizzare?
That's a tough one… I think Stevo wasn't able to find another SOFT CELL, a big-selling pop act which could balance out his more left-field artists. So he didn't have a contingency when bands wanted to leave. Also, this amazing idea of getting leftfield bands to be treated as bona-fide unit shifting pop stars, soon fell apart when the amount of money that the majors were spending on the records wasn't being reflected in the amount of money being made. It was the cold hard facts of business that bit them on the arse in the end. I agree with Jim Thirwell aka FOETUS that the A&R decisions went out of the window. Maybe if Stevo had signed YELLO, who he was after at one point, things may have been different. But he signed TEST DEPARTMENT instead… which kind of sums it up! *laughs*
Some Bizzare had a great visual identity, so what was your favourite artwork?
The childish part of me wants to say, "the w*nking devil" on the cover of the 'Infected' 12". I have the design on a T-shirt which I've only wore out once and even then kept it covered up! *laughs*
I love Andy Dog Johnson's stuff for THE THE; I interviewed Matt a couple of times for the book and he was super generous. The second time I went to see him, he let me look at some of his brother's sketchbooks… the guy was astounding, the colour palettes he used were incredible. I love Val Dehnam's stuff although I know that's not to everyone's taste, but the cover of 'Torment & Toreros' is amazing. And I love the cover to the second compilation album too.
I've always loved SOFT CELL 'Say Hello Wave Goodbye' by Huw Feather…
Of Huw Feather's work it would be 'Torch' for me, such an incredible, confusing, vibrant image. There was a lot of one-off bits of artwork produced for the label, and over the years I've tried to track down all the fan club stuff and merch flyers that were produced. There were some brilliant single-use magazine adverts, too. In particular one for 'Bedsitter' from Sounds – a line drawing of what a bedsit would look like looking up from a bed. It didn't appear on anything else, it was unique piece of artwork for the music press. I had far too much visual material to include in the book so a lot of it got left out. I'm aiming to get some of it up on my Instagram feed around the time of publication so people can see it.
What is the ultimate Some Bizzare record?
I think THE THE's 'Infected' project is the ultimate crystallisation of what Stevo was trying to do. It's a challenging piece of work – both musically and lyrically – and visually very strong. And there was an accompanying film which was incredibly expensive and again very cutting edge for the time. And of course Stevo got it bankrolled by a major label who lost their shirt on it – there was no way it was going to recoup. Yet it still stands up to this day – you can watch the film now and still be impressed by its production values, and the music is still incredible. The Some Bizzare ethos runs all the way through 'Infected'.
What about the legacy of Stevo and Some Bizzare?
Stevo would disagree, but I think there are still people doing what he tried to do. DJ Food in the book mentions James Lavelle which I thought was a good example. Also Wiley too, who uses mainstream channels when they suit him, and goes underground when they don't. A lot of legacy artists who now own their own means of production make their albums and then shop them to whichever label that gives them the best deal. People like Damon Albarn, Paul Weller and Nick Cave who retain artistic control but use the clout of a major, that's definitely a Stevo thing.
As far as trying to push boundaries and change people's minds about artistic expression, I don't know. Things like the 'Sex Dwarf' video would be seen as relatively tame and facile now, I don't think it would shock anybody…
…it's not RAMMSTEIN's 'Pussy' is it? *laughs*
No, it's not, thank god! *laughs*
I don't really know what sort of boundaries stuff like that is pushing to be honest, it doesn't seem to have a point. The thing about Some Bizzare and what Stevo was trying to do, whether he knew it or not, was he allowed people who would not have access to that kind of platform to be heard. For a while, you could find out about bands like EINSTÜRZENDE NEUBAUTEN or SWANS, read about what they were trying to do, and then decide for yourself if you wanted to pursue their music further.
Your website is testament that the early-to-mid 80s period was a golden age for leftfield artists moving into the mainstream, which was great for the most part. But a lot of those acts adjusted their music to make it more palatable. THE FUTURE changed to THE HUMAN LEAGUE who signed to Virgin, and then split into THE HUMAN LEAGUE MKII and HEAVEN 17, and both made concessions to ongoing commercial success, for better or worse. But Neubauten always sounded like Neubauten, and Stevo's attitude was, "Why shouldn't they be on Virgin too? Get the music out there, and let people make up their own minds."
---
ELECTRICITYCLUB.CO.UK gives its warmest thanks to Wesley Doyle
'Conform To Deform: The Weird & Wonderful World Of Some Bizzare' is published by Jawbone Press on 14th February 2023 as a 392 page softback book with 16 page of photos, signed copies available from https://www.roughtrade.com/gb/product/wesley-doyle/conform-to-deform-the-weird-and-wonderful-world-of-some-bizzare
A live event celebrating the release of the book takes place on Tuesday 28th February 2023 at Rough Trade East, The Old Truman Brewery, 150 Brick Lane, London E1 6QL, tickets available from https://dice.fm/event/ygl6p-conform-to-deform-the-weird-wonderful-world-of-some-bizzare-live-28th-feb-rough-trade-east-london-tickets
http://jawbonepress.com/conform-to-deform/
https://twitter.com/WesleyDoyleUK
https://www.instagram.com/wesleydoylewrites/
---
Text and Interview by Chi Ming Lai
12th January 2023