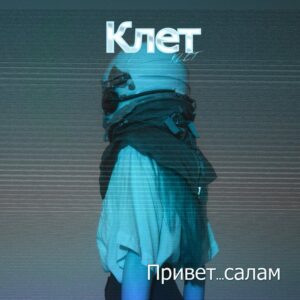 The music vehicle of Bohemian-born producer Michal Trávníček, КЛЕТ is back with 'Privet… Salam', his third album in less than three years.
The first КЛЕТ album 'Alconaut' was a weightless synth-laden celebration of the 20th Century Soviet space programme and the best instrumental release of 2021. The more melancholic appendix '1984? No!' followed swiftly and was a worthy if less immediate follow-up. Featuring 14 new instrumentals inspired by life, love, space and nostalgia, 'Privet… Salam' ("п​р​и​в​е​т​.​.​.​с​а​л​а​м" in cryllic scrpt) has been dedicated to good souls and kind hearts.
The album begins with 'КЛЕТ FM', a short nostalgic radio montage that includes two 'Alconaut' segments 'Gagarin's Start' and 'Sputnik' before heading into the dynamic rhythmic passages of 'Caspian Sea Monster' which add a new dimension to the КЛЕТ template.
'Grandmothers' provides a beautiful crystalline set piece that has much in common with CIRCUIT3's 'In Your Shoes' and continuing on the family tree theme, 'Mother Love' is development of the serene atmospheres that float on 'Alconaut'.
Meanwhile, the surreally titled 'Gulag Pelé' adds glassy textures to the wavey moods and the sparser 'Ideal Speed' brings digital slap bass simulations into the equation. Reminiscences of 'Childhood' maintain the КЛЕТ aural ethos while despite its title, 'We Are All Born To Suffer' is brightly lit and concludes the main act with an optimistic melodic tone.
However, 'Privet… Salam' then encores with a bonus alternative 2.0 version of 'Gagarin's Start' featuring a whistling Yuri Gagarin; even in reworked form, this wonderful tribute to the first man in space still stands out and highlights what a hard act it has been for КЛЕТ to follow the brilliance of the 'Alconaut' opus.

If you have enjoyed 'Alconaut' and '1984? No!', then 'Privet… Salam' follows in their tradition and with Michal Trávníček's aim to make his music "available to synth music lovers regardless of their financial situation", there is no reason to not continue the КЛЕТ sonic exploration.
---
'Privet… Salam' is available via the usual online platforms and can be obtained as a free download from https://claat.bandcamp.com/
https://twitter.com/aestheticKLET
https://www.instagram.com/kletwave/
https://soundcloud.com/aestheticclaat
https://open.spotify.com/album/5mKH2N05lQAS9ymLowpB4O
---
Text by Chi Ming Lai
9th January 2022