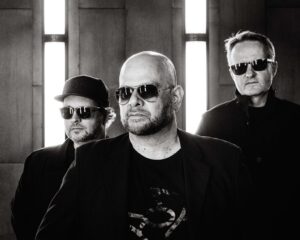 Post-KRAFTWERK, following the international success of ALPHAVILLE with 'Big In Japan', a number of German electronic acts followed their lead with songs in English that could crossover into wider markets such as CAMOUFLAGE, WOLFSHEIM, DE/VISION and BEBORN BETON.
Formed in 1989, BEBORN BETON released their first album proper 'Tybalt' in 1993 having issued three cassettes independently.
After the US only compilation album 'Tales From Another World' in 2002, the trio of Stefan Netschio (vocals), Stefan Tillmann (keyboards + drums) and Michael B Wagner (keyboards) went on hiatus but returned in 2015 with 'A Worthy Compensation' featuring the excellent songs 'I Believe', 'She Cried', 'Last Day On Earth' and 'Was Immer'.
With a brand new long player 'Darkness Falls Again' pencilled in just before the likely release of the cheerful new DEPECHE MODE opus 'Memento Mori', BEBORN BETON strike first with the brilliant 'Dancer In The Dark'; not a rework of Bruce Springsteen, the song manages to out-Camouflage CAMOUFLAGE with an infectious pop sensibility that more than likely comes from front man and lyric writer Stefan Netschio's love of DURAN DURAN.
Leaving nothing to spare, the video for 'Dancer In The Dark' sees the Essen threesome in a bowling alley, testing each other's precision and wits over ten frames. The image is reminiscent of Dave Gahan, Vince Clarke, Martin Gore and Andy Fletcher when they made one of their first TV interview appearances as DEPECHE MODE on ITV's youth magazine show '20th Century Box' in Summer 1981.
With current world events and another Cold War looming as if The Berlin Wall never fell, 'Dancer In The Dark' is a message to remain positive in the face of adversity; "don't let what now feels like the end of the world sweep you off your dancing feet" says Netschio on behalf of BEBORN BETON. Their ninth album, Darkness Falls Again' promises catchy leg twitching tunes and mature songwriting to form a sonic joyride as racists, demagogues, preachers of hate and those who destroy the planet are called out.
Produced, mixed and mastered by Olaf Wollschläger whose credits include MESH, YELLO, S.P.O.C.K, PSYCHE and MINERVE, 'Darkness Falls Again' features artwork by Volker Maass who presents the 'Operating//Generating' series of radio shows on laut.fm – so forget "that you must die!" and be a 'Dancer In The Dark' as 'Darkness Falls Again'.
---
'Dancer in the Dark' is available now on the usual digital platforms
The album 'Darkness Falls Again' is released on 17th March 2023 by Dependent Records as a 48-page artbook with bonus CD, digisleeve CD, black vinyl LP and limited edition white vinyl LP as well as on the usual digital platforms, pre-order via http://lnk.spkr.media/beborn-beton-darkness

https://www.facebook.com/bebornbeton
https://www.instagram.com/bebornbeton/
https://open.spotify.com/artist/1DsA0Dbq7WvsNkZZlrRZuz
---
Text by Chi Ming Lai
Photo by Chris Ruiz
7th January 2023