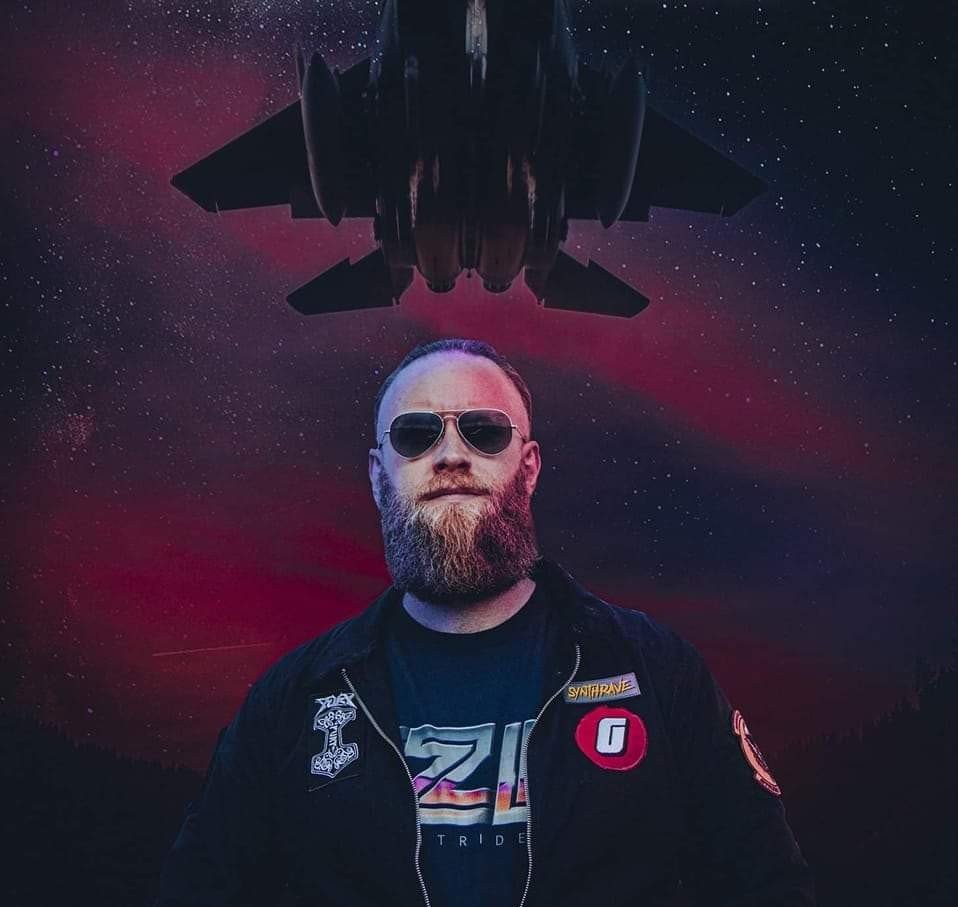 STRIKE EAGLE is the retrowave project of Graham "G-Man" Waller, a producer from Gillingham in Kent whose influences range from synth and funk to progressive rock and heavy metal.
Having released two EPs and a number of collaborative singles with the likes of LAST ACTION HERO, SPECTRAL KNIGHT, ARCTIC MEGA DEFENDER and CZARINA since 2020, STRIKE EAGLE launches 'Operation Mjölnir', an imaginary jet fighter movie soundtrack comprising of filmic soundscapes, electro R 'n' B and synth assisted FM rock.
Inspired by 'Top Gun', 'Iron Eagle' and 'Behind Enemy Lines' with the spectre of cinema stalwarts Giorgio Moroder, Harald Faltermeyer, John Carpenter, Brad Fiedel, Ennio Morricone and Hans Zimmer all looming, the premise of 'Operation Mjölnir' is that a detachment of McDonnell Douglas F-15 Eagles are caught behind enemy lines and shot down. Their crews are captured and the story follows their subsequent escape back to friendly forces.
Graham "G-Man" Waller donned his aviators for a chat about his first album as STRIKE EAGLE, films, planes and digital synthesizers…
The first jet fighter movie I remember seeing as a kid was 'The Bridges At Toko-Ri' starring William Holden. There was also a French children's TV series shown on BBC1 called 'The Aeronauts' which had pilots flying Mirages but the first 'modern' era film was 'Firefox' starring Clint Eastwood, so how did this fascination begin for you?
The fascination for aviation in general came from building Airfix kits with my dad. I also remember my grandad yelling "ACHTUNG SPITFIRE" at anything in the sky with a propeller as he was a funny guy like that, but I had a fascination with aircraft from those moments. Later it was watching 'The Battle of Britain', 'Mosquito Squadron' and 'The Dambusters' with my dad at Christmas time when those films always seemed to be on.
My first jet fighter movie was around age 10 or 11 and watching 'Top Gun' for the first time after catching a few moments of it on TV and wanting to rent it. After getting a bit of a talk about the sex scene, I was allowed to watch it and well, that was it. Granted that movie is a glorified recruitment advert for the US Navy, it struck a chord with me and I wanted to join the RAF and be a fighter pilot after seeing that movie.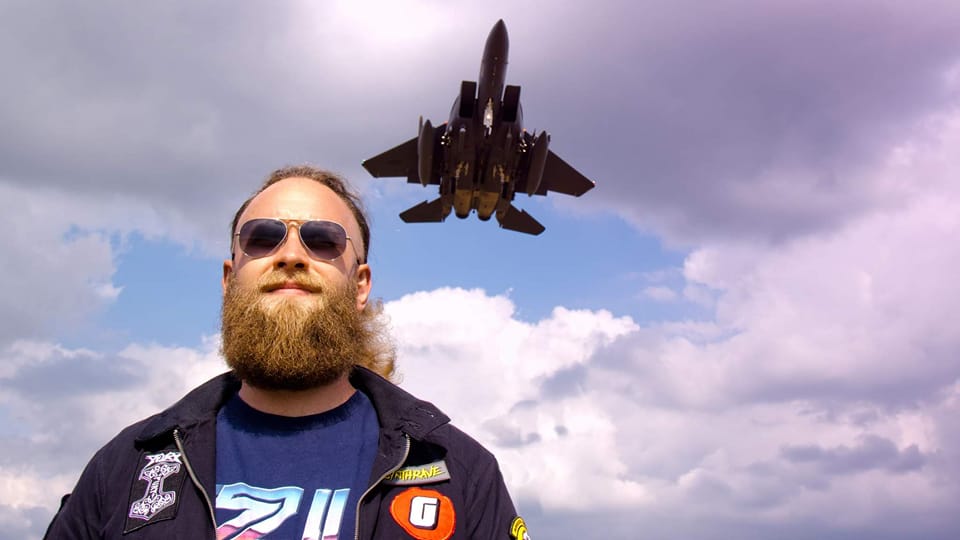 Did you visit air shows as a youngster? What impression did they have on you?
Sure. I remember my first big airshow was at RAF Mildenhall when they used to run those. It was likely the early 90s and what an awakening that was. Getting to see just what those air frames can do is magnificent. Truly awesome. So it only solidified my love for aviation.
Jet fighter iconography is not unusual in pop music, SUEDE had discarded a English Electric Lightning on the cover of 'Sci-Fi Lullabies' while OMD actually called an album 'English Electric'… the Lightning is a beautiful plane but what is your favourite jet fighter of all time and why?
Agreed the Lightning is a fantastic air frame and beautiful to boot, except the F6 variant when they gave it a beer belly ventral fuel tank and above the wing external tanks due to the landing gear taking up so much room! Eww!
My favourite jet fighter of all time is the Panavia Tornado. Something about that swept wing, mud moving, accurate ordinance delivering machine is sexy to me. What a noise! I got to start an F3 variant of the Tornado during my time in the Air Training Corps for work experience as ground crew and it was a highlight of my life so far.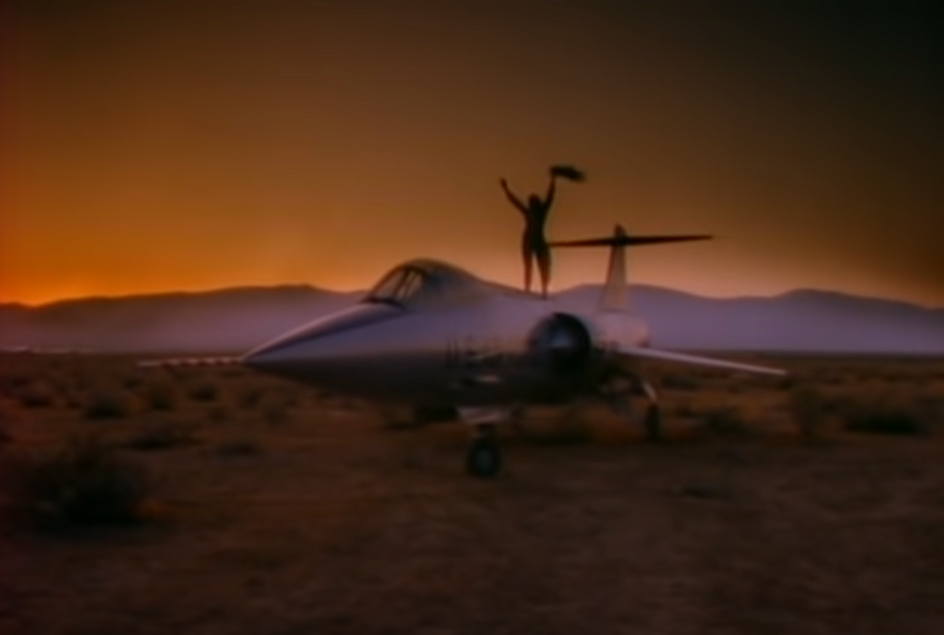 What about the worst jet fighter of all time? I nominate the Lockheed F-104 Starfighter which had a such a high accident rate, it was known in Germany as Fliegender Sarg ("Flying Coffin") or Witwenmacher ("Widowmaker") due to 116 Luftwaffe pilots being killed in under 30 years, and this is during peacetime! Incidentally, Terri Nunn of BERLIN is standing on one in the video for 'Take My Breath Away' when she's all windswept in the middle of the Mojave Desert!
Wow, we really are getting nerdy now! OK worst jet fighter for me has to be the Vought F7U Cutlass or "Gutless Cutlass" as it was known to the US Navy. The thing was fraught with problems and like the Starfighter caused a high number of accidents and fatalities. Plus it looks like a child designed it!
You actually covered 'Mighty Wings' from 'Top Gun' but that didn't make the album?
I wanted this album to stand on its own as a soundtrack to the movie in my head, so a cover didn't make sense to put on there. However, the 'Covering Fire' EP is a homage to some of my favourite songs of the 80s including 'Mighty Wings', 'Burning in the Third Degree' (from 'The Terminator') and 'Halo' by DEPECHE MODE. I feel that work stands on its own and deserved its own EP.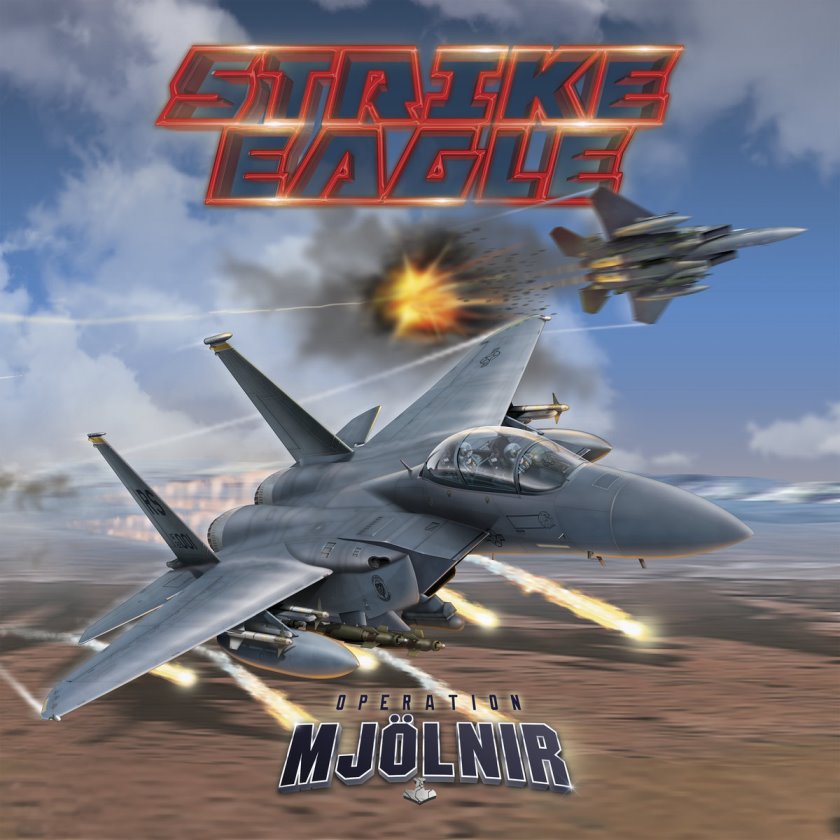 How did the idea for 'Operation Mjölnir' come about?
The concept came from a need to write to something. I love telling a story and creating a love letter to the fighter pilot movie soundtrack has always been on my to do list. Obviously I love the 80s and so to that end, it had to be 80s rock in nature and smothered with synths. I had an idea in my head of the plot I wanted to write to and each track grew from the plot points of that idea.
The aesthetic of 'Top Gun' makes its presence felt, did you have to clear that ringing Harold Faltermeyer sound that recurs through the album?
Given the "Top Gun Bell" sound is actually the 'Tubular Bells' preset on the Yamaha DX7, the sound is free to use as you see fit. Faltermeyer used 16 layers of the sound with different tunings to get that iconic noise. I used 4 for the songs on the album that feature the DX7 patch. So, if you have access to one or software that does the same, hit some low notes, pop on some aviators and feel freaking awesome for a few moments. I know I did!
'Cold Start' sets the scene, what images did you have in your mind?
It's the break of dawn, mist hugs the asphalt of the taxi way in front of the armoured hanger as the crew of the Radical One approach their F-15E Strike Eagle to begin their training for the day. The fuel is being pumped, the crew and ground crew are doing their final checks and climb into the cockpit to don their gear and strap in. The engines begin to spool and final checks are made and they begin to taxi to their take-off runway to start their day. That's what I had in mind.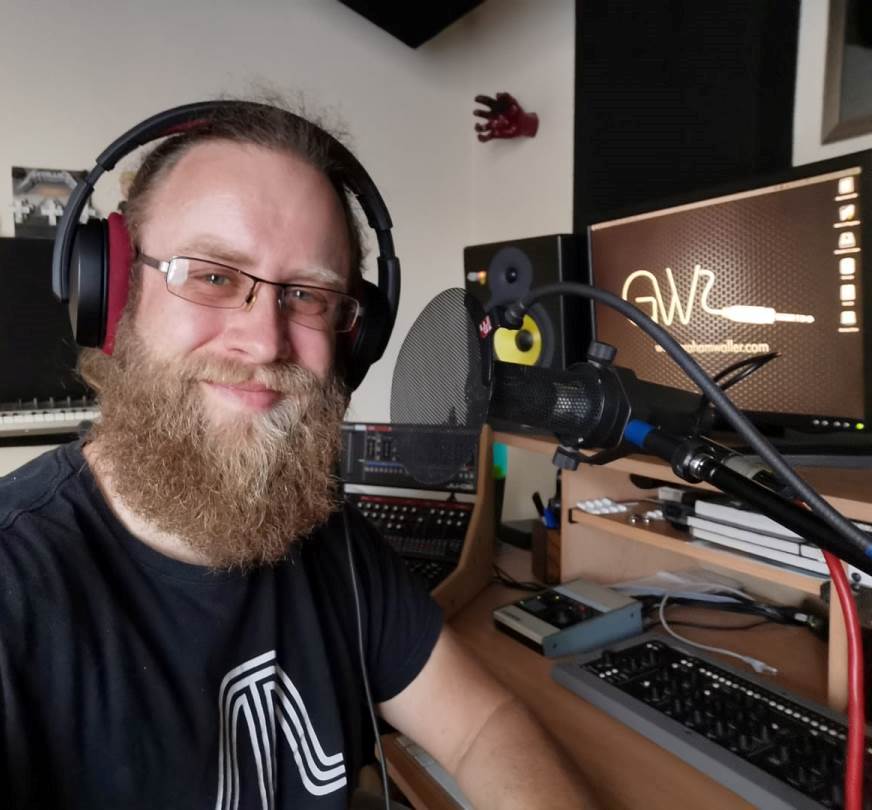 Other soundtracks appear to have had an impact, was Billy Idol's theme song to 'Speed' one?
Wow, I've not thought about that movie in years! Granted having re-listened to that song since you have made that comparison, I see why you would say that. I believe you are referring to the track 'Hard Target'. That song was written with the idea of "What would Billy Idol and MOTLEY CRÜE's baby sound like?" and inadvertently Billy already answered that question with that track! So, yes Billy was an inspiration on the record but that track in particular wasn't.
One unexpected inspiration seems to be Ennio Morricone and 'The Ecstasy Of Gold' from 'The Good, The Bad and The Ugly' which appears to linger in 'Muninn Flight'?
'Muninn Flight' was written as a reprise of the opening track 'Cold Start' to bring the idea of that song back for the final scene but with a full song structure and arrangement. Granted, I can see why a few opening notes of each phrase would make you think that it was inspired by 'The Ecstasy Of Gold' and while I love Maestro Morricone's work, he wasn't an inspiration while I was writing the song. I was channelling and paying tribute to the composers Harold Faltermeyer, Hans Zimmer, Vangelis and Brad Fiedel into the main theme for this album as their work is powerful, synth based and part of many of my favourite movies.
How did you get 'The Lost Boys' sax man Tim Cappello on board for the more electro R 'n' B derived vibes of 'Music Come Alive' which has Mandi Harkett on vocals?
I have enjoyed Tim's work for ages and especially his work with Tina Turner. I knew he would be incredible for this song. So I used my classified sources to get in touch and send him the demo. He said yes and I'm over the moon with the results.
What was the inspiration behind 'Extraction' which has much more of a tense gothic presence than the other tracks?
'Extraction' is the chase scene in the movie following an escape from a prison. I am a huge fan of dark synth and especially the work of the French composers in the genre, BLOODPANIC being one of my favourites. So I reached out and he said yes. The inspiration comes from riding a motorbike at breakneck speed through the streets of an unknown town while being chased down by your captors. The pace and mood of the track is a reflection of that and I think we captured it.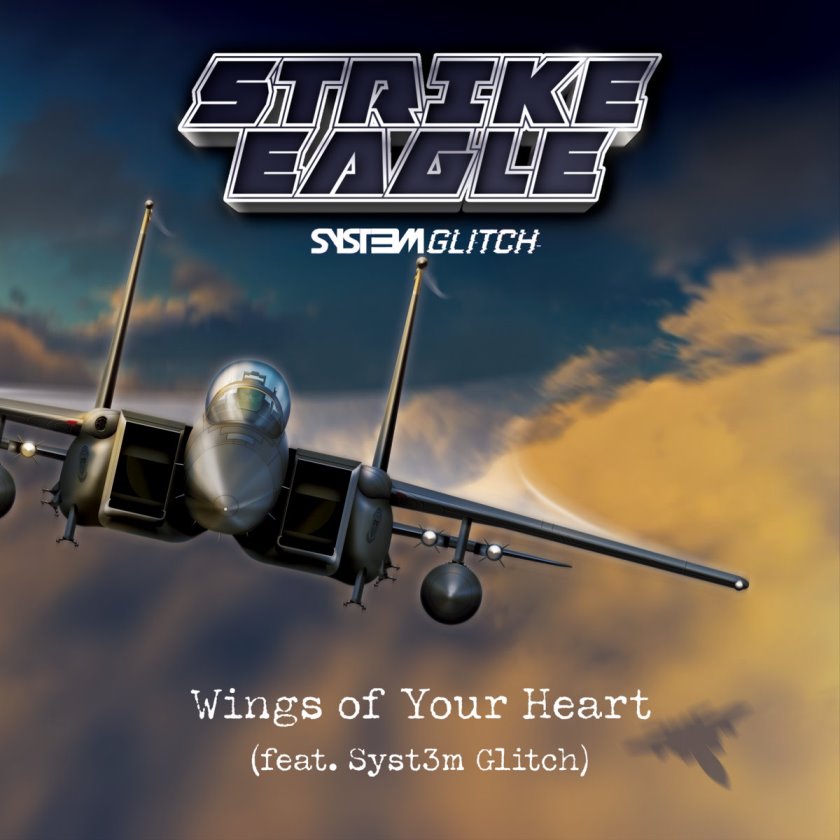 The album closes with 'Wings Of Your Heart', an electro rock collaboration with SYST3M GLITCH…
SYST3M GLITCH is great to work with. I was inspired to do a movie soundtrack album after hearing his Sci-Fi based 'Beyond Stars' record in 2021 and after making connections with him in a professional capacity earlier this year (we are both professional audio engineers and producers), I reached out to see if he would be interested in working with me on a song. It was a great working atmosphere to deliver the "riding into the sunset with your love interest" kind of vibe we were going for with it. Full of great ideas and creativity.
Do you have any particular favourite moments on Operation Mjölnir'?
The songs changed so much during their creation and I let them become what they wanted to be rather than forcing an idea that wasn't working. I wouldn't say I have a favourite moment as such. With the concept of the record as it is, I'm very proud of the work as a whole and it would mean the world to me if it resonates with other people too.
The album is very eclectic and reflects your tastes, but who do you think this album might appeal to?
Good question. I hope it appeals to 80s rock, metal and synth heads alike as well as fighter aircraft nerds like myself. It would be amazing to me if they can vibe with it while playing flight sims or watching an airshow or driving down a beach road with the top down signing at the top of their lungs.
What is next for you, either as STRIKE EAGLE or in another guise?
I have a bunch of collaborations in the works but again those are classified for now. But if you follow me on my social feels, I'm sure the details will be revealed in good time.
---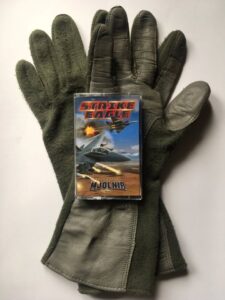 ELECTRICITY CLUB.CO.UK gives its warmest thanks to Graham "G-Man" Waller
'Operation Mjölnir' is available in limited edition clear blue vinyl LP, cassette and digital formats from https://strikeeaglesynth.com/
https://www.facebook.com/strikeeagleband
https://twitter.com/strikeeagleband
https://www.instagram.com/strikeeagleband/
https://open.spotify.com/artist/2wKAMNs3GBaOT4TlIYegCq
https://linktr.ee/strikeeagleband
---
Text and Interview by Chi Ming Lai
21st November 2022