It is not long before the new DUBSTAR album is released. Entitled 'Two', it will be out on 6th May 2022. But until then, a fabulous new song 'Token' has been premiered as an enticing trailer.
Co-produced by Stephen Hague, 'Token' sounds like DUBSTAR doing ERASURE, while others have remarked that it sounds like PET SHOP BOYS. Whatever, it is possibly Sarah Blackwood and Chris Wilkie's most overt synthpop statement yet.
Chris Wilkie said "Most often it's the song itself which informs the style and sound of a track, but sometimes, once an album is underway, it becomes clearer what is working or what is lacking". And it was the necessary social distancing due to lockdown that played a part in dictating the instrumentation: "We found ourselves naturally gravitating to our electronic side over the pandemic, because it lends itself more practically to remote production. We couldn't sit around jamming with guitars or experimenting together in real time, for instance".
Working from home remotely, "I can program MIDI parts in Tyneside, and if not 100% happy with the way it's sounding, the program is easily pinged over to Haguey down in Sussex who can use the same program to trigger different gear. It's a protracted way of working but more versatile than you'd think. After 'Hygiene' and 'Outside', we were already some of the way down a particular road. Having Hague involved certainly got us thinking about those kind of artists, but there wasn't a conscious decision to channel them. Some artists just become part of your DNA when you grow up with them."
Very much a collaborative effort with the Portland-born producer, Wilkie remembered: "Stephen played me a very symphonic piano riff, and I was challenged to write a song which might incorporate it in some way. I wrote the chorus straight away to fit chords which would hopefully accommodate the piano intro at some point, and then the bridge. I only had placeholder lyrics which I wasn't confident about for the verses, so I asked Sarah and Hague to muck in with those. It felt like writing in reverse. I usually start at the start and keep going".
But is the 'Token' referring to a prize or representation or a minor gesture? "It's both!!!!" revealed Sarah Blackwood, "I'm singing about how the tormentor can help themselves to the things we shared together; inviting them to take a "tender token". 'Tender' is simultaneously sentimental and weak. And 'token' is both a material trophy and a minor gesture. It was only after the whole song was finished that it seemed that the word 'token' seemed to be the centre of gravity, hence the title.
"Chris got the idea from Haguey after talking about NEW ORDER" the DUBSTAR singer added, "The word 'regret' is incidental and floats-by unnoticed in that song, you would never spend long contemplating it, but the word 'Regret' is monolithic and meaningful when isolated as a title. In our song, the word 'Token' almost raises psychological alarms as a title, but it's appearance in the song defuses it, which hopefully encourages people to consider what the word really means to them".
The video was filmed in Manchester and it was also the first time Blackwood and Wilkie had actually seen each other in person since 2019 – "We couldn't even hug but we still managed to be over-emotional." she remembered, "Mancunians are too cool to stare but I did clock bewildered glances as some wondered who the hell we were and why we were filming, especially in the middle of a storm (Barra). The irony was, we had prayed for rain as it can look very cinematic. Classic case of beware of what you wish for…… Dom F, our resident George Lucas, was having to negotiate Market Street backwards to film, Chris and Paul B our helper clearing the way forward for him, whilst loudly and helpfully pointing out people for me to avoid with the very large brolly……"
The weather conditions naturally presented a number of dramas; "I was trying to look serene whilst wrestling the wind vs brolly and avoid a Mary Poppins moment, sing to the camera at double speed (aloud with headphones in, no wonder they were staring ?) and try to not to look cold…" said Blackwood, "All whilst avoiding puddles, uneven paving slabs, frantic Christmas shoppers and the driving blooming rain……marketing man Matt D kept the seats warm in Night and Day where we thawed our toes between takes, looked through the rushes and realised the umbrella was undoubtedly the star of the show. We dried out in my friend Claire's jazz bar Matt & Phred's and shared a pizza with Adrian Dunbar from 'Line of Duty'…… Chris's mum was so terribly impressed……"
---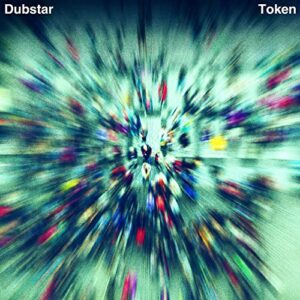 'Token' is released as a digital single via Northern Writes, stream at https://dubstar.fanlink.to/token
The new album 'Two' is released on 6th May 2022
https://www.dubstarofficial.co/
http://www.facebook.com/dubstaruk/
https://www.instagram.com/dubstaruk/
---
Text and Interview by Chi Ming Lai
2nd February 2022