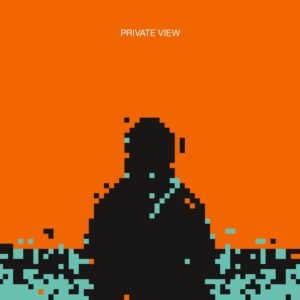 The 15th long player from BLANCMANGE sees a return to London Records who issued their debut 'Happy Families' in Autumn 1982.
Originally a duo comprising of Neil Arthur and Stephen Luscombe, the pair released a further two albums 'Mange Tout' and 'Believe You Me' before going on a lengthy hiatus.
They returned in 2011 with 'Blanc Burn', but with Luscombe unable to continue due to health reasons, BLANCMANGE has since become a prolific solo adventure for Arthur.
'Private View' presents a collection of synthesised art-pop that finds a significant role for guitarist David Rhodes, BLANCMANGE's very own Carlos Alomar who has regularly applied his talents with Peter Gabriel as well as a live stint with JAPAN.
Continuing FADER partner Benge as producer who worked on the recent BLANCMANGE albums 'Unfurnished Rooms', 'Wanderlust', 'Mindset' and 'Commercial Break', 'Private View' presents a striking opener in 'What's Your Name'; not a cover of the 1981 DEPECHE MODE tune, despite a sparse vibey start, it strums and crashes into action while Arthur uses a manipulated voice treatment to give a sense of other worldly alienation away from the indie rock track that this could easily be.
'Some Times These' also retains a fuzzy kerrang element although the chorus keyboard theme has an immersive Eno-esque air that echoes his work on "Heroes". More sequencer driven, 'Reduced Voltage' echoes CAN in its groovy kosmische precision but the guitars are turned up in the second half, contrary to the title.
Waking up with an idea seeded in 1980, 'Here We Go Go' is a song that could have come from the 'Quartz' album from FADER but with louder percussion, before it marvellously morphs into the artier drama of OMD for its conclusion. The energetic 'Chairs' pulses along with a strong throbbing drive and Arthur announcing in frustration at those easy triggers that "we keep getting excited about things beyond our control", when all he needs is a "cup of tea"…
With more ragged six string and mechanised pulsing, 'Who Am I?' sees our hero lost and forlorn while 'Everything Is Connected' offers a strange kind of eerie indie electro-funk but while not a reprise of 'Feel Me', it is as the title suggests, part of the lineage.
With a steadfast pulsing motorik, 'I Tried To Be You' features several glorious synth sections which are very pleasing to the ears. Then using a swirling cacophony of electrickery, the 'Private View' title number borrows the punchy drum mantra from NEW ORDER's 'Leave Me Alone' to present a sardonic angle on a world where "you know you can't let go now".
Brilliantly taking cues from the forest-laden atmospheres of CLUSTER, 'Take Me' features some wonderful piano and guitar work. It's a sumptuous motorik ballad where Arthur declares he is "lost without love" although this ending provides the best song on 'Private View'.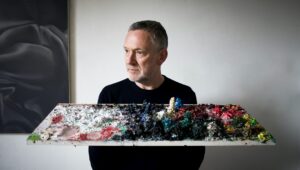 40 years on from BLANCMANGE's debut album on London Records, 'Private View' shows Neil Arthur can still spring some surprises.
He continues as a creative force to be reckoned with, using his brand to open doors and satisfy while eschewing the more nostalgic tendencies of some of his peers.
---
'Private View' is released on 30th September 2022 by London Records in the usual formats
2022 BLANCAMANGE UK live dates include:
London Rough Trade East (1 October), Cambridge Junction (7 October)^, Stroud Subscription Rooms (8 October)^, Colchester Arts Centre (13 October)^, Cardiff University Y Plas (14 October)^, Frome Cheese and Grain (15 October)^, Reading Sub 89 (20 October)^, Nottingham The Level (21 October)^, Gillingham Glassbox Theatre (22 October)^, Bristol Fleece (27 October)+, Guildford Boileroom (28 October)+, Wimborne Tivoli Theatre (29 October)+, Exeter Theatre (4 November)*, Southampton The Brook (5 November)*, Birmingham The Mill (10 November)+, Lancaster Kanteena (11 November)+, Barrow-in-Furness Forum Theatre (12 November)+, Diss Corn Hall (17 November)*, Manchester Gorilla (18 November)**, Liverpool Hangar 34 (19 November)**, Leeds Wardrobe (24 November)**, Sheffield Leadmill (25 November)**, Newcastle Riverside (26 November)**, Aberdeen Lemon Tree (1 December)**, Edinburgh Liquid Room (2 December)**, Glasgow Queen Margaret Union (3 December)**, Brighton Concorde 2 (9 December)**, London Islington Assembly Hall (10 December)**
Support acts: ^Oblong +Alice Hubble *Rodney Cromwell **Stephen Mallinder
https://www.facebook.com/BlancmangeMusic
https://twitter.com/_blancmange_
https://www.instagram.com/blancmange_music/
---
Text by Chi Ming Lai
Photo by Helen_Kincaid
28th September 2022