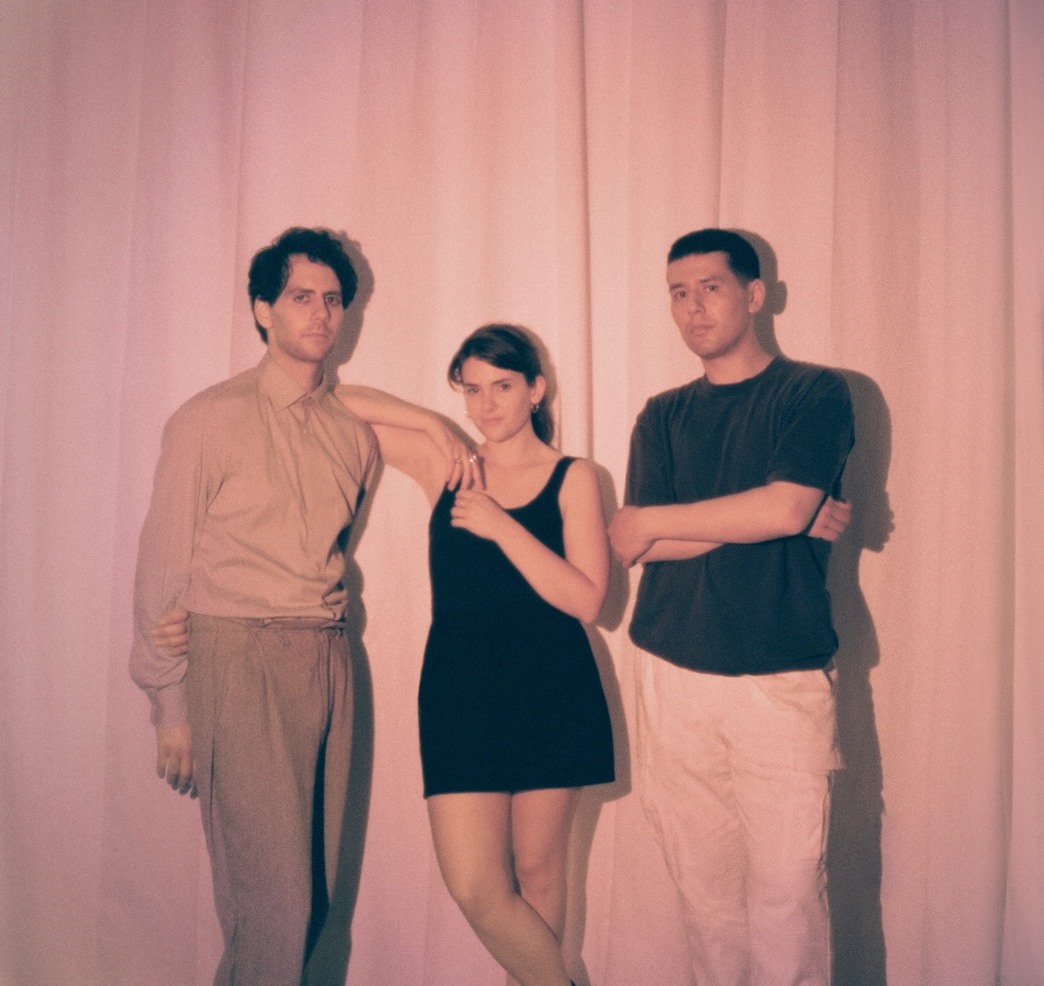 A union between Montreal electronic duo THE BEAT ESCAPE and fellow Canadian singer / songwriter Tess Roby, DAWN TO DAWN first met in 2018. Inspired by their developing friendship, the trio began to make music together.
Adam Ohr and Patrick Lee have one album 'Life Is Short The Answer Is Long' to their name as THE BEAT ESCAPE; released on Simon Raymonde's Bella Union, it contained tracks such as 'Sign Of Age' which displayed an icy intelligent dance music affinity with Finnish duo SIN COS TAN.
Meanwhile, Tess Roby issued her debut album 'Beacon' on Italians Do It Better in 2018; but she took the plunge to showcase her brand of emotive folktronica independently by releasing the follow-up 'Ideas of Space' on her own SSURROUNDSS label earlier in 2022.
DAWN TO DAWN are about to be release their debut long player 'Postcards From The Sun To The Moon'. As their moniker suggests, they capture a circadian feel in their music, adapting to the natural human consciousness. With enticing synth soundscapes and Tess Roby's forlorn vocal as the common threads, the album is lively and beat-laden at its most social yet understated, then introspective but positive as near-sleep sets in.
Tess Roby, Adam Ohr and Patrick Lee settled down with ELECTRICITYCLUB.CO.UK for a chat about the making of 'Postcards From The Sun To The Moon'…
What inspired you all to get into a collaborative project?
Tess: I released 'Beacon' on April 20th, 2018, while Patrick and Adam released THE BEAT ESCAPE album the week after – I had heard about them for ages, always curious as to who they were. We connected at a show a few months later and said we should get together in the studio. In November 2018 we had our first studio session, which is when we wrote 'Meridian.' It was pretty magical. After that we were in the studio together every weekend; making music, drinking wine, making dinners…
Adam: We had a shared appreciation for each other's work but there was no intention to start a band at all. We met up for coffee one afternoon, which led to opening some wine, which led to turning on some instruments to jam. Something clicked and all of a sudden we had all of the parts to a really great track within about 25 minutes. We all loved what we had started so we made plans to meet again to finish it. That led to starting something else that we felt needed to be finished.
Patrick: The first time Tess came over to the old studio, we were more concerned with what snacks to get than what the jam might sound like. After that 25 minutes, the immediate musical chemistry completely took us by surprise.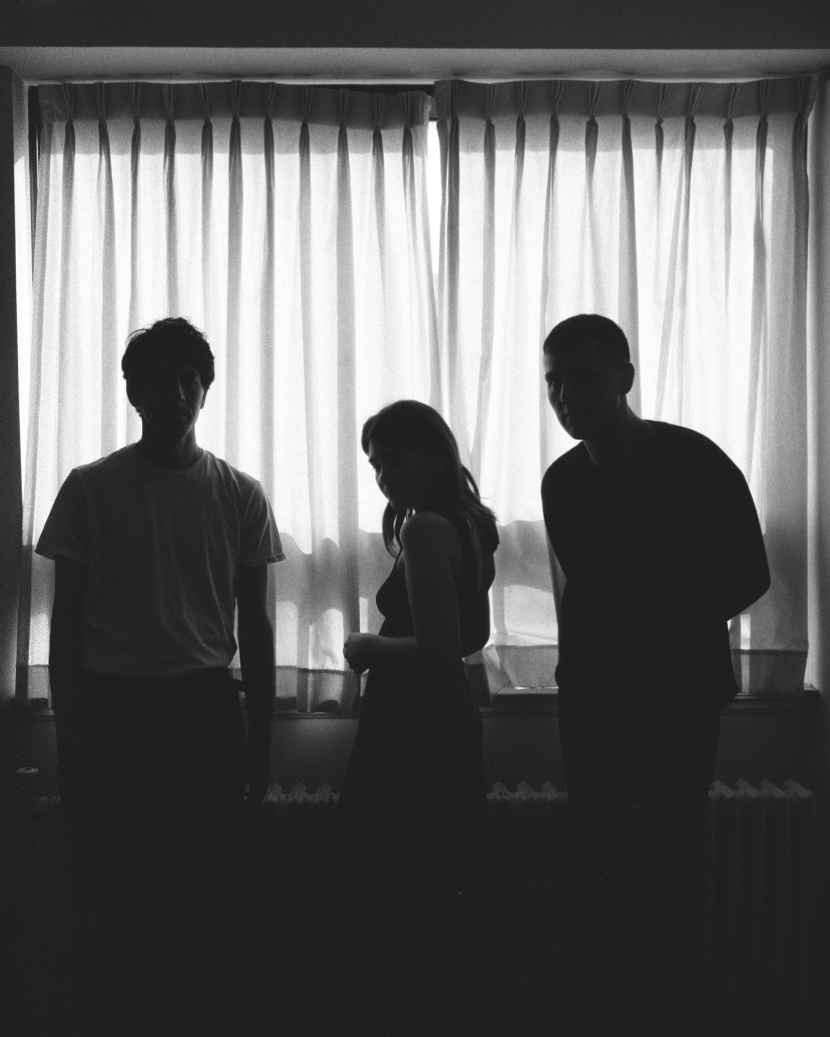 What do you get out of working as a group that you can't with your own main projects?
Adam: Tess is the lead singer and typically writes all the lyrics in this group so that's one of the major differences which I find really inspiring.
Patrick: Working together makes us travel to musical places that we'd never really be able to go to on our own. There's this beautiful, kindred, democratic meeting point with our work. Where we land is definitely inspiring.
Tess: Studio energy! The excitement in the studio when we're chasing an idea together is unmatched.
'Postcards From The Sun To The Moon' is released on the SSURROUNDSS label, how does this compare with being on other labels?
Tess: I guess we'll see! It's cool to be doing our own thing and making this space for ourselves. I started SSURROUNDSS to release my record 'Ideas of Space' and it felt like the right move to release the DAWN TO DAWN record too.
Patrick: What better captain to steer the ship than our beloved front woman. SSURROUNDSS 4 lyfe.
Would it be fair to describe 'Postcards From The Sun To The Moon' as a product of lockdown, the result of a need to collaborate due to the isolation?
Tess: Most of this album was written in 2019, so before the pandemic. The only songs we wrote in the lockdown were 'Stereo' and 'Samba' in December 2020. We all took covid tests and went into the studio for two days and made these two really beautiful, happy songs. I was writing about missing summer, missing partying, missing togetherness. After those sessions we had a small party at my house, which was illegal at the time, so we boarded up all the windows so no one would know we were there. Crazy to think about.
What synthesizers and drum machines did you dust off for the album's making, do you have any favourite trusty pieces of equipment?
Adam: I have a Lexicon PCM 70 effects processor that was used quite a bit throughout the record. The Voyetra 8 sound also made its way into a couple of tracks and there are some nice ARP Odyssey moments as well.
Patrick: My SH101 also finds itself on almost all of our songs. Same with the 808 with everything going through an old Mackie 1402 mixer. That thing was pretty key actually. When unknowingly writing 'Postcards…', the three of us were always at a keyboard and drum machine, Tess on the mic. That liveness of the jams definitely finds its way into our songs.
Tess: The Juno 60 is on a lot of tracks too – that was fun to write with as I usually write on my 106. Such a special sound, you can really hear it on 'A Colour Named By You.'
'Meridian' is an example of the more uptempo approach of DAWN TO DAWN, was there a conscious aim to be more "upbeat" with a particular aesthetic in mind? Did the vocal approach change at all as a result?
Tess: I think there's always an energy that we're looking to capture. The more upbeat songs were all made at night, after dinners and many bottles of wine in the dead of winter.
In terms of creative dynamic, do you each have designated roles within DAWN TO DAWN?
Adam: Usually the three of us would jam an idea and then Patrick and I would experiment with the file – process some sounds and edit – and then we'd play Tess what we worked on and decide what worked and what didn't – then arrange everything all together, add what we felt was missing – and finally, re-record all the vocals.
Tess: We all write together in the studio. After the initial few sessions, Adam and Patrick will take the files and experiment with processing, and then we'll get back in the studio to finalize everything and record vocals etc.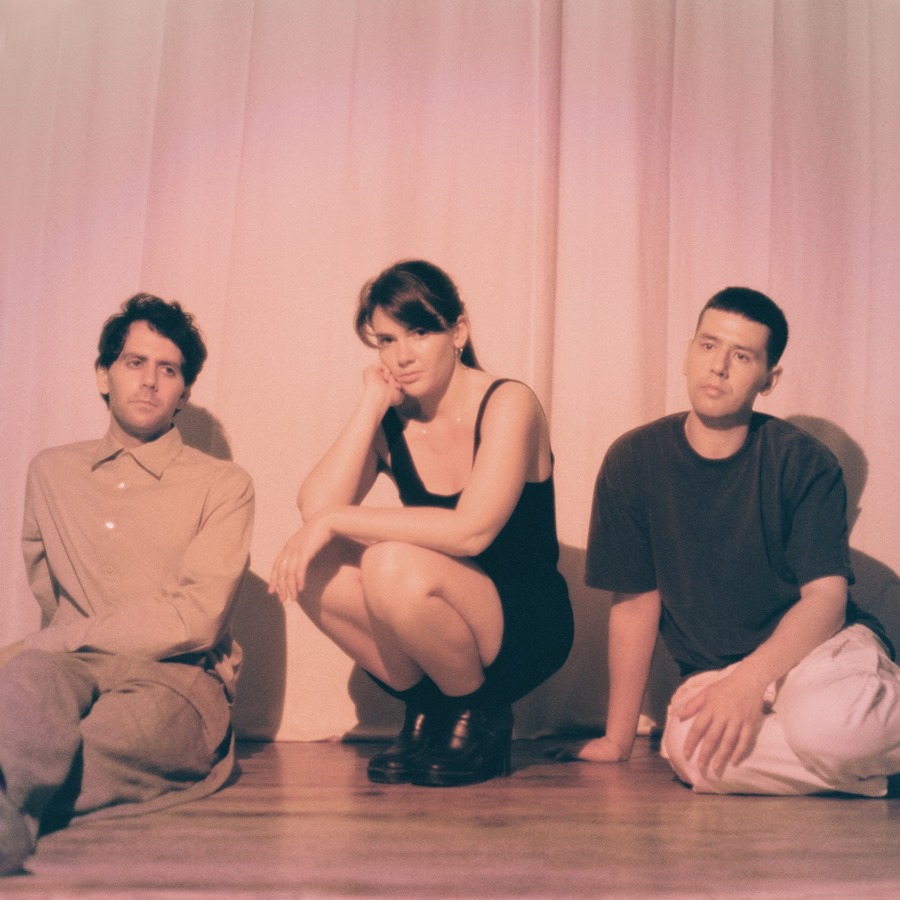 'Care' is interesting and unconventional in that a sung lyric doesn't appear until almost halfway through the track, how did the idea come about?
Adam: I think that idea came about as a result of our shared love of B-sides, while recording the song it just felt like a natural thing to do.
Tess: 'Care' is one of my favourite songs on the record. That was the first track we did together where I really started to push my voice to another level. I think we wanted to give some space to that, and eventually have it lead to a little story.
'Stereo' captures that joy of music which can be a communal or solitary experience, functional or incidental, what was the song's genesis?
Tess: Like I said earlier, 'Stereo' was written deep in the winter lockdown of 2020. We were so happy to be back in the studio together after 7 months of not being there that we ended up writing these really euphoric songs. For 'Stereo', I was imagining a party I went to in 2019 where I went alone and was on a bit of mushrooms. There's something really nice about being at a party alone, something carefree and weightless. That's the vibe I was after.
Adam: These were also the first sessions at a new studio space in downtown Montreal – it was the beginning of the holiday season and the downtown lights seemed to seep into the recording.
Tess: December is one of the best months to write music, such a special vibe.
Patrick: Yeah, we all love Christmas.
'Lanes' is inspired by British seaside towns, but was there a particular one and what did you see that fascinated you?
Adam: When we were writing 'Lanes', we realized that we were channeling this mysterious mood and we started talking about ghostly British coastal towns. We became very excited by this idea, this imagery, and so it became the inspiration for the song.
Tess: When I wrote the lyrics, I had Brighton in mind, specifically the area called 'The Lanes' where the roads narrow and you can easily get lost. It's such a special place. I'm half British and grew up spending summers in the UK. I've always loved British seaside towns, there's a melancholy to them that you don't find anywhere else.
Which are each of your own favourite tracks from 'Postcards From The Sun To The Moon'?
Tess: 'Care' is really special for me for the reasons I mentioned earlier. 'A Colour Named By You' I love – it feels timeless. And 'Anniversary' has this calm, blissful to it that I always seek when I'm writing. I could live in that song.
Adam: 'Lanes' is the most moving one for me, 'Meridian' is special cause it was what started the project, and I love the groove and vocal melodies on 'Samba'.
Patrick: I love 'Samba', 'Stereo'. They're the kind of dancey pop tunes that I always love to discover. 'Lanes' is also so beautiful and heartbreaking and such a special one… I'm pretty sure we were all in tears somewhere throughout the writing process.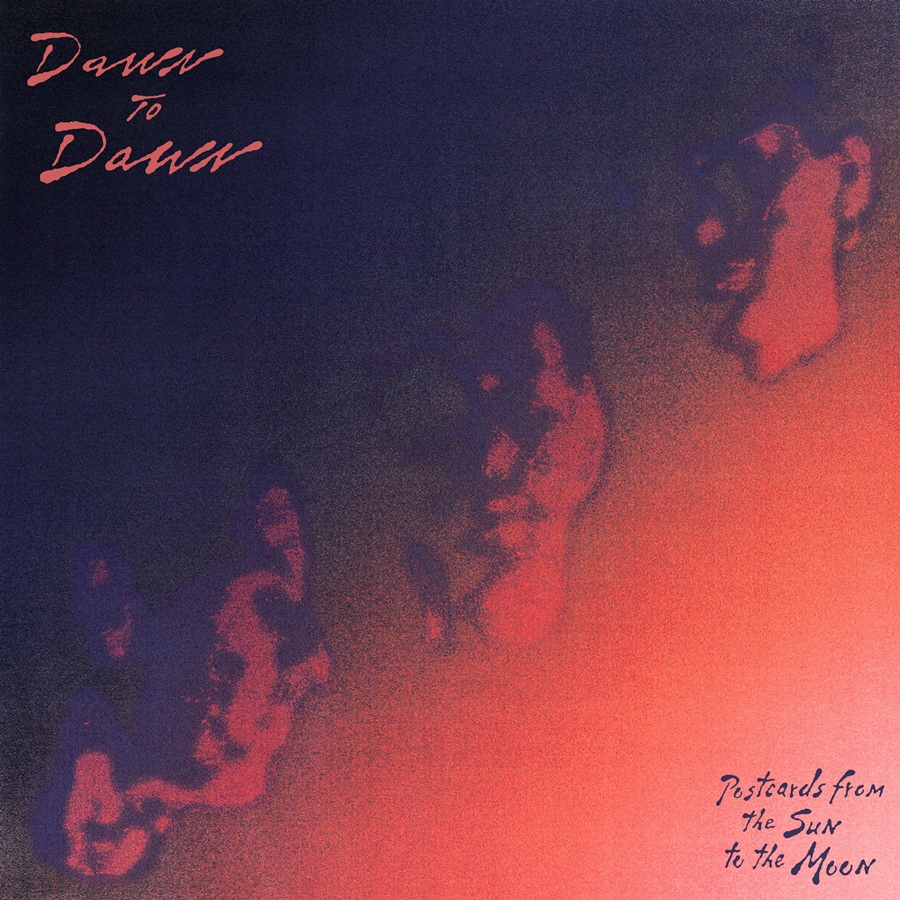 What's the future for DAWN TO DAWN?
Tess: We're in the studio, working on a bunch of different tracks. It will be interesting to see how they come together in the future. No specific plans for now though we're talking about touring in the Spring. It will be amazing to finally perform these songs for people – I've been waiting to do that since the day we first got together in the studio.
Patrick: The song we're currently working on has such a vibe it kinda freaks me out… but an amazing kind of freak out. Excited to continue to follow our impulses, try to make meaningful music, and just have lots of fun.
---
ELECTRICITYCLUB.CO.UK gives its sincerest thanks to DAWN TO DAWN
'Postcards From The Sun To The Moon' is released on 6th October 2022 by SSURROUNDSS in CD and digital formats, available to pre-order from https://dawntodawn.bandcamp.com/album/postcards-from-the-sun-to-the-moon
https://www.facebook.com/dawntodawnmusic
https://twitter.com/dawntodawnmusic
https://www.instagram.com/dawn__to__dawn/
http://soundcloud.com/dawntodawn
---
Text and Interview by Chi Ming Lai
Photos by Christopher Honeywell
25th September 2022