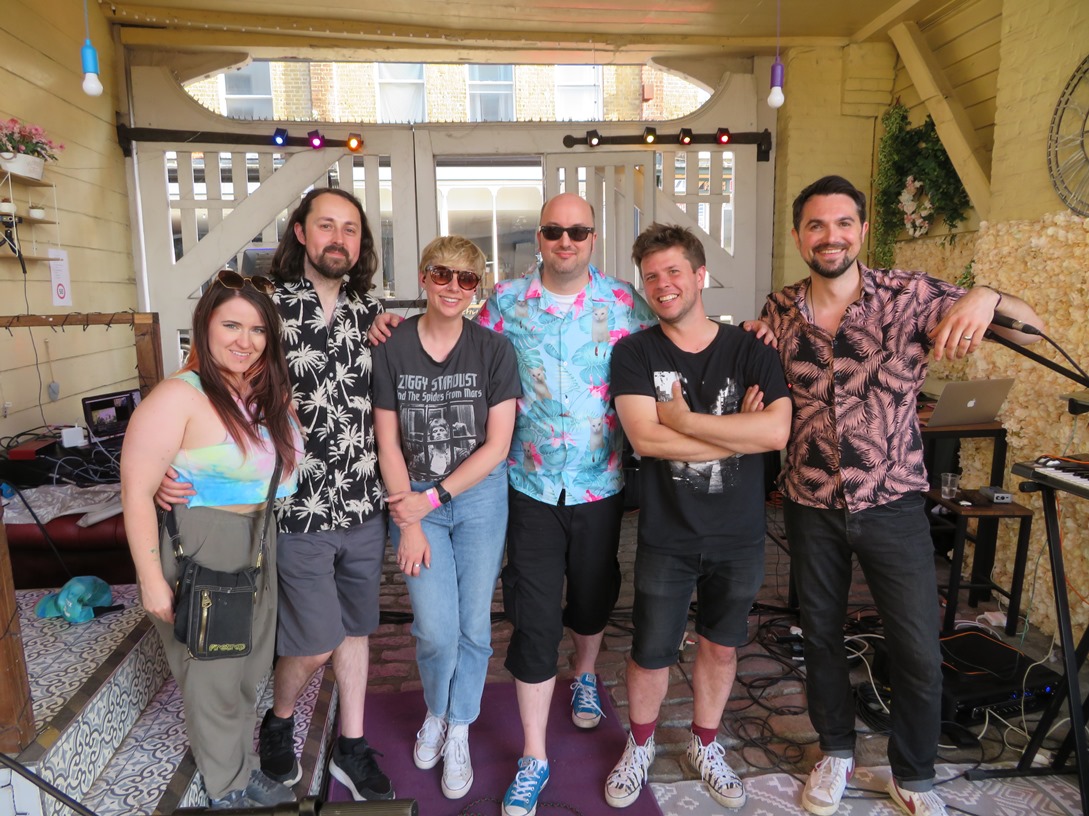 In the midst of time, the matinée concert was once a common occurrence and even during the Synth Britannia years, OMD, DEPECHE MODE and ULTRAVOX were among those who participated.
With increasingly mature music audiences and families in tow, particularly within synth-based music, an afternoon music event is ideal and when it finishes, dinner can be served and the train journey home can circumnavigate the often unpredictable nuisance of pub closing time.
The brainchild of Dom Cresswell, Duskwaves have hit upon the idea of using off-peak periods at venues and presenting them with an opportunity to boost business. The brand began modestly with a 2021 event in the Kent record shop Decktronix, but an April event at The Cavendish Arms near Battersea showed real potential in the daytime concept. This particular edition of Duskwaves formed part of the Medway Council sponsored Intrafest festival to support local businesses and the location was the relaxing dining garden of the Rochester Pizza Lounge next to the river.
Dom Cresswell is also behind AUW aka ABANDONED URANIUM WORKINGS, a musical umbrella that over two decades has embraced techno, breakbeat and now synthwave while in between, there was production of the acclaimed 2009 album 'Navigation' by ARTHUR & MARTHA featuring his brother Adam Cresswell, CEO of the boutique label Happy Robots Records. It was the older Cresswell who now records as Rodney Cromwell that eased the crowd into the afternoon with a curated selection of tunes that included NATION OF LANGUAGE, DEPECHE MODE, NEW ORDER and LADYTRON alongside Donna Summer and Gemma Cullingford.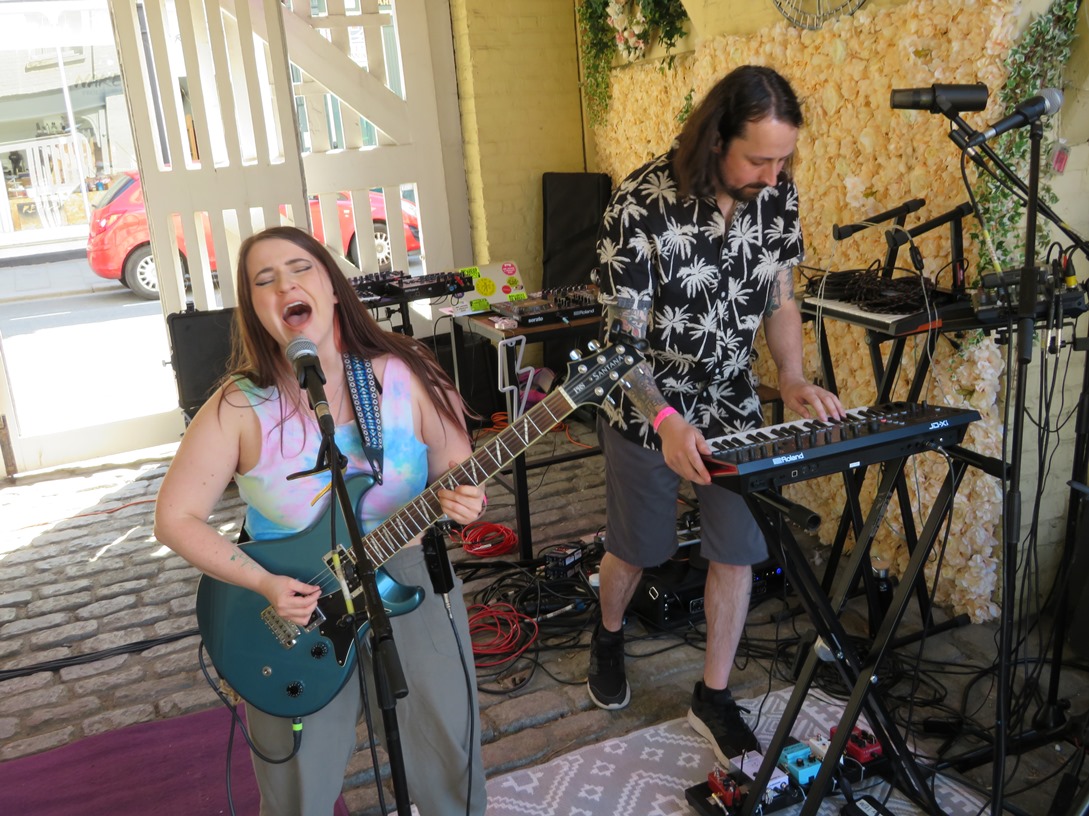 But to open the live element of Duskwaves was INFRA VIOLET, the Brighton-based duo comprising of Bethany Munroe and Toby Campen; incidentally the latter's father was a member of GREY PARADE who opened for Gary Numan on his 1985 UK tour. Their synth rock flavoured debut album 'Dream Tether' has been well received with Munroe's heartfelt vocals being singled out for praise. Performing in the open air with traffic running on the road behind them on an immensely sunny day without the trimmings of stage lighting is not ideal.
But INFRA VIOLET took to their set with a warm injection of enthusiasm, aided by their instrumental versatility. Originating from more rock-oriented climes, INFRA VIOLET were inspired to take up synths by the international success of CHVRCHES.
Opening with 'Polaroid', its gothwave demeanour stood out in the sunshine but a synthy insistence provided the drive. Their most streamed track 'Grow' exuded optimism and brightness to highlight why they have found a synthwave audience. Meanwhile the most recent single 'Easy' pointed to more countrified climes despite the electronic backdrop as the soulful confession of 'Mess' closed their set.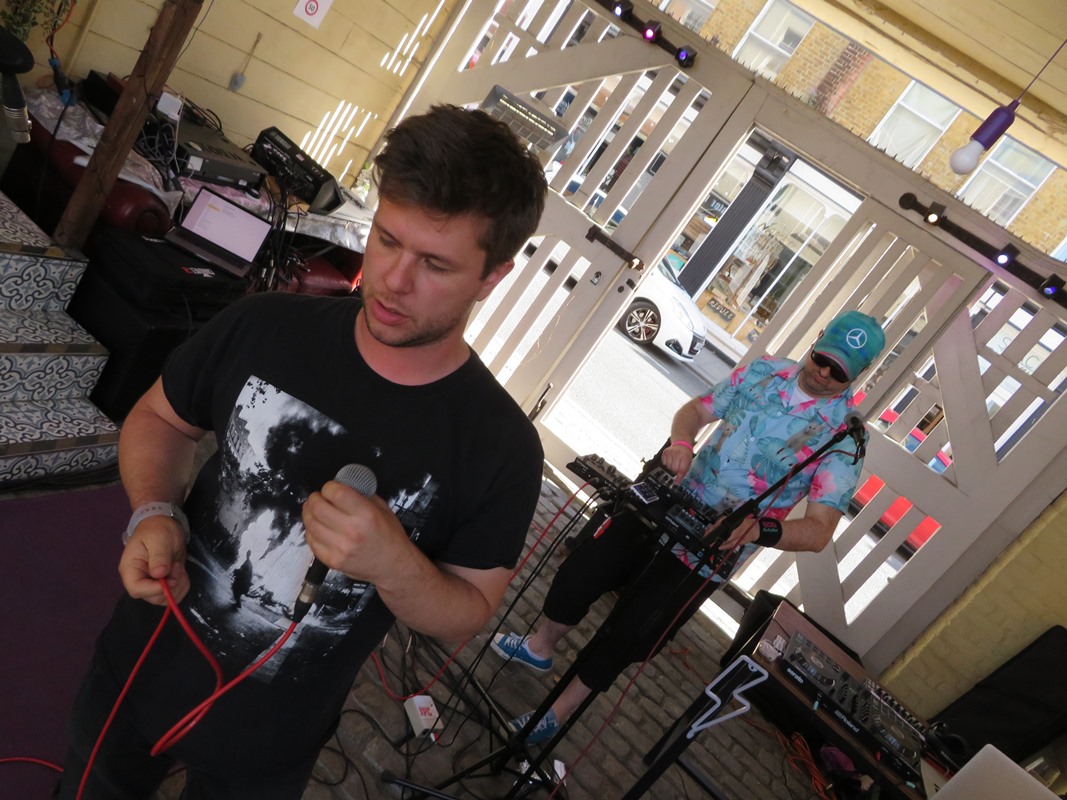 AUW's live set began with the marvellous instrumental 'Europa Dusk' from the new 'Twilight Drives' album before charismatic vocalist Sebastian Durkin joined on stage. With a growling stage persona was reminiscent of Samuel T Herring of FUTURE ISLANDS, this approach was particularly effective on 'The Window Show' while Durkin also took to singing to passers-by on the street during 'Concrete Panorama. Leaving Cresswell to finish solo, the lush beat-laden chillwave of 'Yellow & Confidence' provided some aural air conditioning to proceedings.
Undertaking her first ever DJ set, Dawn Taylor did as her Synthwave83 moniker suggested, with the digital slap bass frenzy of 'Officewave' from DREAMKID among one of the tracks to warm up those present for the headliners YOUNG EMPRESS.
"Drink Tab, play Robotron, listen to DURAN DURAN" is the motto of unrelated Dudley duo of Rebecca Davies and Robin Davies. Strong on the visual aspect of their presentation, they produced their own supernatural teen angst short film story that featured four songs from the debut long player 'Lost Time' issued by Aztec Records. But for this afternoon's performance, it was a stripped down set-up with no film backdrops or their usual accompanying keyboardist.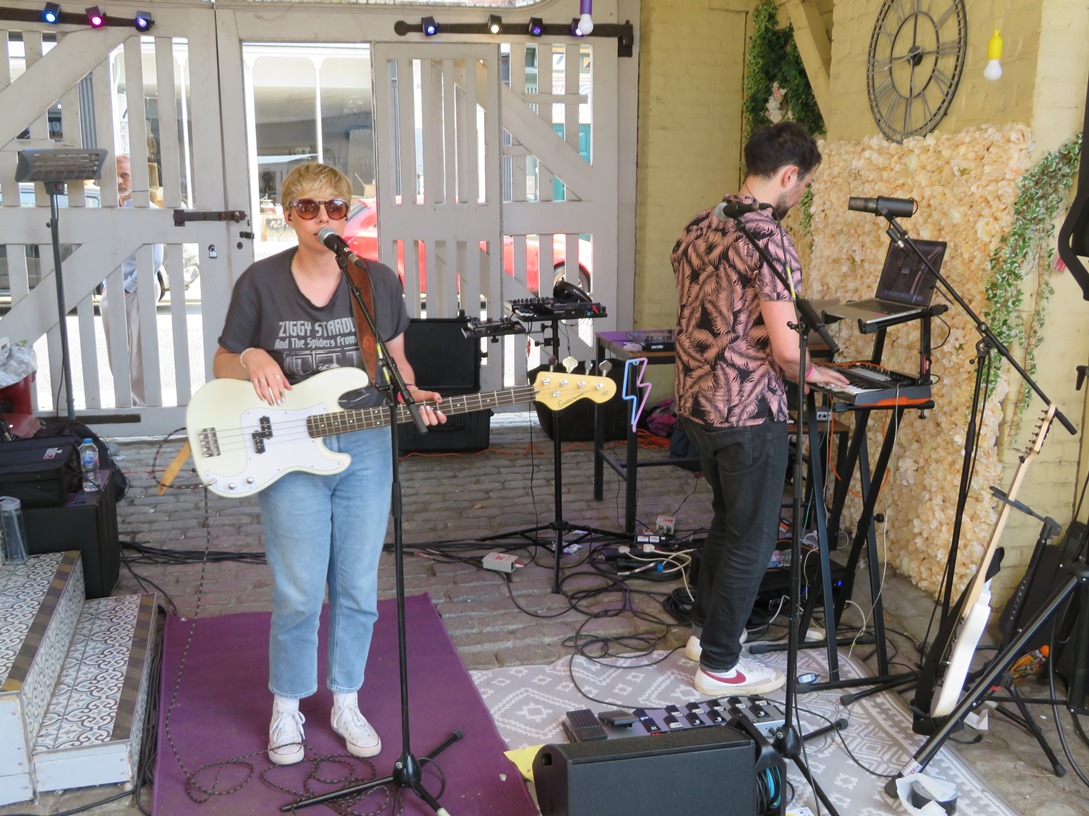 YOUNG EMPRESS took to the challenge with aplomb, beginning with 'Peacemaker' which strangely recalled one of the thematic sections of John Miles' epic 1976 hit 'Music' and displayed some excellent six string work. One of the 'Lost Time' highlights 'Eyes Closed' saw its glorious synth work shine albeit via the backing track while the keys and guitar interplay of 'Christine' evoked a less frantic 'Oh Jungleland' by SIMPLE MINDS. Ending Duskwaves with the wonderful 'Ghosts', this was folk-tinged popwave with emotive contralto vocals that provided strength to escape from the darkness.
But darkness was still some way off as all the acts packed up their equipment in the garden of the Rochester Pizza Lounge. It was an enjoyable relaxed event in which the time simply flew by. With pizza, panini, waffles and ice cream served with synths, Duskwaves was proof that daytime gigs really are the future…
---
The next Duskwaves takes place at Electric Medway in Rochester Victoria Gardens in Chatham on Friday 19th August 2022 from 1.30pm to 6.30pm – entry is free, info at https://www.facebook.com/events/s/electronic-picnic-with-duskwav/1076694056270892/
https://www.facebook.com/yngempress
https://youngempressmusic.bandcamp.com/
https://abandoneduraniumworkings.bandcamp.com/
https://www.facebook.com/InfraVioletUK
https://infravioletuk.bandcamp.com/
---
Text and Photos by Chi Ming Lai
19th July 2022