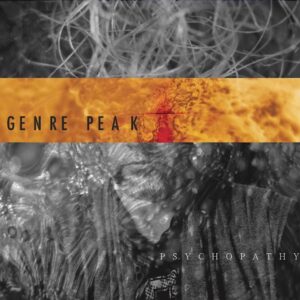 GENRE PEAK is the musical vehicle of Sacramento-based multi-instrumentalist and vocalist Martin Birke who first became known as a member of CASUALTY PARK.
With four albums to his name as GENRE PARK which have featured among others, JAPAN members Steve Jansen, Richard Barbieri and the late Mick Karn, Birke's most recent release was 'Triptych+', an Eno & Fripp inspired ambient trip in collaboration with their former guitarist Robert Dean. Birke began as a drummer so it is no surprise that exotically constructed rhythms feature on 'Psychopathy', his fifth long player as GENRE PEAK.
Working with former CASUALTY PARK band mate and producer Aaron Kinney who adds his own Moog Modular and fretless bass to proceedings, the resultant album has been self-described as "tracks of dark introspection, self-awareness and transformation"
Opening salvo 'Deathbed Confession' brings in synthetic brass and slap bass in that mature rock-oriented manner that was ubiquitous as the CD era took hold. The pulsing backbone of 'Psychopathy' plays host to Middle Eastern inflections and intense vocal impressions not unlike 'Pretty Hate Machine' era NINE INCH NAILS while the tingling abstraction of 'Western Lights' brings in brassy overtones from Tony Passarell over a frantic tablafied percussive template.
With a scratchy rhythmic stutter, 'The 4th Wall' channels moods of frustration but the lengthy 'POV' utilises a meditative tapped mantra as a setting for slowed reverse effects and jazz-laden trumpet before morphing into something more propulsive while counterpointed by piano and accompanied by a Japanese monologue.
A track with a title like 'Muzzleloader' can be expected to sound a bit like NINE INCH NAILS and as one of the album's highlights, its drum programme maintains the hypnotism while 'Enjoy The Silence' as reimagined by Trent Reznor looms in the song's second phase. Talking of the devil, the brooding 'Return To Earth' exudes industrial NIN-flavoured phase Numan but without the goth metal and works well as a slice of doomy electro-rock with the filtered vocals accentuating the sense of unease.
The conceptual 'Wendigo' acts as a schizo closer with a variety voices penetrating the head but this proves to not be essential to the 'Psychopathy' experience. As a collection of shady electronic rock, 'Psychopathy' is likely to appeal to Steven Wilson fans with a penchant for early NIN as a reflection of the disorientation and rage caused by world events over the past few years.
---
'Psychopathy' is available as a CD and download from https://genrepeak.bandcamp.com/
https://twitter.com/Genre_Peak
---
Text by Chi Ming Lai
15th July 2022