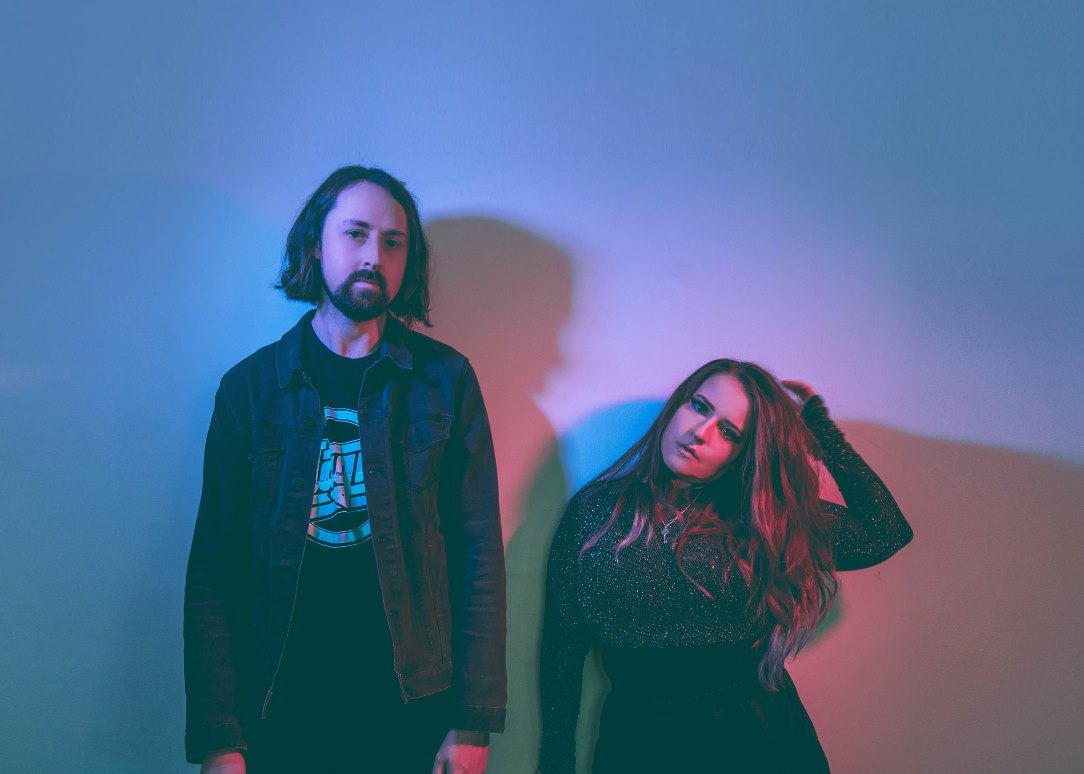 INFRA VIOLET are the Brighton-based duo comprising of Beth Munroe and Toby Campen.
Adversity often fuels emotive creativity and INFRA VIOLET were a product of the worldwide lockdown. With dynamic self-production of a high standard for an independent release, their synth rock flavoured debut album 'Dream Tether' issued in Summer 2021 has been well received with Munroe's heartfelt vocals being singled out for praise.
Making a lot of noise for two people, INFRA VIOLET provide a warm injection of enthusiasm whenever performing live, aided by their inherent musicality and instrumental versatility with an aim not to get trapped by on-stage computerisation.
Having just returned from the first live tour of the UK, INFRA VIOLET spoke about their musical journey so far to ELECTRICITYCLUB.CO.UK before heading back into the studio to write new material for their second album.
INFRA VIOLET have a quite eclectic musical background, how did synths become part of your sound?
Beth: It was Toby that got me into the synthwave sound, before that, I was doing my own thing as a fingerstyle guitarist / indie solo artist until Toby sent me a message at the beginning of lockdown. I loved the combinations of our sounds straight away.
Toby: My parents were big fans of new wave music so I was brought up on a lot of synth music and played piano from a young age. Although I was in a lot of rock bands prior to INFRA VIOLET, I always had a curiosity for synths and when I heard CHVRCHES' first album, that re-ignited my love for more modern synth music. Along with growing up listening to alternative / rock adjacent acts like NINE INCH NAILS and THE PRODIGY.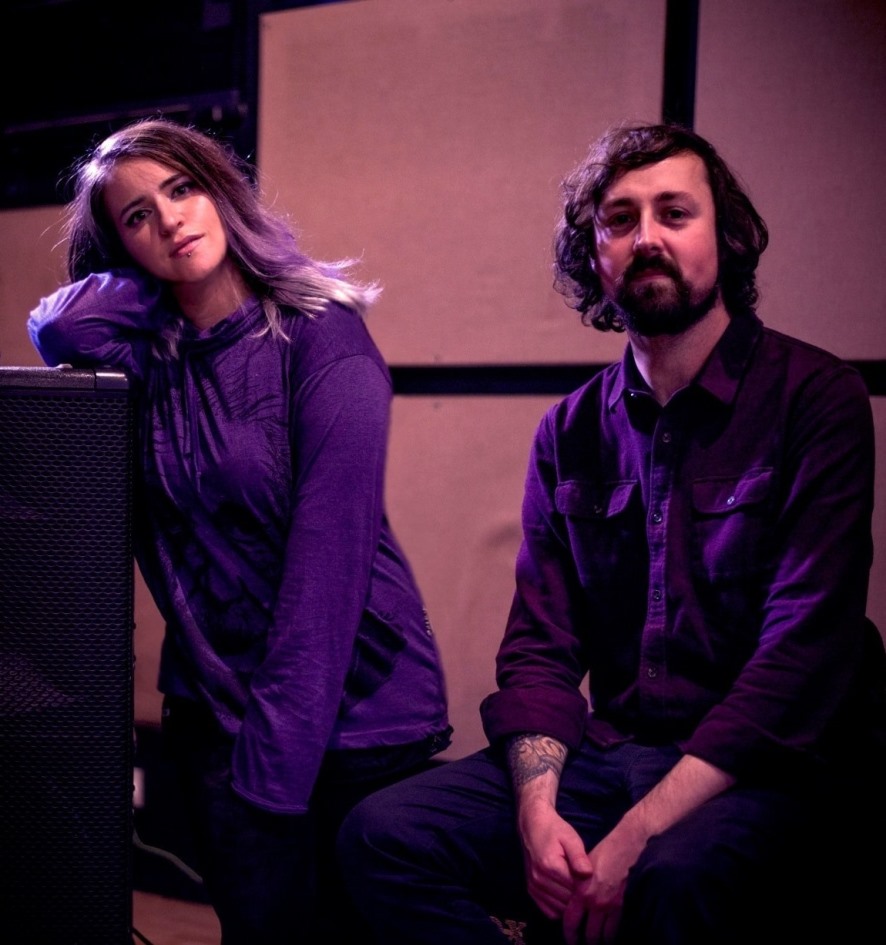 What VST emulations have you particularly taken to? Is there a vintage hardware synth that you covet?
Toby: In the studio, we use a lot of the Arturia and Native Instruments emulations, I'm a big fan of the Roland Juno and Jupiter synths as you can probably hear in our music, along with the Korg Mono/Poly and MS-20. Growing up, my dad had a Yamaha DX7 and Korg M1 in the house so I have fond memories of those. Live I play a Roland JDXi, as we prefer not to rely on laptops at the moment.
The fretboard soloing that INFRA VIOLET use is perhaps more closely associated with The Blues which gives you an unusual sound?
Beth: Some of the solos might sound a bit like classic rock which comes from Blues I suppose. The tapping that you see comes from acoustic fingerstyle, playing with both hands that you might typically see on an acoustic guitar, we've been experimenting with moving that over into our genre on electric, with mixed results but it gives a good show.
How would you describe your creative dynamic?
Beth: We both come up with original ideas that we take to the other. The first few songs, including 'Polaroid', Toby just presented me with this polished track that just needed vocals. As we worked together more, I put forward tracks as well. Overall, I'm really good at starting songs, and Toby's really good at getting them finished and actually sounding good, but our roles are pretty fluid.
From your first single 'Polaroid', INFRA VIOLET were quickly embraced by the synthwave community, did that surprise you?
Beth: Yeah it really did, coming from a rock / singer songwriter background, those genres are so oversaturated that there just isn't a community there anymore. I was so blown away from the support we got right from the start, how lovely everyone was, and how interconnected the UK synthwave scene is. It feels very hopeful for the genre.
Toby: Yes it was a pleasant surprise. There are a lot of musicians in this genre putting out great music, so to be noticed quite early on in our journey was very rewarding and for our first venture into this type of music as well.
Was there a need for you to study the synthwave form as it were? Did you have any particular inspirations or acts who you looked up to?
Toby: Being children of the late 80s / early 90s, the nostalgia element of this sort of music comes quite naturally. When we started making music as a duo, we weren't really that aware of synthwave as a genre, until people started comparing our song 'Polaroid' to acts like The MIDNIGHT and Dana Jean Phoenix. When I first heard these acts, that was it, I was hooked. It mixed synthpop with lots of the 80s soundtrack music I loved like 'Blade Runner' and 'The Terminator'.
'Grow' has become your most popular track, what was its genesis and realisation?
Beth: Toby gave me the track, it was originally a lot slower and more ambient, and when talking about a lyrical brief, we both agreed it would be quite nice to have an environmental song, with both of us being environmentalists. I wrote the lyrics about how it actually feels to be in this generation and see the ecosystem and life sustainability of the planet dissolve around us, rather than getting on a soapbox about it. Over time we sped up the track and found the groove of the song, and it all came together.
Toby: From a musical standpoint this song is definitely more post punk / dark wave inspired. I'd been listening to a lot of JOY DIVISION and NEW ORDER at this point in time, along with some newer bands like PALE WAVES and KORINE. However I knew once this was given to Beth with her vocal and guitar style it would transform into something a little different. She suggested making it more upbeat and dancey which helped tackle the difficult subject matter of the lyrics.
Is the confessional of 'Mess' autobiographical or do you write as characters?
Beth: All of the songs come from a very personal space, and all of the stories within them are true and mine.
Toby: One thing I have always quite liked about Beth's lyrics is they are very personal and written from life experience. Quite a few bands in our genre write fictional lyrics so if this sets us apart a little, that's not a bad thing.
Your debut album 'Dream Tether' was very well received and got reviews in mainstream media, it was released in all the usual formats including cassette while the vinyl has sold out. As independent artists, how did you decide what formats to go with and how much of a gamble is it?
Beth: It was my idea to push cassette tape, as I noticed when touring as a DIY artist previously, lots of people started asking for tape, what I didn't expect was to sell out on our cassettes as well, that was absolutely wild.
Toby: It was a bit of a gamble to do all the formats on our first album, as Beth mentioned our cassettes moved pretty quickly and as a format cassettes are having quite a resurgence right now, especially in electronic music. I think I pushed more for the vinyl as it has always been a dream of mine to put something out on vinyl and in all the bands I've been in over the years (going on 20 now) this is the first to do so. Due to huge backlogs in getting vinyl pressed, we went with lathe cut from a company called Lathe To The Grave who I can thoroughly recommend and this made it faster to get our run made. They were a very limited run but we might make more if there's a demand… message us and say!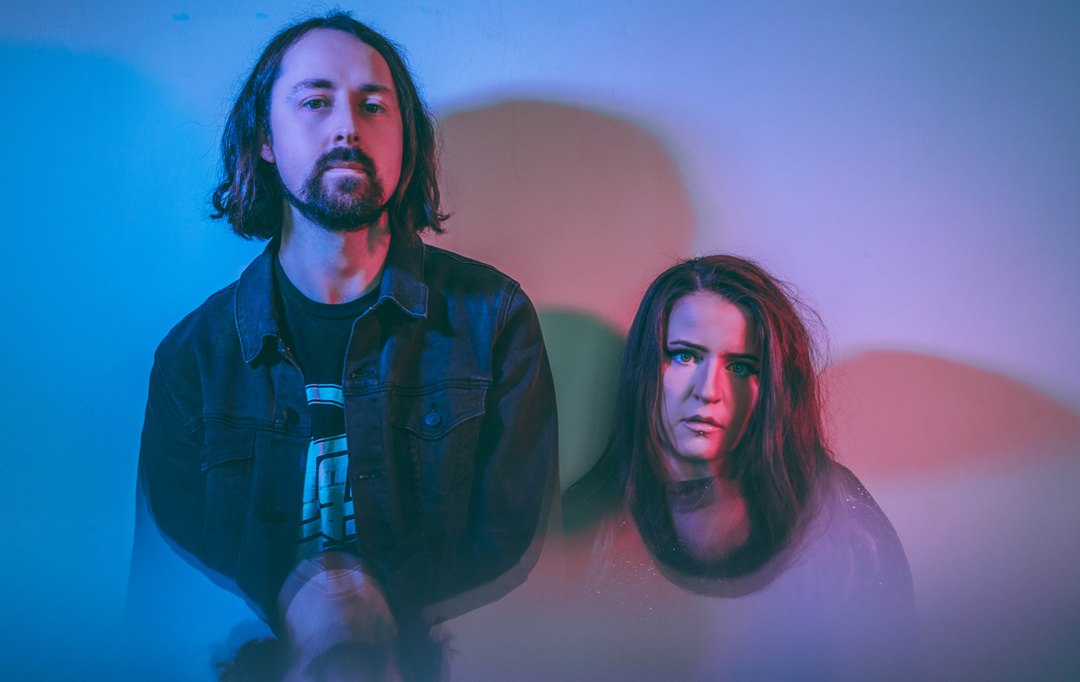 Which are your favourite songs on 'Dream Tether'?
Beth: I like 'Water', it's one of the first we wrote together, and I love the sense of power and gravitas it has, although so much of that is Toby's production. I like 'Run' and 'Mess', my two little fingerstyle experiments as well, with the really personal lyrics they both have a nice sense of fun to them. I'm proud of all of it honestly.
Toby: It's hard to pick as I'm also very proud of it as a body of work. 'Grow' will definitely always be a favourite of mine, but some of the lower key songs like 'Radio' and 'Gold' are also personal favourites because of the way they came out production wise, and also Beth's lyrics. It's not on this album but our new single 'Easy' is probably one of the songs I'm most proud of to date and it has quite a different sound.
INFRA VIOLET have taken to playing live with aplomb, but what have been the challenges in bringing your sound to the stage?
Beth: It's definitely very different from anything I've known playing live before. Playing to a backing track with in-ear monitors gives a very different feeling, and there's a lot of tech that could go wrong. Luckily Toby is there to sort the technical side, we're still finding our feet live for sure, but it's getting there.
Toby: Initially working out how we would perform everything was a challenge and deciding whether to sequence hardware or go the laptop route etc. In a perfect world everything would be performed as a bigger band with more musicians, but right now that's just not logistically ideal for us. Our songs also have quite a few patch changes from start to end, with lots of different synths and samples as we write to make the songs the best they can be, then worry about live later. So we are tied to using backing tracks for now, but for me the way we perform with the main synths, guitar and vocals gives enough of a show visually and we can still be entertaining and have fun performing live.
INFRA VIOLET released an instrumental versions EP, but was there any pressure on you to do this as there is this strange line that's been drawn between vocal and instrumental synthwave. Just taking off a vocal from a song does not necessarily make it a good instrumental track, which is why a number of synthwave instrumentals sound like someone has forgotten to sing…
Beth: I mean I definitely agree, instrumental tracks require texture, melody, and some sort of theme or build that keeps the reader engaged. If you're going to remove the texture and melodic layer of vocals, you need to either replace it or shift the track around to accommodate the empty space and keep us interested. Toby's a fantastic producer, and I'm lucky to find someone who knows what they're doing and can pack the track full of these interesting sounds and textures and little harmonies and hooks that you don't always notice at first. It's something not everyone gets right in this genre, so I'm glad Toby can.
Toby: Agreed, I think initially we did feel the pressure to release some as instrumentals and we did actually get requests from people to do so early on. When we do release instrumentals, I'll remix the songs to suit this format, but we haven't released all our songs this way for the very reason that some of them would just be boring without the vocals.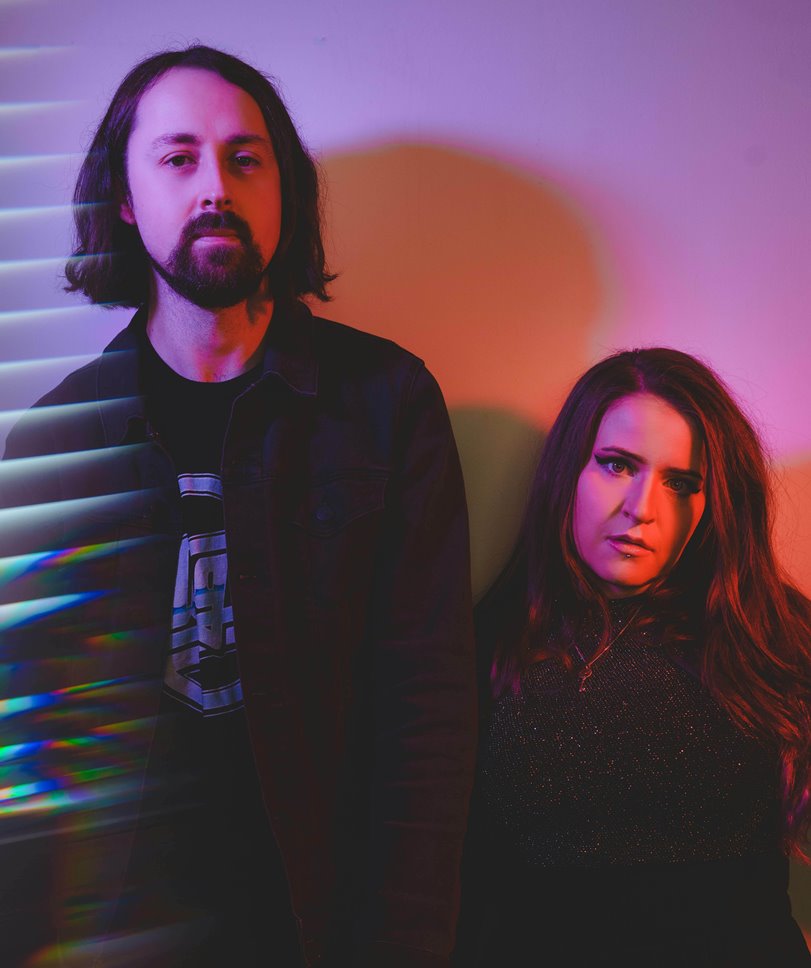 But INFRA VIOLET have specifically written instrumentals and contributed 'Nightmares' to the soundtrack of the short ghost film 'The Understudy'. How did that come about, did you compose to moving images and would you like to do more of this kind of commission?
Beth: Yes, we also specifically write instrumental music for film and TV, and we'd love to do more. We wrote 'Nightmares' which was a lot of fun writing a spooky synthwave tune with lots of heavy distorted guitars. Our instrumentals are also going to feature in the upcoming documentary 'Cult Of VHS' and we're working on another horror soundtrack at the moment as well. It's a world we'd love to get more into.
Toby: As my day job I've been working in film and TV as a sound designer for most of my career, so some of these opportunities have come via directors that I know. We'd definitely like to score more films as INFRA VIOLET and when we do we compose to the picture as a Hollywood composer would. In that world of film composition, I'm largely influenced by the work of composers like Geoff Barrow, Trent Reznor, John Carpenter
If you were a 'Stranger Things' character, who would you be most like?
Beth: I'd be Dustin, I think. He's my fav, I relate to his clownery and silly upbeat attitude a lot.
Toby: Probably Hopper because I'm partial to a Hawaiian shirt.
So DEPECHE MODE or NINE INCH NAILS?
Beth: I would actually say DEPECHE MODE, but only marginally more my favourite, I love them both.
Toby: For me definitely NIN (if that's an unpopular opinion) as I grew up listening to a lot of their music and although it's maybe not audibly obvious, the work of Trent Reznor is a big influence on my music.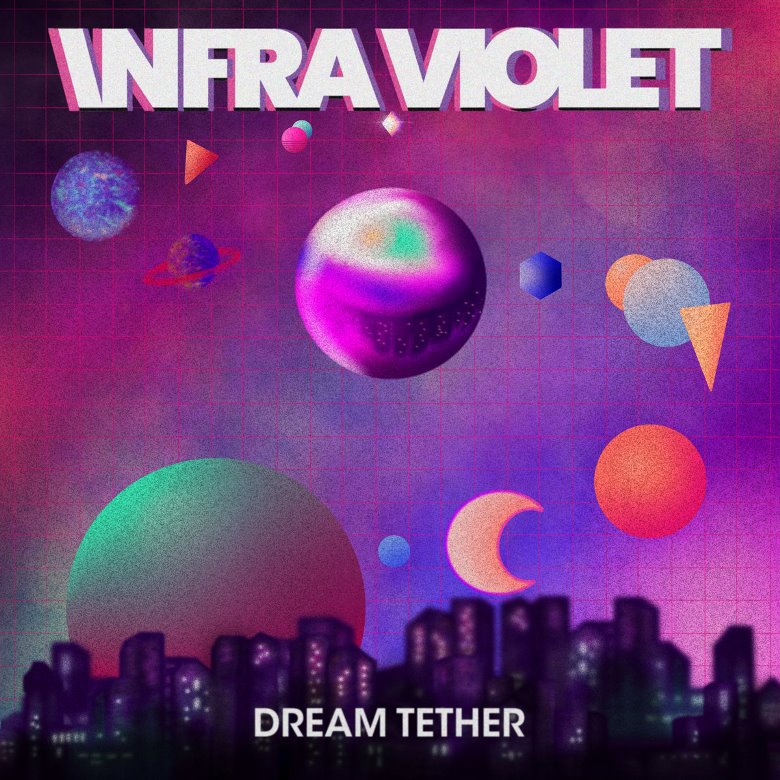 How supportive have your parents been in your pursuit of a music career? Have they offered any friendly advice or guidance?
Toby: Mine have been very encouraging of me being in bands. Music has been in my family for many generations, so I had piano lessons as a young child and learnt other instruments after that. My dad was also in numerous synth bands over the years – namely GREY PARADE who were on Numa Records, and you can see that recently mentioned on ELECTRICITYCLUB.CO.UK's social media! He's given me a fair bit of music industry advice over the years and been a good sounding board for song ideas.
Beth: My dad taught me some fingerpicking acoustic guitar when I was younger, I think you can still hear echoes of that when I play now. My mum bought me my first electric guitar and CD player so I could play along to MUSE and GREEN DAY. They've both been very supportive of me since, and only a little disappointed I didn't become a writer instead.
Your most recent single 'Easy' appears to have entered more countrified direction? So what's in store for your next body of work?
Beth: I think people might be a bit surprised when they hear what we have in store after 'Easy'. It didn't occur to us 'Easy' sounded a bit like country, but it makes sense with the upbeat vibe and the guitars. We're working on a few different things, and still figuring out our sound, but our next release is likely to be a lot darker and more deviant, I can't wait to see people's reaction.
Toby: As Beth said some of our yet to be released songs have taken us in some unexpected directions so we have some darker and lighter sounding ones in the bank. After our first album we're now taking some time to experiment and see where we can take our sound.
---
ELECTRICITYCLUB.CO.UK gives its sincerest thanks to INFRA VIOLET
'Dream Tether' is available in various formats direct from https://infravioletuk.bandcamp.com/
INFRA VIOLET play Duskwaves at Electric Medway in Rochester Victoria Gardens in Chatham on Friday 19th August 2022 from 1.30pm to 6.30pm – entry is free, info at https://www.facebook.com/events/s/electronic-picnic-with-duskwav/1076694056270892/
https://www.facebook.com/InfraVioletUK
https://twitter.com/infravioletuk
https://www.instagram.com/infravioletuk/
https://linktr.ee/infravioletuk
---
Text and Interview by Chi Ming Lai
12th August 2022