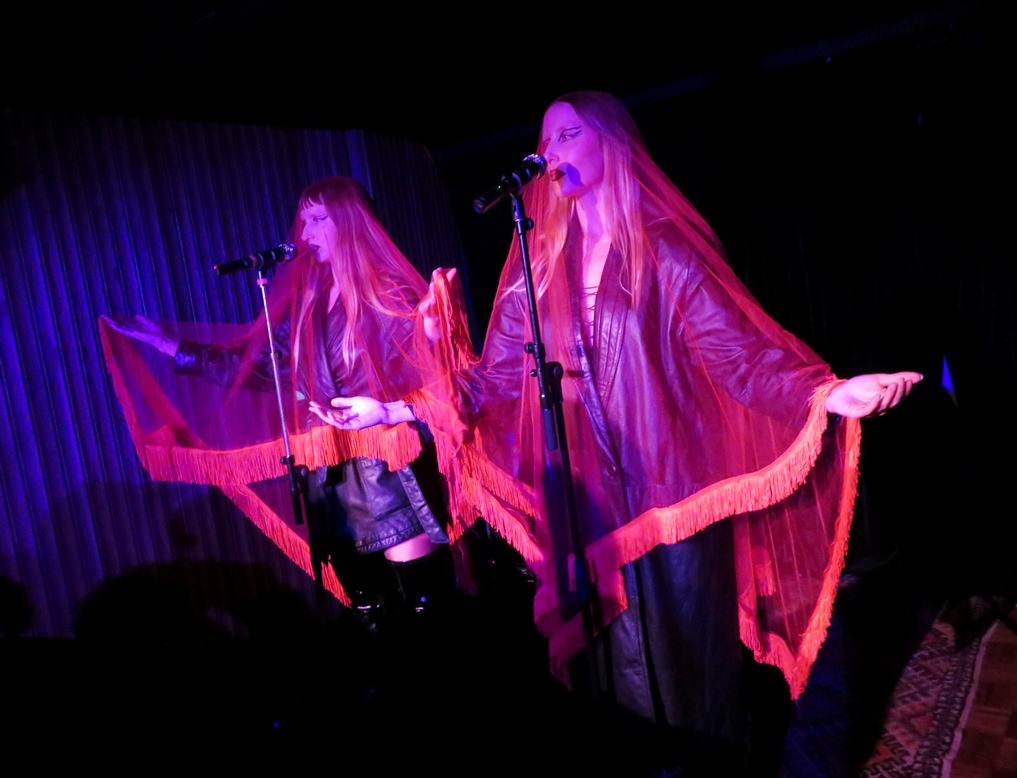 With DESIRE, GLÜME and CLUB INT'L having done their bit for Italians Do It Better at Fabric a few days earlier, it was the turn of MOTHERMARY, LOVE OBJECT and JOON for a second label showcase at the trendy Laylow in London's Notting Hill.
A four floor establishment with a restaurant frequented by the likes of George Clooney, Kate Moss and David Beckham plus a basement music venue, a mortgage was required for a couple of drinks at Laylow.
But the financial pain was soothed almost immediately by DESIRE front woman Megan Louise on the decks playing Giorgio Moroder's 'Chase'. Throughout the evening, the Italians Do It Better President provided an enjoyable soundtrack of Italo disco, electroclash, techno and French New Wave between acts that was discerning and hip but not too cool for school, a lesson that could be learnt by other DJs.
Almost a homecoming having studied music technology in London, Maltese producer Yasmin Kuymizakis gave her first gig in the capital as her alter-ego JOON. Appropriately opening with the brilliant 'Good Times', Kuymizakis left her workstation to join the audience for an impromptu sing-song.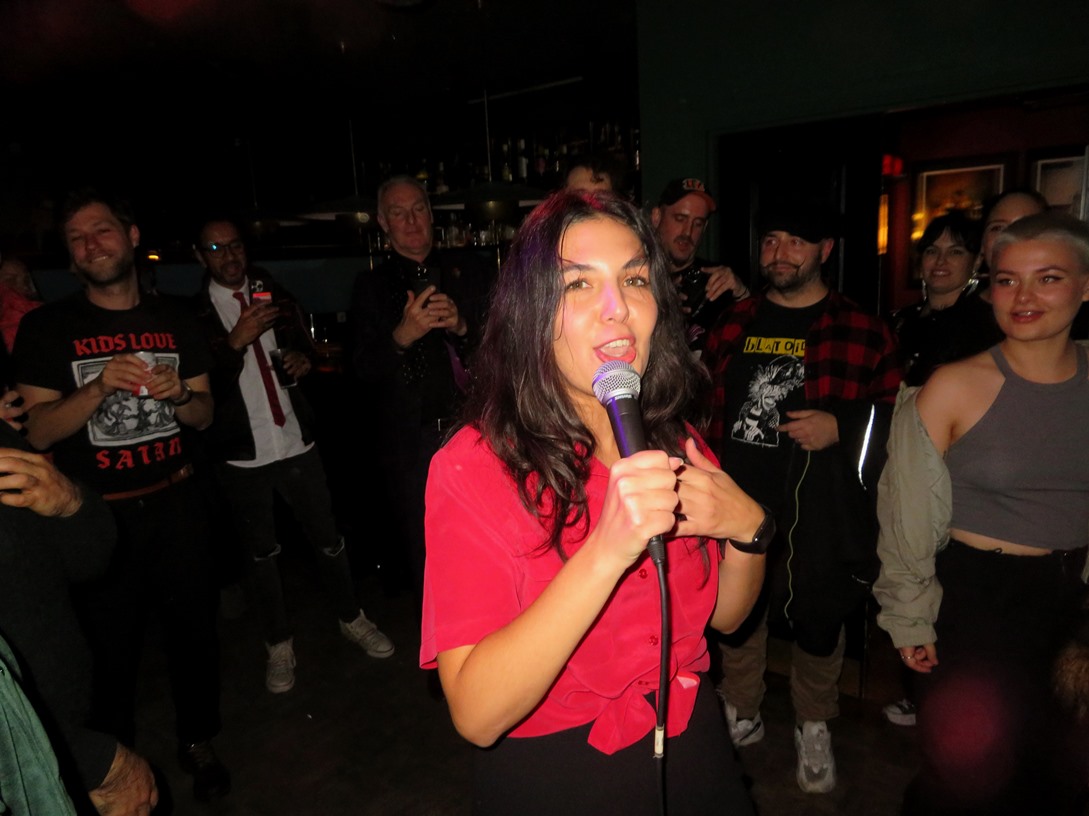 Her optimism and joy set the tone for a performance featuring a number of songs from her debut album 'Dream Again'. The blippy pop of 'ET' came complete vintage horror film Theremin tones yet had people dancing while despite playing with drones, the quirky instrumental 'I.You' provoked a few smiles. The final song of the set was the huskily voiced 'Worse Things' which had been due to appear on 'Dream Again'. But it had now been reworked from its 'Just Can't Get Enough' origins into something more clubtastic.
So well received was JOON's performance that the audience demanded not one but two encores. Kuymizakis obliged with a pair of works-in-progress of which, the first was very promising despite having sections that had not yet been completely worked out.
Russian duo LOVE OBJECT first appeared on the Italians Do It Better compilation 'After Dark 3' and came out with their debut album 'New Flesh' on the label at the end of 2021. Comprising of singer Dasha Utochka and producer Danya Mu, an erotic overtone lingers over LOVE OBJECT, perhaps not surprising as Utochka co-founded 'Areola', a publication whose mission statement is "To help people become more liberated and freethinking!".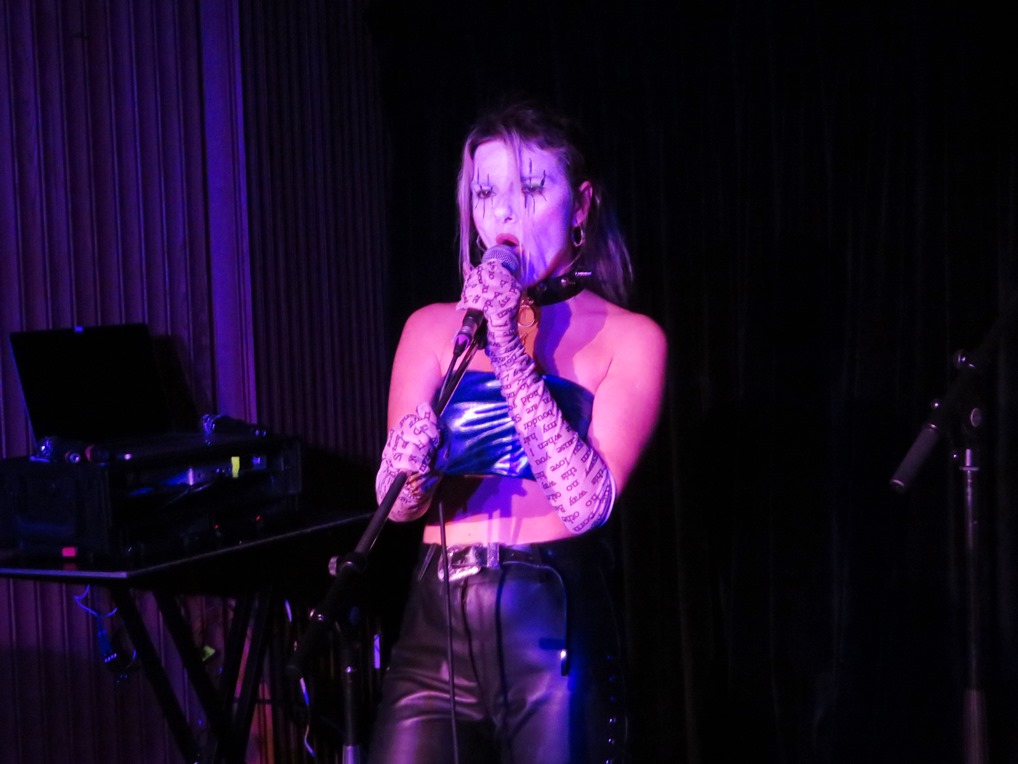 LOVE OBJECT's ethos is to challenge control so their stark neo-industrial was fitting. After opening with a cover of Madonna's 'Frozen', Utochka's vocals were delivered mostly in her native language. The doom laden hip-hop of 'Virus' was on point with its apocalyptic rap of truths while 'Object Of Desire' included a short narrative from Mu before Utochka took over like Miss Kittin reciting Cyrillic script. Closing with their best song 'Transparent Woman', this speedy slice of tech-pop made the most of its percolating percussive metallics.
Inspired by the Prayer of the Blessed Virgin, the striking MOTHERMARY are like real-life 'Twin Peaks' characters, the backstory being that twins Elyse and Larena Winn escaped their strict Mormon family upbringing in remote Montana and uprooted to Brooklyn. "Women can be mothers and nurturing and caring and smart, and we also get to have f***ing sex drives" MOTHERMARY said in the press release for their debut album 'I Am Your God' released at the start of 2022.
Religious imagery is a recurring theme in the Winn's sexually charged music as they channel their collective repression to confront patriarchy. Taking to the stage from the audience in red veils to the ominous tones of 'Devils', MOTHERMARY formally began their London premiere with the bubbling electro R'n'B of 'Give It Up'. Removing their veils to reveal black leather coats, 'Pray' made references to a "sacrificial offering" over an acid house squelch, while the twins declared "We'll pray for you…"
Disrobing to latex basques and thigh length boots for the Schaffel driven 'Catch Fire', MOTHERMARY toasted themselves as "the cult to end all cults". No stranger to the songs of Madonna Louise Ciccone having covered 'Like A Prayer' on 'I Am Your God', their live version of 'Like A Virgin' illustrated more vividly, the haunting anguish and subsequent emotional rebirth behind the Tom Kelly / Billy Steinberg composition. Meanwhile 'Coming For You' provided a sinister stalker-like statement of devotion, before the set culminated in 'Burn With Desire' and a performance of 'Like A Prayer' itself.
It was another enjoyable evening of music, where each artist had their own considered style of presentation. Assorted emotions were conveyed across varied interpretations of electronic pop and held together by the brand identity of Italians Do It Better. Avoiding the "see if it sticks" approach of other independent labels, there was a distinct curated quality behind it all.
---
Special thanks to Frankie Davison at Stereo Sanctity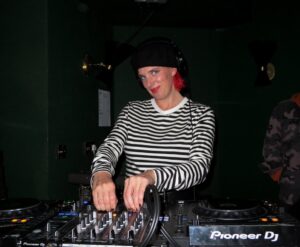 Information on Italians Do It Better releases can be found at https://italiansdoitbetter.com/
https://www.facebook.com/templeofjoon
https://twitter.com/templeofjoon
https://www.instagram.com/templeofjoon/
https://www.facebook.com/theloveobject/
https://www.instagram.com/the.love.object/
https://www.facebook.com/1800mthrmry/
https://twitter.com/mothermarymusic
https://www.instagram.com/mothermarymusic
ELECTRICITYCLUB.CO.UK's IDIB playlist 'GLI ITALIANI LO FANNO MEGLIO' can be streamed at https://open.spotify.com/playlist/6HPhf1yptwaN6UiHDqzFI6
---
Text by Chi Ming Lai with thanks to Belle Piec
Photos by Chi Ming Lai except where credited
16th November 2022