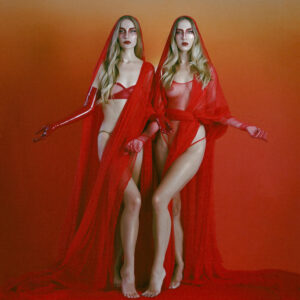 Inspired by the Prayer of the Blessed Virgin, the strikingly photogenic twins Elyse and Larena are like real-life 'Twin Peaks' characters, with the backstory being that they escaped their strict Mormon family in remote Montana.
Elyse hitched a ride to Salt Lake City before uprooting to Brooklyn and attempted a solo music career. But unhappy with how producers failed to see her vision, when Larena joined her in The Big Apple, MOTHERMARY came into existence to reclaim their sexuality and womanhood, having been brainwashed to "Have children, procreate, but don't be sexual beings!"
Released on Italians Do It Better, with an appealing contrast of light and shade, their debut album 'I Am Your God' highlights religious hypocrisy with resigned contralto vocals and immersive synthetic instrumentation. This is exemplified by an electro-take on Madonna's 'Like A Prayer' which brings the tone of the song's lyrical content more in line with its true meaning about the euphoria of oral sex. Making a similarly profound statement, 'Burn With Desire' utilises a steadfast synthwave backdrop to encapsulate the twin's repressed sexuality.
Opening the album with the swung presence of 'Catch Fire', it's a number that gradually develops its power while 'Wearing Me Thin' introduces a slow soulful groove. There's dancier material too; sounding like haunting Anglo-German art pop duo KALEIDA but with an acid house squelch, 'Pray' is a highly provocative highlight with gritty references to a "sacrificial offering" and confirmation that "We'll pray for you…"
In line with the album's recurring religious imagery, 'Resurrection' is undoubtedly another bedroom metaphor, enhanced by a barrage of sleazy synth smothering, but despite its understated R 'n' B rhythms, 'Coming For You' morphs with strident synthbass in a statement of desire which when the glitch vocals take their place, presents more of a creepy stalker mentality like 'You' set to an electronica soundtrack.
'Give It Up' follows a similar arrangement template although the message is more resigned. The closing 'I Am Your God' title track also brings in deep vocal pitch shifting for an unsettling demonic twist.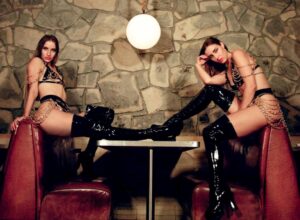 Reminiscent of KALIEDA but with more urban derived beats, the 'I Am Your God' album captures a haunting anguish and despair that channels the twins' pain and uncertainty into the music with a collective repression.
"Women can be mothers and nurturing and caring and smart, and we also get to have f***ing sex drives" MOTHERMARY said, "We get to enjoy our bodies. We get to enjoy pleasure. We get to orgasm if we want to."
---
'I Am Your God' is released by Italians Do It Better on 28th January 2022 , pre-order at https://idib.ffm.to/i-am-your-god
https://www.facebook.com/1800mthrmry/
https://twitter.com/mothermarymusic
https://www.instagram.com/mothermarymusic/
---
Text by Chi Ming Lai
27th January 2022