First established as an exhibition in Greenock during the Autumn of 2018, 'From The Port To The Bridge: The Story of Thomas Leer & Robert Rental' recently made its London debut at The Horse Hospital in Russell Square.
Released at the end of 1979, 'The Bridge' was the only album by Port Glaswegians Thomas Leer and Robert Rental whose respective solo singles 'Private Plane' and 'Paralysis' were among 1978 pioneering electronic independent releases which also included THE HUMAN LEAGUE, THE NORMAL and CABARET VOLTAIRE.
To launch the London leg of the exhibition which was attended by luminaries such as John Foxx, Stephen Mallinder and Brian Griffin, a special event was held featuring talk by Daniel Miller who had toured in the guise of THE NORMAL with Robert Rental as a duo opening for Ulster punk bank STIFF LITTLE FINGERS in Spring 1979. As well as loaning his still-working Korg 700s with which he made 'Warm Leatherette' for display, his label Mute will be reissuing 'The Bridge' as a white vinyl LP edition and CD via their imprint The Grey Area.
Thomas Leer and Robert Rental had met working as gardeners and shared a love of TONTO'S EXPANDING HEAD BAND. Using just two EDP Wasp synthesizers, an EDP Spider sequencer, a guitar and recording equipment provided by THROBBING GRISTLE who originally released the album on their Industrial Records, 'The Bridge' is considered a landmark in DIY and experimental electronic music.
As stated on the back of the cover: "This album was recorded at home on 8 track equipment, provided for us by Industrial Records. It was produced in two weeks dating 18th June to 2nd July. All blips clicks & unseemly noises were generated by refrigerators & other domestic appliances & are intrinsic to the music."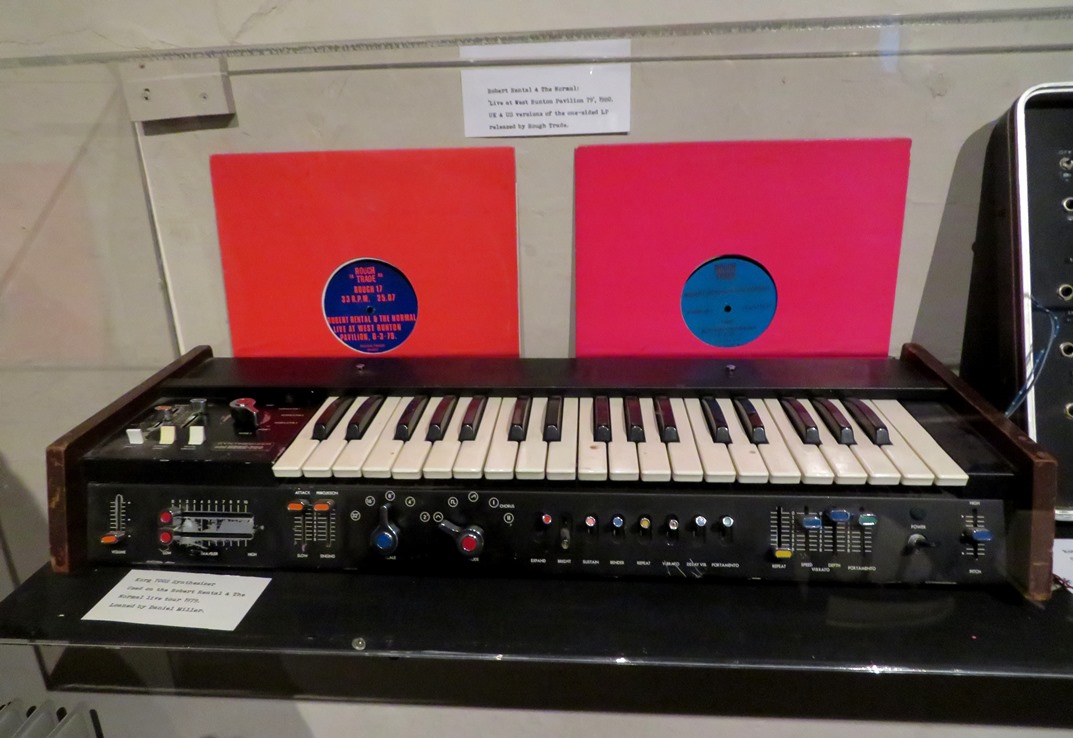 Comprising of a side of five songs and a side with four ambient instrumentals, the best known track on 'The Bridge' is the pulsating dystopia of 'Day Breaks, Night Heals' which found itself playlisted regularly at The Blitz Club.
Other highlights included the appropriately titled 'Attack Decay' which undoubtedly influenced John Foxx in his 'Metamatic' period, the hopeless claustrophobia of 'Connotations' and the spacey Eno-inspired soundscape of 'Interferon'.
The uneasy creative tension between Thomas Leer and Robert Rental revealed itself in the eventual recordings, especially with THROBBING GRISTLE deliberately withholding their best equipment. In a short film of interviews shown as part of the evening, Chris Carter and Cosey Fanni Tutti confirmed it was all part of their mind games to ensure the Scottish pair captured the spirit of their demos and retained their own unique sound, whilst gaining an improvement in sound quality. Carter set up the equipment in the shy and introverted Rental's London flat and with minimal guidance, let them get on with their voyage of discovery with a deadline of a week (later extended by another week) to complete the album.
It was within the THROBBING GRISTLE axis that Robert Rental had met Daniel Miller, leading eventually to the release of the 'Double Heart' single as MUTE 010 but in-between, they played a number of shows together and it was this aspect of the story that the conversation with Daniel Miller hosted by exhibition curator Simon Dell focussed on.
Among the amusing stories, Miller talked of how due to the touch-sensitive membrane keyboard of the Wasp, it would play by itself when overheating under stage lights while with regards to the upcoming reissue of 'The Bridge', how important it was not to clean the album up too much although to make it sound good on Spotify, the trick was to "compress the f*ck out of it".
After the release of the raw 'Live at West Runton Pavilion, 6-3-79' one-sided album on Rough Trade, Robert Rental went on to produce the soundtrack for The Comic Strip's 1984 feature 'A Fistful of Traveller's Cheques'. But despite the support of Daniel Miller to continue in music, ever the perfectionist and concerned that Mute might release material that he felt was not of the required standard, Rental retired from the industry; he sadly passed away in 2000.
Thomas Leer went on to release the album 'Scale Of Ten' on Arista in 1985 and formed ACT with Claudia Brücken who recorded just one long player 'Laughter Tears & Rage' for ZTT in 1988. After a career break, he began releasing music again in 2001.
Now living in Greenock and unable to attend the exhibition launch in person, Leer was represented by an insightful new interview filmed by his brother just a few weeks before.
One of the highlights in his forthright anecdotes was his dismay at how DIY was misperceived by the too cool for school crowd as his Fairlight programming was done at home before entering the studio, making it valid as a DIY product as much his 1982 album 'Contradictions' on Cherry Red Records.
With records, photographs, press cuttings, film and equipment including an EDP Wasp and Boss Dr Rhythm DR55 drum machine to tell one of the forgotten stories of Synth Britannia, the pioneering legacy of Thomas Leer & Robert Rental deserves greater recognition and this exhibition provides just that.
---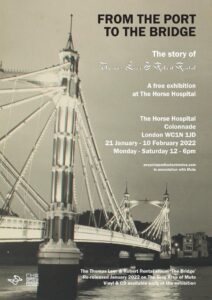 'From The Port To The Bridge: The Story of Thomas Leer & Robert Rental' runs at The Horse Hospital in London until 10th February 2022, entry to the exhibition is free but pre-booking is required at https://www.thehorsehospital.com/events/from-the-port-to-the-bridge
'The Bridge' is reissued by The Grey Area in limited edition white vinyl LP, CD and digital fomats, pre-order or pre-save via https://mute.ffm.to/TheBridge
https://www.facebook.com/leerandrentalexhibition
---
Text by Chi Ming Lai with thanks to Simon Helm
24th January 2022