Having come to wider attention with their song 'Think' appearing on the soundtrack of the 2014 Keanu Reeves action thriller 'John Wick', moody electronic duo KALEIDA opened their account with a six track EP of the same name.
Opening for Róisín Murphy on selected tour dated in 2015, vocalist Christina Wood and keyboardist Cicely Goulder followed-up with another EP 'Detune' in 2016.
The thoughtful brooding music of KALEIDA finally debuted in a long playing format with the acclaimed 'Tear The Roots'
in 2017. Dark and introspective, as well as including 'Think', the album featured a cover of '99 Luftballons' which appeared in the Charlize Theron Cold War era spy drama 'Atomic Blonde'.
In 2020, the duo returned from hiatus with three singles 'Other Side', 'Long Noon' and 'Feed Us Some'. With their second album 'Odyssey'
having been released in the summer, KALEIDA very kindly took time out to speak about their career to date.
In many ways, KALEIDA are a perfect example of a modern electronic music act in that despite being continents apart, you are able to create and compose. How did you come together to make music?
A friend connected us over email, back when Christina was doing environmental work in Indonesia and looking for a music partner, and Cicely was studying film composition in London.
What were your common musical interests, but also where did you differ to help give KALEIDA such a haunting sound?
We both like choral music, and we're both really into melody, which perhaps sets us apart from a lot of modern pop acts, which seem to be less into old-fashioned beautiful melodies and more into the talk-singing that is trendy right now. We both love electronic sounds too, the palette available – the harshness and darkness you can get from electronics. Cicely is really into rhythm generally, soul music, R&B and hip-hop, and I'm into folk. So it's a strange combination!
How would you describe your creative dynamic on the 'Odyssey' album and how it has changed from when you released your first EP 'Think' in 2015?
We both felt sort of liberated to be less perfectionistic – because of the constraints of being together for short periods to record, having children and less time generally, and perhaps because we have reached a place of more confidence.
'Think' itself was chosen to be on the soundtrack of 'John Wick' which was an amazing break to get as a new act, when you produced it, was it obvious to you that it was something special?
To be honest, not really! It was one of the first tracks we did together. When Cicely had over the demo that she had finished producing, we were driving around in a taxi and listening on headphones, and it did occur to us that it had something special to it. But we had no idea that people would connect with it so much.
Did you have any reservations about how 'Think' was used in John Wick, because the movie and its sequels have a high body count? Did you ever find out if Keanu Reeves ever liked the song?
Yes, we're really not into the violence and it's definitely not our type of film, but we're grateful for the exposure it has given us. We don't know what Keanu thinks of the song but would love to, especially as he's got his own band 🙂
You have become known for your unique covers and your stark reinterpretation of '99 Luftballons' appeared in 'Atomic Blonde', another movie with a high body count, what inspired your arrangement as it is very different from Nena's original?
The directors asked us to make an 80s cover for a film shot in Berlin around the fall of the wall and we thought of '99 Luftballons' because it's about the Cold War and in German. The lyrics are actually really beautiful and we wanted to bring out the sadness and truth in them, which you don't get from the Nena version. We guess the way we covered it is also just typically KALEIDA!
'Aliaa' from the 'Think' EP appeared in the series 'Wu Assassins' on Netflix recently, it's quite interesting that your music can be quite understated, minimalist and forlorn, yet is used in these action movies, what do you think is its appeal to film producers?
The contrast perhaps? The mysterious feminine quality to it?
Other songs you have covered include 'A Forest' and Take Me To The River', what you do look for in a song when you decide to do a cover and are there any songs you would like try in the future?
'A Forest' was another one we got asked to do for a film, which didn't end up being used, and we went rogue with it and did our own totally different version. 'Take Me To The River' we just loved and we ended up totally re-writing the chorus because we thought the original didn't go anywhere musically.
In general, we try not to do too many covers as we want to focus on our original work, but there is a definitely a freedom in doing covers when you already have the framework of the song, which is fun to work with.
How do you look back on your first album 'Tear The Roots'? ELECTRICITYCLUB.CO.UK loved 'All The Pretty Pieces' which was eerily hypnotic.
We're really proud of that album as it was a big achievement for us – we made it all ourselves and it was our first LP. It was definitely darker than 'Odyssey' and represents a different time in our lives.
Had you conceived 'Odyssey' to be more of a natural progression of 'Tear The Roots' rather than a radical departure?'
Yes, we were just making the music that felt right to us with 'Odyssey'.
The first 'Odyssey' single 'Other Side' captured the tension and loneliness of lockdown, both musically and visually, but what had it been originally inspired by?
It was about yearning for the beyond, about spiritual hope.
The album's closing song 'No Computer' is quite unusual in that it's like a kind of foreboding folk techno, how did that one come about?
That one started with one line and a simple beat, and it developed over several years. Cicely turned it into a synth jungle!
'Long Noon' has a real cinematic drama about it, was it inspired by the Patricia Chown play?
Hmm, we have never heard of that play and will look it up now! It wasn't inspired by anything specific – just emotional impatience which seems to be something we suffer from…
What are your own particular favourite moments from 'Odyssey'?
The journey of the title track, the quiet moment of 'The News', the maze of 'No Computer'…
With everything going on, are you missing live work at the moment? Is it your natural forte or are you now by necessity, more of a studio duo?
Yes, we're missing it a lot. It's the chance to connect and for the music to come alive. It will be really special to get out there and perform again. It's pretty much our favourite thing to do on earth – there's a transcendent quality to the ritual union of live music that gives us a lot of meaning, helps us make sense of everything.
So what's next for KALEIDA?
We've got some acoustic versions of our tracks in store and are planning a series of shows for next Summer and Autumn. Moscow is def on the list X
---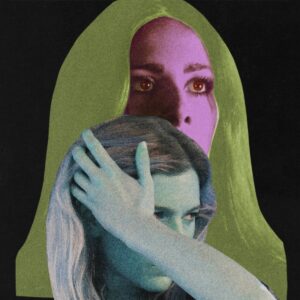 ELECTRICITYCLUB.CO.UK gives its warmest thanks to KALEIDA
'Odyssey'
is released by Lex Records, available now as a CD, dove grey vinyl LP and download direct from https://kaleida.bandcamp.com/
https://www.facebook.com/KALEIDAMUSIC/
https://twitter.com/kaleidamusik
https://www.instagram.com/kaleidamusic/
https://open.spotify.com/artist/6zyPKJ4ePhYLsBEy4A6BVX
---
Text and Interview by Chi Ming Lai
12th October 2020