'The Secret Lives' is a kosmische and electronic amalgam resulting from a couple of septuagenarians jamming with a love of jazz acting as their common base.
It is the long awaited creative union of Mani Neumeier and Zeus B Held, two veterans of German music who over the decades have each established notable careers in their chosen fields.
Neumeier has been the drum captain of GURU GURU for 50 years now with over 30 albums to his name including side-projects with notable contemporaries such as Conny Plank and Dieter Moebius plus he was the fourth member of HARMONIA on their second album 'Deluxe'.
Held first made his name as the keyboard player of BIRTH CONTROL and before becoming an electronic pop trailblazer as part of GINA X PERFORMANCE with 'No GDM'; In recognition of this, he is to be jointly awarded the Holger Czukay Prize with Gina Kikoine by the city of Cologne for their work together. He went on to become a renowned producer and remixer on hit singles by artists as varied as DEAD OR ALIVE, ALPHAVILLE, SPEAR OF DESTINY and TRANSVISION VAMP.
Zeus B Held and Mani Neumeier took time out to chat from Stuttgart about the making of 'The Secret Lives'
.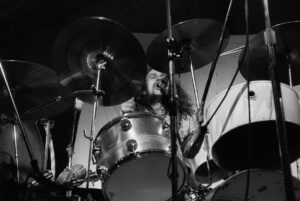 You both first met in 1973 when GURU GURU and BIRTH CONTROL were performing at a festival in Frankfurt; what were your first impressions of each other?
Zeus: I thought, now there's a drummer with a jazzy spirit and a very funky sense of humour.
Mani: I'd like to play with this guy one day!
Why did it take so long for you to come together as an artistic collaboration? Did you stay in contact and follow each other's careers or was that more far too difficult in those pre-internet days of carrier pigeon messaging? 
Mani: I was totally involved with GURU GURU, so there was no time for other projects
Zeus: During my BIRTH CONTROL C times, I stayed a few times at the GURU GURU country quarters – but we've both been too busy to actually create something… and from 1981, I was out of the country. In summer 2018 when I visited Mani, Etsuko, his wife and took a photo of us in the garden. We both posted that on Facebook and it was our mutual friend Jürgen Engler from DIE KRUPPS who commented something along the lines "it's about time you guys do an album". In a way, we both thought, he's right. So a year later we started at SynxxS Studio.
From your past, ELECTRICITYCLUB.CO.UK loves 'Speed Display' from 'Zero Set' and 'Misty Circles' by DEAD OR ALIVE, what is your favourite work by the other?
Mani: I did enjoy listening to 'Misty Circles'.
Zeus: Thanks for pointing out 'Zero Set'
, Chi, I just listened to 'Speed Display' for the first time and love it! I always enjoyed Mani doing 'Der Elektrolurch' with his various Guru incarnations. That song's got a key element of the early 70s youth philosophy. And I really enjoy witnessing how Mani takes it further, showing that it sill fits into (t)his world.
The start of the process was quite technological at the SynxsS-Studio in Offenbach with its impressive collection of equipment. Please tell us about what is was like to use the Haken Continuum Fingerboard, various synthesizers and other equipment there to shape some of the tracks… which were the ones you enjoyed playing the most?
Zeus: I met Bernie aka Bernd-Michael Land when we played at the same concert bill at Bochum's Planetarium when I was performing with DREAM CONTROL. We stayed in contact and I always wanted to check out his studio with the analogue gear. So to start the ball rolling on a creative exchange with Mani, I saw this constellation as a chance to do something new. Mani initially said to me "it feels like 'das Pferd von hinten aufzäumen'", that's to put the cart before the horse – and as it turned out, that this is exactly what made it a real inspired start. Especially Mani's first time, meeting and playing with the Haken Continuum.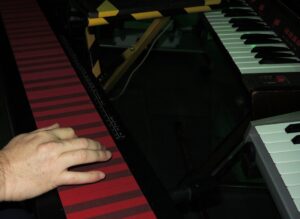 We did all the basic recordings in a couple of days. Obviously this meant that many things from a production, synchronisation and overdub point of view, were rough and ready. No major changes possible, no quantisation, no safety net. Just twisting and turning it like a loose imperfect recording of the underground 70s. I think this made the essence of the album and kept it fresh,
Mani: I LOVED TO PLAY THE CONTINUUM, IT WAS LIKE MADE FOR ME…
The album is an eclectic mix of live and sequenced elements, was that always the intention?
Zeus: I think the intention was, let's have a mutual musical journey without too much rules and guidelines – and we knew from the beginning that we didn't want to copy or repeat any former stuff of our work…
It is interesting that the acoustic drums were last to go on as overdubs, what were the challenges in capturing this process without being too dictated by the precision that may have already been laid down?
Mani: NO PROBLEM FOR ME! I already did this with Moebius and Conny Plank on 'Zero Set' in 1981. And many times after that!
Zeus: That's the twist; some tracks became a handmade non-quantized sequenced basis that we had to put the additional overdubs to – and this imperfection gave way to a human charm – which one finds in many great recordings in Rock and Jazz from the 50s to the early 70s.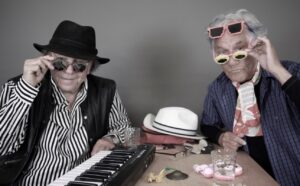 Opener 'Fox Nr. 7' features a poem about foxes…warum?
Zeus: Somehow the atmosphere of the track reminded us of a short film from Akira Kurosawa's 'Dreams' called 'The Wedding Of The Foxes' – and once we took the picture into our heads, it felt like we were "automatic writers" of The Beat Generation…
Mani, did you ever want to be Jaki Liebezeit?
Mani: No, but we were good friends and respected each other. I rather would be Elvin Jones, haha ?
And Zeus, to be Chick Corea?
Zeus: well, I actually saw 'Return to Forever' around 1979 in Cologne and met Chick shortly after, on a Midem party in Cannes where he was jamming with Flora Purim and Lionel Hampton – he's a real virtuoso, right up there with Herbie Jarrett and Keith Emerson – those guys have taken off in a very unique way and of course it would be great to see how this feels like…
'Volcano Dance' sees you really get into your love of jazz, it just needs a Miles Davis trumpet?
Mani: Or a Coltrane saxophone.
Zeus: 'In A Silent Way' and 'Bitches Brew' were great signposts for the jazz rock fusion – and Miles put them there … – so a bit of Miles wouldn't hurt…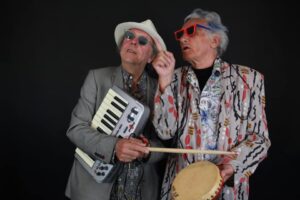 There are some amazing electronic sounds and treatments on 'Sex Mit Siri', how did you achieve these?
Mani: I got these man and woman voices out of a Kaossilator!
Zeus: This is how we imagined Siri would be speaking or giving emotional motivated noises.
'Back 2 Nature' is a bit like CLUSTER, any thoughts?
Zeus: For us it was more like a very dreamy memory of those carefree and innocent days in the early 70s.
It seems like you had a lot of fun making this album, which are your own favourite tracks and why?
Zeus: I like all the tracks – and it really depends on my mood – at the moment I like the mysterious mood of 'Threesome Railway' best
Mani: I love the jazzy craziness of 'Volcano Dance'!
Obviously the situation makes things difficult but would you like to take this album out to a live audience? Would you throw in some GURU GURU and BIRTH CONTROL material as a bonus?
Zeus: we are working on a live set – the audience, which shouldn't necessarily consist of only GURU GURU or BIRTH CONTROL fans, should be prepared for some surprises!
---
ELECTRICITYCLUB.CO.UK gives its warmest thanks to Mani Neumeier and Zeus B Held
Additional thanks to Jochen Oberlack at Bellerophon Records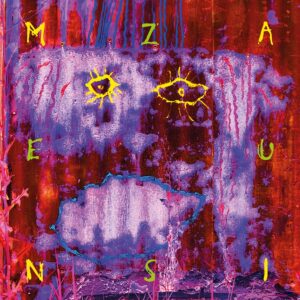 'The Secret Lives'
is released by Bellerophon Records, available in vinyl LP and digital formats direct from https://bellerophonrecords.bandcamp.com/album/the-secret-lives
https://www.facebook.com/Mani.Neumeier1/
https://www.facebook.com/Zeus-B-Held-162448230492382
---
Text and Interview by Chi Ming Lai
14th October 2020