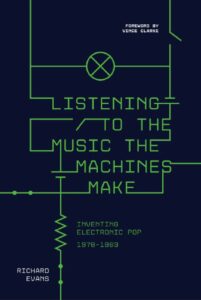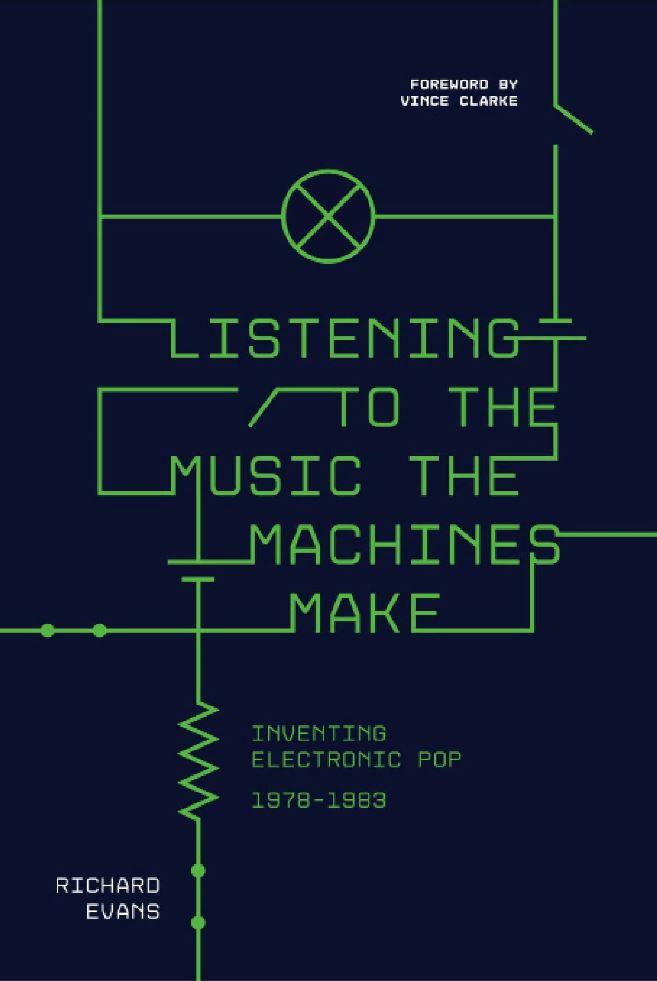 'Listening To The Music The Machines Make' is a new book that tells the story of the Synth Britannia generation, an unlikely melange of outsiders, pioneers and mavericks who took advantage of affordable music technology to conquer the pop charts in the UK, Europe and even America.
Written and assembled by Richard Evans, his high profile roles have included the establishment of the This Is Not Retro née Remember The Eighties website and working with ERASURE on their internet and social media presence.
He has conducted years of extensive research to document the synthpop revolution that began from a British standpoint in 1978 with THE NORMAL and THE HUMAN LEAGUE before TUBEWAY ARMY took this futuristic new sound to No1 with 'Are Friends Electric?'.
Using the subtitle 'Inventing Electronic Pop 1978 – 1983', while the book primarily sources period archive material, additional input comes from Neil Arthur, Dave Ball, Andy Bell, Rusty Egan, John Foxx, Gareth Jones, Daniel Miller and Martyn Ware. Meanwhile, Vince Clarke contributes the foreword while a third verse lyric from the ULTRAVOX song 'Just For A Moment' provides the book's fitting appellation.
A conversation between two kindred spirits, Richard Evans and ELECTRICITYCLUB.CO.UK spent an afternoon talking by the window as the light fades about electronic pop's musical impact and enduring cultural influence, despite the massed resistance to it back in the day.
For this book, you've focussed on 1978 to 1983, some might say it should be 1977 to 1984?
I knew roughly what I wanted to cover and my lofty ambition for the book was to create a document of all the most important records, artists and events that created this shift in pop music. Until this specific generation of people started messing around with keyboards without any musical knowledge, adopting that punk rock attitude with this new instrument, it wasn't until that point that I felt that this story really started.
I looked at all the records I wanted to talk about and at the beginning, there's relatively few. But the important ones for me were THE NORMAL 'TVOD' / 'Warm Leatherette' and THE HUMAN LEAGUE 'Being Boiled'. In fact, 'Being Boiled' was my key one and an early version of the book had the subtitle 'From Being Boiled To Blue Monday'; I thought that sounded quite snappy and explained what the book covered. But then Daniel Miller said to me "You do know 'TVOD' / 'Warm Leatherette' came out before 'Being Boiled'?" *laughs*
So the book had to be specific and start around 1978. Then at the other end, it was because of 'Blue Monday'. By the time late 1983 comes around, the electronic pop that I have been writing about over this 5-6 year period starts to become indistinguishable from everything else in the charts. All the pop stuff, all the soul stuff, all the American stuff that was coming in, it all had the same sequencer and drum machine sounds, the same production techniques… you could almost not quite work out what was electronic and what wasn't electronic anymore and 'Blue Monday' worked well as a track that was pointing forwards to everything that came next.
By starting at 1978, you are specifically highlighting the start of that British wave because before that, it's international with bands like KRAFTWERK and SPACE as well as Giorgio Moroder and Jean-Michel Jarre…
That's absolutely right. There is a brief section at the beginning within the context of the whole book that joins together some of the dots, things that people were taking in their early electronic experiments. Things that Vince Clarke was listening to like SPARKS, things that OMD were listening to like Brian Eno, things that THE HUMAN LEAGUE were listening to like Giorgio Moroder.
Although punk was a driving force for this, the actual punk music wasn't that interesting to any of them because it felt like music they already knew, whereas they felt these new sounds were something that were unknown to them at that point. The tapestry of their influences  was so broad that they would bring in elements of progressive rock, Jean-Michel Jarre and even ELP, putting that in with disco, the German stuff and even the quirky little novelty records like 'Popcorn', to create this whole new melting pot.
I'm old enough to have lived through this era, what about you?
This was the first music that felt like it was mine. I grew up in a household where there wasn't any music, my parents weren't fans of pop music at all. In a way, that was really important because any music that I found was mine, it wasn't handed down to me or curated for me. I am the oldest of my siblings so I didn't have anyone playing stuff in their room that I could hear. Sometimes I would find stuff that was terrible because you make those mistakes.
I started senior school in 1979 so it was really at that point where I became aware of music and its possibilities. But earlier than that in 1977, I was brought up in Chelmsford in Essex and I can remember being in town on a Saturday, seeing the punks hanging around in the shopping centre and I thought they looked brilliant. It was so exciting, they were like scary but otherworldly and I thought they were amazing. When I started senior school, some of those punks were in my school, they were actually kids… in my perception, they weren't that and were completely 'other'! I realised I was not so distant from these things *laughs*
You've mentioned 'Being Boiled', 'TVOD' and 'Warm Leatherette', but which was your epiphanal moment were you realised you were an electronic pop fan? For me although I had bought 'The Pleasure Principle' by Gary Numan as my first album, it wasn't until I heard OMD 'Messages' that I considered electronic music to be my thing…
I don't know if I have an actual moment to be honest… I realised quite late that I've never particularly characterised myself as an electronic music fan, certainly not in the 80s. Looking back, I can see that the things I was listening to and responding to, always had a really strong electronic core. Even if they were rock things like 'Owner Of A Lonely Heart' by YES which was produced by Trevor Horn, I was obsessed. I was listening to things like 'The Message' and that sort of hip-hop stuff… it wasn't quite electronic music but it had element of precision running through it. Everything I was liking had this common electronic genesis.
One thing that your book does unashamedly focus on which I am pleased about, is that it focusses on the "pop" in electronic pop… other books about electronic music in the past have been a bit "too cool for school"…
Absolutely, that's completely true. I find it really strange because only quite recently has it been ok to be into "pop music". Like you say, there's a stigma towards it, that it's not "proper music", that you are not a proper music fan if you listen to it, but a victim of some sort of a commercial heist! *laughs*
I think that electronic pop in this period is so crucial in the development of music, and it was just time for someone to tell the story. I'd been working on the book for a few years and the whole time I thought "someone is going to do this, someone is going to do this before me!" *laughs*
With this book, you opted to reference archive material rather than talk to the stars of the period in the present day?
My idea for the book was to tell the stories of all the bands and releases of that synthpop generation who took music in a whole new direction. Because of what I do in my working life, I am very fortunate in that I have access to a lot of people who were the original protagonists in this story. So I thought I could get in touch with them and job done. I also have a shelf full of music autobiographies and I'm sure you have too! *laughs*
There are loads out there but it was while reading those that made me realise that those stories didn't always quite marry up. There are two reasons for it; one is this period started 45 years ago, you're not going to remember these details. Two, these stories have been told so many times that they lose their resonance and the facts just change a little bit to make everything look better or to fit with someone else's narrative.
Ah yes, legend now accepted as truth like Wolfgang Flür saying OMD came backstage to meet KRAFTWERK in 1975 when they didn't actually exist at the time…
It's really easy to say in 2022 that DEPECHE MODE were always going to be a huge band, but in 1981 when there was none of the weight of that knowledge. They were a brand new thing being judged entirely on their first forays into electronic music, it's a very different way of looking at the music and the people who made it. I realised it wasn't going to be particularly useful to go to the original people and say "tell me that story again" because they've told it that many times that they probably aren't really feeling it and it gets reshaped over the tellings.
So what I decided to do was go back to the music press of the day. I went to The British Library which is a fantastic resource, it's one of my favourite places. I looked at all the NME, Sounds, Melody Maker, Record Mirror, Smash Hits, The Face, New Sounds New Styles from 1978 to 1983, everything I could lay my hands on that was music or popular culture related.
I went through all these things, page after page after page and every time I saw something that I attained to this story like a news item, review or interview, I took a photo of it on my phone. I ended up with thousands of photos and it was like a box of jigsaw pieces. Each of these photos was part of a story. Then the writing bit came in stringing these things all together and turning them into this story from all those different perspectives layered on top of each other. Hopefully, that would give it a rounder and more accurate picture because they were the opinions of the time and what the people who made the music were saying about it, without the weight of history that they carry today.
What this book captures and reminds people of, is the viciousness and hostility towards electronic pop from the music press during the period, which perhaps contradicts the rose-tinted view that some fans have of the time now…
It's really quite strange to read through these original accounts of what was happening, but it's not so strange in retrospect. At that point in time, punk had just happened and had been quite profitable for the music industry and press, the whole black and white aesthetic fitted very well with the way they presented their material.
There was also this new generation of journalists like Nick Kent and Julie Burchill who were quite vicious with this punk rock attitude which was probably quite exciting at the time. Punk was a very short-lived thing, so they found themselves having to move in different directions and I think there was a resentment that it happened from the media. I think there was a snobbishness which we've already touched on that this really wasn't "proper music" because it was machines, these bands hadn't paid their dues, they hadn't picked up the guitar, they hadn't done the toilet circuit playing to 3 people and a dog, being spat on and having their van stolen, all that kind of thing that supposedly makes you a worthy musician.
So none of these things had quite happened with these electronic pop bands and the music press didn't know what to make of it. So they could choose to either embrace it as the next big thing, or they could reject it, and many rejected it roundly so…
Can I tell you some irony about Nick Kent's then-stance? His son is PERTURBATOR, the synthwave star!! But in amongst all this journalistic antagonism, there was one bright light and that was Beverley Glick who wrote as Betty Page in Sounds, a female journalist championing the likes of DEPECHE MODE, SOFT CELL, DURAN DURAN, SPANDAU BALLET, VISAGE and JAPAN in a male-dominated profession…
She absolutely was and she was the voice that was the breath of fresh air throughout all of this. She was young and she interested in "the new". In the same way the older journalists were looking for something to call their own, so was she; but her frame of reference was markedly different from theirs. She found it in what they were rejecting and it probably didn't do her many favours within the profession to be this person until the tipping point happened. The success started to happen with people going "oh, all the Betty Page bands ARE the new wave, they ARE the new pop royalty…"
I hope it was a nice moment for her. In 1982 I think, she changed papers and went to the short-lived Noise magazine and then Record Mirror… hopefully, that was in recognition of her being a leading light in this particular movement.
You're right to say she was probably among the first journalists to talk to DEPECHE MODE, certainly one of the first to talk to SPANDAU BALLET, to SOFT CELL and JAPAN… she was very vocal and very reasoned. Also reading her, I liked her… I've never met her or anything but I liked her style, she wrote a lot like a fan so she wasn't out there grinding her axe in attempts to look clever, lofty and intellectual. She was reporting the way she was responding to the things she was exposed to and that felt much more interesting and real to me.
The SPANDAU BALLET versus DURAN DURAN thing has been well documented, but what about SOFT CELL versus DEPECHE MODE?  They were both on the 'Some Bizzare Album' but in 1981, SOFT CELL were rated higher than DEPECHE MODE, any thoughts?
The 'Some Bizzare Album' was incredibly prescient and also not quite, because in the increasingly chaotic and strange world of Stevo who was behind it, he was very opinionated but also very passionate. He was playing these sorts of records before anyone else, he was pre-Rusty Egan in terms of the electronic records on the decks. He was interested enough to start his Electronic Party nights at the Clarendon in Hammersmith, putting on people like FAD GADGET.
So he came up with this idea to do the 'Some Bizzare Album' and reached out to 12 bands; his hit rate was so great, he had DEPECHE MODE, SOFT CELL and BLANCMANGE on there, the three of them alone were enough to shape the new generation.
I think SOFT CELL had more of an edge, their image was a lot more together, they looked meaner and a little bit more credible I suppose. Because they had a more credible background and came from art school, in that journalistic way that you have to pay your dues, you have to go through a cycle of things before you're allowed to call yourself an artist, I think SOFT CELL had more of that. They had more of a concept, they were more artistic and harder edged. DEPECHE MODE came along and were err, just quite sweet…
Yeah, well, they'd just come from Christian camp… apart from Dave! *laughs*
That's right, their Boys' Brigade uniforms were probably still hanging in their wardrobes when they were off to do 'Top Of The Pops'! So they had come from a very different place, they were a little bit younger, they didn't have that art school background, they'd met at school and messed around in bands. Vince Clarke decides he wants to put this band together who would be a bit like THE CURE, and when Vince starts to put together the bones of what becomes DEPECHE MODE, it seems he's incapable of writing songs like THE CURE; his aesthetic and musical vibe is entirely pop so he churned out what people termed "bubblegum".
This term "bubblegum" is in almost every review of DEPECHE MODE's early works, especially the 'Speak & Spell' album. Because of that, they appealed because they were SO pop, but because they were SO pop, they weren't in the same credibility bracket as someone like SOFT CELL.
Talking of "synthesizer image", was that important to you as in the equipment that was used and the way it looked on 'Top Of The Pops', like when John Foxx appeared with four Yamaha CS80s for 'No-One Driving' or ULTRAVOX doing 'The Thin Wall' with two Minimoogs, an ARP Odyssey, an Oberheim OBX and much more or Gary Numan's first TV performances? This was a thing for a while although there would be a backlash later on, like when OMD appeared with a double bass, sax and xylophone for 'Souvenir'!
I think it was, but in a different way to you. I'm much less technology focussed, I don't play music, I've never picked up a synthesizer, I don't know my Korg from my Moog from my Wasp. I could never do Vintage Synth Trumps for example *laughs*
Having said that, the aesthetic was really important to me because it felt so different and new. It surprised me in the preparation for this book when looking at the line-ups for 'Top Of The Pops' around this period and seeing how unbelievably straight and staid and dull so many of the bands that were coming through from the 70s still were… glam rock aside, they were almost imageless…
Like RACEY and THE DOOLEYS? *laughs*
Yes! Lots of terrible clothes, bad beards and long hair, it all seemed very soft and safe! Now when the electronic bands started coming through, they came with this aesthetic with the keyboards and it looked fantastic. But they also had this new look, they were smarter, had these interesting haircuts and they looked so different. For me, the thing that was most marked about their performances was the sound itself. It was something that I'd never heard before, those noises were SO new and SO modern!
One of the best things about this era was how these weird avant pop songs could enter the charts, they were classic songs but presented in a strange way with these sounds and boundaries were pushed… as much as I embrace this period of music, I always felt when it all crossed over into the mainstream in 1981, I don't think it was on the cards and kind of a fluke…
I don't think it was on the cards either… I think everyone was surprised and backfooted by it, particularly the major labels who struggled to keep up with it, in exactly the same what they had struggled to keep up with punk! They came to the party too late and signed all the wrong bands and were saddled with this legacy that they had an obligation to support what was going on, and that's the point when everything started to become much less interesting.
In terms of the avant pop, I think it was to do with perspective. I think being of the generation that we are of, I think because we were coming of age at that time, it felt we were like a new generation and new things were happening at the time, not just in music but also politically and technologically with computers. So all of these things were happening at once and suddenly the future felt possible and then this music happened at kind of the same time and it felt like the perfect soundtrack to this possible future.
So, I'm going to throw a controversial question at you, in the context of 1978-1983, which is the most important record label out of Virgin and Mute? *laughs due to pause*
… I think creatively, it's Mute but commercially it's Virgin.
When I get into this discussion with anyone, I always say Virgin because although they were more established and successful commercially later in this period, they did actually take chances with acts like THE HUMAN LEAGUE, JAPAN and SIMPLE MINDS…
They were both incredibly important and I wouldn't know who to back in a fight! *laughs*
This is why I wanted to talk about this in the context of 1978-1983 because thanks to some of the business choices that Richard Branson has made over the years which have upset people, the Virgin name has been tarnished as far as their contribution to music is concerned. Meanwhile history has seen Daniel Miller come out smelling of roses. An interesting thing about Virgin in 1980 was that they were close to bankruptcy.
I have heard that and was aware that Virgin did have all sorts of money problems at that time.
One of the things that irked Branson in particular was how OMD were the biggest selling act in the Virgin group in 1980 via the Dinsdisc subsidiary. This had embarrassed him so ultimately he was keen to see Dindisc fall apart so that he could get OMD for the parent company…
Yes, this situation impacted on the bands that we are talking about, there were pressures on people to be more commercial when one of the reasons that they were attracted to Virgin in the first place was so that they could be less commercial should they choose to be.
But then, those pressures were happening within the bands themselves, THE HUMAN LEAGUE are a great example of this. They went in to be wilfully uncommercial and yet they always had that commercial edge, they stated their intent to be a combination of disco and KRAFTWERK. Although they loved being the conceptualists and the renegades with their Machiavellian feeling that they were infiltrating the music industry from the inside, they were starting to feel dissatisfied that their efforts so far hadn't really crossed over in the way they felt that they deserved to.
So the two things in tandem, the bands wanting to make more of a mark and wanting the recognition that came with that, plus Virgin's financial situation which meant they needed bands to step up and start making more commercial records, was actually a very powerful moment in shaping some of the most important records in Virgin's catalogue I would say.
In this 1978-1983 period which you cover in the book, is there a favourite year and if so, why?
Good question! I don't specifically, it hadn't occurred to me until you asked, but I think from a writing point of view, the earlier years were the most interesting to me because in 1978, I was 10 so I wasn't really aware of these things. Lots of these records, I didn't really hear until later and some much later… one or two of them, and I'm not confessing which ones, I didn't even listen to until I started writing the book.
So from my point of view as a fan of this music, then 1978 would probably be the most interesting year because it provided me new material to listen to that I hadn't heard before.
The book talks about a lot of acts who are basically canon now and many of them are still performing in some form or another. But is there an underrated act for you from this period?
For me, I would say YELLO; they were making really challenging and innovative records, they were visually interesting, they had all the bases covered. They gave great press but for whatever reason, it took quite a long time for them to break through into the mainstream and even then, it was only because their music was used in other contexts like films. They were a band who I had underappreciated previously, but have got to know much better through the course of writing the book. They should have been much bigger than they were.
Your book cuts off at 1983 and that's for the context reasons rather than stopping liking music. But Simon Reynolds said in 'Synth Britannia' that it was Howard Jones that made him feel that electronic pop was now no longer special and part into the mainstream… was there a moment when this music changed for you?
I don't think I have a moment for that, my musical church is quite broad and I've never been very over-intellectual about my music tastes, it's like "I do or I don't". Howard Jones came in with a different take on the form and actually, I loved Howard Jones so from my point of view, my love of electronic pop did continue. It blurs and like we talked about earlier, lots more things were interesting in different directions and also taking some of this electronic sensibility into it. They may well have been more interesting to me at the time. However, I was perfectly prepared to accept Howard Jones and the later electronic acts.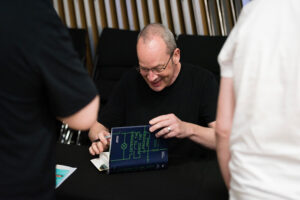 After 1984 and then into the new decade, a lot of people were trying to kill off electronic pop, especially around Britpop but was there a point later, and this might tie in with Remember The Eighties, when you thought "this stuff has value and people are liking it again", that there might actually be a legacy?
You are kind of right that the start of Remember The Eighties came from that.
The site was born of a conversation I had with an 80s artist; in my working life, I build fan bases and work for bands, I've done this for quite a long time. This artist came to me and said "I'm thinking of doing some new material but I don't know if I have an audience anymore. If I do have an audience, I don't know how to reach them"… the reason I'm saying "an 80s artist" is I felt that this particular person didn't really have an audience anymore, and to find that audience if it was there at all, would be very time consuming for very limited return.
But I started thinking "wouldn't it be great if there was one place that people could go, people like me who remember the 80s (*laughs*) fondly and could find out what all these people are doing today?". The strange thing was I was never really interested in it being retro, it was always about today's news from those bands, I thought "that's a good idea". I was learning to build websites at the time and it was early days in all that. I had some time so I just decided to do that, put up some stories and waited to see what happened.
It became something quite successful and partly that was because the whole 80s rediscovery hadn't happened. Like you said, the 80s came with a bad rep at that point in time and imploded quite messily with lots of non-credible aspects emerging and dominating it. It had eaten itself almost. But the timing just happened to be right and all of a sudden, there were PR companies coming to me saying "Thank goodness you're there!" because they had nowhere to go with these artists they were representing. So they were asking if I would like to interview then and I was like "Yeah! Great!" *laughs*
That was how the website started so yes, I guess that was the moment for me in 2001-2002. It suddenly felt like these bands had a new cache. I'd invested so much of my myself and spent so much of my money in my teens in their music, that it wasn't such a big jump to continuing that support of them 10-15-20 years later. The investment was already done, it was more like picking up the story.
For me, it was like 1998, DURAN DURAN had the 'Greatest' CD out and were touring, OMD had a new singles compilation and CULTURE CLUB had reformed for shows with THE HUMAN LEAGUE and ABC supporting… but I think it took a long time for something to develop. I don't think it was until DURAN DURAN reformed the classic line-up with the three Taylors in 2004 and then the OMD classic line-up reunion in 2007 that things got properly kick started… I think it took a while because of the age of the audience, people had mortgages and kids in primary school!
You're right, it was like a stage of life, you need time to reconnect with the person you used to be.
Your book captures a period, I don't know if you listen to much modern day pop, but do you think there is an electronic pop legacy today, whether direct or indirect from this 1978-1983 era? The act I'm going to highlight is THE WEEKND…
I definitely do think there is a legacy. I'm not great on contemporary electronic music, the things I hear about, I tend to hear about from ELECTRICITYCLUB.CO.UK and that's fantastic. I use Spotify a lot and the suggestions function is quite powerful as well. From a sonic musical point of view, I can totally see these bands are referencing things that happened during the period I have written about in the book.
Everything seems to go on cycles but at the moment, in the last year or so, it feels like there's been a return to a starkness, a certain simplicity of sound. I'm not denigrating it because I think it's a very effective way of presenting sound. It feels there's been a period where everything and the kitchen sink has gone into electronic music and its gradually being pared away to a point where the instruments and sounds are getting a bit of space to breathe. It feels like the same sort of sounds that I started responding to on 'Top Of The Pops' when we first saw DEPECHE MODE and SOFT CELL.
Although THE WEEKND isn't strictly an electronic pop artist and more of a one man compilation album who dips in an out of styles like Ed Sheeran (whose own synthpop track 'Overpass Graffiti' incidentally is very good even though it rips off 'The Boys Of Summer'), there was this song THE WEEKEND did called 'Less Than Zero' which is exactly what you've just described. We mentioned underrated bands and I would say this track sounds like NEW MUSIK…
That's a great choice actually…
NEW MUSIK have been popping up on these Cherry Red boxed set collections and its obvious now with the passage of time that they were pretty good! They were dismissed as a novelty act back in the day because they had silly voices in the songs, but there's a crucial connection with that track by THE WEEKND in that there's gently strummed guitar alongside all the pretty synth stuff. NEW MUSIK's leader Tony Mansfield went on to produce most of A-HA's debut album 'Hunting High & Low'… although A-HA are outside of the scope of your book, they can be seen as the bridge between your book and modern electronic pop like THE WEEKND's 'Blinding Lights'…
That's true, I think A-HA are a really important band and yes, they are not in the scope of the book but if they could have been, I would have been delighted to include them because their canon is quite ambitious and wide-ranging.
Is there another book of this type to cover the later period on the cards at all?
No, I don't have another book project at the moment. I only actually finished writing this book in July. Naively, I thought you just hand your book in and six months later they hand you a copy. But the process of going through all the edits, the photos, getting the artwork and style right, it's been quite intense. It's been quite a challenge to balance it with what I'm doing workwise.
Are there any ideas for a future book?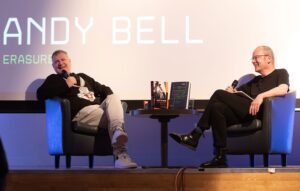 There are a couple of people who I have come to recognise that they played much bigger roles in this story and in some other stories as well than they are given credit for. But it's going to take a bit more research in those directions to find out whether there's a book's worth of material.
Is an ERASURE book an ambition?
Obviously I work with ERASURE and individually or together, they are probably approached by publishers 2 or 3 times a year with offers to write or be involved in books. At this point, neither Vince nor Andy feel it's the right time for them to be telling their story. I think they feel so much of what they have to say is already available and they don't necessarily want to talk about the things that aren't, because they are the personal things. So at this point, there is not a specific plan. If at any point, there is an official ERASURE book, then I hope I would be involved in some way.
---
ELECTRICITYCLUB.CO.UK gives its warmest thanks to Richard Evans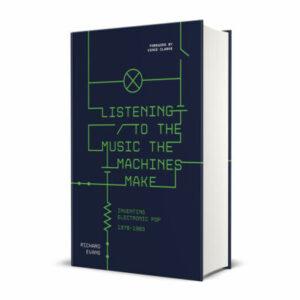 Special thanks to Debra Geddes at Great Northern PR
'Listening To The Music The Machines Make' is published by Ominbus Press, available from the usual bookshops and online retailers, except North America where the book will be on sale from 26th January 2023
https://inventingelectronicpop.com/
https://www.facebook.com/inventingelectronicpop
https://www.instagram.com/inventingelectronicpop/
---
Text and Interview by Chi Ming Lai
3rd December 2022