It was the late Seymour Stein who said "the reason ERASURE are so great is because they make people feel good about themselves".
Together as ERASURE, Andy Bell and Vince Clarke have been one of the most consistent British pop acts ever. Originally released in 2015 to celebrate the duo's 30th anniversary, Mute / BMG have reissued 'Always – The Very Best of ERASURE' as a revised and updated double vinyl LP set for the first time.
It would be fair to say that Mute Records' initial commercial success came on the back of Vince Clarke's songcraft. First with DEPECHE MODE and then YAZOO with Alison Moyet, Clarke demonstrated his marvellous pop sensibilities amongst all the cult acclaim that was accorded to acts like THE NORMAL, DAF and FAD GADGET.
However, Clarke suffered from recurring disillusionment and having left DEPECHE MODE and disbanded YAZOO, his new project THE ASSEMBLY with producer Eric Radcliffe had hit a brick wall despite a 1984 hit 'Never Never' featuring THE UNDERTONES' Fergal Sharkey. It had been intended to use a different vocalist on each track with BLANCMANGE's Neil Arthur and BOURGIE BOURGIE's Paul Quinn among those mooted to take part.
"I want to get back to KRAFTWERK, you know" he said to International Musician & Recording World at the time, "Synths that sound like synths, not like brass, or voices or whatever. I know it's not hip, but I don't care". Having decided on a fresh start, Clarke placed an advert in Melody Maker simply stating "Versatile voice wanted for established songwriter".
A 21 year old ex-butcher Andy Bell was one of the many applicants and was audition #36. In front of a judging panel that also included Mute supremo Daniel Miller and producer Flood, the latter noted that Bell was the only candidate who hit falsetto during one of the audition pieces 'Who Needs Love (Like That)?'. Impressing with not only with his Moyet-esque vocal technique but his range as well, in neo-X Factor style, Andy Bell was declared the winner and ERASURE were born.
Although Vince Clarke was considered to have a Midas touch following his success with DEPECHE MODE, YAZOO and THE ASSEMBLY, ERASURE's debut album 'Wonderland' was not an instant hit. Released as the lead single, 'Who Needs Love (Like That)?' was mistaken by some to be a previously unreleased YAZOO recording.
However, it was very immediate and although Clarke had penned 'Who Needs Love (Like That)?' solo, there was a special spark developing both musically and personally between the pair. Soon a collaborative aspect to composition emerged that had not been present in DEPECHE MODE and rarely occurred in YAZOO. Songs were generally written as a duo on guitar or piano before any consideration of electronic embellishment was made.
Among the album's highlights were the joyous 'Reunion' and the funky 'Push Me… Shove Me' which also displayed some Italo disco tension. The 'Wonderland' HI-NRG centrepiece 'Oh L'Amour' also flopped as a single but undeterred, ERASURE toured the college circuit to build up a new fanbase from scratch outside of DEPECHE MODE and YAZOO. Vindicated in 1987, 'Oh L'Amour' became a belated hit single for DOLLAR.
The 12" release of 'Oh L'Amour' was to become a sign of ERASURE's future as it contained a thrilling Boystown cover of 'Gimme! Gimme! Gimme!'. At the time, ABBA were considered passé; but a few years before while on holiday in Tenerife with BLANCMANGE's Neil Arthur and Stephen Luscombe, the threesome had a tape of the Swedes' most recent greatest hits collection 'The Singles: The First Ten Years' on constant rotation. It was here that the idea of BLANCMANGE doing 'The Day Before You Came' was formulated; Clarke was also taking notes…
Following his disillusionment of playing live with YAZOO where the two Fairlights he had hired had proved so troublesome that reserve backing tapes were used as the tour progressed, technology had become more reliable and compact so that meant going on the road in a van was now much more straightforward. ERASURE's 1986 live set-up featured an Oberheim Xpander, a three module Yamaha TX816 rack, a Sequential Pro-One and two Casios, all driven by a BBC computer using the UMI-2B MIDI sequencer with Yamaha RX11 and Roland TR727 drum machines handling the rhythms.
Clarke and Bell were still getting to know each other so could be forgiven for their tentative start but the potential in the chemistry between the two hit paydirt with 'Sometimes', the first new single after 'Wonderland'. Just missing out on the No1 spot in Autumn 1986, it was released ahead of the second album 'The Circus' and showcased what was to become a signature ERASURE sound with bubbly infectious electronics augmented by rhythmic acoustic strums.
Again produced by Flood but given the final once over by PWL Mixmaster Phil Harding, 'Sometimes' marked the beginning of an imperial phase as further hits followed, continuing with the vibrant 'Victim Of Love'. But ERASURE also took two songs into the charts with poignant political sentiments against the Thatcher era; 'It Doesn't Have To Be' protested against the UK government's apathy towards the Apartheid regime of the racist South African government while 'The Circus' highlighted the plight of those made unemployed in the wake of key UK industries being closed down or sold off.
Meanwhile songs on 'The Circus' such as 'Spiralling' and 'Hideaway' confirmed ERASURE were more than just a great singles act; Hideaway' was ERASURE's very own 'Smalltown Boy' while the elegiac 'Spiralling' was a masterpiece, showcasing Bell's fine voice in sparse surroundings.
1988's 'The Innocents' produced by Stephen Hague was symbolic in that it was the first time that Vince Clarke had reached the third album milestone with a project… he had finally settled down! As with 'The Circus', further political observations came with the excellent 'Ship Of Fools' which surprised as the lead single with its maturer pace. But 'Chains Of Love' provided more of what was expected, as did the brass punctuated 'Heart Of Stone' while 'Phantom Bride' took a more serious turn in a commentary on forced marriage.
But the album's opening song 'A Little Respect' was perfection from the off with its combination of Vince Clarke's pulsing programming and strummed acoustic guitar As the busy rhythmical engine kicked in, Andy Bell went from a tenor to a piercing falsetto to provide the dynamic highs and lows that are always present in all great pop songs. It was deservingly nominated in the 'Best Contemporary Song' category at the 1989 Ivor Novello Awards.
To consolidate their best year to date, ERASURE ended 1988 with the seasonally themed 'Crackers International' EP. The lead track was 'Stop!', a throbbing Giorgio Moroder-inspired disco tune that borrowed counter-melodies from Donna Summer's 'Love's Unkind'. Also featuring 'Knocking On Your Door' and 'The Hardest Part', the EP helped ERASURE' maintain their profile while they were preparing their next plan of action. And as it was dropping out of the charts at the start of the new year, ERASURE won the 'Best British Group' accolade at the 1989 BRIT Awards,
With Gareth Jones and Mark Saunders at the production helm, 1989 saw ERASURE release their most ambitious album yet in 'Wild!' with a tour and accompanying stage set to match. 'Blue Savannah' imagined Roy Orbison doing electropop with a rousing sense of optimism to become one of ERASURE's most universally loved songs, while the surprising Latin romp of 'La Gloria' saw Bell realise his Carmen Miranda fantasies. 'Piano Song' and 'How Many Times?' were the minimally structured ballads while 'Star' and 'Drama!' provided the hits with the latter displaying a previously unheard turn of aggression.
Amidst the success of the 'Wild!' campaign which culminated in a huge open air party at the Milton Keynes Bowl, Clarke was however less sonically satisfied. It had become apparent to him that there were technical limitations in the now dominant MIDI standard when sequencing, known as "MIDI slop". In order to achieve the tighter feel of his earlier work with YAZOO on the 'Upstairs At Eric's' album in particular where the various synthesizers were controlled using the Roland MC4 Micro-composer and ARP 1601 sequencer, the next ERASURE album 'Chorus' eschewed MIDI completely. The restriction of using only analogue synthesizers and no drum machines was applied to its production, save the occasional sampled cymbal crash. The sequenced monophonic nature of the equipment meant there would be no traditional chords either.
With this return to analogues, KRAFTWERK was crossed with Gloria Gaynor on 'Love To Hate You' and the energetic vintage thrust of 'Breath Of Life' recalled DEPECHE MODE's 'Speak & Spell' album. The superb emotive ballad 'Am I Right?' was a surprise hit single while amongst the album highlights were 'Waiting For The Day' and 'Perfect Stranger'.
Announced a year in advance at the time of the 'Chorus' album's release was a theatrical spectacular entitled the 'Phantasmagorical World Tour' which took up residencies in London, Edinburgh and Manchester, the latter leg of which was immortalised in 'The Tank, the Swan and the Balloon' concert film.
Clarke wanted to take his vintage tech philosophy onto the stage and a special hydraulically controlled caterpillar tracked tank was constructed to house his various pieces of equipment. The engine room was an MC4 acting as the main sequencer controlling via CV / Gate, a Minimoog for bass sounds, a Roland Juno 60, a Prophet 5 alternating with a Roland Jupiter 8 dependent on the song programme and the Oberheim Expander with an Akai MPC-60 and Akai Linn synced up to provide the drum sounds pre-sampled from assorted synths. The data for the MC4 was precariously pre-loaded using a high end Maxell cassette to break the sound barrier.
With the choreographed presentation featuring a flamboyant sexy dance troupe and Andy Bell's infamous sequinned cowboy outfit with no backside, it also included a bingo interval and Clarke dancing as part of a routine during a meaty sounding 'Voulez-Vous'! And it was with a 4 song EP of ABBA covers entitled 'ABBA-Esque' that ERASURE scored their only No1 single in Summer 1992.
One key legacy of ERASURE during this time was that they planted the seeds of an ABBA revival. Not only was there a new compilation 'Gold' released after the profile of the Super-Swedes was boosted by 'ABBA-Esque' but around the same time, the Australian tribute act BJÖRN AGAIN released 'ERASURE-ish' which had Agnetha, Björn, Benny & Anni-Frid styled versions of 'A Little Respect' and 'Stop!' in time for the party season.
ERASURE's cover version success also led to PET SHOP BOYS postponing the release of 'Go West' which had been due to be available for Christmas 1992; Neil Tenant and Chris Lowe made the decision after it was pointed out doing a VILLAGE PEOPLE cover would look like the duo were aping their rivals' 'ABBA-esque'! ERASURE ended 1992 with their first singles compilation 'Pop! The First 20 Hits' featuring all of the band's singles to date. It reached No1 and has since given PET SHOP BOYS 'Discography' a run for its money as one of the best greatest hits collections ever.
To take the pre-MIDI analogue path planted during 'Chorus' to the next level, Martyn Ware who had used such synthesizers as a member of THE HUMAN LEAGUE and also used the Roland MC4 Micro-composer on HEAVEN 17's 'The Luxury Gap' was recruited as producer for ERASURE's next album 'I Say I Say I Say'. Featuring the hits 'Always' and 'I Love Saturday', Ware laid out a methodology that was fundamentally "old school" to allow Clarke to bounce ideas off him in the studio.
Another technique was to allow Bell to lay down all his vocals first, so that the music could be worked around him to allow more air in the finished recordings. Ware got on well with Clarke and they were to found Illustrious to explore the possibilities of immersive 3D sound design. "I remember with Vince when we were taking about this process and he agreed" remembered Ware, "He said 'You know what Martyn, I am my own biggest fan, I just think everything I do is brilliant'… it was so disarmingly honest and it wasn't anything to do with arrogance at all, he just knew he was the master of his craft because he had all the tools at his disposal to do exactly what he wanted…"
The closing 'I Say I Say I Say' track 'Because You're So Sweet' was a pretty ballad representative of the mature approach on the album taken by Andy Bell and Vince Clarke although the frantic energy of earlier ERASURE was not forgotten on 'Run To The Sun'. But at Ware's suggestion, a choir was brought in for the glorious 'Miracle' to provide an eerie contrast to the electronic proceedings. Meanwhile 'Man On The Moon' and 'Blues Away' outlined how Bell and Clarke were in the classic songsmith mould, regardless of the synthesized backing behind them. Cited by many as ERASURE's best album, I Say I Say I Say' was yet another No1.
But ERASURE's run of five UK album chart toppers ended with their self-titled seventh album in 1995. 'Erasure' was Vince Clarke's attempt at prog synth or as Andy Bell referred to it, the duo's own 'Dark Side Of The Moon' or 'Bright Side Of The Sun'; produced by Thomas Fehlmann who was best known for his work in THE ORB, it was an ambitious if flawed opus with extended intros and the sub-10 minute numbers like 'Rock Me Gently'.
But there were also emotive neo-classical moments such as 'Grace' which recalled the atmospheric drama of prime OMD. The brilliant 'Fingers and Thumbs (Cold Summer's Day)' though was its most accessible offering and remains possibly their most under rated single. The experimentation of the period also led to B-sides such as the delightful KRAFTWERK homage 'Chertsey Endlos'.
Produced by Gareth Jones and Neil McLellan, 1997's 'Cowboy' brought back the 3 minute pop tunes, with the superb 'Reach Out' and 'Rain' among the highlights along with the two contrasting singles 'In My Arms' and 'Don't Say Your Love Is Killing Me'. Clarke declared the album his favourite although Bell felt it lack passion and was too linear. However, ERASURE played the biggest arena tour for quite some time with a promising new live act HEAVEN 17 opening for them…
However, ERASURE then entered a quiet period but it wasn't until later that it was learnt that there had been more serious concerns to deal with. But when the 'Loveboat' album emerged in 2000, it was considered a disappointment all round with discontent in the ranks. Despite production by Flood, Andy Bell admitted how shocked he was when he heard the "weird and indie" final mix by Rob Kirwan that emphasised the more guitar driven dynamics.
The 'Loveboat' album lacked the usual ERASURE charm and even its one potentially great song 'The Moon & The Sky' was missing an uplifting chorus, something which was only fixed with the Heaven Scent Radio Rework version by Jason Creasey that was later released on an EP. Fans were confused but in the face of poor sales, Clarke quipped on Channel 4's Electro Pop Pioneers Top 10 show in 2001 that the 'Loveboat' album had "a couple of holes in it" while Bell added with a smile, "we'll just do another one!".
Fortunes only slightly improved with their mid-career crisis covers record 'Other People's Songs'. In a creative rut, what began as an Andy Bell solo covers exercise became an ERASURE one with Vince Clarke proposing Peter Gabriel's 'Solsbury Hill' and THE BUGGLES 'Video Killed The Radio Star'. Bell's choices were more from the classic songbook including True Love Ways', 'Ebb Tide', 'You've Lost That Lovin' Feelin'' and 'Walking In The Rain' while a take on Steve Harley's "Make Me Smile (Come Up and See Me)' with a Stylophone solo provided another Top 20 hit.
2003 saw a new 'best of' compilation called 'Hits! The Very Best of ERASURE' but a year later, Andy Bell was in a confessional headspace with his health. Making his 1998 HIV diagnosis and a hip replacement public, this was to affect the mood of the next ERASURE album 'Nightbird' although this was to be their best body of work since I Say I Say I Say'. Released in 2005, 'Nightbird' was something of a departure as it comprised entirely software synths, enforced partly by Clark's move to the US, leaving him unable to work with his analogue armoury for a period.
Introspective in its demeanour, 'Nightbird' was more layered than anything they had undertaken before. Although 'No Doubt' was about riding the storm through tough times, 'Let's Take One More Rocket Ship To The Moon' offered a hopeful "live for today" message. 'Breathe', 'Here I Go Impossible Again', 'Don't Say You Love Me' and 'I Broke It All In Two' were among the many highlights in a brilliantly cohesive work. It was proof if that if you've got it but have lost it, the redeeming consequence is you can get it again back if you keep trying…
Issued in 2006, the interim 'Union Street' was a collection of previously released album tracks re-interpreted in an acoustic and countrified style. But in the opposite direction, the next ERASURE long player was the more dance-oriented 'Light at the End of the World'. Produced by a returning Gareth Jones, while the entire album was played on its accompanying 2007 tour, it proved to be lukewarm, sparking more mixed fortunes for Clarke and Bell both creatively and commercially.
However, one of the more memorable tracks that emerged from these sessions was track on 'The 'Storm Chaser' EP entitled 'Early Bird'. An enjoyable duet between Cyndi Lauper and Andy Bell, it was a soulful slice of Trans-Atlantic synthpop that coincided with Ms Lauper heading towards a career renaissance with her enjoyable 'Bring Ya To The Brink' album in 2008.
As the duo took an extended break, Clarke reunited with Alison Moyet for the YAZOO 'Reconnected' tour while Bell worked on a second solo album which following aborted sessions with Stephen Hague, eventually saw the light of day in 2010 produced by Pascal Gabriel under the title of 'Non-Stop'.
ERASURE headlined the closing night of the Short Circuit Presents Mute event in Spring 2011 with guest appearances from Alison Moyet and Fergal Sharkey as another new album 'Tomorrow's World' was pencilled in for the Autumn. However, things were not promising as the severely over rated Frankmuzik was recruited to apply his modern dance production aesthetic.
The first single 'When I Start To (Break It All Down)' sounded like a rather anodyne TAKE THAT ballad and Bell's voice was strained to an auto-tuned flatness, lacking power and soul. The joyous 'Be With You' was a good second single choice from the album but still came over as dispassionately mechanised. But much more enjoyable and classic was the Vince Clarke produced 'Be With You' B-side 'Never Let You Down' which was free of the auto-tune treatments that Frankmusik had applied when helming 'Tomorrow's World'.
2013 gave ERASURE the opportunity to finally make 'Snow Globe', the Christmas record they had wanted to do since including 'God Rest Ye Merry Gentlemen' for the CD edition of the 'Crackers International' EP. As well as traditional seasonal tunes and new songs such as the joyous 'Make It Wonderful', the centre-piece was the haunting Ecclesiastical Latin carol 'Gaudete'. Taken from its 16th Century origins and thrown into the new millennium with a precise electronic backbeat, there was even a cheeky 'Ice Machine' reference thrown in for good measure.
Following the disappointment of 'Tomorrow's World', 2014's 'The Violet Flame' produced by Richard X saw ERASURE return to form and express an infectious zest for the future. Following his VCMG techno project with former DM band mate Martin Gore, the songs began with Clarke's pre-recorded dance grooves. Bell vibed instantaneously with these faster pace backbones and the end result was a much more immediate and uptempo album.
'Dead Of Night' was the collection's euphoric, uplifting opening number while despite the cutting rave stabs and thundering rhythms, 'Sacred' did bear a rather striking resemblance to GUNS 'N' ROSES' 'Sweet Child O' Mine'! But the best number from the sessions was 'Be The One' in its remixed treatment by Paul Humphreys who added some of the beautiful Synthwerk magic that characterised OMD's brilliant 'English Electric'. With 'The Violet Flame', ERASURE returned to the Top 20 album charts for the first time since 2003.
But following their 30th anniversary, ERASURE returned in a more pensive mood for the self-produced 'World Be Gone' album. The percussive lead single 'Love You To The Sky' sounded uninspired and while 'A Bitter Parting' ably communicated its anguish, it sounded laboured in its execution. It was a departure but it was not particularly easy listening for ERASURE fans.
The first trio of UK shows that came not long after 'World Be Gone' was released were oddly paced too. Possibly due to a run of high profile dates opening for Robbie Williams coming straight after, the first hour of the set more or less comprised of hit after hit like a dress rehearsal for those support slots before a run of three songs from the new album found themselves slotted in at the end. This undoubtedly inhibited the expected concert climax before the welcome encore of 'Victim Of Love' and 'A Little Respect'.
ERASURE's eighteenth studio long player 'The Neon' came in the middle of the 2020 lockdown. Described by Bell as "going back to the beginning" with Clarke in love with analogue synthesizers again, songs such as 'Hey Now (Think I Got A Feeling)', 'Diamond Lies', 'Nerves Of Steel' and 'Fallen Angel' captured a vibrant immediacy that offered some much needed escapism.
Unable to promote the album in a conventional manner, Bell and Clarke instead held endearing 'Staying In With ERASURE' online broadcasts where Clarke and Andy Bell talked about some of their favourite records and answered questions from fans while at the end of the year, they held a Virtual Christmas Party. It was this personable effort to connect compared with some of their contemporaries that highlighted why ERASURE have been so adored by their dedicated following around the world.
With 'The Neon' reaching No4 in the UK album charts, their highest placing since 'I Say I Say I Say' in 1994, their 2021 tour came just as the world started allowing live events again post-pandemic; it saw ERASURE headline London's O2 Arena for the very first time. But just as further 2022 arena shows were announced in the UK with BLANCMANGE as the support act along with dates in Europe, North America and South America, the next leg of the tour was cancelled due to unexpected family circumstances.
Aside from 'Day-Glo (Based on a True Story)', an experimental record based on reconstructions using parts of 'The Neon', ERASURE have been quiet of late but Andy Bell recently emerged to perform solo at various festival events the UK and Ireland. He has also returned to the ABBA cover fold with Claire Richards of STEPS for a stomping version of 'Summer Night City'.
ERASURE's enduring legacy is great emotive pop songs but with an openly gay front man, Andy Bell has been a trailblazer for equality and acceptance with Vince Clarke as his loyal ally. Continuing the good work laid down by SOFT CELL, ERASURE have along with PET SHOP BOYS furthered the cause of the synth duo as the most practical format to make quality pop for outsiders that has also managed at times to crossover into the mainstream.
ERASURE is a long standing pop marriage that only PET SHOP BOYS can equal. Compared with PET SHOP BOYS, while Neil Tennant and Chris Lowe may have scored more UK No1 singles, Andy Bell and Vince Clarke come out on top with more UK album No1s over the same period.
One of the other reasons ERASURE have been able to achieve longevity is that Bell and Clarke have given each other space and allowed the flexibility to undertake side projects. The first Andy Bell solo album came out after 'Nightbird' in 2005 and saw collaborations with Claudia Brücken and Jake Shears. Since 2014, he has been involved in the 'Torsten' trilogy with a series of theatre shows written by Barney Ashton and Christopher Frost.
Meanwhile, Clarke produced a wealth of instrumental material with Martyn Ware which was collected as the 8CD boxed set 'House Of Illustrious' as well as doing remix commissions, running his own label VeryRecords and presenting The Synthesizer Show with Reed Hays of REED & CAROLINE on Maker Park Radio in New York..
In the expanded 'Total Pop! The First 40 Hits' deluxe boxed set booklet issued in 2009, Andy Bell said "Some people like the records and some can't stand them I guess". But as Vince Clarke dryly said back then: "We're just going to keep making records. We'll never split, sorry folks!"
---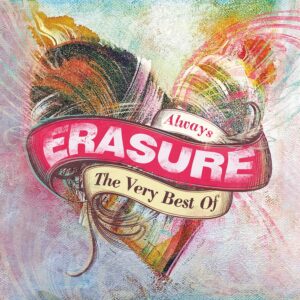 'Always – The Very Best of ERASURE' is released by Mute / BMG as a double vinyl LP on 18 August 2023
https://www.facebook.com/erasureinfo
https://twitter.com/erasureinfo
https://www.instagram.com/erasureinfo/
https://www.youtube.com/erasureinfo
---
Text by Chi Ming Lai
15 August 2023