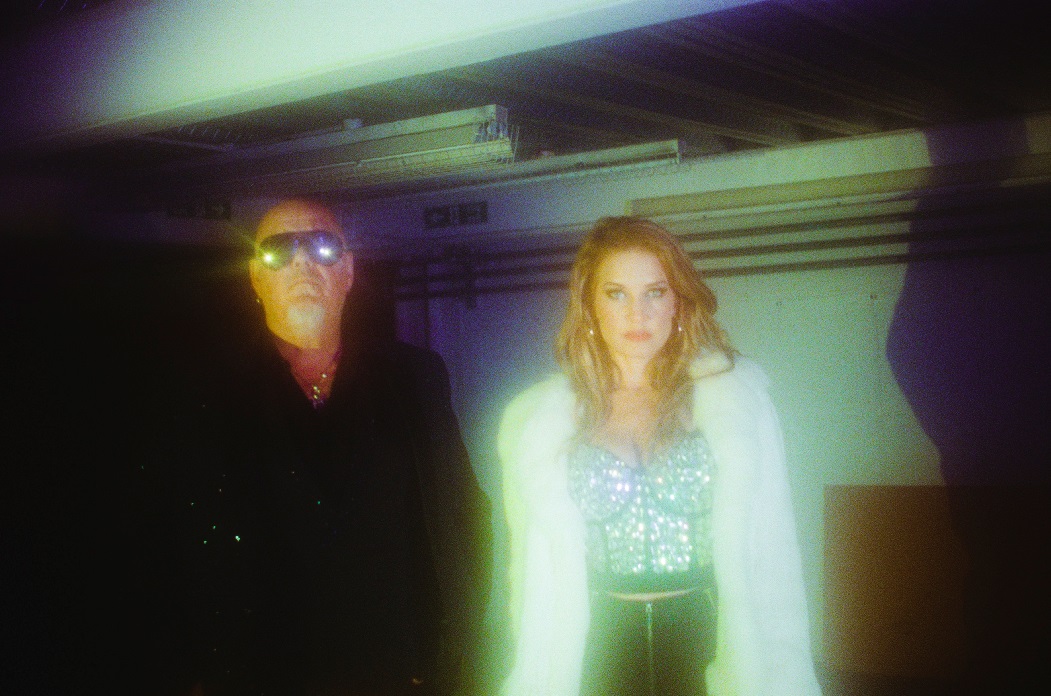 'Scala Hearts' sees the first long playing collaboration between Ricky Wilde X Nina.
The pair met when they independently went to see THE MIDNIGHT at the Scala in London, hence the album's title. Introduced to each other by a mutual friend podcaster Lee Bennett, Ricky and Nina got on like a house on fire and found they had common ground creatively despite the generational divide. Straight away, they collaborated on two tracks 'Runaway' and 'Gave Up On Us' on Nina's second album 'Synthian'.
Ricky Wilde is the musical veteran who was first touted for boyhood stardom with his 1972 debut single 'I Am An Astronaut', drawing comparisons with Donny Osmond. But his future lay behind the scenes as a songwriter and producer. The son of Marty and the brother of Kim, he played a key role in his sister's international hits 'Kids In America', 'Cambodia' and 'You Came'. It could even be argued that Ricky's 'Reprise' instrumental section of the 'Select' album version of 'Cambodia' was the forerunner of the filmic synthwave styles that since have been adopted and developed by the likes of artists such as WAVESHAPER. Today, he remains the musical director of her live popular shows and continues to work on her albums, the most recent being 'Here Come The Aliens' in 2018.
Nina has been called "The Queen of Synthwave" following her appearance in the 2019 documentary film 'The Rise Of The Synths' narrated by John Carpenter. She achieved her wider breakthrough when her single 'My Mistake' was part a 2015 Mercedes-Benz advertising campaign in Europe. Since then, she has issued two solo albums 'Sleepwalking' and 'Synthian' which both included tracks co-produced by Richard X and an EP 'Control' which utilised samples from Cliff Martinez's 'Drive' film score. More recently, there has been the 'Lust' EP with Kid Moxie released on Italians Do It Better.
What originally started as a selection of songs intended for Nina's third album became a joint artist collaboration with Nina and Ricky standing centre stage together. ELECTRICITYCLUB.CO.UK was extremely pleased to be able to chat to Ricky and Nina about the making of 'Scala Hearts' in what is likely to be one of the most anticipated moments of 2023 in electronic pop.
Ricky Wilde X Nina, it's like it is meant to be?
Nina: It definitely feels that way! After we met, we realised that we love the same bands and were going to all the same concerts without knowing one another yet. Ricky is very on the pulse and although we are from different generations, we create music together almost effortlessly! Our mutual friend Lee Bennet introduced us, knowing that we'd click.
You've worked with each other before, on 'Runaway' and 'Gave Up On Us' from 'Synthian', were there any anxiety or nerves on either side when you sat in the studio together for the first time?
Ricky: There wasn't on my side, I knew from meeting Nina at THE MIDNIGHT gig, I just had a really good vibe off her and I knew she has this lovely energy, she was very positive and I didn't think there would be any problems in the studio. I knew it was going to be a lovely experience and I was right.
Sometimes, you just get a gut feeling Chi and you know when something is right, it felt right the moment I met her. When she said she was 2 tracks light on the album, I saw it as my opportunity to dive in and say "Let's do some work!". Thankfully she accepted my proposal and she came down and we spent a couple of days on it. Was it 2 days Nina?
Nina: Yes, you're right! I was definitely nervous meeting Ricky in his studio for the first time. It was a huge deal for me! I grew up listening to his beautiful melodies and incredible songwriting. However, the nerves went away almost instantly, as he's such a warm person and made me feel very at home. There is a mutual respect between the two of us, which was very comforting.
Ricky: Yes, we finishing writing it and then I programmed it up and then we had the recording process after that but it was pretty quick. I knew it would be a lovely experience and I'm just grateful that the two tracks that we wrote ended up on the album.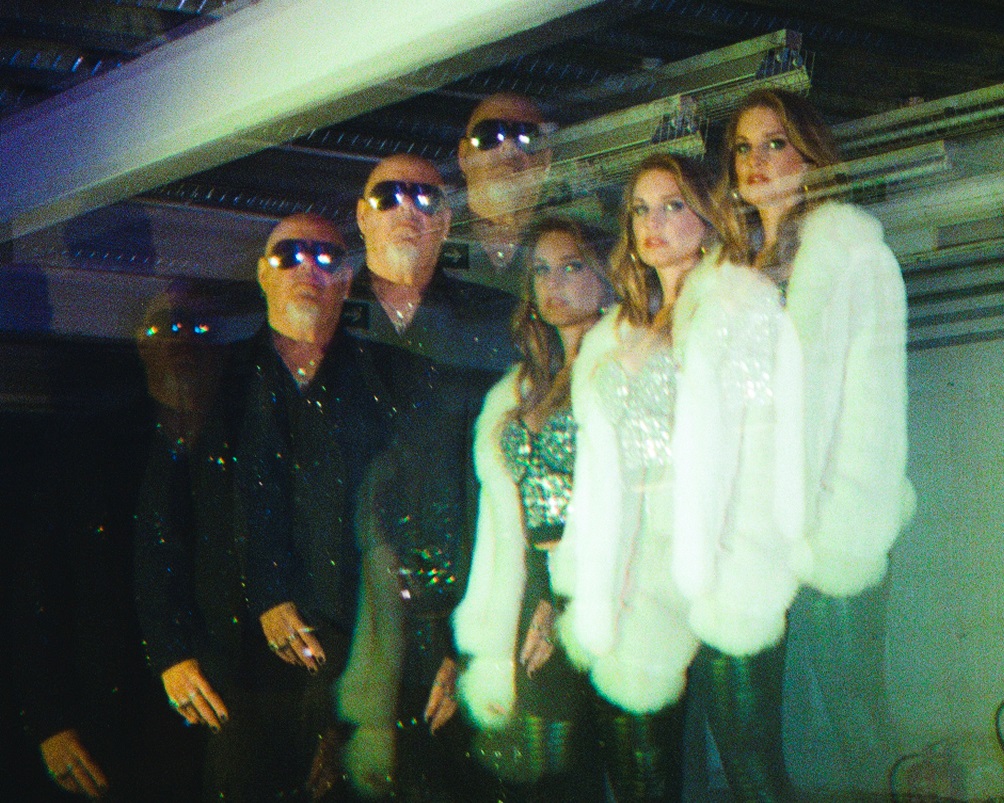 So with 'Scala Hearts', what was intended as a few collab songs has ended up as full-length album, was this partly as a result of lockdown?
Ricky: A lot of it was written during lockdown. I knew Nina was thinking about new songs for her third album and had just moved back to Berlin, so I sent her some demos with my vocals recorded as a guide. She quickly responded with "love this" and "love that" but to my surprise, she proposed the idea of us collaborating as an artist duo, rather than me just producing. I wasn't expecting that and though it was a little crazy! *laughs*
Nina: It was totally obvious for me!
Ricky: It's weird because for me, it wasn't something that was in my peripheral and Nina suggested it, I thought "why not!", why not work with this incredibly talented writer with a beautiful voice and wonderful person, why would I not do that. So it didn't take long for me to jump in and say "let's do it!" 🙂
It's a wonderful bridge between generations…
Ricky: That was one of the other things that was mad! *laughs*
Are there any advantages to collaborating remotely?
Ricky: It's a really strange one this, when Nina said she had to move to Berlin, I thought "How's this going to affect our writing relationship?" and to be honest, it kind of helped it. I am very insular as a person and as a writer in my life, so to have people watching me while I'm programming is not particularly comfortable for me…
Nina: I'm the same!
Ricky: I like having my own autonomy and to be able to muck around, try chords, try sounds in my own time without feeling the pressure of someone going "come on!".
Nina: I wouldn't have done that! *laughs*
Ricky: No, but by the sheer fact that if there is anyone in the room, I know they're there waiting while I'm doing something. Not that anyone would feel irritated or annoyed by it, but knowing they are waiting for you is a pressure in itself. So I liked the way I could work on synth sounds and THEN send it over and go "what do you think of this?"
Sometimes, Nina would say "I love this" and other times she was say "Oh, it's a little bit low in key, maybe this, maybe that", it was just a lovely way of working for me, it really worked.
Nina: I feel the same way. Sometimes being alone allows me to be less self-conscious and in my private, carefree mindset, I can get really emotional. As much as I enjoy vibing off other musicians in the studio, some recordings benefit from this type of intimacy and it can help me be more receptive to a magic moment.
Have you ever worked with that software where you are virtually working live remotely?
Ricky: I haven't but it's the same situation, if we had that, Nina would be sitting there waiting and that in my head would be distracting. I like that she's off doing her own thing whether that's with Kid Moxie flying to LA or whatever, it meant I could spend more time making our tracks better and know there's no pressure of Nina waiting for me.
'LA Dreamers' is the first single, described in the press release as "STARSHIP meets TEARS FOR FEARS"… it's a duet, this must be the first time Ricky has sung lead vocals for nearly 50 years since 'I Wanna Go To A Disco'.
Ricky: Thankfully not! *laughs*
I did do a duet with Kim on 'Here Come The Aliens' called 'Pop Don't Stop', it was a kind of autobiographical song about us growing up and loving pop music. So 'Scala Hearts' isn't really the first thing but in my head, it was a little one-off thing. We obviously do lots of gigs with Kim, and have so many incredible experiences, working with many incredible people on stage, we absolutely love it. The nucleus of the live band has been with us for the last 20-25 years, we're all mates and it's like a little family when we go on tour. We just know each other backwards and Kim feels very comfortable with us all.
Nina: There's so much banter, I loved the experience of seeing Kim Wilde and the band on stage, it was so much fun, everyone has to go and seeing the show, you can just feel their love for one another.
Ricky: So with 'Pop Don't Stop', it made sense for me to do something other than just play guitar; so for the next Kim Wilde album that we're working on, it might be that Scarlett, my daughter is featured on one track.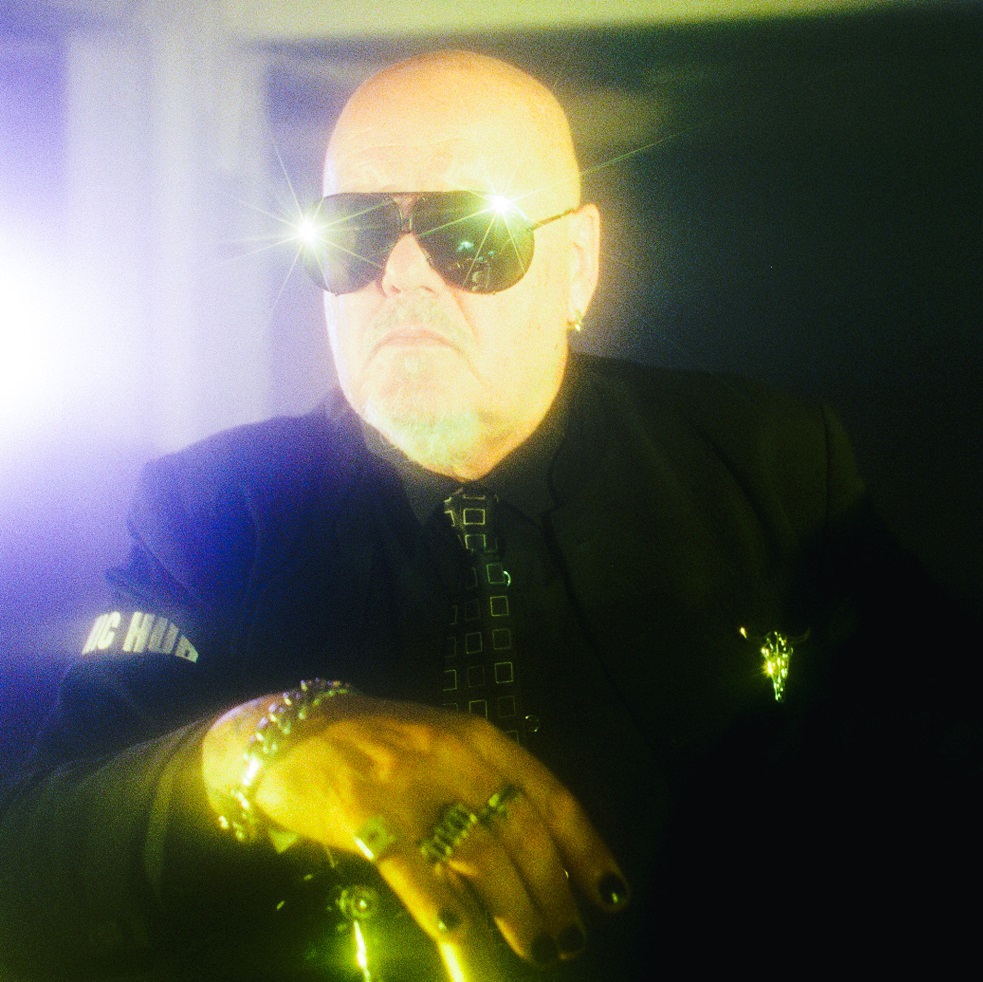 How did the "please sing Ricky" idea come about?
Nina: When I heard Ricky's vocals on the demos, I was like "Bloody hell! His vocals are incredible! To not embrace him as a co-lead singer would be a mistake!".
Ricky, you do sound like Ollie Wride on 'LA Dreamers', was this intentional or just your natural delivery?
Ricky: I've always sung like that but I'm a bit of a Rory Bremner of pop vocally, I morph into different styles for different songs, so if you listen to my vocal on 'Living In Sin' for instance, it's a totally different sounding type of vocal than it is on 'LA Dreamers'. So it's what I feel for each different track, I probably DO sound like Ollie Wride on some tracks because I love Ollie and his voice!
Have you ever heard 'Overpass Graffiti' by Ed Sheeran? The first time I heard it on Radio 2, I thought it was the new one by Ollie Wride!!
Ricky: No, I'll give that a listen Chi *laughs*
Look-In magazine called Ricky "The New Donny" and Nina has been compared to Kim Wilde, journalists like a reference (and I'm guilty of this), is this sort of thing damaging when launching a music career?
Nina: I don't know, it depends on who you get compared to, I guess! *laughs*
I'm one of the lucky ones because I get to be compared to Kim. It's an honour, I love it.
Ricky: I agree, I was compared to Donny Osmond back in those days, it was "WOW!", little me being compared to one of the biggest stars in the world at the time, that was incredible for me, it was a real honour. It didn't do me any harm, put it that way!
So OMD's 'Messages' was a key source of inspiration in the song 'Night & Day'? Please elaborate…
Ricky: We've done quite a few gigs with OMD and they've become friends now which is an amazing honour for me because I adore them.
'Messages' was for me one of the first warm synthesizer pop records…
Ricky: 'Messages' was a massive track for me back in the 80s… along with Gary Numan and John Foxx, there were so many synth bands at that time like ULTRAVOX who were so inspiring for me. But when I heard 'Messages', there was something about it that struck a chord for me, that blippy intro… it finished up on 'Kids In America', that was all OMD! They were a massive influence me at the time. 'Souvenir' was another one, those beautiful swirling synths, I loved it. So maybe there were some influence from OMD on 'Night & Day'…
On the same subject, you know when I first heard 'Cambodia', I thought it was a bit OMD sounding with the minimal rhythm and the melodies…
Ricky: Possibly, but at that time I was also listening to a lot of JAPAN as well, I used to love JAPAN…
You worked with the late Mick Karn from JAPAN didn't you?
Ricky: Yeah, I did a couple of tracks on his first solo album, he became a great friend as well, sadly missed, 52 years of age he was when he passed away, so sad but what an incredible talent 😥
I was very much influenced by JAPAN, that minimalist vibe and DURAN DURAN, all those lovely synth sounds they had, there were so many incredible exciting bands in those days, DEPECHE MODE as well, there might have been a little bit of influence from them. It was almost like every week, something came out that was like "OH MY GOD! WHAT THE F**K IS THAT?" you know, it was such an inspiring time.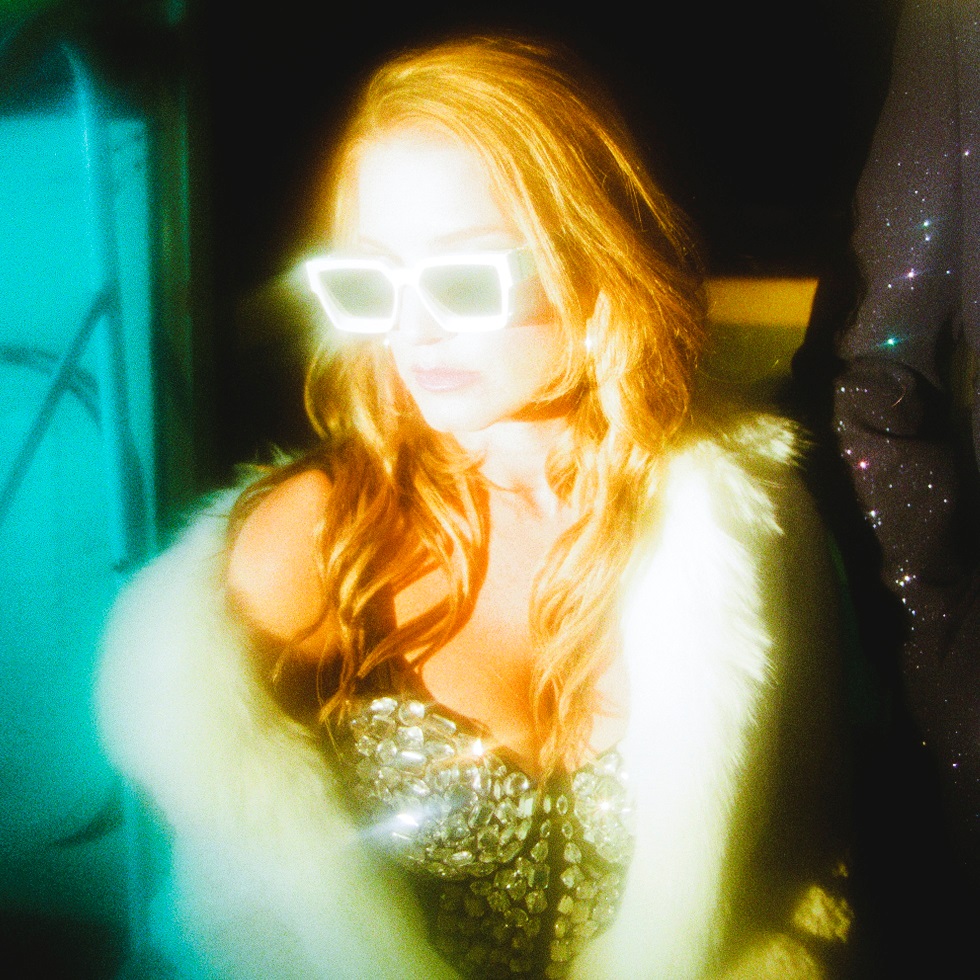 Nina, were you much of an OMD fan?
Nina: I love OMD! They were constantly on German radio as I was growing up. In general, the 80s were such an influential decade for me.
But were you more into 'If You Leave' from 'Pretty In Pink' or 'Secret' with regards OMD or the weirder earlier stuff?
Nina: I have a soft spot for 'If You Leave' because I'm a romantic at heart *chuckles*
Can I put an idea in your heads? I can imagine you both doing a popwave duet take on 'Secret'…
Ricky: Maybe we'll do that live 😉
Nina: That's a good idea, I'm up for it!
On 'Kids In America' there is that pulsing synthbass, do you see any parallels between the music you made then and the synthwave pop of more recent years in terms of construction?
Ricky: That was a Minimoog… that's a really good question, it's an interesting one. Every now and then, I do hear songs and I think "oh, that reminds me of…" but whether I've influenced that, it's so hard to know. I'd like to think that maybe there something they're heard of mine that they might have done something with or thought about. And if they have, wonderful but there was so many incredible bands in those days with different sounds and there were different synths coming out every year! You can almost plot the year of a song by the synth… like 'Smalltown Boy' by BRONSKI BEAT, that beautiful pad sound, I remember hearing that sound on a Roland D550.
Were there any other artists that you mutually bonded during the conception and production of 'Scala Hearts?
Ricky: There were quite a few bands we were listening to… we love CAUSEWAY don't we?
Nina: Totally, I played their songs a lot around that time and felt so inspired… they're so talented. I hope they're going to play a show in Berlin one day. Also, Frida Sundemo because we really adore her…
Ricky: Yup, we love Frida! I love PENSACOLA MIST, I love their album 'Lost In Love', I thought it was sensational, that first track 'The Dying Light', the whole LA lyric was really inspiring for me on 'LA Dreamers'. NATION OF LANGUAGE, I think you love them Nina?
Nina: Oh amazing! I love them…
Ricky: L'AVENUE…
Nina: Yes, we love L'AVENUE…
Ricky: Yes, love you Jez, we got to know him really well, he was on my 'Unsung Heroes' podcast recently. Oh yes, BUNNY X, I did a remix for 'Perfect Paradise'…
Nina: That's a cool remix, it was a perfect summer tune…
Ricky: We love THE MIDNIGHT… and FUTURE ISLANDS
Nina: You got me into FUTURE ISLANDS as well!
Ricky: And more recently CANNONS, I saw you liked one of their tracks on Insta Nina 😉
Was the title 'Fade Me Out' a consequence of a recording or mix instruction? 😉
Ricky: I just liked the "Take me in, fade me out" couplet, IN-OUT, I just thought "take me in" as in you're taken in by someone because they are conning you and then they are not interested in you anymore, so they fade you out. I just liked that juxtaposition so that's where that lyric came from. So it wasn't anything to do with fading out by programming on Logic X Pro… it's funny with writing and Nina will back me up on this one, sometimes you'll just sing something and it's the first thing that comes into you head because you know how it should sound… sometimes that finished up being the title or a main part of the lyric. You don't know where it comes from or why, but it just sounds right at the time and it sticks for whatever reason. "Take me in, fade me out" was the first thing that came into my head.
Nina: I love how Ricky sometimes came up with lyrics that expressed exactly what I was going through at the time. It inspired me to continue the story and interpret it in a more personal way, like I did for 'Fade Me Out'. For Ricky, it was the "push and pull" in a relationship, to me it became "the anxiety of letting someone go and starting over, truly".
You are covering 'Videotheque', probably the coolest of those quartet of DOLLAR singles produced by Trevor Horn, have you given it a different spin or played it straight?
Nina: I actually had never heard the original before our friend Lee recommended it to us. The original is great! We rock out a bit more in our version. Ricky's badass guitar solo gives it a whole other dynamic which I adore!
Ricky: Yeah, it's a bit tougher… when Lee suggested it, it was a no brainer and I could really hear Nina's vocal on it and that's what Lee said. And sure enough, she killed the vocal on it, absolutely beautiful.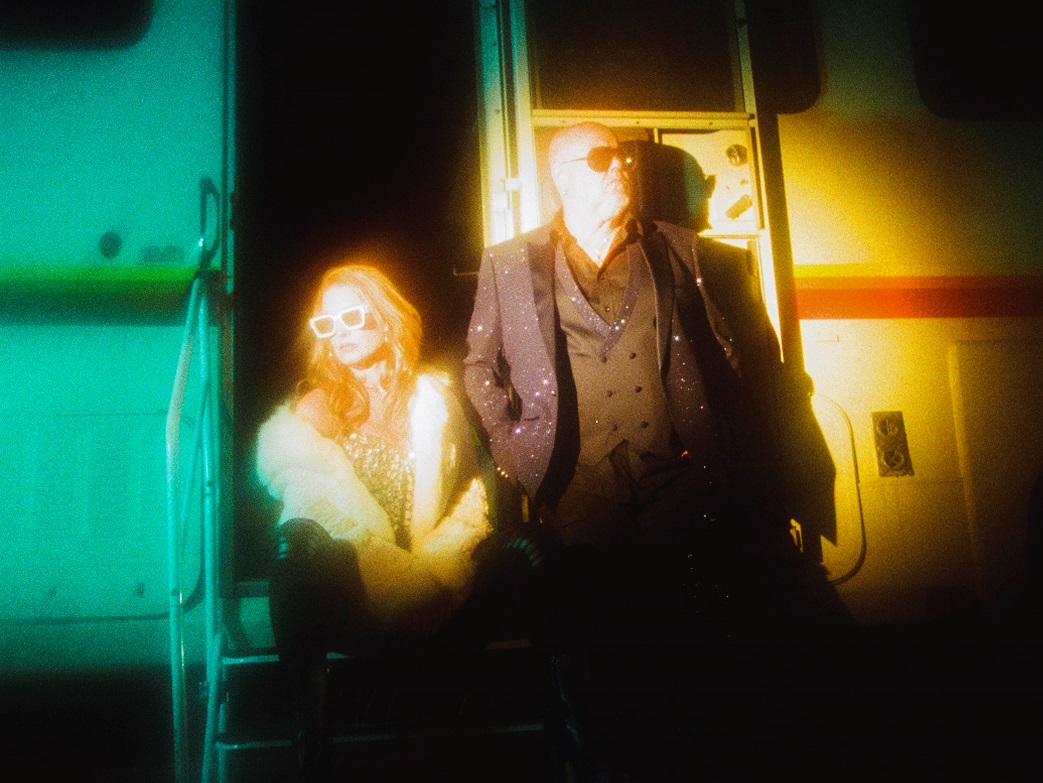 The 1984 Kim Wilde B-side 'Lovers On A Beach' from 'The Second Time' is another cover on 'Scala Hearts' and the original has this Italo disco vibe, is that a music form that you have both appreciated as it did get maligned back in the day?
Ricky: I've always been a fan of Giorgio Moroder since 'Midnight Express', the moment I heard that theme tune, I was hooked. And then there was 'Together In Electric Dreams' with Phil Oakey and of course, 'I Feel Love' with Donna Summer, that whole bassline, the moment you hear that, that's it, you're up dancing, you can't not!
Nina: Ah, that's SO good!
Ricky: When we came to do the remake of 'Lovers On A Beach', I just thought there was a little bit more that it needed that I maybe wanted to add back in the day. But we didn't have enough time for whatever reason and ended up as a B-side as we were in a real rush to get one done; it was written, recorded and done, blah-blah-blah, then out! By the time it came out, I thought maybe we could have done more with it, which is why we've revisited it. Yeah, Nina smashed the vocal on it!
Nina: In general, Italo Disco is a big inspiration for me. 'I Feel Love' is still a huge favourite and I'm a big fan of Giorgio Moroder, "The Father of Disco". Being asked to cover any of Ricky and Kim's songs is a huge honour but 'Lovers On A Beach' tickled our Italo fancy 🙂
Ricky: I remember years ago being in the studio with Pete Bellotte who was Moroder's writing partner, I learnt a lot from him so there was stuff he was doing that I was taking note of.
What are your hopes and fears for 'Scala Hearts'? Favourite Track?
Ricky: I'm just actually thrilled that it's coming out and done with such a great label (New Retro Wave), it's been done in such a classy way, that's exactly how I wanted it. It's done its job for me by the fact it's going to be out and people can see what we can do., I'm really pleased with that. Favourite track? I change from day-to-day, some days it's 'Fade Me Out', other days it's 'LA Dreamers', it could be 'Gold Heart', it changes daily. Today? 'LA Dreamers' *laughs*
Nina: My hope is that listeners are as inspirited and motivated as I was while making it. It's a positive record, created from a place of goodwill; a "feel good" album intended to elevate the heart. I've never thought about "fear" when it comes to this project. I feel too good about the positive energy in the music. It has protective wings!
My favourite track changes all the time. At the moment, it's a tie between 'Fade Me Out' and 'Fighter'. Creating both songs with Ricky was very therapeutic for me because I was going through one of the hardest times of my life. 'Fade Me Out' is about loss and I sing with an operatic sorrow at times, while the epic drums crash down like the lyrics. 'Fighter' contrasts this and rises with bravery and hope.
---
ELECTRICITYCLUB.CO.UK gives its warmest thanks to Ricky Wilde X Nina
'LA Dreamers' is available now via New Retro Wave on the usual online platforms at https://ninanrickywilde.lnk.to/LADreamers
'Scala Hearts' will be released in Autumn 2023
https://twitter.com/Wildericky
https://www.instagram.com/rickywildeofficial/
https://www.iloveninamusic.com/
https://www.facebook.com/iloveninamusic
https://twitter.com/iloveninamusic
https://www.instagram.com/ninasounduk/
---
Text and Interview by Chi Ming Lai
Photos by Say Goodnight Films
11 August 2023