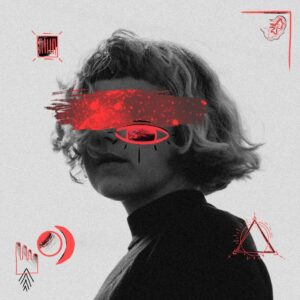 SEA CHANGE is the nom de théâtre of Norwegian producer and vocalist Ellen A. W. Sunde who self-released her debut album 'Breakage' back in 2015. Her interest in music began with a fascination for ambient noise, tiny acoustic instruments and synths.
Following up 2019's FEVER RAY-inspired 'Inside', her third album 'Mutual Dreaming' is a product of moving back to Norway after living in Los Angeles and Berlin to immerse herself into their noted club scenes. Settling in the southern coastal town of Kristiansand, the quiet location has undoubtedly coloured proceedings with a mysterious serene air focussed onto the music.
With enigmatic air of Stina Nordenstam, 'I Put My Hand Into A Fist' states its intentions like a musical Nordic Noir mystery with a gently percussive transience. Building on that introduction, 'Is There Anybody?' offers subtle electronic signals and haunting vocal treatments that slowly gain in presence as a whole.
Vocally like an abstract Dot Allison, 'That's Us' is sparse and swathed in echo, recalling the Andrew Weatherall-helmed dub experiments of ONE DOVE. In a backdrop of reverse Norse code, 'OK' is more whispery Alison Goldfrapp and begins as an angelic mood piece before snapping rhythmically.
'Never Felt' moves away from metronomic beat structures and enters eerier territory with ghostly manipulated voice colouring while without almost noticing, the rumbling backdrop becomes central to the work. Comparatively uptempo but minimal, 'Night Eyes' captures a darkness falling but then the aural cavern expands to create a hypnotic sinking feeling.
Adding distortion into the mix, 'Mirages' acts as a soft environmental interlude into the home straight leading straight into the 'Mutual Dreaming' title track with its absorbing percussive mantra and breathy Björk-like interventions in place of a conventional lead vocal. And with a heartbeat, 'Rituals' hits FEVER RAY territory with deep pitch shifting to close.
Like a more accessible Stina Nordenstam but with all the characteristic Nordic idiosyncrasies, 'Mutual Dreaming' is a panoramic record with an abstract mindset.
With a dreamy impressionistic quality, it acts as relaxed escapism from the tensions of civilisation with an intriguing avant pop aura. File under "Visceral and very introspective".
---
'Mutual Dreaming' is released on 11th February 2022 by Shapes Recordings, pre-save at https://ingrv.es/mutual-dreaming-tda-4
https://www.facebook.com/seachange666
https://twitter.com/SeaChangeartist
https://www.instagram.com/sea_change_music/
---
Text by Chi Ming Lai
11th February 2022