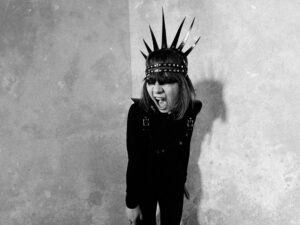 With the Western Powers is a rather tense and scary stand-off with Russia over Ukraine as if The Cold War had never ended, I SPEAK MACHINE's 'The Metal of My Hell' from the upcoming album 'War' is rather on point.
A fierce aural assault of frantic heavy metal machine music using synths, Busch declares in a raging if tongue-in-cheek manner: "burn the witch / burn the bitch… you had it coming for a long time!".
I SPEAK MACHINE is the audio visual project of Tara Busch and Maf Lewis; their album 'Zombies 1985' was ELECTRICITYCLUB.CO.UK's favourite album of 2017. While that collection made use of Busch's impressive vocal range from high soprano to deep contralto and a previous 2011 single 'Rocket Woman' came over like Doris Day in outer space, her voice takes on an aggressive devilish tone for 'The Metal of My Hell'.
Angry and claustrophobic with screeching horror flick strings, 'The Metal of My Hell' is appropriately complimented by the Maf Lewis directed video filmed in the dusty, sweltering fire roads of Griffith Park in Los Angeles. Using an iPhone 13 Pro Max in 4K with Filmic Pro, it captures Busch adopting some dishevelled symbolism like Libertas gone goth…
While Tara Busch has previously worked with the likes of Benge, John Foxx and John Fryer, as well toured with Gary Numan and Hannah Peel, 'War' has been co-produced by Dean Honer of I MONSTER, THE ECCENTRONIC RESEARCH COUNCIL and INTERNATIONAL TEACHERS OF POP fame; the album was constructed remotely between LA and Sheffield over a three year period.
While 'Zombies 1985' was the soundtrack to a short horror sci-fi film about a self-obsessed man who fails to notice the Zombie Apocalypse happening around him, 'War' is a much more personal album dealing with themes of addiction and mental illness.
As I SPEAK MACHINE prepares to go out on tour soon supporting Gary Numan on his US 'Intruder' dates beginning on 23rd February at The Fonda Theater in Los Angeles, war is coming…
---
'The Metal of My Hell' is from the new album 'War' out on 22nd April 2022 in double red vinyl LP, CD and digital formats, pre-order via https://singinglight.link/ispeakmachine-war
https://www.facebook.com/ispeakmachine
https://twitter.com/ISpeakMachine
https://www.instagram.com/ispeakmachine/
https://ispeakmachine.bandcamp.com/
---
Text by Chi Ming Lai
Photoby Maf Lewis
13th February 2022