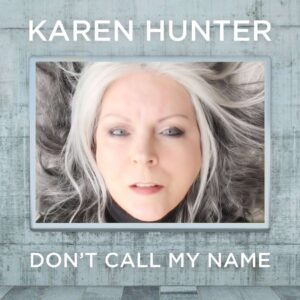 Singer Karen Hunter has recorded a wonderful cover of the Gary Numan ballad 'Don't Call My Name' in support of The Ced Sharpley Drumming Bursary.
As Karen Taylor, she was a band member on Numan's 'Berserker' and 'The Fury' tours. She had previously sung on the 1976 Giorgio Moroder produced single 'Doctor Funk' by the German band SMILEY.
Ced Sharpley was Gary Numan's drummer from 1979 to 1992; after he sadly passed away in 2012, the bursary was founded in his memory by Ced's partner Gill Mabey and her brother David Mabey.
The bursary pays for one year's special one-to-one drum tuition for a chosen pupil at Ashlyns School in Berkhamsted, Hertfordshire where Ced was a former pupil. A new recipient is chosen each year and it is entirely funded by donations and fund-raising events.
'Don't Call My Name' was the closing track on the 1988 album 'Metal Rhythm' and the haunting song is given a serene feminine twist. It has been produced by music veteran Steve Hunter who played guitar on Peter Gabriel's debut solo single 'Solsbury Hill' and was also in the live bands of Lou Reed and Alice Cooper. Acting as executive producer and project manager is Stephen Roper of The Numan Arms video interview platform.
Other past Numan associates contributing to this crystalline reinterpretation of 'Don't Call My Name' are Chris Payne on violin and Andy Coughlan on fretless bass. Keyboards come from Anthony Gilroy while noted session musician Steve Hamilton, whose credits include PET SHOP BOYS and RADIOHEAD, provides the slinky sax.
Karen Hunter said this was "a fun project to remember Ced. He was a really lovely man"; all profits from the sale of 'Don't Call My Name' go to The Ced Sharpley Drumming Bursary.
---
In memory of Ced Sharpley 1952 – 2012
'Don't Call My Name' and its instrumental version are available now as a download bundle direct from https://karenhunter.hearnow.com/
The Numan Arms YouTube channel featuring interviews with Karen Hunter, Chris Payne, Andy Coughlan and an archive audio only chat with the late Ced Sharley is located at https://www.youtube.com/channel/UC-rRuX6k___Y4ZkTHwQg–Q/videos
---
Text by Chi Ming Lai
1st April 2022