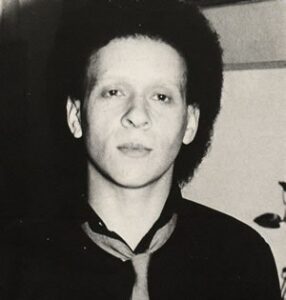 Ced Sharpley, drummer with Gary Numan between 1979 to 1992 has sadly passed away following a heart attack last week.
The tragic news was announced on Twitter by his fellow band mate RRussell Bell who worked with him in Gary Numan's band and DRAMATIS: "Just heard that my dear friend and colleague, Ced Sharpley passed away this evening. Words aren't enough". Gary Numan himself said on Twitter: "I don't know what to say. Shocked and very, very sad" – Ced had been due to be a special guest at the 'Back Stage' book launch party with RRussell Bell and Chris Payne last weekend in London.
A reformation of DRAMATIS was announced with a new album on the way and there were hopes that Ced would make a full recovery. ELECTRICITYCLUB.CO.UK had chatted to RRussell and Chris about Ced's distinct drumming style. Chris Payne said "He's a great percussionist and brought that to his drumming. A lot of Gary Numan's stuff was kind of mechanical, it had to be for the nature of the music but Ced brought that extra little thing because of the way he drums. He wouldn't just play very KRAFTWERK type rhythms, he'd add something to the pieces".
His breaks on tracks such as 'Cars', 'Metal' and 'Films' from 'The Pleasure Principle' were later to become highly influential on the US Hip-Hop scene. Afrika Bambaataa in particular was a big fan. He also worked on what became VISAGE's 'Fade To Grey' with Chris Payne and Billy Currie which was composed during soundchecks on 1979's 'Touring Principle'. However, due to a contractual issue relating to his previous band DRUID who were signed to EMI, he wasn't credited as a writer on the recording.
Originating from Cape Town, Ced joined TUBEWAY ARMY in 1979 just in time to promote the single release of 'Are Friends Electric?' with key appearances on 'Old Grey Whistle Test' and 'Top Of The Pops'. These were to make Gary Numan the first synthesizer pop star virtually overnight. Other than a hiatus with DRAMATIS between 1981 to 1982, Ced played with Gary Numan on every tour (except the 1987 'Exhibition' tour) up to 1992 and contributed to many of his albums including 'Telekon', 'Dance', 'Warriors' and 'Berserker'.
Ced was a big favourite with the Numanoids and his tenure in Gary Numan's band during the synth pioneer's imperial years will remain a highly cherished memory for those who had the pleasure of witnessing those sensational live shows and savouring those innovative recordings.
---
Text by Chi Ming Lai
14th March 2012