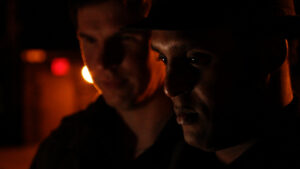 New York based duo THE MYSTIC UNDERGROUND are Vladimir Valette on vocals and Benedetto Socci on keyboards.
Their sound endorses all the elements of the Big Apple's electro disco heritage and recalls INFORMATION SOCIETY, KON KAN, BOBBY 'O', NEW ORDER, PET SHOP BOYS and DEPECHE MODE.
With their passionate buzzy glam stomp entitled 'Discord & Panic', a descending synth riff captures a tension that is in the duo's own words: "life…set to a dance beat".
Earlier single 'April Fool's Day' has been described by Vladimir as "a kitchen-sink drama on wheels". He also added "Everything came together just swimmingly where both lyrically and musically, we believe April Fool's Day encapsulates who we are as a band at the moment". Heavy on sampled orchestra stabs, it's not a scary monster!
Meanwhile, 'Pride Of St Mark's' runs at a more frantic pace. Definitely "pop songs for the disenchanted, disillusioned and disenfranchised".
---
http://themysticunderground.tumblr.com/
http://www.facebook.com/themysticunderground
http://www.myspace.com/themysticunderground
---
Text by Chi Ming Lai
12th March 2012