As PROPAGANDA, die klassik quartett of Claudia Brücken, Susanne Freytag, Ralf Dörper and Michael Mertens dubbed "ABBA in hell" released their only album together 'A Secret Wish' in 1985 on ZTT.
Featuring the hit singles 'Dr Mabuse', 'Duel' and 'P: Machinery', 'A Secret Wish' was highly regarded with admirers including Martin Gore, John Taylor, Jim Kerr and Quincy Jones. PROPAGANDA had emerged from Düsseldorf's post-punk art scene which had often gathered at the Ratinger Hof pub on Ratinger Straße.
Previously, Brücken and Freytag had been in an all-girl group called TOPOLINOS who appeared on the compilation 'Partysnäks' in 1982; their track 'Mustafa' became a favourite of the late John Peel who played it on his late night BBC Radio1 show.
But "x" marks the spot and with it, Claudia Brücken and Susanne Freytag have rebooted the esteemed brand as xPROPAGANDA with 'A Secret Wish' producer Stephen Lipson helming for an excellent collection of all-new material entitled 'The Heart Is Strange'.
As another hope feeds another dream, during a break from live rehearsals for the upcoming London showcase of 'The Heart Is Strange', Claudia Brücken and Susanne Freytag kindly talked to ELECTRICITYCLUB.CO.UK about the album's creative genesis and realisation.
Over the past few years, you have worked together on the 'This Happened' shows and the song 'Sweet Sense (Of) Liberation' on the 'Beginn' album with Jerome Froese, but when did the impetus to do a project together come about?
Susanne: It started in 2018 when we played 'A Secret Wish' at The Garage and we thought we needed some new material. We had been thinking about this for a long time and thought it would be nice to have some new songs to expand our repertoire a bit.
How do you look back the reception for those shows at The Garage?
Claudia: Amazing, it was just incredible that people from all over the world came, from Japan, America, Mexico and Europe. It was fantastic to see and you could feel it while we were performing. It was great to be working with Stephen Lipson and Luís Jardim in the band and it worked so well. During rehearsals back then, we already thought it would be nice to have new material.
You initially launched yourselves as D:UEL and did gigs under that name but how was it decided to settle on being called xPROPAGANDA?
Claudia: At some point, we thought we would call ourselves after a song we'd done but we questioned it. For that moment, we thought it would do, but we thought we should maybe find a different name…
Susanne: …and find an arrangement with Ralf and Michael to be able to call ourselves xPROPAGANDA. But this took us some time to negotiate; that's why went under D:UEL.
What are you own favourite recollections of making 'A Secret Wish'?
Claudia: Mine is being in Sarm West in this amazing atmosphere in Basing Street, surrounded by really creative people. There were three studios, Bob Marley recorded there in the 70s, and it had an incredible vibe. At that point, ZTT were in the same building so it felt really electrifying.
Susanne: It was about being in London, being in the studios, working with Trevor Horn, Stephen Lipson, meeting David Sylvian… KILLING JOKE were in the studio and obviously FRANKIE GOES TO HOLLYWOOD, it was just a very exciting time.
What was it like to meet David Sylvian, did either of you have a crush on him?
Claudia: We were real admirers of him and his work but we weren't star struck or anything, we took it in our stride…
Susanne: … I loved JAPAN so I think I was a little bit! *laughs*
Given your history and the fact that he was in the xPROPAGANDA live band, was it a no brainer that Stephen Lipson would be involved in 'The Heart Is Strange'?
Claudia: It seemed so obvious as he did 'A Secret Wish'… both Susanne and I had this sentiment that we wished there had been another album after that with our involvement. Throughout the years, Stephen said "Girls, if you ever want to do something, I'm here"
Susanne: He's a very busy guy working with Hans Zimmer on films so it took a bit of time…
Claudia: …but then at some point, it was the right time. But the dynamic didn't change too much because for us, the Stephen then and the Stephen now, although we have all changed in some ways, it was all so easy. We had common ground, shared experiences and stories to tell, so we are still the same people.
Another name on 'The Heart Is Strange' is John Owen Williams who produced the Claudia solo album 'Where Else…'
Claudia: John lives locally to me as does Stephen, I worked with him so well on the 'Where Else…' album that I thought it would be good to work on melodies and lyrics with him again. He was really open, it was just a natural process, it's good to have someone to throw ideas to, but not as a band member as such.
Did you consciously decide to incorporate some classic ZTT references into 'The Heart Is Strange'? I'm thinking of trumpets and proggy guitars alongside the crafted electronic backdrop etc…
Claudia: That's Stephen's production style so I guess it would naturally resemble that, because that was the sound. It's just what comes out of us, it wasn't like "oh, we need to make sure it sounds like PROPAGANDA".
The opener 'The Night' does not disappoint with a dancey cacophony of sequenced digitised bass and percolating percussive colours, it does have that classic widescreen Lipson sound… 
Claudia: On this, we collaborated with Pete Murray who is a producer friend of Stephen. We asked Stephen if he had any ideas flying around in his library which he shared with us. So we picked a few as a starting point. I wanted to make a kind of poem or prayer, and then the whole idea came about, it's a three parter. When Covid came, we would continue to develop things by file sharing but luckily, we had all the vocal parts already recorded. Stephen then worked his magic.
There's quite a long intro 'The Night' before the vocal comes in which adds to the tension, it's something that is missing from a lot music now, that anticipation…
Claudia: I'm really happy you say that because I like music to breathe and take you on a journey… a lot of songs these days are just designed for radio and they put on lot into that three and a half minute timeframe. I like things when they are stretched.
'Beauty Is The Truth' is more aggressive with the two of you sparring?
Claudia: We are just having a dialogue aren't we? Susanne says something, then I say the opposite to prove her point, it's very much a play and it's inspired by John Keats, the romantic poet. It's challenging romanticism as well. It has lots of different layers, like about fake news and warning people to be alert and be careful.
Susanne: For me, it also deals with social media and all this beauty culture, especially all these teenage girls and the image they want to present which is not real.
Photo by Kai FreytagHow you feel about social media, both in the context as artists and as mothers?
Claudia: I think it's terribly addictive in how you are drawn to it, it's a bit insane really how many hours people spend on it.
Susanne: As mothers, I am glad my two children are grown-up and that I don't have teenage daughters. I see friends with teenage daughters where they can quickly get into this wanting the miration from others, looking at the clicks and struggling with themselves… it's sad to see and I know somebody in Sweden where use of computers in schools started earlier than in Germany. But the amount of anorexia in school girls in Sweden is so high and my friend sees the direct link as being the age when they start using computers or are given mobile devices. I thought it was interesting, I never saw this connection with the age that children are introduced to computers…
Claudia: …and there's this obsession with self-image…
Susanne: …and that's what starts it, they become 11-12-13 and there's this peer pressure to appear beautiful on social media.
Social media brings the fans a step closer to the artist than back in the day when they would have been more on a pedestal…
Susanne: For me, it's really stressful, I'm happy if I don't have to look at it. But you also need it because this is the modern way of advertising yourself and your product so…
Claudia: …it's a double edged sword *laughs*
'Only Human' offers a mid-album breather?
Claudia: We felt a bit odd and vulnerable at that point of writing, it was thinking "hey, we're all human", all this uncertainty that's going on…
Susanne: …it was Covid related.
Is 'Don't (You Mess with Me)' something of a female empowerment song, given some of the challenges in your creative past?
Claudia: Yes, it is! *laughs*
Susanne: It is also about personal lives, being angry and female empowerment.
Claudia: It's being fed up, we went to Stephen's studio and he said "I've started this riff" and we were really impressed. So instead of what we came in for, we concentrated on this…
Susanne: ….it happened very quickly…
Claudia: …and we just wrote it on the spot basically! By the end of the session, we had finished the song and recorded it. At the time, it was cathartic for all of us, this burst of energy got captured. This is something that doesn't happen that often. But I think we were all in this p*ssed off mood and that drove it *laughs*
There's an exotic mystical swirl in 'No Ordinary Girl' with a knowing "Don't be a fool!", where did this combination come from?
Susanne: We were joking around with references to 'A Secret Wish' *laughs*
Claudia: We were thinking of sinister things that Susanne should say in contrast to the vocal melody so that came up *laughs*
The melody is quite Eastern?
Susanne: It is, it's a little bit strange, the things I am saying are a bit…
Claudia: …disturbed! But I think the melody sounds a bit French and filmic. I also really like the string steps, those figures at the end, I think that was Pete Murray with his beautiful keyboard playing. But it also has something exotic so that was me following the sound. I thought it would be nice to have a torch song on the album.
So are you dictating ideas and sketches to your phone now?
Claudia: All the time, a melody just pops into your head and you can immediately sing it. I've got about 1000 voice recordings on my phone, I just capture things.
Is it generally through vocal melodies that you write your musical ideas or do you have a mini-keyboard or software on a device?
Claudia: It's pretty much in my head… or I will hear some nice chords somewhere and I will use that for referencing.
From the bounce of the track, the vocals from the two of you and a magnificent sax solo from Terry Edwards, 'The Wolves Are Returning' with its narrative on the rise of new far right using Brothers Grimm imagery really gels with a big expansive sound, it's my favourite on the album…
Claudia: That's so great that you say that, I think it's so mad that there is such a long saxophone solo, it's really bold to do that in a song these days! When I heard it, I thought "I love that!", it's so unexpected.
I love the confusion the sax causes, its processed so it sounds like a guitar but towards the end of the solo, the intonation is such that you are thinking "that's not a guitar!" *laughs*
Claudia: That's what I like about Stephen's production, he just keeps messing and makes bold choices.
Susanne: It's such a mad sax solo, it really fits the song.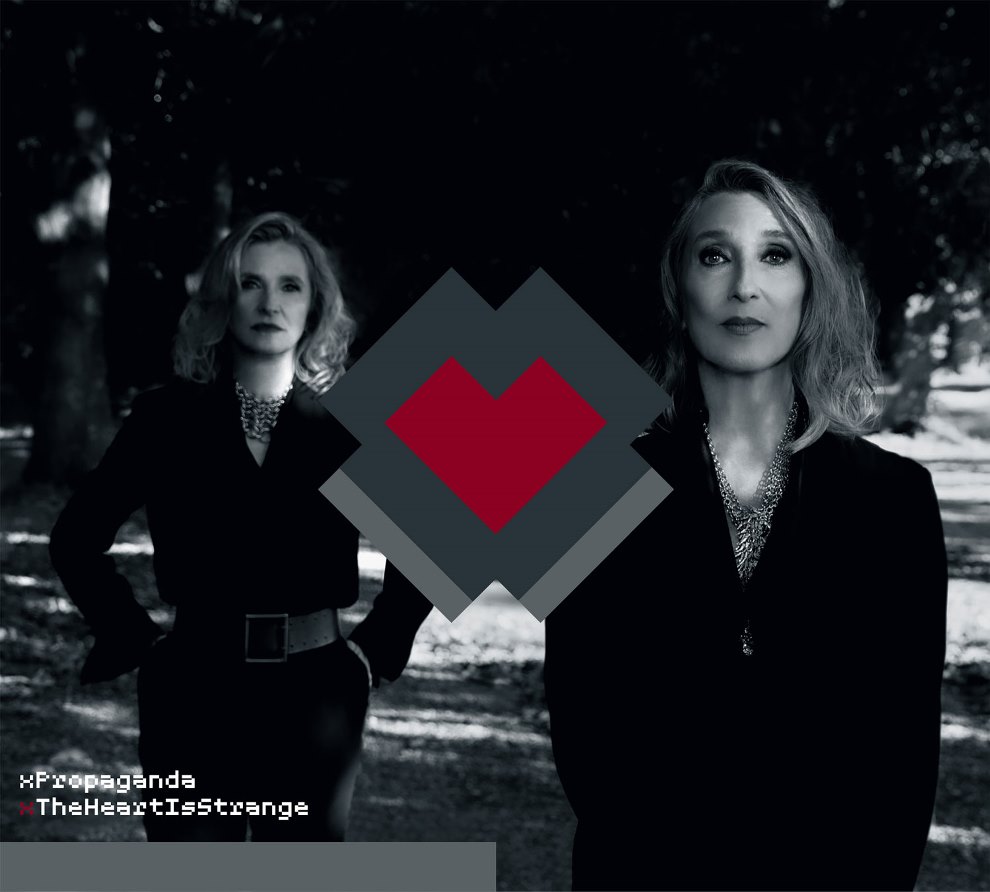 Susanne's son Alex also did some programming on The Wolves Are Returning'?
Susanne: Yes, he was working on some basslines and other things. We had talked about getting some different elements in there. One was Terry Edwards and the other was Alex; he lives in Berlin so that weird vibe came in. I was working with him on a few things so we looked at something we could integrate.
Claudia: Stephen is very open to ideas from others, he has this experimental mind which is great to have for creativity.
I've always felt the best producers are the ones who have progressive rock sensibilities, like Trevor Horn, Stephen Lipson, Mike Howlett, Zeus B Held and Conny Plank, they dare to apply this stuff to pop music…
Claudia: Yes, I like the mixing of genres so that you're not this or that, I don't have a purist mind, neither has Susanne or Stephen. A good song is a good song and you can style it in any way.
The closer 'Ribbons of Steel' could be considered the follow-up to 'Dream Within A Dream'?
Susanne: The 'Ribbons of Steel' are a reference to barbed wire, it was inspired by The Berlin Wall. When it was built in the 60s, it just divided the people and the streets. So it's about two people, one is in the East and one is in the West, who are unable to see each other again.
Claudia: There's this loss of contact, this feeling of not knowing and having a lot of unanswered questions, it's a story about the unknown, being plagued by uncertainty.
That feeling resonates with current world events…
Susanne: I was thinking that.
Was there the fascination for Berlin in Düsseldorf back in the day like there was for people in the UK and the US?
Claudia: In the 80s, definitely. The Berlin club scene in particular, it was completely mad… I remember going to clubs there and it was like WOW!
Susanne: Also, in Düsseldorf, places had to close at 1.00am but in Berlin, they were open all night. I remember being in an amazing discotheque and somebody opened the door and there was this really strange light coming in, not realising it was daylight! It was fascinating but it was quite dark, being in the Eastern Bloc…
Claudia: …but that is what made it so special.
Susanne: Of course, Berlin was full of students and people who didn't want to go in the army so they brought a whole different culture to the place.
How are rehearsals going to present 'The Heart Is Strange' live alongside songs from 'A Secret Wish', who is in the band?
Susanne: It's going well, it's quite a big thing to present the new songs and everything, it's huge. It's a lot of work and we have lots of great musicians, it will be exciting!
Claudia: It's going to be a nine piece band this time, Stephen is joining us in the band, along with Luís Jardim again. There's also David Rainger who played a lot of guitar on the new album plus James Watson and Philip Larsen on keyboards and the drummer Paul Jones. Rehearsals are going great. We're doing all the songs from 'The Heart Is Strange' and a big chunk of 'A Secret Wish'.
Will there be any more xPROPAGANDA shows after this May date in London?
Susanne: Yes, there are gigs in Germany in November which have just been announced.
---
ELECTRICITYCLUB.CO.UK gives its warmest thanks to Claudia Brücken and Susanne Freytag
Special thanks to Stuart Kirkham
'The Heart is Strange' is released by ZTT on 20th May 2022 as in CD, 2CD, vinyl LP, red vinyl LP, Bluray audio and digital formats
xPROPAGANDA perform at The Garage in London on 24th May 2022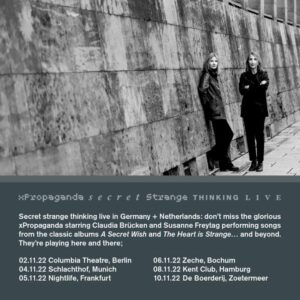 The 'Secret Strange Thinking' 2022 tour of Germany and The Netherlands includes:
Berlin Columbia Theater (2nd November), München Schlachthof (4th November), Frankfurt Nachtleben (5th November), Bochum Zeche (6th November), Hamburg Kent Club (8th November), Zoetermeer De Boerderij (10th November)
https://www.xpropaganda.co.uk/
https://www.facebook.com/xPropagandaOfficial
https://twitter.com/_xPropaganda
https://www.instagram.com/_xpropaganda/
---
Text and Interview by Chi Ming Lai
21st May 2022