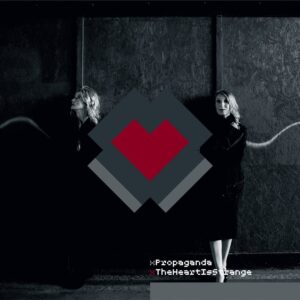 The legend of German quartet PROPAGANDA was etched into the psyche of the music cognoscenti with the 1985 release of 'A Secret Wish' on ZTT, a classic of the electronic era which heralded the advent of sampling and digital synthesis.
Among its fans were Martin Gore, John Taylor and Jim Kerr; over the years, 'A Secret Wish' has grown in stature with its influence felt on Michael Jackson's 'Bad', produced by Quincy Jones. Meanwhile, the foursome of Claudia Brücken, Susanne Freytag, Ralf Dörper and Michael Mertens dubbed "ABBA in hell" were a forerunner of acts such as LADYTRON.
But it all ended acrimoniously and despite attempts to reform PROPAGANDA over the last 30 years, they have all come to nought, although the quartet performed together at the Trevor Horn celebratory concert for The Prince's Trust in 2004, while Freytag and Dörper joined Brücken for her career retrospective show at The Scala in 2011.
More recently, Brücken and Freytag have teamed up with Stephen J Lipson, producer of 'A Secret Wish' and had introduced their new project as D:UEL – so it was a surprise when it was announced that the pair would be playing two London shows performing 'A Secret Wish' as xPROPAGANDA in 2018.

'The Heart Is Strange' is the first fruit of labour from xPROPAGANDA; with that classic widescreen Lipson sound, the impressive opener 'The Night' does not disappoint with a dancey cacophony of sequenced digitised bass, crashing beats and sweeping synthetic strings. Additional brass flourishes, orchestrated bursts and percolating percussive colours permeate over multi-minute intro before Claudia Brücken delivers a fabulous vocal.
The spacious metronomic template of 'Chasing Utopia' hypnotically builds with the addition of guitars from the pleasuredome and snappy live drums as Susanne Freytag provides a spoken harmony next to Brücken before an alluring German monologue and a flugelhorn solo. Although tapping with rimshot before packing a punch, 'Beauty Is The Truth' is more aggressive with Freytag sparring with Brücken as their contrasting styles provide the tension over the buzzy trance-laden air.
'Only Human' is less pacey, crossing six string strums with electronics, acting almost as a mid-album breather. However, 'Don't (You Mess with Me)' provides a synthetic rock edge and a piano motif that could have come straight from the Gary Numan playbook but the end result actually comes over like ABBA although not quite in hell but more a jungle full of tigers. With an exotic swirl 'No Ordinary Girl' heads towards the Mystical East and is bolstered by some heavy guitar and choppy strings plus a reference to the past with a knowing "Don't be a fool!"
A warning on the rise of the extreme right wing using Brothers Grimm imagery, 'The Wolves Are Returning' is back to classic Lipson. It's a bouncy driving number with another superb vocal from Brücken, an enticing middle eight phrase from Freytag and a magnificent sax solo from Terry Edwards, processed to the point of sounding like a guitar. Over 9 minutes, the cinematic closer 'Ribbons of Steel' provides a fitting atmospheric backdrop to showcase Susanne Freytag's poetry. With references to The Cold War that are equally applicable to today's world events, it's a starker 21st Century follow-up to 'Dream Within A Dream' declaring "I never heard The Division Bell… I'm trapped on the wrong side, or is it the right side".
As Brücken and Freytag summarised: "We always thought it was a shame that an album as distinctive and acclaimed as 'A Secret Wish' seemed destined to be a one-off. It certainly meant a lot to us, and it never seemed right that the story stopped there. Working again with Stephen Lipson and means that we can turn our dreams about what the ZTT follow up to 'A Secret Wish' would sound like into a reality. The reality is 'The Heart is Strange'".

While the distinct pop approach of 'The Heart Is Strange' perhaps is missing the gothic industrial spike of Ralf Dörper and the classically schooled eccentricity of Michael Mertens that added some of the character to 'A Secret Wish', where it does not disappoint is vocally and sonically; fans of PROPAGANDA and ZTT will relish and savour this thoughtfully crafted work.
Surpassing both the Brücken-less PROPAGANDA long player '1234' and ACT's 'Laughter, Tears & Rage', 'The Heart Is Strange' can be considered a worthy follow-up to 'A Secret Wish'.
---
'The Heart is Strange' is released by ZTT on 20th May 2022 as in CD, 2CD, vinyl LP, red vinyl LP, Bluray audio and digital formats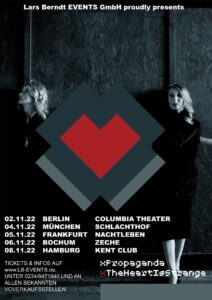 xPROPAGANDA perform at The Garage in London on 24th May 2022
The 'Secretstrange' 2022 tour of Germany includes:
Berlin Columbia Theater (2nd November), München Schlachthof (4th November), Frankfurt Nachtleben (5th November), Bochum Zeche (6th November), Hamburg Kent Club (8th November)
https://www.xpropaganda.co.uk/
https://www.facebook.com/xPropagandaOfficial
https://twitter.com/_xPropaganda
https://www.instagram.com/_xpropaganda/
---
Text by Chi Ming Lai
Photos by Jimmy King
15th May 2022