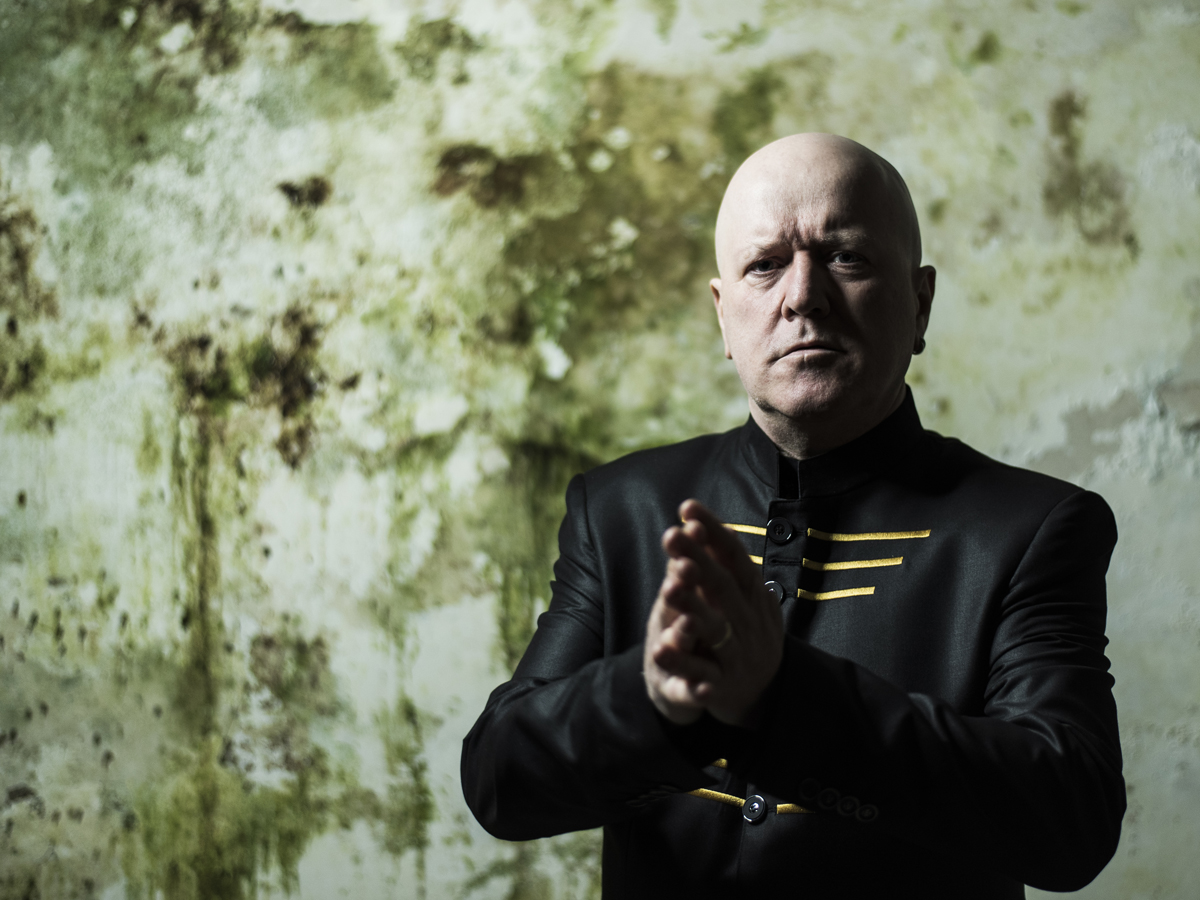 With every new album comes an adventure and for Dublin-based CIRCUIT3, his next one is in outer space.
The rocket-propelled vehicle of Peter Fitzpatrick, the Irishman delighted electronic music fans with a series of intimate live streamed shows from his home studio of cover versions and original works during lockdown. The performances were also an opportunity to road test new material and those songs now formally appear on the new CIRCUIT3 opus 'Technology For The Youth'.
An ambitious work that presents a chronology of the space race and pirate radio in relation to the socio-political environment of today, the album has been launched with a single 'Future Radio' co-produced by Sean Barron, best known for his Wolfgang Flür collaboration 'The Activity Of Sound' as iEUROPEAN.
Heavily influenced by the classic era of synth before digital as well as its modern analogue variant, as on KRAFTWERK's 'Radio-Activity' and OMD's 'Dazzle Ships', 'Technology For The Youth' features conceptual instrumentals alongside more precise pop structures. That progression of movement toward the stars continues on the new single 'Overview Effect' featuring the vocals of Italian singer Alessia Turcato. It was inspired by the life imitating art scenario of William Shatner who played James T Kirk on 'Star Trek' to became oldest person in space at 90 onboard Blue Origin's New Shepard sub-orbital space rocket.
With that in mind, ELECTRICITYCLUB.CO.UK challenged CIRCUIT3 to a game of Vintage Synth Trumps while chatting about his latest musical journey into the galactic frontier…
Alright, the first card is a Korg Mono/Poly. Are you an owner of a Mono/Poly?
No. I'm curious about the Mono/Poly because it's really a paraphonic synth rather than polyphonic, but that trick where you can cycle through each of the VCOs with the arpeggiator on is interesting. Each VCO can be set to a different waveform. My friend Brian O'Malley. better known to you as POLYDROID. has one and likes it. So yes I'm curious but not enough to get one and I'm unsure about the quality of the Behringer clone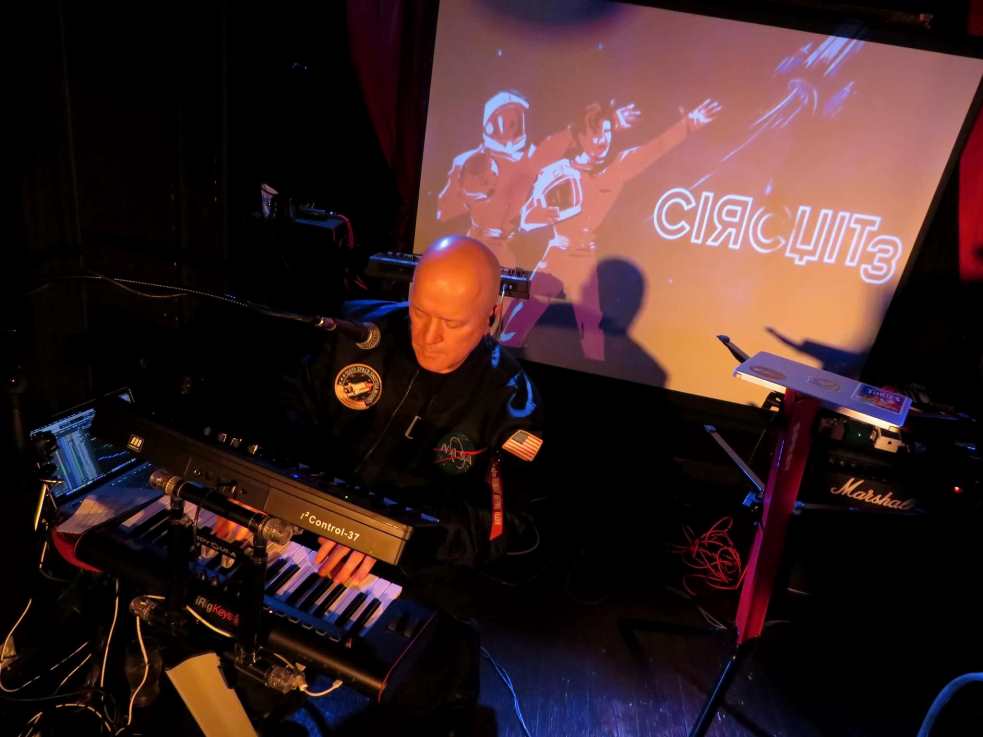 Are you a fan of Korg gear anyway?
Yeah, I think they're interesting but I just haven't had the same relationship with them like I have with Roland and Sequential. I tried an MS10 in 1979 and it was absolutely bewildering to me. I couldn't get a sound out of it. It was only the second synth I touched – the first was that Tandy RadioShack synth that Moog made for them. I have an MS20 on loan (from POLYDROID) which has these interesting harmonics coming off the filter and not the raw sound that I was expecting. I associate the MS20 with a more synthpunk filter. Maybe I need lessons.
I have a Poly 61M which is the factory MIDI version of the Poly 61 but have no room for it so that's in storage until someone offers me a trade for it. It was released about the time of the Roland Junos coming out and I just found it difficult to get wild sounds out of it. I think that the filtering on it is just too polite and it needs a lot of treatment when you're recording it, it didn't really have any character and I was hoping for more. No wait… I had a Poly 800… yeah it's coming back to me now! I had a Poly 800 which was rubbish. Just not good at all. Sounds like a plastic bag with bees in it.
I remember KID KASIO aka Nathan Cooper told me he found a Poly 800 in a skip, which he retrieved and put in his Fiction Studios…
He really should have left it there. I remember that at the time, I had a decision to make between the Poly 800 and the Juno 106.
The Juno 106 had a much larger 61 note key bed but the Poly 800 had a little sequencer in and that mattered at the time because I was thinking value for money. They were polysynths, of course I could only buy one of them. I'm so glad I went with the 106 in the end.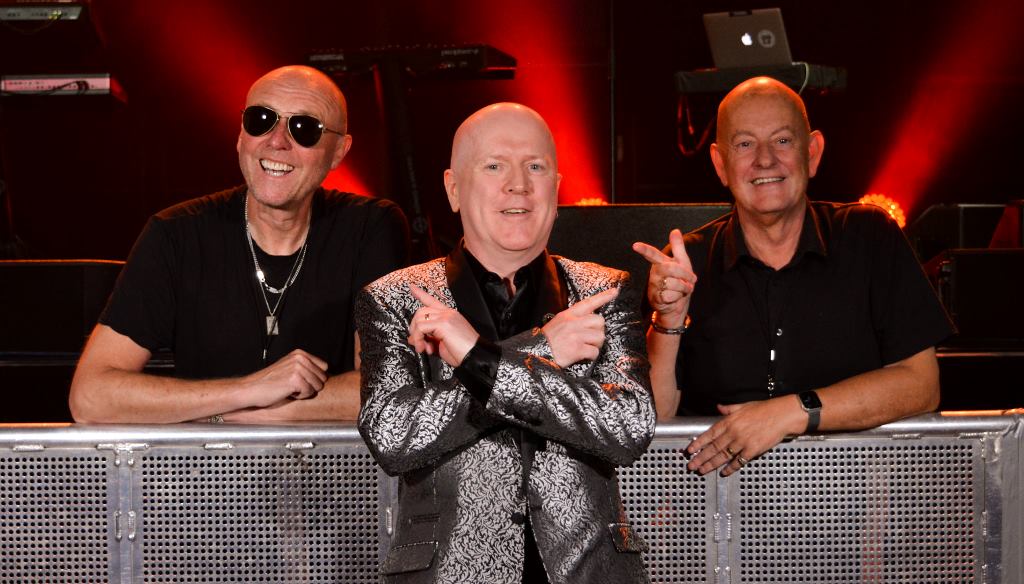 OK, here's the next card and it is the Korg 700s which of course, your friend Martyn Ware had as his first synth and Daniel Miller…
There was a recent reissue of that, you turn it on and it's instant Daniel Ware or Martyn Miller whichever way you want to describe it! It's impossible not to sound like "THE HUMAN NORMAL"! *laughs*
I am tempted by it, but I really have to think carefully because there's just it's a space consideration now. And it has those funny buttons on it. I don't know if I could get used to that. They look weird.
What you mean underneath the keyboard?
Yeah, that's just to me having played lots of gigs that screams "they're going to get broken!". They'd get in the way where they are. Just like the old ARPs where the keys would protrude over the edge of the chassis and you're thinking, no, something's going to smack against that. So yeah, I have to try one. I've seen lots of really cool demos.
It looks really interesting. And I know Martyn got a copy of the reissue and he loves it. Martyn was using it at the 'Reproduction / Travelogue' shows, so look, if it's still good enough for him, then it's good enough for the rest of us.
Daniel Miller showed me his Korg 700s recently at the Robert Rental & Thomas Leer exhibition and he told me it still works… OK, the next card is a Roland Jupiter 6. But you have a Jupiter 4?
I do, I can't afford a Jupiter 8 and I missed a Jupiter 6 two years ago. One came up for sale locally at a really low price and I missed it by 30 seconds. The seller said, "oh, there's a small fault with it, but I can't be bothered fixing it". I'm like "you idiot, you absolute idiot!" and the person who bought it then sold it on for a nice profit.
It's a good pad machine. I think there's a lot of confusion about the concept of the Jupiter name on Roland synths and what it actually means. They are only related in the fact that the name Jupiter was used. In Roland's world, Jupiter meant their then current flagship synth. It's completely different beast to the Jupiter 4 and 8.
There is a there's a module version of it, which apparently isn't exactly like the keyboard version. The filter is different I think. I don't think I would pay the current asking price for a Jupiter 6 because I don't think it has enough character not in the same way that the 4 has, or just the majesty of the 8. I've got the likes of a Prophet 10, OB6 and a Juno 106 which covers a lot of that Jupiter 6 space in my opinion. I think it's an interesting synth. I would have paid the asking price though… €1200 was a bit of a bargain.
So your Jupiter 4, how long have you had that now?
Hmm… it feels it feels like Martyn had it longer than I did because of the pandemic.
I think I got about 4 years ago, drove to the West of Ireland to a small little place called Athenry that people will know from a very famous folk song, 'The Fields Of Athenry'. And quite appropriately, I drove in my electric car to pick up a Jupiter 4. How more Numan can you get?
When we arrived, the seller had cold feet at the last minute. And he was thinking of keeping it. I'm like "No ! Please don't do this to me. I really want this instrument". Later I tracked it down online. It had history. It had appeared on the Matrixsynth site.
When it had made its way from Japan to the UK, it said in an eBay listing that had a little bit of work done to it. It's not entirely clear what had been done to it, because when I had it checked out here by our local synth tech, everything was original, nothing inside had been replaced and no servicing was required except replacing the memory back-up battery.
But it came with the original case, which is cool. It came with the music stand. And it came with the metal legs. Picture yourself around '78-'79 and what Roland were trying to do with these instruments, they were targeting jobbing musicians playing cabaret clubs. So it would be used with say a CR78 which has a similar sort of fake wood finish on it, it would fit just nicely to one the side of the top panel of the Jupiter 4.
You could lock the arpeggiator synced to a CR78 so you'll get both going together. Of course you could see it being used for the occasional solo, but the selling point is as a programmable polysynth with patch memory, because there's an awful lot of monosynth type sounds possible with this. I was the first thing Martyn tried when he powered on my Jupiter: no chords!
Anyway what seems to have happened is that a bunch of people realised "oh we can do other things with these", so that seemed to be that the origin of it being used in more interesting ways just like what happened with the Roland TB303 and TR808. Of course first thing I did when I got at home was open it up. I had to have a look inside. Had to date it. Had to see what was going on. There were hairs inside! This was very clearly a Roland technician's hair, sitting still on the board! You know, half a century later. It's brilliant. And I fell in love with it.
I have done a very simple MIDI enablement on it where I haven't drilled into the chassis, there's no way I'm drilling holes in this thing and I've managed to do it in such a way that the MIDI interface doesn't interrupt anything and it just arpeggios for hours. It's just gorgeous.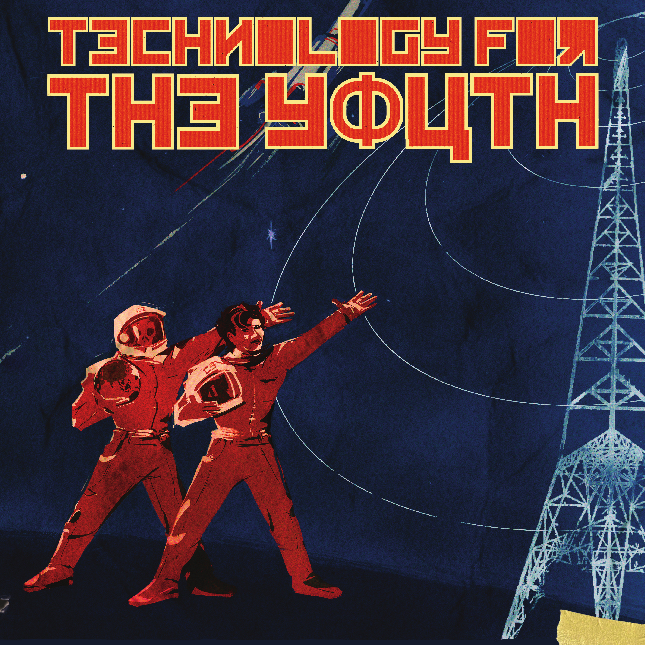 On your new album 'Technology For The Youth', there's a track called 'Jupiter City'?
The Jupiter features on a few tracks and is the only synth on 'Jupiter City'. So Martyn Ware borrowed the Jupiter 4… for those who don't know even though, I keep bragging about this cause it's the coolest thing that could possibly have happened.
It was following an interview he did with you where you asked him about using the old synths for the 'Travelogue' and 'Reproduction' shows that they were planning pre-pandemic.
The question you put to Martyn was, well, aren't you going to use the all since the original synths? And he answered something like "If we can find them and the challenge being they're pretty expensive, we might have to hire something". Martyn doesn't have the original, even the System 100 he has was a gift from Vince Clarke in the 90s. I emailed him and said "I've just read the interview with Chi, do you want to borrow my Jupiter 4?" And his first response was, well, absolutely. Thank you. Are you sure? And I said, yeah, I want to see these shows happen too. So I brought it over to London and we had lunch.
Then the bloody pandemic hit and it was sitting in his studio for a couple of years until they could reschedule the shows. Not that I minded because he's been very kind with mentioning my music in interviews. He programmed the preset sounds for the shows and I heard it being used in some of the little instrumental pieces he was doing in his Electronically Yours podcast. The sound of it is instantly recognisable as soon as you hear it, you know when he's using a System 100, and you know when he's using a Jupiter 4.
At soundcheck for the Roundhouse gig when I was chatting with him and Glenn, they said one of the voices went out of tune. I reckon it was just the journey from Sheffield to London after the previous gig and you know the Roundhouse being a bit colder. Typical analogue synths right? But once I got it home, it was simply just a calibration that was needed.
Of course, he used it live and he saved a bunch of presets for the shows. Some of them are obvious. You'll know, like 'Dreams Of Leaving'. I said to them jokingly in the after show at the Roundhouse "I'm going to use those presets and do a track and call it 'Jupiter City'". So the sounds are Martyn's with a few effects and my playing. All coming from the Jupiter 4.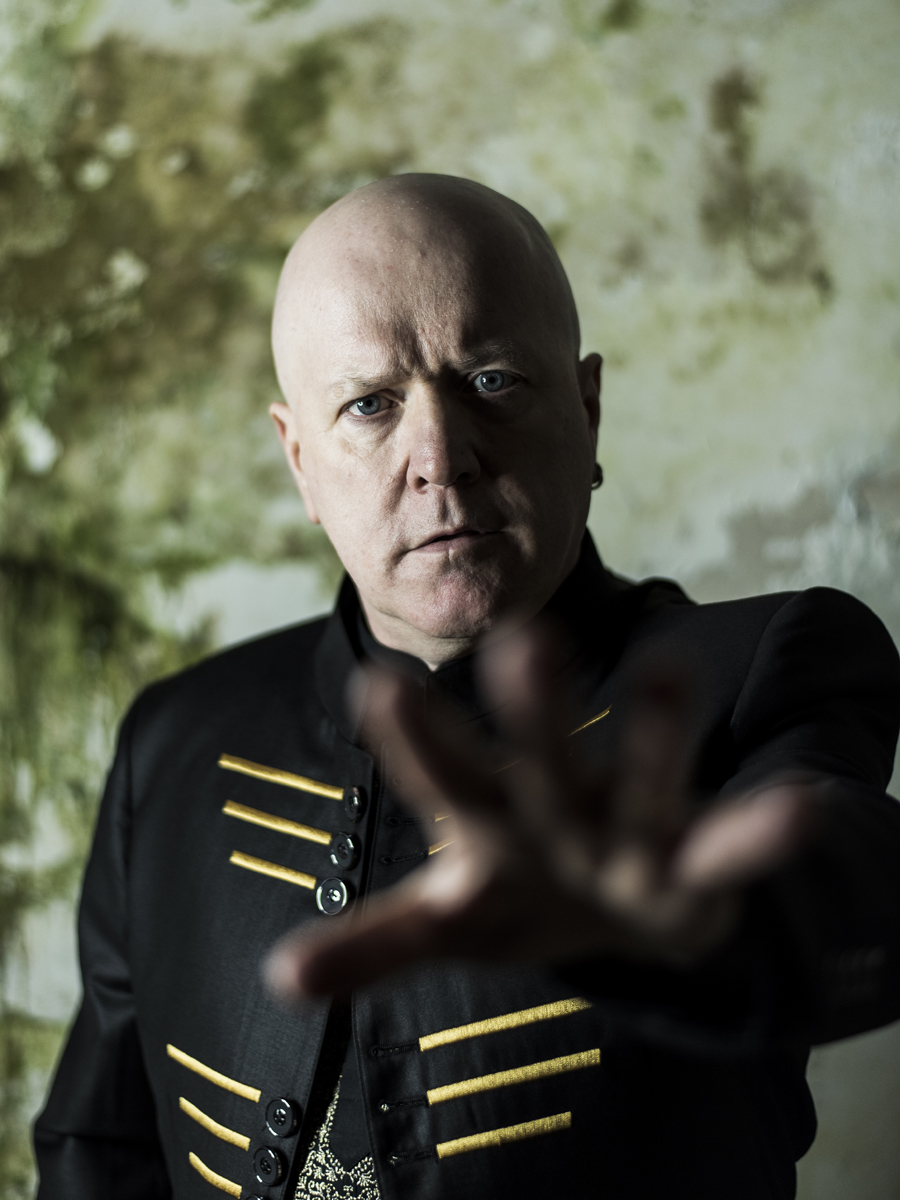 The new CIRCUIT3 album is quite different from the previous two and it's very ambitious in a conceptual kind of way. And I was just wondering why you headed that down this road? Were you influenced by similarly conceptual albums like 'Radio-Activity' by KRAFTWERK or 'Dazzle Ships' by OMD?
No, actually it was Hannah Peel, somebody I just admire so much. I've had a couple of chats with her and met her after gigs. I really admire Hannah Peel as an artist, and it was basically one of her albums 'Mary Casio: Journey To Cassiopeia' that got me thinking. I thought wow, that's really interesting. And then you know the story where she referenced her grandmother's dementia, and so on. All of the references in the album under this overarching concept really struck me.
Around about the time when I was just writing these songs I wasn't sure what I was going to do. I knew that on my next album, I wanted to stretch myself a little bit and thought to myself "I could try to do what Hannah has done" because I've never done anything like that before. All the Apollo anniversaries were happening and I had been fascinated as a kid about space travel. I started using working titles of different satellites and things like that just for a name on a recording session and the next thing I know, I realised oh wow, this is actually beginning to feel space-like and a concept was forming simply because of the subject matter
I was listening to TANGERINE DREAM type stuff which some people would call space rock, a lazy term, but all of that was just really influencing me at the time. I hadn't thought about the OMD or KRAFTWERK thing, but yeah, I'll happily sit alongside those.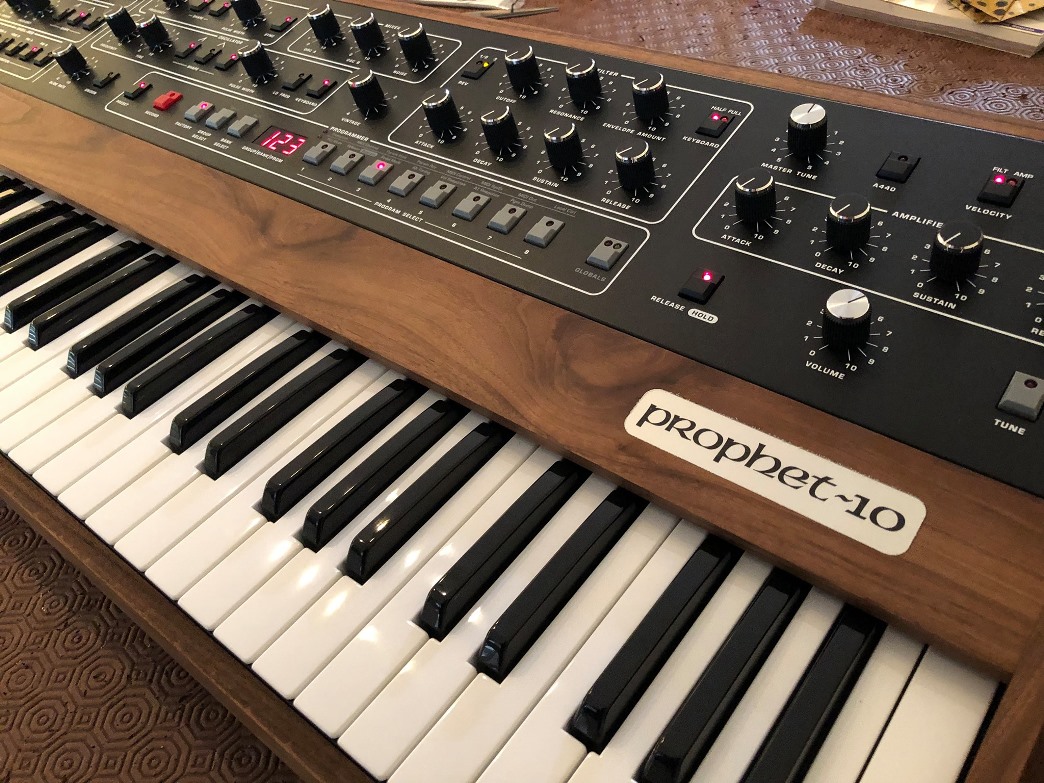 There is one particular track 'Valentina Fly' about Valentina Tereshkova track that sort of evokes OMD?
Lots of people have said that. It's hard to deny your influences; they come out, don't they? And so I took that as a huge compliment when during the live stream shows I was doing during the pandemic a couple of people said "that's real OMD". Like I said, I didn't hear it myself at first. I had to step back a bit to listen and now I can see what they're saying.
It's because of the string machine thing I suppose. I tried to strip it down, strip all of the arrangements on the album down as much as possible. I thought I was being clever with the song title. I originally called the song 'Maiden Russia' as in "maiden… made in" and then I realised, no, you're going to have to explain that ridiculous wordplay to everybody. So I just retitled it 'Valentina Fly'. Yes it's about Valentina Tereshkova, who was the first woman in space. Rather unfortunate about her politics these days, but I'll have to separate that from what she did.
When I wrote that song, it got me thinking about, well, what are you going to do with this collection of songs and what direction are you going with them? You can't just write about the first man on the moon. Everybody's done that. So I thought about these untold or lesser told stories. Everything from, Valentina Tereshkova, who some people will know about, but she's not a celebrated as Yuri Gagarin and in some respects, what she achieved was much greater.
Even today, for a woman to do something that is taken for granted for a man, the bullsh*t they have to go through to get there is completely and conveniently forgotten, the barriers that are put in their way. And of course, the story of the first black African American in space… Ed Dwight who was supposed to be first but was screwed over by the government and NASA. While reading about this, I thought, "that's what I'll write about".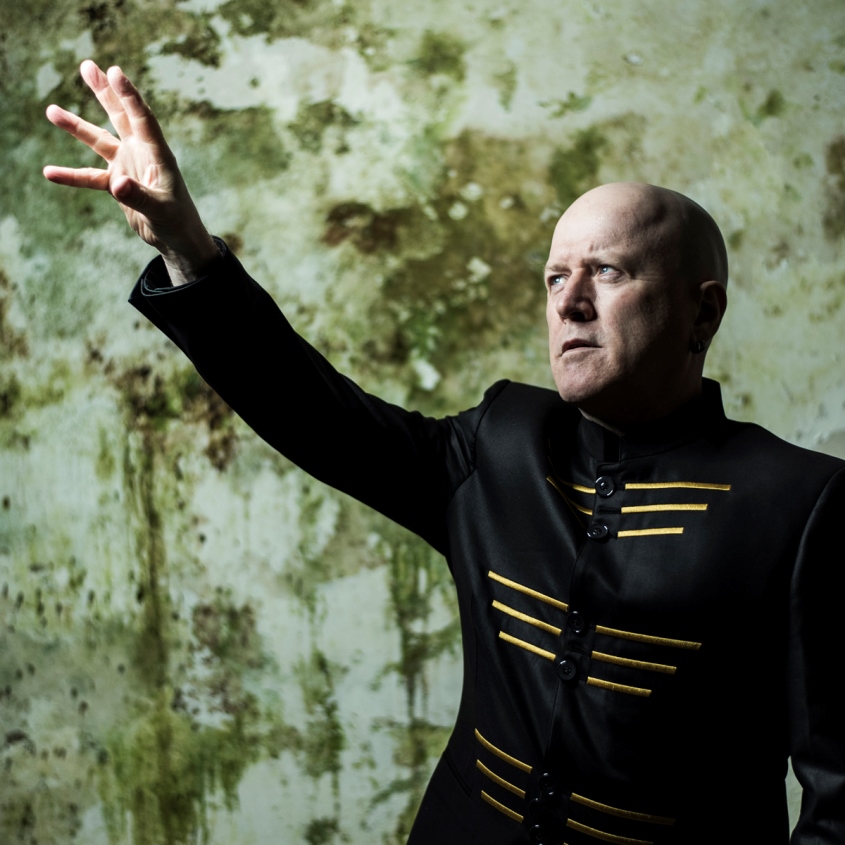 That joint US Soviet Apollo Soyuz mission in 1975 which was particularly interesting because the astronauts and cosmonauts learnt to speak each other's language for the mission…
Yeah, you look back and see when that happened and you think, "wow" because there was still that Cold War politic going on. But remember the scientists were working on this for a long time through the 1960s until that mission in 1975. All of the scientists who are working on it, all of the engineers are working on it while the politicians flipped and flopped on whatever arguments they were having. It showed so much promise for us all.
As a child looking at it, I was fascinated by the idea of a Soviet and American joint mission, I thought "Oh cool, they're finally realising it's so much better when you when you collaborate together and you've got joint ambition rather than it being a competition". They just stopped which was hugely puzzling and as such a shame. You think about what we could be doing…
The Ed Dwight story covered on 'Spacewalking' is interesting because I only actually first heard of him during the 60th anniversary Apollo 11 celebrations. I was quite keen on following the space race when I was younger, but he's literally been wiped from the history books. It's was enlightening to see the context of how he was marginalised within NASA. And then other people that saw him as just symbolism and not a genuine candidate. It's the kind of racist nonsense that we're still having to deal with, in light of Black Lives Matter and everything else around that…
Yeah, I wrote the song around about the start of the Black Lives Matter movement becoming front and centre in our news. It was in our daily experience and news feed but it didn't just happen then of course. This situation has been going on for forever and it just was brought to wider attention. During that time, I was reading a little bit more around Ed Dwight and I saw a clip of an interview that he did and it was incredibly moving because you realised the guy got screwed over. It was for such nonsense reasons, and it's just heart-breaking. And then you think, well, hang on, you know, you're seeing this and then you ask yourself "what other hidden history do you not know about?"
And that's where representation matters, because those stories should be uncovered. I started seeing more and more around Black African Americans scientists who became involved in the shuttle missions etc, and the Black African American women who went to space and then the good things they did with their lives after that in the foundations they started and so on. I thought, well, these are much more interesting stories. Not to put down anything that Neil Armstrong or Buzz Aldrin or any of the crews did. It doesn't take away from what they did when you shine a light on what other people did.
I think it would be helpful for people like me, the middle age white guys, to understand what others had to overcome to do what they did, because it was not a level playing field and still isn't a level playing field.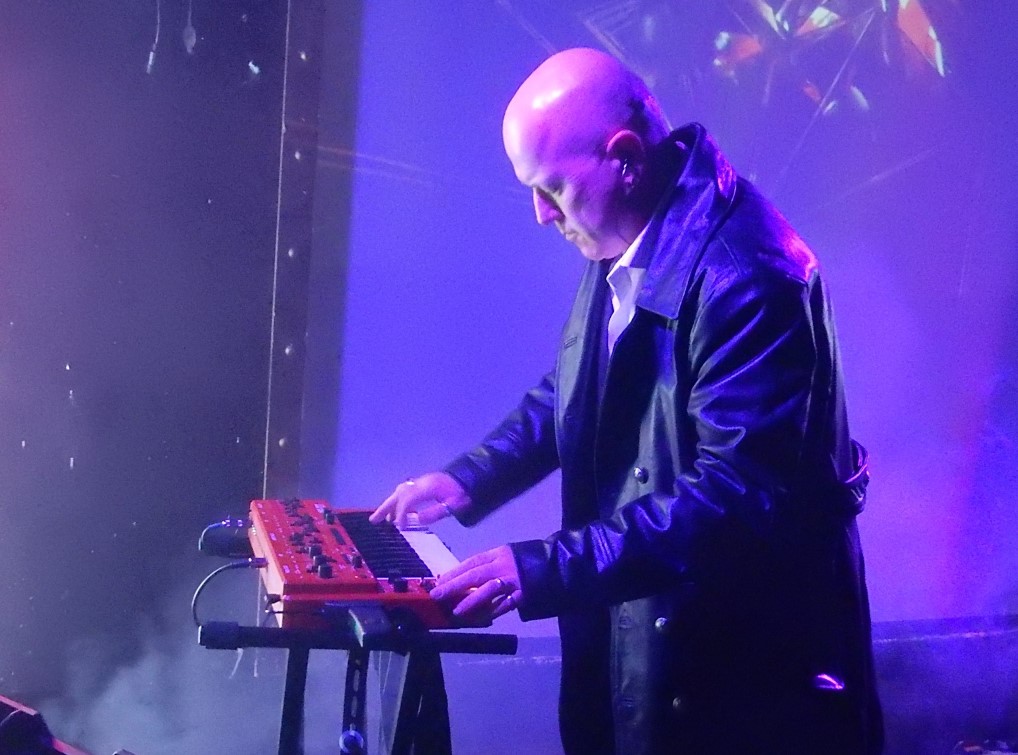 OK, I'm going to pull out another card, a Roland SH 101…
Ooh, I have one. I have an SH101 right over there behind me and it's glorious in grey. I was so pleased when I got it because of a buddy of mine had one back in the 80s and we used it with a Juno 106, it has a little sequencer in it and I couldn't figure out "why can't I sequence the Juno 106?"… I was such an idiot because obviously the SH101 had a CV Gate and no MIDI.
Behringer have done a clone of it and Roland have done their own boutique version of it. I've tried both, sold both! What they are missing? Well, the Roland comes close, the Behringer is almost, but not quite. What really annoyed me about both of them was the interface. And there is a huge difference in the physical interface. On the SH101, the slider travel distance from top to bottom is much larger. It gives you a much more detailed level of control, especially when you do stuff with the filter and a millimetre can make all the difference and that was the big learning I got when I got my hands on the SH101 and realised "ah, OK I was right size does matter".
This is why the other two, the Behringer clone and the Roland boutique didn't satisfy me either because it didn't quite sound right in case of the Behringer while the Roland boutique just felt too restricted those tiny little sliders. I sequence the 101 with CV and gate, I have a little MIDI interface for it. But to be honest, CV and gate is just so much more easy and straightforward to use. I've found it an absolute beast for just doing simple basslines and it's great for that. And it's also fun where if you're running something like an ostinato step sequence going over and over, you can do little things to make it interesting for you like applying external modulation to the filter.
There's a little modification I did to it where suddenly you just pull out the sub-oscillator or something and you can make the sound interesting without doing anything too radical. And it's fun also for live work with an echo effect unit. I've used it on a couple of live stream shows while patching the sounds in real time and flying, it's on the by the seat of my pants. Look Ma, no presets!!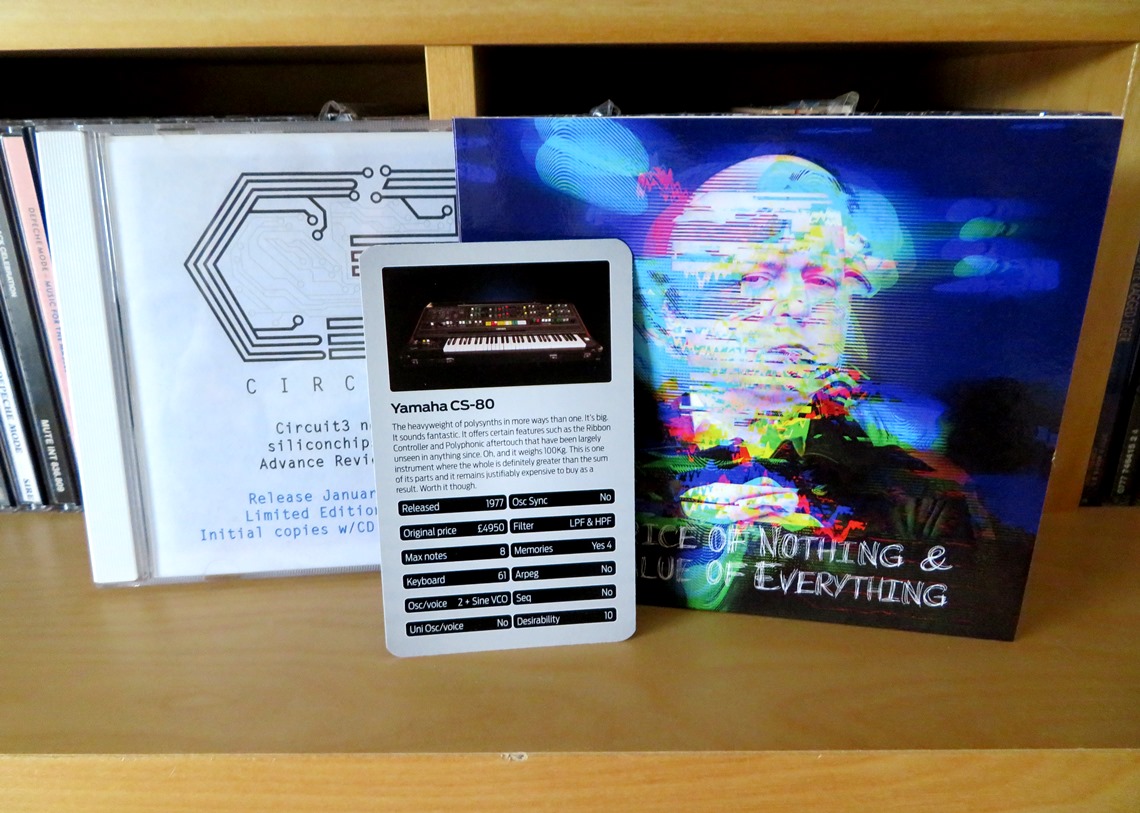 OK, here's another card and it's a Yamaha CS-80, I don't suppose you have had one of those?
No, I don't nor anyone who I know. Someone in Dublin was several, apparently. It's a mythical synth, isn't it? It really is and the obvious point of reference is Vangelis. I don't know enough about it because I've never ever touched one, much less seen one in the flesh. Obviously I've got some of the software versions. If I found one in a skip and I pulled it out, I would probably put my back out.
I think you would need your family to help you get that one out! *laughs*
Behringer said they're going to try and do a reissue of it. And then of course, there's the Deckard's Dream clone which is a modern day interpretation of it which sounds quite glorious, but it's pricey enough at $4000-5000. I'd want to be certain I really want it because you can achieve that 'Blade Runner' stuff with other synths. You'll get pretty close.
You've launched this album with a single called 'Future Radio'. So is there a future for radio?
It depends who's running it, I think…
Let's rephrase the question. You're an independent artist who is selling enough to be able to fund another album and buy more synths, which is ultimately an achievement…
Yeah, that would be fair, CIRCUIT3 is self-funding…
So does radio play in a wider sense, matter for an artist like you anymore? Or is there other ways of selling your product now?
Yeah, I think for I think for any artist it my position or even an artist who maybe is having a little bit more success than me, by success, I mean just reaching a bigger audience, you have to use multiple tools. There's no one answer. So that's where radio still absolutely has a part to play. And when I talk about radio, I mean actual traditional radio as in FM radio as much as online because the internet is just another means of transmission.
I have found that where I've been able to get radio play, it has definitely benefited me because the better shows focus on the music they're playing and it's not about the presenter, it's not about the station, it's about the music they're playing and they properly announce tracks to let people know this is who the artist is. They might even read out a link that will enable the listeners to go find out more info. That brings more fans into the relationship.
I found have stuff through traditional radio like BBC 6 Music that was being released by an Italo disco label. It played in the middle of the morning and I was like, "oh you don't expect to hear this on 6 Music in the middle of the day" and I went straight to Bandcamp and snagged a couple of LPs.
Radio definitely has a part to play. But I think if an artist thinks that by just guaranteeing radio play on an online station that it's going to somehow help them, I've got news for them, IT'S NOT! You really have to do ALL the PR and networking stuff, you have to play live whether that's live stream or in physical venues or both. You also have to do things like go online, make little videos. You've got to create a much broader presence than you probably realise and that's some of the stuff I've learned over the last few years.
So specifically the 'Future Radio' song, what's it about?
The song… it's a boy's adventure tale.
Ah, like A-HA?
Yeah, it's a little bit like that. It's about me aged 9 or 10 years and my fascination with my space travel, I mean 'Space 1999' and science-fiction "this is going to be my future". Plus, I was obsessed with pirate radio. If you think about the late 70s, all that great stuff that was in broadcast that you would only hear on pirate radio.
The first time I heard say, NEW MUSIK, it was a pirate radio station. The first time I heard any of the Giorgio Moroder material with Donna Summer was on a pirate radio station. You just didn't hear it on the boring old grown up radio. And so that was key for me and stations kept popping up everywhere in Dublin. I fascinated by all of that.
So all of those memories went into a chat I was having with Brian McCloskey. On every album, Brian and I have co-written a song. Brian does really clever lyrics. So he sent them over and it was irresistible. I thought "oh, this is going to be a BUGGLES song". And then, of course, I made the mistake of trying to record it like THE BUGGLES. And you can't! I'm not Geoff Downes.
And you've not got a Yamaha CS80! *laughs*
No, no! But it was a starting point. I tell you one thing that did assist with what I was trying to do: create as many Trevor Horn whizzbang moments as possible. He talks about the ear candy that you have to have on a single. So there's little bits and pieces popping in and out. I sent the track over to Sean Barron who people will know as iEUROPEAN who's done stuff with Wolfgang Flür and was in EMPIRE STATE HUMAN. He's a really clever producer and I explained to him what I'm trying to do with the track. So he did a bit of production and added a lot of these random little sounds. One off sounds that were a little bit of ear candy.
'Future Radio' is the most upbeat thing on the album and I put it out first because when people hear the album, they'll see I've gone in a bit of a different direction. I didn't want to lead with a radically different track from everything I've ever done. So this track is like a bridge between the last couple of albums and this one. It's a fun song and I had great fun making the video for it going for a retro Space TV vibe in it.
You mentioned you heard NEW MUSIK on pirate radio, and their leader Tony Mansfield is a bit of an underrated guy, despite producing A-HA, NAKED EYES and obviously NEW MUSIK themselves. Isn't it quite interesting that his aesthetic has ended up in the mainstream again under the guise of THE WEEKND?
I've heard some good stuff by THE WEEKND and I think it's great. I'm not gonna complain if anybody is bringing that gorgeous sound to the mainstream. I do have to resist the temptation to not to be a grumpy old man and say "look kids you didn't invent this". It's fine. I have reconciled myself with the fact that many people think they've discovered something that's brand new and that's part of the joy of being young and getting into music. I just hope that they'll go back and rediscover the origins of all of this.
Imagine, hearing NEW MUSIK for the first time? I'm envious of anybody who gets to do that for the first time. I would love to see what they what they else they find when they discover who Tony Mansfield and all the stuff he's done without the prejudice of the music press snobbery at the time. Just look at the stuff he did for CAPTAIN SENSIBLE like 'Glad It's All Over', what a track. You listen to and just think, wow. I'm really hoping people rediscover this stuff, that would make me happy.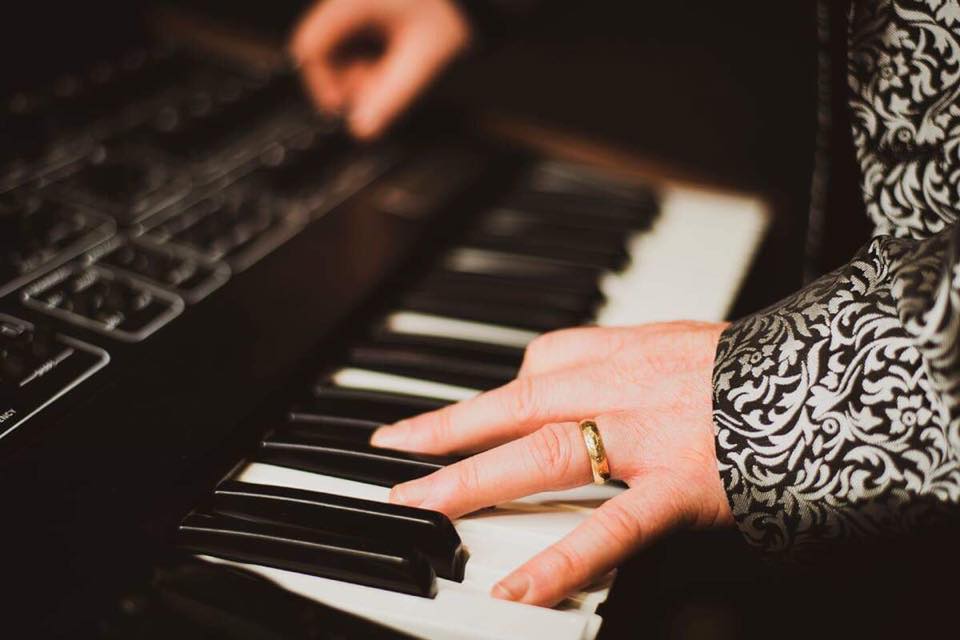 OK, another card Sir. And it is a Sequential Pro-One…
Oh I have a Pro-one and I'm so happy with it. It is of course the Vince Clarke sound. The Pro-One is hard to make a bad sound on. I defy anybody to get a Pro-One and just make it sound, you know, like a dying toothbrush. Not possible.
It's great for bass…
It's also great for atmospheric stuff, so there is one track that's actually the digital B side to the 'Future Radio' single called 'Kosmos 954'. It's named after a satellite and that track features the Pro-One. I was doing the Vince Clarke trick when each note plays on the sequence, he will change the filter on various notes by using 2 sequences running in parallel so the second sequence is opening and closing the filter to different degrees changing the sound.
So I did it on a very slow track and I was doing some pretty extreme things with the filter where it was almost feeding back then pushing the Pro-One through a Strymon Big Sky reverb, which of course, then brings out all those gorgeous harmonics. It meant that on the track, I really only needed two synths because you're getting such a rich soundscape. People overlook the Pro-One for ambient. The envelopes are so snappy and fast for bass. It's the perfect instrument.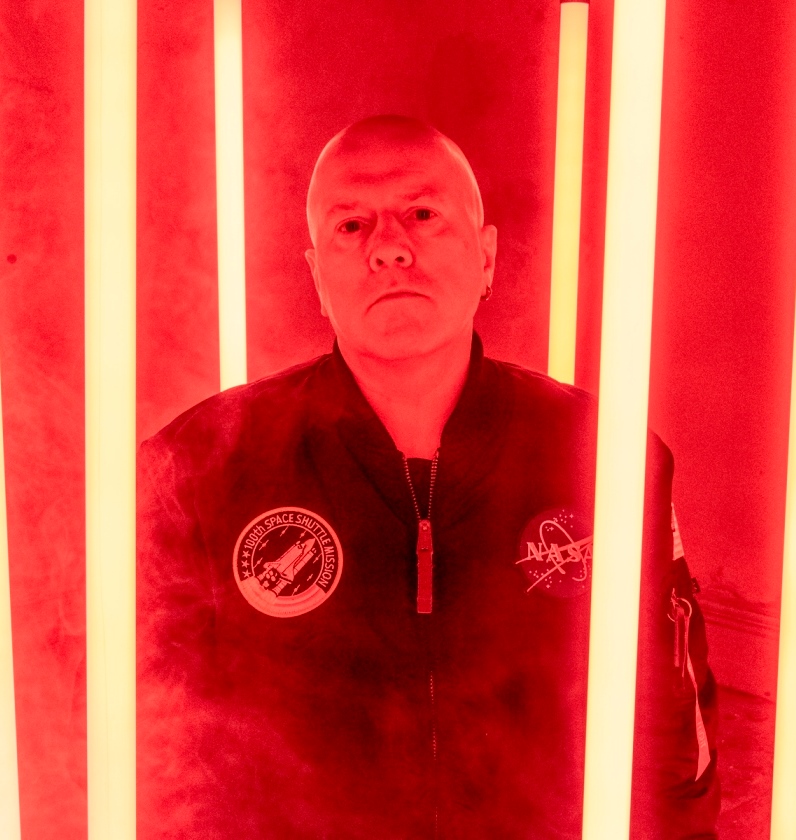 This album is 17 tracks of instrumentals and some pop songs, but also more obscure art pop. What are your hopes and fears for 'Technology For The Youth'?
The biggest fear is that nobody will listen to it. My biggest hope is that when people have listened to it and it gets them to check out some of these stories, then I think I've really achieved something. I really hope though that people look into some of the back stories, whether it's about the lost cosmonauts, whether it's about Ed Dwight, whether it's about Valentina Tereshkova, whether it's about the Apollo Soyuz joint mission. I'm hoping people go and read about these things and enjoy it.
Go look up some of the names on the titles of the instrumental tracks, whether its animals that went to space or satellites that crashed into Canada or whatever – You will start finding out about all of the hidden history. Yeah, I'd love to sell lots of copies of it, I really hope it breaks even but I mostly hope lots of people hear it.
Talking about the animals that went into space, Laika the space dog was the first animal in space. I first heard about her at school but when you got older, you realise she didn't come back, they didn't tell us that at school did they?
No, they didn't! They didn't tell us a lot of things about what happened to the animals. In some places I know the French have a statue to one of their dogs. See, this is what happens, you start reading these stories and there's a little bit of sadness, but now they have their own statue somewhere which is cool.
We were really cruel to these creatures and there's always an argument to be made with any form of scientific research, do you think an animal is expendable? That's an argument for another day. But it was a different time and we probably would not take that approach now.
OK, the final card is an EMS VCS3, introduced in 1969, the same year as Apollo 11…
Looking at it, without ever having had the opportunity to try one, you think that's impenetrable. I'm curious to see if somebody's going to clone or reissue it, isn't the story of EMS really interesting as well?
Yeah, there's several documentaries on EMS and they are absolutely fascinating. My first memory of seeing the VCS3 for the first time was Brian Eno, they showed a clip on a on a BBC2 synth special. I'd imagined him pulling this giant lever, but it wasn't. It was a tiny little joystick sort of thing, him operating it looked amazing.
With ROXY MUSIC?
Yeah, I didn't know what on earth he's doing, it was sounding weird but you look back now, on the Old Grey Whistle Test clip of 'Ladytron' and there's that spacey treatment at the end…
Yeah, it's a very British synthesizer. It has that bakelite vibe off that doesn't it?
It's a Doctor Who type of synthesizer, isn't it?
It definitely wouldn't be out of place on the TARDIS. And you know, you can play battleships with it!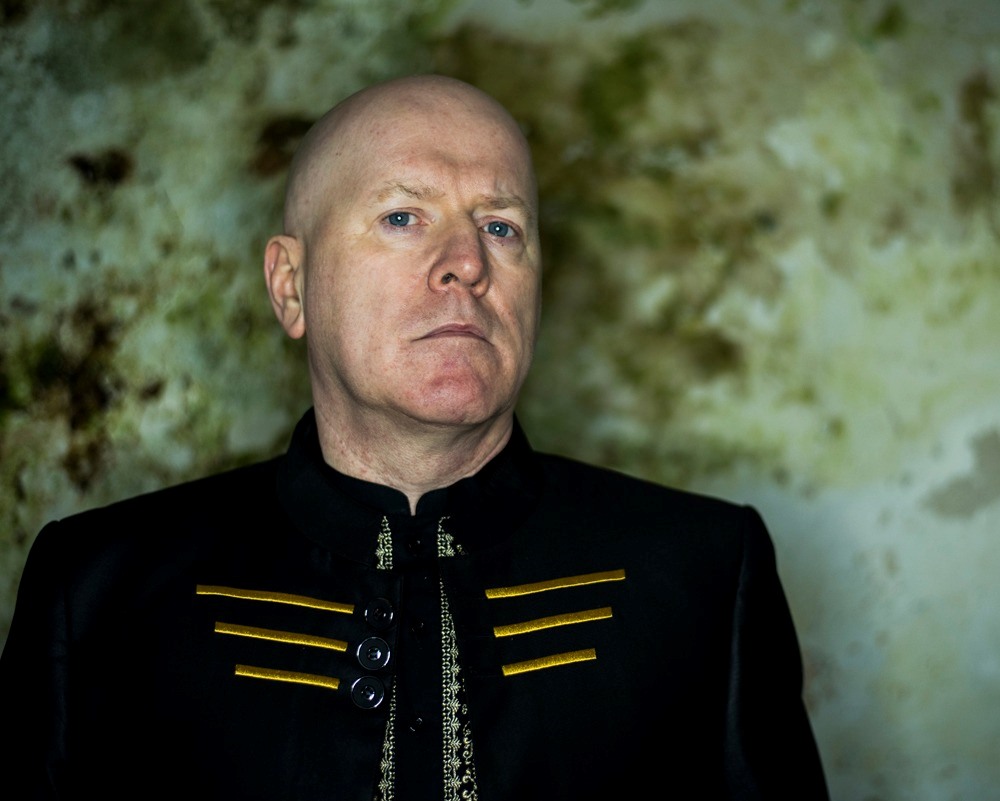 Yeah. Actually talking of music technology ending up on spaceships, you know the controls of an Oberheim DX ended up on the Starship Enterprise?
And an Eventide Harmonizer was on 'Alien'…
'Close Encounters Of The Third Kind', it was an ARP 2500 that spoke to the aliens…
And the sound of R2-D2 was an ARP 2600… shall we stop there?
---
ELECTRICITYCLUB.CO.UK gives its grateful thanks to Peter Fitzpatrick
'Technology For The Youth' is released by AnalogueTrash on 15th July 2022 on CD, digital and various coloured vinyl LP formats, pre-order from https://circuit3.bandcamp.com/
https://www.facebook.com/Circuit3music
https://twitter.com/Circuit3Music
https://www.instagram.com/circuit3music/
https://soundcloud.com/circuit3/
https://open.spotify.com/artist/3UGiLPWyJg7TKetRrShGB3
Vintage Synth Trumps is a card game by GForce that features 52 classic synthesizers
https://www.juno.co.uk/products/gforce-software-vintage-synth-trumps-2-playing/637937-01/
---
Text and Interview by Chi Ming Lai
18th June 2022