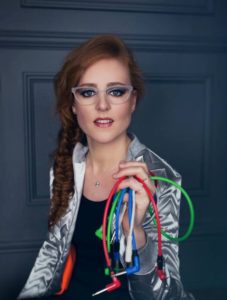 An enjoyable melancholic exploration in sound, 'Mary Casio: Journey To Cassiopeia' is an intriguing listen that experiments with and successfully blends seemingly incongruous timbres.
It is the work of HANNAH PEEL and tells the story of Mary Casio, a fictional elderly musical stargazer.
It musically documents her lifelong dream to leave her terraced home in the mining town of Barnsley to journey into space to see Cassiopeia, the constellation in the northern sky named after the vain queen in Greek mythology who boasted about her unrivalled beauty.
Featuring an array of analogue synthesizers and a 29-piece colliery brass band recorded live at the Barnsley Civic Theatre, it took Peel back to her youth when she played trombone in such bands. Indeed, the instrumental 'Octavia' from her second long player 'Awake But Always Dreaming'
had showcased the format's possibilities with its cascading woodwinds and brass combining with a buzzing barrage of electronics.
And after numerous dates around the UK, HANNAH PEEL brings 'Journey To Cassiopeia' to London for its biggest performance yet at the soon-to-be reopened Queen Elizabeth Hall at London's South Bank Centre. The interstellar musical experience will contain striking visuals plus a performance of MIKE OLDFIELD's 'Tubular Bells' by TUBULAR BRASS, the brass band that will be accompanying her for this concert.
Fresh from writing the music for a new stage adaptation of 'Brighton Rock' and collaborating with Paul Weller, HANNAH PEEL kindly took time out to talk about how the 'Journey To Cassiopeia' has lifted off…
A synth / brass band concept album was quite a way out idea but you've been vindicated…
Ha thank you, phew! Yes I suppose you can't tell if something will work, but knowing colliery brass bands so well from my childhood I knew their limitations deep down, so it felt very natural to really play with the missing frequencies on the synths. It worked live first and foremost. I didn't know if that would work recording wise though. Live at every show, extraordinarily countless audience members have told me they couldn't stop crying at the overpowering force of sound that resonates in the air. Even I get a lump in the throat every time.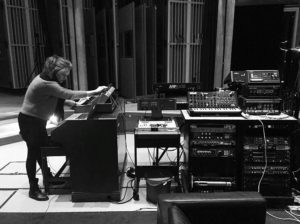 Why do you think that the plaudits warmed to 'Journey To Cassiopeia'?
I suppose maybe because it hasn't ever been done before? I'm so thankful they have warmed! I've really tried to not only follow my own artistic journey delving further into the mind with the story behind the record, but also take that traditional colliery brass band sound into a new realm too. Move them on from the lonely bandstand in a park on a rainy Sunday.
The album was recorded live in Barnsley, did you need to do many takes to get the vibe you wanted?
Luckily we had performed the album live three times in full before at concerts, so the players were really fine tuned to the movement of the piece. There was only at most two takes per track, all finished within three hours. It was recorded in one of the first theatres I ever went to when we moved to Yorkshire, The Civic in Barnsley… refurbished now, but it felt dreamlike to be back there.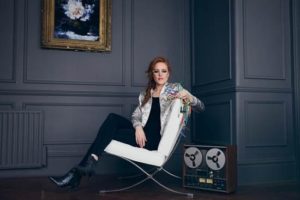 'Life Is On The Horizon' gently rings like a beacon signalling home…
I love that Flugal horn solo. Alexandra Kenyon plays it so beautifully. Originally it was all made on the Korg Mono/Poly, a broken one too. The two synths lines interweaving together needed to be brought to life with breath and she does that perfectly. The Flugal horn is my favourite instrument in the brass band.
The closing track 'The Planet Of Passed Souls' is quite poignant, featuring your grandfather as a choirboy. It had a lovely 'New World Symphony' feel about it…
Yes recorded in 1927 in Manchester Cathedral – he was one of the first choirboys ever to make a recording. Apparently the label were not happy with the recording quality so they went back to re-record, but his voice had just broken. I ripped it off YouTube! I'd love to get the original from somewhere.
After finding that sample though and finishing the track it felt like this was the planet that Mary Casio would first set her feet on. With wind and rain much like earth, the alien landscape starts to become more surreal drawing out audio memories from her brain and dispelling them into the air.
I couldn't write anymore after this, it felt like the end of either Mary's life on earth or her waking from a daydream, or maybe she actually went there and we just loose contact…
When you last spoke to us in Summer 2016, you were talking about releasing 'Journey To Cassiopeia' as Mary Casio, but of course, it has since been released under your own name?
Yes that's right. I suppose when I started to research deeper into why I had even written the album and what relationship it had to 'Awake But Always Dreaming', I realised they were intrinsically linked.
Whenever I had seen petri dishes full of brain neurons by scientists researching Alzheimer's disease, I couldn't get over how looking down the microscope felt like staring up at the starry night sky.
You'll be performing 'Journey To Cassiopeia' at the re-opening of the Queen Elizabeth Hall on the South Bank. Will this performance differ from the other live presentations that have been taking place since the album's release?
It will be with the full 29 piece Colliery Brass band and myself on synths. Joining us will be Dan Conway on live interactive visuals and it will be the first full London show of this album and 'Tubular Bells'.
How do the brass band players feel about playing in unison with your electronics?
Now we have it nailed, it's really great fun, especially if you can feel the Moog's sub bass rumbling under the stage, knocking music off stands etc. But in the beginning I'm not sure they enjoyed it at all! In our first rehearsals, not only was it new to them as a genre but it was hard for me too to get the right balance and get my old synths to work right. So coupled with terrible speakers they had a lot to deal with, I've since opted for newer versions for stress alleviation.
You opened for ALISON MOYET last Autumn, what was that like and how did her audience take to you?
I had brilliant time on tour with Alison and her crew. It was slightly strange at first playing in sit down theatres – hard to judge an audience and feel what was happening beyond the lights, but I got used to it and had an incredible time. Her fans were very welcoming and I learnt a lot from Alison too. She's such a magnificent force.
How did you find trying to effectively promote both 'Awake But Always Dreaming' and 'Journey To Cassiopeia' in 2017?
Ah yes that was very tricky for my mental headspace. I didn't expect there to be such a strong overlap a year on from 'Awake But Always Dreaming'. It was good though that they are both so different so it made it easier in a sense to compartmentalise.
Where are you heading next musically? Will it be songs again or would you fancy doing something like Eno's 'Another Green World' and have a fair portion of instrumentals between more conventional 'song' material?
That's my favourite Eno record actually! I have no idea where this next year will lead me album wise. There is a lot of commissioned composing work that has come along that I'm very excited about. I've just finished my first choir piece with synths that will debut in April in Hull and I've also just finished writing the music for a new stage adaptation of Graham Greene's 'Brighton Rock' which is now touring until June. I'm learning something new every day and it feels extremely challenging yet happily rewarding too at the same time.
You demonstrated an old EDP Wasp synth on BBC Radio 3's 'The Listening Service', where did you find it and have you added any more hardware to your armoury of late?
Oh she's a beauty and I found her on a Facebook page for selling and swapping synths. I now have a Roland Jupiter 4 too this year and saving up for a wonderful Italian modular synth… the old car is just going to have to survive that bit longer.
---
ELECTRICITY CLUB.CO.UK gives its warmest thanks to HANNAH PEEL
'Mary Casio: Journey To Cassiopeia'
is released by My Own Pleasure in vinyl, CD and digital formats, available from https://hannahpeel.tmstor.es/
HANNAH PEEL performs 'Mary Casio: Journey To Cassiopeia' at Queen Elizabeth Hall on London's South Bank on Saturday 14th April 2018, tickets available from https://www.southbankcentre.co.uk/whats-on/125635-hannah-peel-tubular-brass-2018
https://www.facebook.com/HannahPeelMusic
https://www.instagram.com/hannahpeelmusic/
---
Text and Interview by Chi Ming Lai
15th March 2018