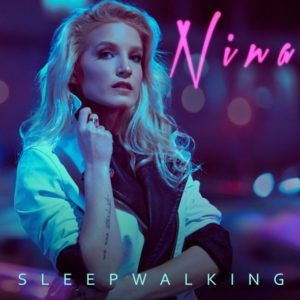 'Sleepwalking' is the long-awaited debut album from the classically trained German songstress NINA.
With a musical palette shaped by a love of QUEEN, DEPECHE MODE, DAVID BOWIE, ALPHAVILLE, KRAFTWERK, NENA, CHROMATICS and LADYHAWKE, it contains some of her most personal work yet; "I think it's important to keep your work personal and evolve as an artist" she told ELECTRICITYCLUB.CO.UK.
Since her second single 'We Are The Wild Ones' in 2013, Berlin-born songstress NINA has grown in profile and stature.
Support slots with ERASURE and DE/VISION followed in 2014 but it was her third single 'My Mistake' that became her breakthrough song. Beginning the long player, nocturnal warmth exudes from 'Beyond Memory', demonstrating how NINA's own brand of pulsating electronic pop acts as a bridge between synthwave and synthpop.
With her vocals deliciously slicing the moonlit atmosphere with a superbly breathy chorus, 'Beyond Memory' is about past relationships. A close relative of the Mercedes-Benz endorsing 'My Mistake', 'Beyond Memory' more than makes up for its absence on the album.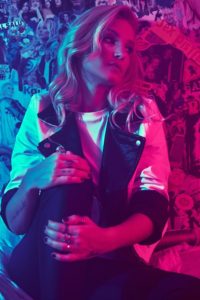 Meanwhile, 'Born To Live' is embroiled in confidence with a soaring chorus recalling AVEC SANS, sweetened with a highly alluring almost spoken middle eight à la KID MOXIE, while the synth line recalls the rather obscure 'There Goes the Cure' by ONE DOVE.
Full of arpeggiators and pulsating synths, 'Sleepwalking' is a vibrant number that paces the mood to a gallop, with a delightful keyboard cascade finish. Bubbling electronics over a sparse intro lead into the nocturnal synth AOR of 'It Kills Me'. With piano also entering the fray, it's not unlike Toronto's very own electronic pop combo PARALLELS.
The previously issued B-side 'Purple Sun' does what it says on the tin, is it a love letter to PRINCE or something else entirely? The layers of backing vocals might provide a clue…
The drive-friendly 'Empire Of Love' lifts the tempo again with a glorious whirring ULTRAVOX-styled synth solo to buoy up proceedings, but at the opposite end of the album's colourful spectrum, 'Diamonds In The Rough' is a perfect Brat Pack movie ballad, while also emulating some of the best in Scandinavian pop overtures and allowing NINA's soprano to shine. And although "everybody's here, they're having fun", a forlorn NINA reflects on not fitting in… cut from a similar cloth, the cinematic Nordic pop of One Of Us' is heartfelt, Fraulein Boldt's musical catharsis about school bullying.
And when she is 'Counting Stars', the song utilises vintage synth sounds to the max, both rich and retro-futuristic with "a mission on our own" like classic PET SHOP BOYS. 'Your Truth' is more compelling neon-lit synth AOR, with another rousing chorus and some guitar inflections combining with those vintage love theme Emulator voices as she confirms "I'll be there for you".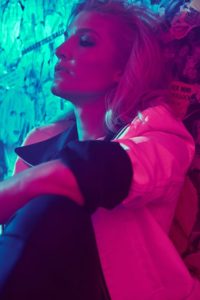 For a fabulously optimistic conclusion to the album, '80s Girl' comes beaming over like the missing theme song from the film 'Mannequin'. With big Simmons drums, sampled orchestra stabs and driving synthbass triplets, it is however delivered with subtlety and restraint so that it doesn't turn into a HEART or STARSHIP pastiche.
Dedicated to her mother, it's great song that sums up the best in NINA. And in a telling message to everyone, she declares "don't let the past hold you back".
Yes, it all does sound like a John Hughes film soundtrack but that's not a bad thing. A highly enjoyable musical journey that's strong on melody, Richard X, Oscillian and Sunglasses Kid have each done a very good job working with NINA to produce a cohesive body of work.
A positive album for outsiders and individuals, NINA is a songstress who speaks for the lonely and disenchanted without going all Emo. It's been many years in the making, but NINA's 'Sleepwalking' has been well worth the wait.
---
Special thanks to Laura Fares at Aztec Records
'Sleepwalking'
is released by Aztec Records, available as a download from https://ninasounduk.bandcamp.com/album/sleepwalking-album
https://www.iloveninamusic.com/
https://www.facebook.com/iloveninamusic
https://twitter.com/iloveninamusic
https://www.instagram.com/ninasounduk/
---
Text by Chi Ming Lai
Photos by Joakim Reimer
16th March 2018, updated 20th March 2020