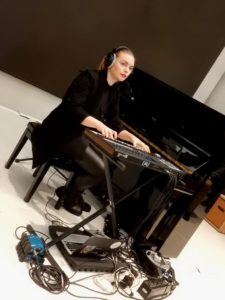 'Falling In Love With Sadness' by EMIKA is a wonderful bittersweet musical rhapsody laced with Bohemian melancholy.
Deep and thoughtful, it captures an array of enticing melodic textures with an inherent gloominess that paradoxically is EMIKA's most synthpop statement, yet is a glorious sonic exploration into sadness and the human psyche.
With plans to take the record out of the road, Ema Jolly, the Berlin based Anglo-Czech musician and producer behind EMIKA gave a taster of what may be to come with a special concert at the Apple Store in London's Regent Street.
With a Kawai K-6 upright piano, Arturia Keylab 49 hybrid synth, MacBook, Eventide effects hardware and an Earthworks microphone for company, it was her first public performance as EMIKA using live instrumentation having previously stuck to a DJ format in previous personal appearances over the years.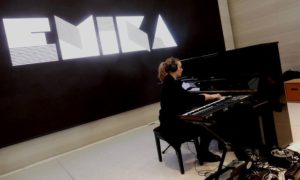 With an icy extended ambient intro, proceedings began formally with a largely piano-led 'Wash It All Away', a fitting atmospheric opener expressing EMIKA's own catharsis.
But with the push of a button, things went uptempo as 'Could This Be' hypnotically pulsed with its chilling spy drama inflections, offset by a tense percussive rattle.
Some beautiful piano provided a crucial organic element over the rigid machine driven backing, presenting EMIKA's art in a context which differed from the recorded version. There was enough vital familiarity but there was also variation from the actual playing and the tonal presence of the piano to provide a mesmerising contrast.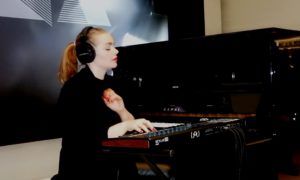 Laced with chromatic melancholy and a deeply European electronic backdrop, 'Run' closed the first section of the performance with EMIKA showcasing more of her classical ability, something she had already proven having released a symphony 'Melanfonie'
with the Prague Philharmonic Orchestra in 2017; it is also now her unique selling point within a live setting.
A short interview interlude saw Ema Jolly answer a number of questions from the Apple Store's host and audience about the importance of location as an inspiration for art regardless of whether it was direct and how the concept of 'Falling In Love With Sadness' was about learning to embrace sadness as a natural human emotion for her own well-being as a reaction to her own family's generations of sadness.
Continuing with the music, there came the metronomic body stomp of 'Eternity'. Although the backing maintained a frantic rigidity that was as good as clockwork, the forlorn manner of Miss Jolly's delivery and her accompanying piano chords captured a beautiful hue which was unusual but highly satisfying aurally.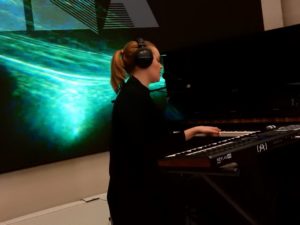 'Killers' provided a more simmering avant set piece as EMIKA enigmatically whispered while understandably neutering the recorded version's profanities for the shopping families present.
To close, the wonderful 'Promises' featured a deliciously extended ivory improvisation in a solemn spine tingling combination of cascading harmonics and rumbling dubby tension.
Short and subtle yet expressing power and vulnerability with hushed but haunting vocals, EMIKA's set left everyone wanting more. Almost stoic in her demeanour and retaining a vital air of mystery, Ema Jolly captivated all those present with her juxtaposition of precise electronics and classically inspired keyboard runs.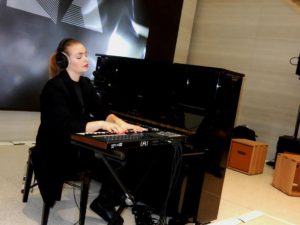 At no point were EMIKA's machine-driven beats too overbearing as can often be the case in techno or dance music, yet the ecstatic bass programming stunned the consciousness, drawing in both the converted and the curious, the latter evidenced by the numbers gathering on the grand staircase of the Apple Store to watch.
Since releasing her third album 'Drei'
on her own label in 2015, EMIKA has been a fine example to those who aspire to be a truly modern independent artist.
With her best record yet in 'Falling In Love With Sadness' and her growing confidence as a live performer, she is on a well-deserved upward trajectory.
---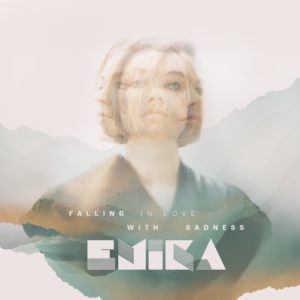 'Falling In Love With Sadness'
is released by Emika Records in CD, vinyl LP and digital formats, available direct from https://emika-official.bandcamp.com/ along with a selection of her back catalogue
https://www.facebook.com/emikamusic/
https://twitter.com/emika_records
https://www.instagram.com/emikarecords/
---
Text and Photos by Chi Ming Lai with thanks to Lucy Palmer at TRIX PR
16th December 2018