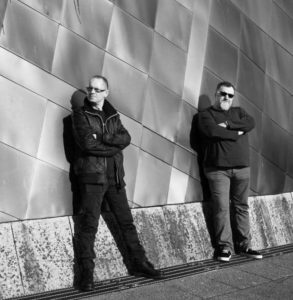 Returning to London on SATURDAY 2ND MARCH 2019 will be Glaswegian synthpop duo RAINLAND.
Having accompanied ASSEMBLAGE 23 on two UK tours, their rousing stage manner make them perfect as cheerleaders to begin any live presentation.
Although RAINLAND have so far only one EP 'Touch' to their name, Ian Ferguson and Derek MacDonald are experienced hands having been the musical lynchpins of their previous band ANALOG ANGEL, best known for songs such as 'We Won't Walk Away' and 'Drive'.
Settling into a two piece set-up has been straightforward with Ferguson having already proved himself a worthy vocalist on a number of ANALOG ANGEL tunes, while MacDonald has had more of a free rein to explore his purer synthpop fantasies.
While ELECTRICITYCLUB.CO.UK opted for an IRN-BRU, the pair settled down with a wee dram each to ponder the state of the synth nation and much more…
Ian: So here we are Derek in our top secret studio to answer some questions from Uncle Chi about all things RAINLAND…
Del: Yeah, top secret studio in a back bedroom cos that's what you do if you're in a synth band these days, or say you're in the studio by posting a photo of Sarm West to pretend you are being something you aren't…
Ian: Hahaha! Anyway, on with the questions…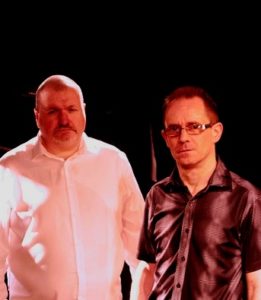 RAINLAND seems more relaxed than ANALOG ANGEL, how's it been to free of its industrial shackles?
Del: I've always loved melody, you can't have a song without a melody. The world is awash with tuneless industrial music currently
Ian: When we started, we didn't have many outlets for us to play live and that's what we always wanted to do so we were 'tarred' with the industrial brush as those were the bands we played with or supported.
Del: I don't think we ever really were. The first two albums had an industrial edge but they were still songs based.
Ian: That whole 'scene' has turned into a bit of a parody of itself, which the synth scene has a danger of doing too. Never understood why, it was more style over substance.
Del: The whole dressed like a Nazi shouting "DAS!" covered in dog sh*te, you're from Doncaster FFS!
Ian: I would say it's been liberating doing the RAINLAND stuff.
Del: Exactly, I was always more into YMO who as we know are as industrial as f*ck!
So how has the creative dynamic and attitude changed working as a duo?
Ian: There are half as many people to satisfy, so the voting process as to what does and doesn't make the cut is simpler.
Del: You and I tended to write together anyway in AA or were the folk that said "yeah let's work on that" if an idea was presented…
Ian: It's an interesting question as our attitude hasn't changed but we can use more expansive soundscapes now, things like harmonies for example which is a big thing.
Y'know, I can't help smirking at comment… *laughs*
Del: We couldn't do that in AA as we weren't the singers, so didn't carry that part of the song and melody.
Ian: We tried to introduce it in places though… I'm a fan of pop music, I do love my metal and prog rock too of course which you've been getting into more Del…
Del: I listen to punk, INXS who are an incredibly melodic band…
Ian: Yeah, but could you imagine folk from 'the scene' going to see for example CAMEL or URIAH HEAP who are both in the diary for later in the year?
Del: Or Steven Wilson! We can now draw on more of our influences…
The eponymous 'Rainland' was a really rousing calling card, please describe its genesis…
Ian: I had the chorus part kicking around for a long time and never developed it beyond a few scribbled notes. At that point it was called 'Homeland'… it's played on a synth called Dune and the opening sequence developed from working with that software. I married it to a piano part from my Work in Progress folder called 'Keane Thing'. The lyric came together walking along the marina in Ipswich on my way to work.
Del: We both have large WIP folders on our hard drives!
Ian: At the time, we wanted to keep playing and working together but weren't sure what that was going to be or if it would happen at all. We ended up choosing the name, which I stole from a track title by a friend Simon Godfrey and his band TINYFISH, got a logo and booked a tour before we even had any finished songs so that forced our hand to get stuff written/finished. 'Rainland' was the first completed track and feedback was encouraging enough to convince us we were going in the right direction
Del: It had to be the opposite of what we had just finished. The initial reaction was "didn't expect that!"… folk have compared it to all sorts of bands including A-HA and ENDGAMES, we'll take that happily
Ian: ENDGAMES… that's because according to some people we come from a town with no musical heritage! *laughs*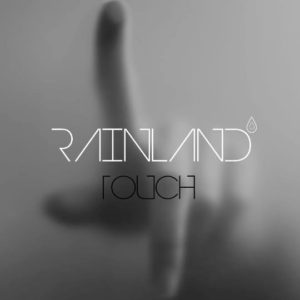 Vocally and musically, 'Rainland' appears to have overtones of ULTRAVOX?
Ian: I'm Scottish, I'm from Glasgow and anyone that knows me knows I'm a massive ULTRAVOX and Midge Ure fan, they are my favourite band from that Synth Britannia era so that's all going to rub off on me. I'm either going to sound like Midge or one of THE PROCLAIMERS!
Del: Or Lauren Mayberry!
Ian: That's not gonna happen!!!
Del: Talking of Midge and THE PROCLAIMERS, we have performed songs from both live in the past! It's that whole thing about melody and big sounds.
Ian: Yeah you listen to the late Foxx / early Ure ULTRAVOX and it's very simple, the playing is great but there's a lot of space and we try to replicate that.
'Touch' seems to have a nod towards BRONSKI BEAT maybe?
Ian: That's your area Del!
Del: BRONSKI BEAT?? You mean the melody?
Ian: I thought more the bass sound, that layered PPG Wavestation slap bass? I thought that was more PROPAGANDA… I don't know, you're more the BB guy than me…
Del: I did like 'Smalltown Boy', but thought the rest of the songs were pish…. Sorry!
Ian: Oh well maybe not then!
'Silverlight' featuring lyrics by poet and novelist Ange Chan started off as an ANALOG ANGEL number?
Ian: Back to that thing of being in AA, there were 4 people that got a vote and this somehow never made the cut… I wrote this song about 6 years ago when I first joined AA. It was one of the songs I wanted to work on with RAINLAND but it wasn't until Del and Phil Morrison, our producer, suggested swapping the chorus and verse round musically…
Del: Phil has a brilliant ear for that kind of thing and it clicked. I know you weren't sure at first…
Ian: Yeah but it really works. It's a f*cker to sing live though which is why it tends to be early in the set! Cos it's got a weird structure!
Del: To get it out the way! It would be good if Ange would write some more stuff.
Ian: Yeah she has an unusual lyrical touch.
'The Light Of The Sun' showcases some engaging uptempo synthpop songcraft?
Del: Another one written for AA during the 'Four Front' album sessions which didn't make the final release.
Ian: I wrote that with Tracy from AA and I don't think it's unfair to say we added it to the EP as a filler and it's become one of our more popular songs, shows how much we know…
Del: It's a great song though, lots of melody.
Synthpop is pop music using synthesizers, not a by-word for fluff… discuss!
Del: Synthpop… electronic music in general, it depends how you look at it, can be viewed that way, but that's the same as any genre.
Ian: I think there's still a lot of sniffiness, even 40 years after the whole Musician's Union campaign about synths from certain people. It's nonsense… is a Billy Currie ARP solo any less exciting or musical than an Eric Clapton or Dave Gilmour guitar solo?
Del: As I've always said, if Beethoven had a MacBook, there would have been a whole orchestra out of jobs, instantly…
Ian: I get p*ssed off at folk turning their noses up at my chosen instrument. They are tools to do the job. Would you say an OMD hit from the back in the day has less right to be called a classic than say 'Layla' or 'Comfortably Numb'? Different audiences yes, most of the time…
Del: Something like 'There She Goes' by THE LA'S is fluff, it's no 'Stanlow' or 'Statues'!
Ian: When people think of synthesizer music, they do think of 'Just Can't Get Enough' I suppose…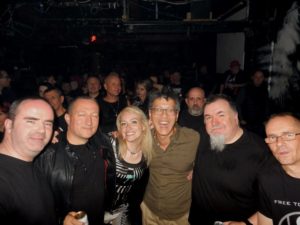 What do you think about the current state of modern electronic pop at the moment? Do you have any interest in Synthwave for example?
Ian: To be honest I don't listen to a lot of modern bands. There are a couple of the newer bands yes, like KITE, but by and large they don't feature on my playlists. A lot of the bands producing music at our level seem to rush the product out the door and it sounds like it. Probably setting myself up for some brickbats with that statement, let him without sin etc…
Del: It's all presets, homogenised, Apple loops and stuff…
Ian: Which brings us onto Synthwave…
Del: Yeah but some of that is good…
Ian: Yeah, THE VAN DAMMAGE and ELECTRIC DRAGON… Michael Oakley and FM-84, though that's a Scottish thing. Synthwave is trying to capture something that didn't really exist back in the day.
Del: Yeah, some 'Miami Vice' soundtrack stuff and 'Axel F' maybe…
Ian: I'm not a fan of the majority of it…
Del: Barry Douglas, our friend from Glasgow, is a massive supporter of the Synthwave scene so we have seen a lot of those bands that have gone on to big things on that scene, he gave many of them their first UK gigs so I guess it's his fault!
Are there any new acts you've encountered in the last 12 months that you would recommend to look out for?
Ian and Del together: WITCH OF THE VALE!
Ian: They really are the ones that stand out… they have a certain something that stands them apart.
Del: Erin and Ryan are great, yeah!
Ian: The new Michael Oakley stuff and FORM.
Del: For me it's all the classic bands… The last BLANCMANGE album was brilliant.
Ian: I tend not to listen to a lot of synthesizer specific music TBH.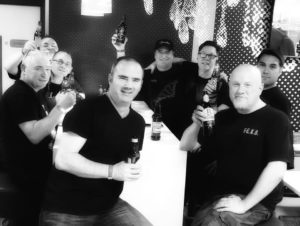 You've toured with ASSEMBLAGE 23 on their two most recent UK visits, how are your livers? 😉
Ian: This tour not as bad as 2017 when we tried to kill Mike their drummer
Del: Aided and abetted by an Australian Pirate Metal band…we were very well behaved this time apart from the night of Scott our merch / crew guy's birthday. We are very old now however…
Ian: It's like being on a school outing with those guys, we pile into a bus, point it down the motorway.
Del: And rip the piss out of one another for the duration.
Ian: The ASSEMBLAGE 23 guys are different class… They are head and shoulders above the likes of VNV NATION and AND ONE in respect of songwriting and production
Del: And Tom doesn't have ridiculous stage height demands…
Ian: You've seen him dancing, nobody wants that!
How do you think RAINLAND went down with the ASSEMBLAGE 23 crowd?
Ian: We didn't get bottled off stage so that's a plus… Our job was as support, which used to be called the warm-up act and I'd like to think we did that. I've seen so many bands play those slots, not interact with the audience and then f*ck off after the show, that's not your job!
Del: The crowd appeared to enjoy it, we seem to be a good fit for the band and have been told our music works well in that line-up by people after the show, so all good.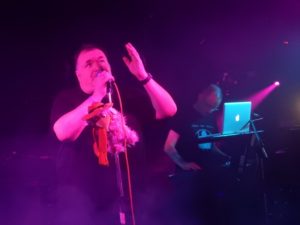 You're playing with ARTHUR & MARTHA and PLASMIC, what can punters expect who have not seen or heard of you before?
Ian: We are opening the event, doing this has been a long time coming. Hopefully we will start the show as we all mean to go on.
Del: Help everyone have a good night… PLASMIC looks like it will be a fun set
Ian: And ARTHUR AND MARTHA! Looking forward to catching up with the guys
Del: We always like playing in London, come and buy us a beer!
What's next for RAINLAND, is there a follow-up EP to 'Touch' in the works?
Ian: RAINLAND is a hobby, we released 'Touch' in 2017 and then life got in the way and I ended up going abroad to work for a year which is why things have been slow. We don't have any delusions of being superstar musicians… if as a 50-something you aren't a successful, million selling songwriter / artist already guess what, you're probably not going to be a million selling songwriter/artist!
Del: We do have another EP written, just need to get all our diaries to align especially with Phil. We hope to showcase some new material though as it is ready to play live.
Ian: Just playing it by ear… we have a couple of other gigs lined up to be announced which are exciting.
Del: Just looking forward to seeing everyone at the show.
Ian: Exactly, we will see you soon!
---
ELECTRICITYCLUB.CO.UK gives its sincerest thanks to RAINLAND
The 'Touch' EP is available as a free download from https://rainland.bandcamp.com/releases
https://www.facebook.com/RainlandtheBand/
---
Text by Chi Ming Lai
9th February 2019