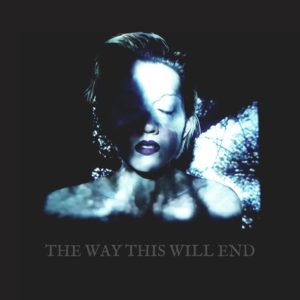 In the forest of independent music where trolls can spring from isolated rocks and mountains, it is refreshing for gatekeepers to allow through the spirit of an understated musical Seonaidh.
So from the serene shores of Loch Lomond and the remote Outer Hebridean Isles, come WITCH OF THE VALE. Comprising of the folk inspired stylings of Erin Hawthorne and the stark instrumental structures of her husband Ryan Hawthorne, their music possesses some Pagan fervour like GAZELLE TWIN meeting 'The Wicker Man' and 'Twin Peaks'.
Despite being largely unknown within general electronic music circles, the couple's musical potential have certainly been noticed and rewarded with support slots for CLAN OF XYMOX, SOLAR FAKE and ASSEMBLAGE 23.
Beginning their debut four song EP 'The Way This Will End' with the unsettling ritualistic overtures of 'Fever', a stark percussive lattice and drone laden backdrop holds together a sinister Celtic beauty through Erin Hawthorne's treated vocals.
With another alluringly timeless vocal, the traditional overtures of 'Your Voice' take a gentler pace over a simple triple backbone. Meanwhile 'Deathwish' does what it says on the tin, as heavy stuttering beats and distorted synths take hold; again it's all threaded together by an enticing high register gothique.
Closing the EP with 'The Way This Will End' title track, an angelic air is offered within a backdrop that has a beautiful music box quality complimented by solemn strings, capturing a wonderful melancholic airiness.
This fine debut EP from WITCH OF THE VALE is a total pleasure. Totally captivating while maintaining an important air of mystery, Erin and Ryan Hawthorne are most definitely an act to keep an eye on for the future.
"Seonaidh, I give thee this cup of ale, hoping that thou wilt be so good as to send us plenty of seaware for enriching our ground during the coming year."
---
'The Way This Will End' is available as a download EP direct from https://witchofthevale.bandcamp.com/releases
http://www.witchofthevale.com/
https://www.facebook.com/witchofthevale/
https://twitter.com/WitchOfTheVale
https://www.instagram.com/witch_of_the_vale/
---
Text by Chi Ming Lai
21st October 2018