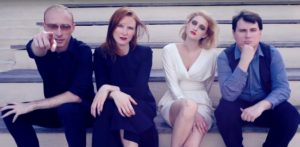 A new fan-made PROPAGANDA video which founder member Ralf Dörper has described as "unglaublich" has just hit the web. Set against 'The Murder Of Love' from 'A Secret Wish', it reimagines a visit to New York by PROPAGANDA during their 'Outside World' tour in 1985 when they performed at the Irving Plaza.
With cinematography by Rick Martinez plus makeup by Connie Ojeda Smith and Jaelene Jaquez, the superb and affectionate visual presentation is directed and edited by Vlad Panov. A humorous and nostalgic tribute to PROPAGANDA, Hannah Fleming and Talia Shvedova as respectfully Claudia Brücken and Susanne Freytag are quite convincing, while Panov himself could pass for Michael Mertens in the way the actors who played Stephen Morris in '24 Hour Party People' and 'Control' did.
However, Vladimir Putin lookalike Michael DeGrandpre could do with a pair of stack heels or stilts as Ralf Dörper. As is always the way, these type of films play with artistic licence and in this instance, the very tall Düsseldorfer actually declined to be part of the 'Outside World' tour so was not even in New York on 26th September 1985.
Ralf Dörper told ELECTRICITYCLUB.CO.UK in Autumn 2012: "I had a quite stubborn view on playing live as PROPAGANDA as I believed it would be not possible to give a proper impression without lifting the studio on stage. And I did not consider it an option to use guest musicians … especially no guitar player." – their label ZTT just issued a press release to say he was at his day-job in a bank to cover for his absence!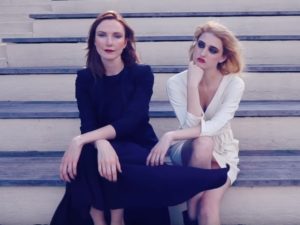 While Dörper continues today touring and recording as a member of DIE KRUPPS, Brücken and Freytag will be opening as xPROPAGANDA for HEAVEN 17 on 'The Luxury Gap' tour this Autumn.
Meanwhile, Mertens continues as a successful freelance composer whose production company Escape Route has had commissions from Volkswagen, Renault, Ford, Autostadt and C&A.
---
'The Murder Of Love' is from 'A Secret Wish'
, available via BMG in vinyl LP, CD and digital formats
xPROPAGANDA open for HEAVEN 17 on 'The Luxury Gap' 35th Anniversary Tour, dates include:
Northampton Roadmender (Friday 9th November), Norwich UEA (Saturday 10th November), Bournemouth O2 Academy (Friday 16th November), Birmingham O2 Institute (Saturday 17th November), Glasgow O2 ABC (Friday 23rd November), Liverpool O2 Academy (Saturday 24 November), London O2 Shepherds Bush Empire (Friday 30th November), Bristol O2 Academy (Saturday 1st December), Manchester O2 Ritz (Friday 7th December), Sheffield O2 Academy (Saturday 8th November)
DIE KRUPPS go on 'The Machinists United Tour' with FRONT LINE ASSEMBLY in 2018, dates include:
London O2 Islington Academy (19th August), Paris La Machine (20th August), Utrecht De Helling (21 August), Krefeld Kulturfabrik (22 August), Gothenburg Truck Stop (24 august 2018), Stockholm Klubben (25 August), Wroclaw Stary Klasztor (29 August), Prague Lucerna Music Bar (30 August),
Budapest A38 (31 August), Bratislava Majestic Music Club (1st September), Vienna Viper Room (2nd September, Munich Backstage Halle (4th September), Frankfurt Batschkapp (5th September)
https://www.facebook.com/claudiaandsusanne/
---
Text by Chi Ming Lai
11th August 2018