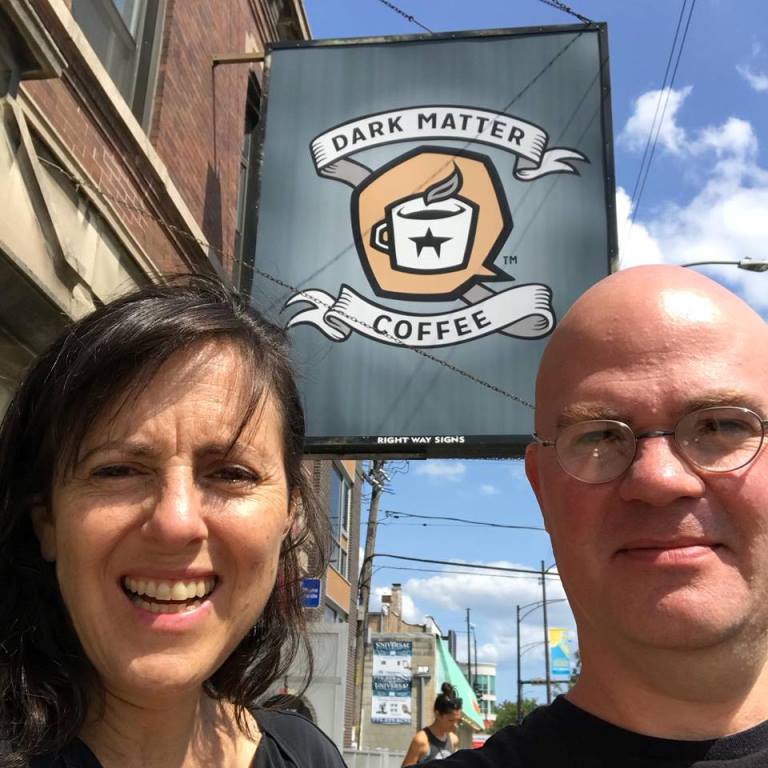 Currently opening for ERASURE in North America, REED & CAROLINE are the quirky Buchla driven duo who in the mission statement for their second album declared "Formulate hypotheses and gather all the facts – it's science! It's all about science!"
That second album entitled 'Hello Science'
was released by Vince Clarke's Very Records and song titles have included 'Entropy', 'Another Solar System', 'Digital Trash' and 'Dark Matter'. Like AU REVOIR SIMONE meeting NEW ORDER for a jam session in Greenwich Village, the latter asks "Does dark matter matter?"
'Dark Matter' features Ayşe Hassan and Kendra Frost of KITE BASS who join Caroline Schutz for some endearing triple vocal accompaniment, especially in the closing "dah-da-da-da" refrain while also providing dual melodic bass backing to compliment Reed Hays' electronics.
The appealing tune is now presented in a brand new video accompaniment directed Simon Lowery featuring the entire 'Dark Matter' ensemble.
Reed Hays and Caroline Schutz first presented their hybrid of traditionally derived tunes with electronic experimentation on their 2016 debut album 'Buchla & Singing'
, which did what it said on the tin. Hays also hosts a recurring Maker Park Radio series appropriately called 'The Synthesizer Show' with Vince Clarke which broadcasts from Staten Island.
In the meantime, REED & CAROLINE continue their Stateside tour with ERASURE until the end of August, while KITE BASE will be opening for NINE INCH NAILS in Washington DC and New York this October as well as New Orleans in November.
---
'Dark Matter'
is from the album 'Hello Science'
released by Very Records in CD and digital formats
REED & CAROLINE open for ERASURE on all remaining dates of their 2018 'World Be Gone' North American tour, further information at http://www.erasureinfo.com/concerts/
KITE BASE play selected dates with NINE INCH NAILS in North America this Autumn, details at http://www.nin.com/live/
https://www.reedandcaroline.com/
https://www.facebook.com/reedandcaroline/
https://twitter.com/reedandcaroline
https://www.instagram.com/reedandcaroline/
https://www.facebook.com/kitebasemusic/
https://twitter.com/KiteBaseMusic
https://www.instagram.com/kiteba.se/
---
Text by Chi Ming Lai
Photos from Reed & Caroline Facebook
9th August 2018