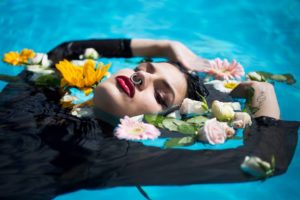 LIZETTE LIZETTE is Lizette Nordahl, a gender neutral Swedish / Peruvian producer and performance artist whose first mini-album 'Queerbody' was released in January 2017.
Its co-producers were Nicklas Stenemo and Christian Berg, better known as KITE. Having started out in a more rave inclined environment, 'Queerbody'
signalled LIZETTE LIZETTE's entry into more synthy climes.
Like KITE, 'Non'
follows the extended EP or mini-album format and features writing contributions from Stenemo and Berg, although the production is by Gabriel Wagnberg.
Opening with the euphoric house pop of 'Junk', the track is rich with vogue-friendly beats, hooks and melody. Dreamily laid around pizzicato and some spacey overtones, 'Obey' is like a synthetic bubble bath. It's something which 'Void' also takes its lead from, but with the addition of some slightly weirder noises.
The beautifully sad Nordic synth ballad 'Computer Game' in tribute to a departed friend is a fine showcase to Nordahl's emotive side, something that was not obviously apparent in previous LIZETTE LIZETTE recordings. Meanwhile, the punchy technopop of the 'Non' title song compliments Nordahl's more typically assertive stance, a robust danceable jewel that is an "anthem for all non-binary worldwide", proclaiming "You wanna call me a girl, you wanna call me a woman… I am NON."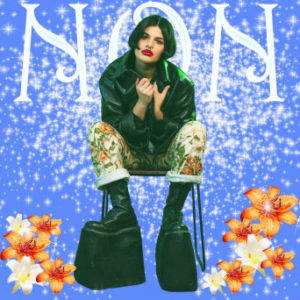 Accompanied by a selection of detuned metallics, 'Moonland' declares a return home where "brothers and sisters are waiting", while 'Soil' earthily penetrates with vocally derived textures and hypnotic arpeggios for a tune which with Nordahl's richly delivered tones, ROBYN wouldn't have been unhappy with.
Ending with a dramatic widescreen waltz, 'Beaches' is glorious Scandipop, layered in multiple vocals, that comes over suitably nautical. A fine follow-up to 'Queerbody'
, 'Non' adds new colours and vibes to the expanding LIZETTE LIZETTE template.
---
'Non'
is available as a download direct from https://lizettelizette.bandcamp.com/
https://www.facebook.com/lizettelizettequeer/
https://www.instagram.com/lizettelizette/
---
Text by Chi Ming Lai
11th February 2019