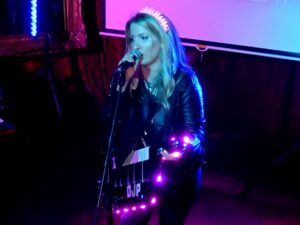 London-based synthwave promoters Outland presented a rather happening triple bill for their second event of 2019 at Zigfrid von Underbelly.
Headlined by the undoubted Queen of Synthwave DANA JEAN PHOENIX and her feel good escapism with memories of youthful innocence, first loves and first disappointments, she was supported by rockwavers LEBROCK and neon synth kid KALAX.
On first impression, LEBROCK do rather look like natives of New Jersey but Shaun Phillips and Michael Medows are in fact from sunny Peterborough. LEBROCK are an interesting synthwave mutation, coming as a result of the subgenre's flirtation with AOR and the rockier end of GIORGIO MORODER. They have even been affectionately referred to as the "FOO FIGHTERS of synthwave"!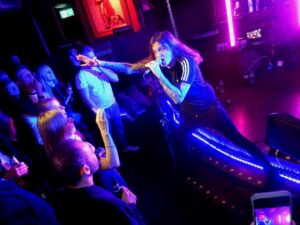 As a live proposition, LEBROCK are a perfect warm-up act. Energetic and likeable with an undoubted ability in the vocal department in Phillips' powerful growly presence, he was complimented by the guitar hero virtuosity of Medows.
Their musical style is not that far off John Parr, the English rocker who found fame with 'St Elmo's Fire'. Indeed, one of the new LEBROCK's new songs 'Inner Romance' appeared to be cut from this exact cloth.
On their recorded output to date, LEBROCK have ably adapted to synthwave's penchant for instrumentals but only once in their set did the duo relent on the magnificent 'Galactic Smasher'. With Phillips taking to a mobile Akai MPK Mini synth, he was slightly out of sorts and not entirely sure whether to face his band mate or the crowd, while a slight computer glitch at the end provided an unexpected remix treatment.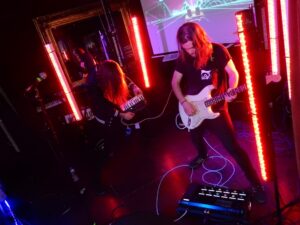 However with dreams of cities and hearts, it was fist punching anthems like 'Real Thing' and 'Call Me' that the LEBROCK disciples wanted to hear. They delivered accordingly and when Phillips stepped towards the crowd, he was like a possessed man in motion.
While ELECTRICITYCLUB.CO.UK prefers to dance to disco cos it don't like rock, this was a highly enjoyable three quarters of an hour in the company of LEBROCK .
Following LEBROCK, DANA JEAN PHOENIX stole the audience's hearts with an electric performance that had the crowd dancing from start to finish. As good things come in small packages, the stunning Canadian proved that being little means being big on stage. From the first notes of 'Le Mirage', the Toronto based songstress made sure everyone was having a ball. Not only was she vocally spotless, she threw in some good moves and live sounds thanks to her pink lit keytar.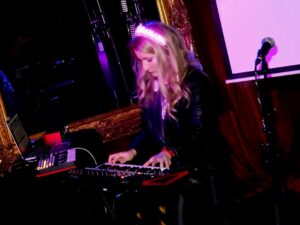 Unlike her LA based colleague PLASMIC, DJP wasn't all pink; but her performance was glossy, sweet and very reminiscent of the classic synth years when electro could often meet funk across the Atlantic in the hands of Arthur Baker.
Talking of which, her dynamic cover version of FREEEZ's 'I.O.U.' got the venue roaring with all the girls and boys singing to their hearts' content.
Then came the fabulous 'Losing The Connection', which had everyone moving on their feet, reminding all present that DJP's latest album 'Pixeldust' has some amazing tunes such as 'Red Line' and 'Iron Fist', which were also showcased towards the end of the set. If you thought DJP had you 'Losing Your Grip', you may have been right, but she couldn't "tell you to stand still".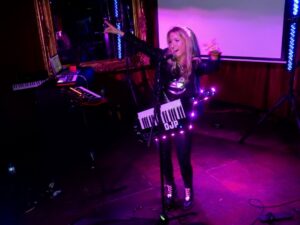 Probing into faster beats, 'Genesis' and 'Mesmerised' rocked the crowd to oblivion, while 'Synth City' from the eponymous 2017 opus also found its way into the set, closing the hour with a gentler slower pace.
DANA JEAN PHOENIX's performance was energising and uplifting, proving that synthwave is an sub-genre supplying pleasurable experiences to anyone present, whether you're a lover of the synth category or not.
It was a tough call to come on after DANA JEAN PHOENIX and having just released his new album 'iii' in March, Liverpool based producer KALAX closed the evening's live proceedings with a selection of moody cinematic instrumentals beginning with the triplet driven 'Time Lapse', probably his best known track.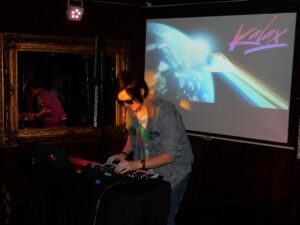 Swathed in a pleasant backdrop of subdued purple lighting for attendees to mingle and relax, the performance would have perhaps benefitted from a more striking use of visuals to compensate for the static demeanour.
But therein lies the ongoing challenge of presenting synthwave within a live context. However, while this section was comparatively anti-climactic, overall it contributed to a fabulous evening for everyone.
DANA JEAN PHOENIX has become something of a house act for Outland and she headlines their most ambitious event yet in Toronto this July with PARALLELS, MECHA MAIKO and MICHAEL OAKLEY all part of the supporting bill. Highly accomplished and at times mind-blowing, the lady may be small, but she's got a great big stage personality with the uppermost levels of audience engagement.
Whether it is synthpop or synthwave, the likes of Moog, Oberheim, Roland, Korg and their offspring are not going to be disappearing just yet… the synth is not dead!
---
With grateful thanks to Outland
The next Outland event is their Sunset Neon Cruise II in London which takes place on Saturday 1st June 2019 featuring HIGHWAY SUPERSTAR, SUNGLASSES KID, MORGAN WILLIS + 80sSTALLONE – tickets available from https://www.wegottickets.com/event/460186
DANA JEAN PHOENIX + KALAX play Outland Toronto 2019 with PARALLELS, MECHA MAIKO, MICHAEL OAKLEY, TIMECOP1983 + FM ATTACK at the Mod Club Theatre on Saturday 6th July 2019 – tickets available from https://www.eventbrite.co.uk/e/outland-toronto-2019-retrowave-festival-tickets-57180793292
https://www.danajphoenix.com/
https://www.facebook.com/danajeanphoenix/
https://twitter.com/danajeanphoenix
https://www.instagram.com/danajeanphoenix/
https://www.facebook.com/ListentoLeBrock/
https://twitter.com/listentolebrock
https://www.instagram.com/listentolebrock/
https://www.facebook.com/iamkalax/
https://www.instagram.com/iamkalax/
https://www.facebook.com/outlandsynthwaveevents/
https://twitter.com/OutlandSynth
https://www.instagram.com/outlandsynth/
https://outlandsynthwave.bandcamp.com/
---
Text by Chi Ming Lai and Monika Izabela Trigwell
Photos by Chi Ming Lai
22nd April 2019