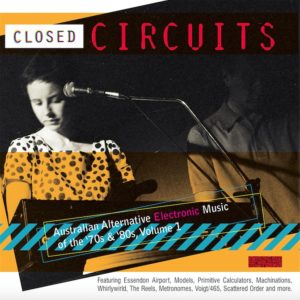 'Closed Circuits' is a new compilation which brings together a set of post-punk / electronic tracks by some of the unsung artists from the Australian underground.
With the emergence of Antipodean electronic acts over the last 10 years including THE PRESETS, VAN SHE, LADYHAWKE, CUT COPY and GRAFTON PRIMARY, now is a prime time to have a body of work which charts the more experimental material which emerged before these artists gained commercial prominence. The compilation was put together by writer and historian David Nichols.
In his liner notes he adds: "This collection brings together a wide range of recordings really only united by one thing: people using technology to produce something fresh. These were not necessarily artists wedded to the idea of the 'new wave' or even hoping to wipe out old rock music; but what these tracks do represent is forward-thinking, inventive, progress…"
The title and artist name of the opening track 'A Circuit Like Me' by THE METRONOMES gives you a fair idea of what to expect from it, an utterly charming double monosynth, string machine and Roland CR78-driven song with detached female vocals. The song which features guest vocals from Talking Judy had become much sought after by collectors, so its appearance here will be welcomed by many.
'Shout & Deliver' by THE REELS was released in 1981 and narrowly missed the Aussie Top 40, peaking at No43; desperately catchy, it was let down by a slightly oddly panned sound mix. Despite being over 35 years old, the synths, vocal production and chord progressions here sound remarkably current and way ahead of their time.
Initially 'Great X-1' by INFORMATICS comes across like a THOMAS DOLBY B-side, mainly instrumental with a 'One of Our Submarines' style Moog bass. Halfway through, a slightly off-key vocal unexpectedly appears with the lyrics being a paean to the Bell X-1, an early rocket powered aircraft.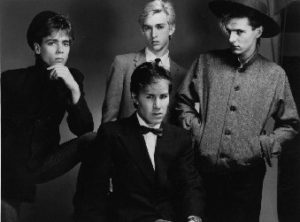 'On' by MODELS is a bass-driven DURAN DURAN-influenced synth rock track by an act which eventually went on to achieve decent success in their homeland, even gaining a No1 in 1985.
The band also got some prestigious support slots, accompanying DAVID BOWIE and THE POLICE at early points in their career. 'On' is punctuated by some slightly off-kilter synth riffs including one which sounds like FAD GADGET has joined the band, quirky, but entertaining nonetheless!
Talking of FAD GADGET, the intro to 'Waiting Time' by YA YA CHORAL is a cheeky re-write of 'Ladyshave', with pretty much the same drum machine and octave bassline. However, once the track progresses, the track changes direction with THE CURE-like guitar dominating and an indie female vocal.
Another collectable single making an appearance here is KAREN MARK's 'Cold Cafe', reputably fetching $500 at one point, the song could be seen as an Aussie YAZOO, with emotional female vocals over a monosynth backing, again this is another lost treasure which shows that it wasn't just the UK that was able to produce synthetic music with a quality vocal on top.
Space doesn't permit to give mentions to all of the 20 tracks here, but there are some real gems; from DISTANT LOCUST's slightly bonkers drum machine / fuzz guitar rework / rewrite of DONNA SUMMER's iconic 'I Feel Love' through to rock / synth hybrid 'Rock Rock Daddy' by JULES and a lost work by ANNE CESSNA & ESSENDON AIRPORT from 1981.
In many ways this is a really valuable companion product to the UK Cherry Red compilation 'Close To The Noise Floor', itself a tying up of the formative years of early synth experiments this side of the pond. What is interesting though is that if anything, the quality of music production here is higher than many of its UK counterparts, especially from a vocal point of view.
Also of note is the high prominence of tracks which aren't afraid to meld guitars and rock elements with synths, again something which sets many of these tracks apart from European artists. For those that have any interest in the evolution of electronic music (Australian or otherwise) this is a really fascinating compilation and fills in many of the historical gaps. Highly recommended.
---
'Closed Circuits: Australian Alternative Electronic Music of the 70s & 80s, Volume 1'
is released a CD, digital download and limited edition 2LP set with four extra tracks on 28th July 2017 by Festival Records / Warner Music Australia
Further information at https://roughtrade.com/music/closed-circuits-australian-alternative-electronic-music-of-the-70s-and-80s-volume-1
---
Text by Paul Boddy
26th July 2017